Ougoing Senate Democratic Leader Arthenia Joyner and former Lt. Gov. Jeff Kottkamp are among the latest applicants to Florida Supreme Court Chief Justice Jorge Labarga for the Constitution Review Commission.
Court spokesman Craig Waters provided an updated list of 20 applicants Tuesday.
The Florida Constitution allows for a "revision commission" to meet every 20 years to "examine the constitution, hold public hearings and … file its proposal, if any, of a revision of this constitution or any part of it."
The state's chief justice is allotted three appointments to the commission. Labarga, who is accepting applications through Dec. 31, has said he'll make the appointments with the advice of the other justices.
Labarga's selection process is expected to be less partisan and more weighted toward legal acumen than others. For instance, Gov. Rick Scott will choose 15 of the 37 commissioners and selects its chairperson.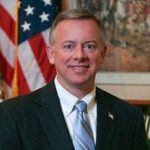 Joyner, a Tampa Democrat who is term-limited, leaves the Florida Senate this year. Kottkamp, a Republican, served under Gov. Charlie Crist in 2007-11 and is now a lobbyist. He also served in the Florida House from 2000-06.
Also applying to Labarga is Barry Richard, a Greenberg Traurig shareholder based in Tallahassee. He's known for representing then-Texas Gov. George W. Bush during the 2000 presidential election challenge. He now represents the Seminole Tribe of Florida, among other clients. He's married to Florida Democratic Party chair Allison Tant.
Former Senate Republican Leader Alex Villalobos, now a lawyer in private practice in Miami, also has applied, as has Elijah Smiley, chief judge of the 14th Judicial Circuit in the Panhandle.
Still other applicants include Peter Webster, a retired 1st District Court of Appeal judge, and Miami attorney Mark Zientz, who has worked on challenges to the state's workers' compensation law.
The full list is below:
Thomas Burnett
Dick Collins
Debra Moss Curtis
Winston Gardner
Larry Gillis
Jason Johnson
Arthenia Joyner
George Knox
Jeffrey Kottkamp
Paul Lester
Roberto Martinez
Joseph M. Matthews
Steven Maxwell
Gregory McAloon
Barry Richard
Elijah Smiley
Alex Villalobos
Peter Webster
Tyler Winik
Mark Zientz
The House speaker and Senate president each get nine picks. Assuming they win re-election in November, GOP state Rep. Richard Corcoran of Land O' Lakes will be speaker in 2017 and state Sen. Joe Negron, a Stuart Republican, will be president.
"The House will not be releasing a CRC application until after the election," spokesman Fred Piccolo said. The Senate has received only eight applications so far, spokewoman Katie Betta said, including from state Sen. Geraldine Thompson, an Orlando Democrat.
Republican Pam Bondi is automatically a member as attorney general.
The next commission is scheduled to meet 30 days before the beginning of the Legislature's 2017 regular session. Any changes it proposes would be in the form of constitutional amendments, which would have to be approved by 60 percent of voters on a statewide ballot.
Labarga's application instructions are here.