It's taken more than a year of work, but for the first time, we — Extensive Enterprises Media — won the day in Orlando politics.
For the first time, we really beat the Orlando Sentinel.
Orlando-Rising.com and FloridaPolitics.com were the first to report that state Representative Mike Miller will challenge U.S. Rep. Stephanie Murphy in Florida's 7th Congressional District. The Sentinel was not too far behind in also reporting this.
This was the big political story of the day in Central Florida.
But if you look at the stats on Facebook, it's as if only one outlet broke the news.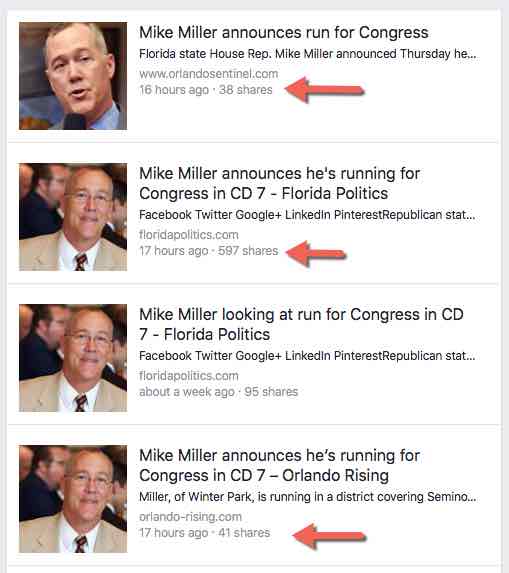 That's 597 shares — a big number by Facebook standards — for FP to the Sentinel's 38 shares. Even Orlando-Rising had a bigger footprint than the Sentinel.
Now, the Sentinel also published this story in a newspaper which was probably read by many, many more people than it was online. And there are surely other metrics that could show that the Sentinel's reach with this story is larger than FloridaPolitics.com/Orlando-Rising.com.
Or maybe not.
This tells me Orlando-Rising.com, when fully staffed, can compete, if not beat, the Sentinel's local political reporting.
Of course, the newspapers will still dominate. But our sites can be an alternative.
Undeniably, much of the success of Orlando Rising can be attributed to the work of Scott Powers, the 15-year veteran reporter of the Sentinel who came to Florida Politics and Orlando-Rising.com in 2015.
Powers, whose beats range from local government, politics, NASA, Kennedy Space Center to business and more, is leading our Orlando coverage for both Orlando Rising and Florida Politics. His experience on the Sentinel's investigative projects desk, coupled with his aggressive reporting on tourism, transportation and higher education and other issues, has been an indispensable part of our coverage of Central Florida and beyond.
And as our ultimate Central Florida insider, Powers further earned his kudos yesterday by being first to break the Miller story.
Since 2015, Orlando Rising's vision is to do just what its name implies — rise to the challenge of covering one of Florida's most vital political, cultural and business centers. That includes being in-depth, insightful and — with hard work and a bit of luck — being first with breaking news.
Just like SaintPetersBlog does versus the Tampa Bay Times. And like our reporter, A.G. Gankarski, does in Jacksonville against the Florida Times-Union.
Now, it's Orlando's turn.