Noah Valenstein got the job as secretary of the Department of Environmental Protection on Tuesday, after a unanimous vote by Gov. Rick Scott and the Cabinet.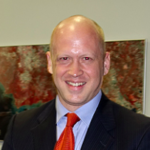 He will take the helm on June 5, with a salary of $150,000 per year, Scott said.
"Noah has 15 years of environmental policy experience and I'm confident will continue to be a strong leader and advocate for preserving the future of our state's beautiful and pristine environment," Scott said.
Valenstein, now the executive director of the Suwannee River Water Management District, is closely tied to Scott, having served in the administration and the 2014 re-election campaign.
During a short job interview, Valenstein said he believed in giving the various stakeholders — including environmentalists, agricultural interests and local governments — a seat at the table.
"If we're getting input from all the parties that depend on our natural resources, we get a better product at the end of the day," he told reporters.
His first priority is "getting up to speed on all the issues the department is currently dealing with, getting to know the dedicated staff and helping to bring the philosophy I've had at Suwannee River over to the department."
He was the only candidate interviewed for the job.
Valenstein replaces interim secretary Ryan Matthews, who had taken over from former secretary Jon Steverson. He quit in January to join the legal-lobbying firm of Foley & Lardner.