Since announcing his presidential run two years ago, Donald Trump has kept a focus on "America First" – strong national interests in global security, foreign policy and trade.
Just as "America First" propelled Trump to the White House, Adam Putnam hopes a similar theme will help drive him to the Governor's Mansion.
That could explain why the new header of Putnam's Twitter profile boasts a bright red background, emblazoned with the words "#FloridaFirst."
Hey, it worked for Trump; why not go with a winner?
So, we wondered – which "first" came first.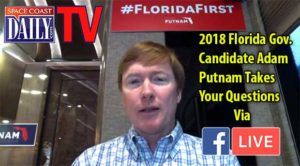 Wait a minute, says Putnam's campaign; the former U.S. Representative and current Agriculture Commissioner used "Florida First" for several years before Trump declared "America First," and well in advance of his presidential campaign.
More than 2,000 supporters heard Putnam proclaim Florida First when announcing he was entering the governor's race May 10. That same day, the phrase took a prominent role in visuals at a rally in downtown Bartow, Putnam's hometown, as well as at events throughout his statewide bus tour.
Florida First was also clearly visible in the background of Putnam's Facebook Live Q&A from Pensacola May 19.
Nevertheless, that was far from the first time Putnam used the term Florida First, says a campaign spokesperson. It has been on campaign and other materials as early as 2012, years before Trump entered politics.
In fact, the state's official 2012 Collector's Edition Christmas Ornament (in the pre-Trump era, when Putnam was Ag. Commissioner) was also titled "La Florida First," celebrating the "innovation and discovery since Spanish explorers first stepped ashore in 1513," which was REALLY before Trump.