Saying that the current limbo of law is bad for doctors and patients, Democratic state Reps. Carlos Guillermo Smith and Amy Mercado pleaded with Gov. Rick Scott and Florida Legislature leaders to call a special session to deal with medical marijuana.
"We are here because 71 percent of Florida voters approved the constitutional right to medical cannabis. But we also are here because unfortunately once again Tallahassee politicians have thwarted the will of the people and they have refused to implement Amendment 2, medical cannabis," said Smith, of Orlando. "They should be ashamed.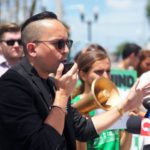 "While the out-of-touch, old-fashioned conservative majority in Tallahassee continues its hand-wringing over whether or not cannabis is actual medicine… or whether they can actually get over themselves and listen to the voters, qualified patients are dying, qualified patients are waiting," he continued. "And there is no question that the governor, the Senate president of the senate and the speaker of the House need to be leaders and officially call for a special session and demand that the Legislature implement the will of the voters immediately."
House Speaker Richard Corcoran has called for a special session to pass implementing legislation to fill out the laws for the Amendment 2 medical marijuana initiative approved by 71 percent of the voters in November. Senate President Joe Negron and Gov. Rick Scott have not. The Florida Legislature failed to pass the implementing bill on the last day of Session earlier this month.
Cannabis activist and author Gary Stein argued that the lack of implementing laws means that the qualifying patients – and the doctors who assist them – are caught in legal "fog" between what should be authorized under Amendment 2 and what little cannabis law and regulation exists based on the 2014 "Charlotte's Web" bill the Florida Legislature approve.
Mercado, also of Orlando, talked about how her grandmother went through chemical and radiation therapy for stage 4 cancer, and she and the family wanted to try everything and anything. "Had medical cannabis been available, I'm pretty sure we'd have tried that too," she said. "So we need to make sure, and ensure, that no one gets the way of patient access to medication that makes them feel better."
Smith and Mercado also called on the Florida Department of Health to lift rules that would not be allowed under Amendment 2, but which slow down or prevent people from using medicines derived from cannabis.
Among them, they called for Florida to:
– Waive the 90-day waiting period for patients to access the medicines after they have been certified as qualified patients.
– "Stay out of the sacred patient-doctor relationship."
– Stop rules that prevent qualified patients from getting access.
– Protect employees who can be legally fired from their jobs for using medicines derived from cannabis in their homes.
– Expand qualified conditions to include non-malignant chronic pain.
– Open the market to allow more competition, including to minority-owned businesses.
– Allow for smokable cannabis.