Chris King's performance in the Democratic candidates' gubernatorial forum earlier this month in Fort Lauderdale apparently won him the backing of at least one South Florida lawmaker, state Rep. Nicholas Duran of Miami.
Duran, a freshman who emerged in this year's Legislative Session as a leading voice for the Democrats on health care policy and anti-addition policy, announced his endorsement of King Wednesday morning, through King's campaign.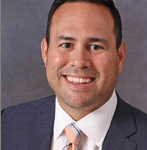 "Chris's performance during the Gubernatorial Forum last week confirmed what I've known for months now: that he can go toe-to-toe with the eventual Republican nominee and win the economic debate," Duran stated in a news release issued by King's campaign.
Before anyone can face the eventual Republican nominee, King faces former U.S. Rep. Gwen Graham of Tallahassee and Tallahassee Mayor Andrew Gillum for the Democratic nomination to run for governor in 2018. The trio shared a stage at the Democrats' Leadership Blue Gala in Fort Lauderdale. Agriculture Secretary Adam Putnam is the only major Republican in the race.
"Chris King is the candidate for governor who can bring a truly fresh approach to politics," Duran continued. "His values and record as a progressive entrepreneur will energize Florida's economy and create new opportunity for small businesses and workers across the state. I'm proud to announce my endorsement of Chris King for governor. I look forward to working with him and his team in the coming months to move our party and state forward."
Duran was the lead sponsor of House Bill 557 – The Controlled Substance Prescribing Act. Working with Democratic state Sen. Jeff Clemens, Duran passed the bill with overwhelming support from both chambers to help combat Florida's opioid epidemic by modernizing the state's prescription drug monitoring program.
"I'm thrilled to have the support of such an energetic and solutions-oriented leader here in Miami," King stated in the release. "Rep. Duran has been a strong advocate for some of the most pressing issues facing the community, including health care and prescription drug abuse prevention. I'm looking forward to collaborating with him on these issues and others here in Miami and across the state so we can work together to lift up Florida's hardworking families."