Orlando Democratic gubernatorial candidate Chris King introduced himself to Florida Tuesday evening as the "progressive entrepreneur" promising to bring bring a head for hard work, return on investment and financial stewardship but also a heart to Tallahassee.
King, a 38-year-old Winter Park businessman with no experience in politics, kicked off his campaign for the state's highest office at an Orlando rally with 400 to 500 people, a musical warmup, several advance speakers and an ice cream truck, in the parking lot of the 11-story Hillcrest Hampton House, an affordable-housing senior tower his Elevation Global Initiative company developed.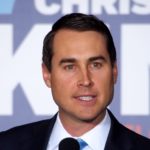 "Whether you are an old friend or a new friend, we come together tonight at a momentous time in my life, and in the life of this state," King said standing beneath the "In front of the family that loved me, the community that raised me, and the senior tower that gave me my mission, I announce my candidacy for governor of Florida."
King's 27-minute speech placed him squarely in the center of most Democratic issues and values, from environmental protection ["I would put scientists back in charge of environmental agencies;"] to affordable housing [his business speciality;] from minimum wage increases, to investing far more in public education ["I will be a champion and advocate for public education;"] social and legal equality for all, to expanding health care access and investment in mental health.
"If you've come here tonight and you are an advocate for public education or environmental protection or housing, or health care, I'm with you," King said. "I want to be too."
Yet King also dismissed all of that as secondary to his primary concern, fixing the economy to better provide for working families. King criticized Florida's economy as low-wage, dead last among the 10 most-populous states in incomes, wages and productivity, with 45 percent of jobs paying $15 an hour or less.
"The biggest issue, the motivating issue for me and this campaign as we move forward, is to me the issue Florida faces today. And that is the fact that we have an economy that no longer works for so many our families," he said.
For that he promised to lay out his economic plan which he is calling "Home Grown Florida," focusing on fostering entrepreneurs and small businesses, education, and investment in infrastructure.
He also spoke in detail about the need to address water issues, and promised his campaign would "not take any money from big sugar. Not because it's always wrong… but because the issues around water, sugar and the health of this peninsula are so critical, so compelling, that the citizens of Florida must know that their next governor is an honest broker, able to sit down with all parties, and not beholden to the financial interests of any."
King comes into the race largely unknown politically outside limited circles in Orlando, but not unconnected. His father David King is a powerful lawyer who argued and won the redistricting cases on behalf of the League of Women Voters in Florida that forced Tallahassee to redraw congressional and state senate districts. His mother Marilyn King is a longtime patients advocate who served as chair of the board of directors of Orlando Health.
After graduating from Harvard and getting a law degree from the University of Florida and a brief law career, King and his brother Michael King started Elevation Global Initiative, which arranges creative financing to re-invest in old housing and senior housing properties, to redevelop them as affordable-housing.
Both his father and brother say that Chris King has probably been preparing to run for governor since he was in high school. David King said his youngest son has "a calling," and has been seriously contemplating the run for about a year and a half. In recent weeks he's been raising early campaign money and assembling a campaign team that includes veterans of the Barack Obama and Charlie Crist statewide campaigns,
So far King faces Tallahassee Mayor Andrew Gillum for the Democratic nomination, while several others are openly exploring runs, including Miami Beach Mayor Phil Levine, former U.S. Rep. Gwen Graham and Orlando lawyer John Morgan. Agriculture Commissioner Adam Putnam appears to be clearing the field for his run for the Republican nomination.