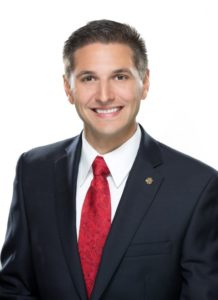 The workers' compensation fix that emerged from the House Commerce Committee last week was the product of hours — and hours — of testimony, debate, and negotiations. The Insurance and Banking Subcommittee staged marathon hearings in which all the stakeholders — insurers, employers, attorneys, unions, and more — hashed out their differences. Then the Commerce Committee spent another nearly two hours in debate.
We caught up with I&B chairman Danny Burgess immediately following the Commerce vote and ducked into a hearing room alcove for a quick postmortem.
Q: Are you tired?
A: I'm beginning to understand why this issue is always as challenging as it is whenever it arises. It is a massive issue. It is a delicate balance. At the end of the day, what really matters is striking the right balance for the injured worker and the employer.
Q: Are you disappointed you couldn't get the unions on board? The actual workers? There was a lot of discussion here that we never hear about the workers.
A: I think you heard that from ever stakeholder: Absolutely, the injured worker is a big concern here. You heard that in our committee (Insurance & Banking), too, and from my own mouth. I believe our extension of indemnity benefits is definitely a step in that right direction. There's no question that the injured worker is one piece of the heart of the balance of the grand bargain.
Q: That's the temporary total disability?
A: Yes, from 104 to 260 weeks. — Yes! (He answered the roll call for the next bill on the agenda.)
Q: With a 26-week extension available?
A: That fills in the gap — the Westphal and Jones gap (two Florida Supreme Court rulings addressing an eligibility gap when temporary total disability payments run out before a worker has recovered enough to go back on the job). It specifically addresses the case law. There's no question the injured worker is important. That's why I believe there has to be some form of a carrier-paid fee. Not just because it is required under case law, but, as I just said in closing, the concern here is that the injured worker is not going to be made whole if they are on the hook for fees because they had to go to litigation to get a benefit that they should have always been awarded. That's not fair. When I talk about attorney fees … it's not out of concern for the attorney, it's out of concern for the injured workers and them having to come out of pocket — or take from the paltry indemnity benefit.
Q: What if some lawyer says, "I can get you this or I can get you that (dubious) benefit," and some naïve worker believes him and gets stuck with the attorney fees for arguing that?
A: Our notice in the retainer agreement tries to get to that. What that will try to do is curb the behavior of the attorney in seeking things that are probably unsubstantiated from the get-go — that a seasoned attorney should well know are unsubstantiated, but they can pad fees and hours based upon making a claim like that. Like for a back injury, I need psychiatric care. The injured worker may not be aware that their lawyer asked for that. But this could help the injured worker have a little more of a seat at the table. "I don't want you to make that claim, because then I could be on the hook for that."
Q: An element of caveat emptor?
A: Good legal term.