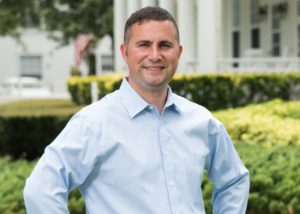 The current bill to repeal and replace the Affordable Care Act will never pass Congress in its current form, freshman U.S. Rep. Darren Soto, an Orlando Democrat, told members of the Polk County Tiger Bay Club during a Monday lunch in Bartow.
"I believe 'Trumpcare' will be difficult in the House now that the joy of victory has subsided. And things in the Senate can come unraveled," said the new congressman from Florida's 9th Congressional District, which includes Osceola County and parts of Polk and Orange counties, during a post-luncheon interview.
"We must have a health care system other than (patients going primarily to) emergency rooms, which is the most expensive option," Soto said.
A uniform bill with both parties working together is needed, respecting both sides.
But it is also an opportunity for the minority Democrats to have a say in defending or preserving parts of the Affordable Care Act because Republican lawmakers are so divided.
"In chaos, there is opportunity," Soto said.
He has no problems calling the current bill "Trumpcare." It is a play on words after Republicans called the ACA "Obamacare," he said.
"He endorsed it (the Republican repeal and replace bill) so he owns it," Soto said.
He also told his audience that the deportation of undocumented immigrants could devastate the agricultural and tourist industries in Florida, two of the three pillars of the state's economy.
"This is the opinion of many ranchers and growers," he said. "You are not going to have mechanical pickers in the groves. That is not going to happen. You need a guest worker program that actually works and need overall reform."
Soto serves on the House Committee on Agriculture and on the House Committee on Natural Resources.
Citrus greening, a disease that attacks and destroys citrus trees, is a foremost concern he said. He said he is working with Rep. Dennis Ross, a Lakeland Republican, to get more funding for research crucial to Florida agriculture.
He and Ross have worked on several issues and will be among a congressional delegation Soto proposed to visit Iraq to determine the political and military situation.
The Florida Delegation, in fact, has developed a series of bipartisan issues on which members from both parties have agreed to work. They include Everglades Restoration, Infrastructure, Tax Reform and solving Red Tide.
"You can't drive on 17/92 or US 27 and not understand the need for infrastructure funding," Soto said. And citrus greening is a major concern to the Congress members from citrus counties, he said.
Soto may be a freshman member of Congress, but is not new to legislating. He served for nine years in a Republican-controlled Florida House and Florida Senate before being elected to Congress, which is Republican majority-controlled.
"I have to take that into consideration and thread the needle with good ideas. An example of that is money I have asked for to provide additional hurricane monitoring aircraft working with both parties. There is only one group to monitor the entire Gulf," he said.
"Congress is more bipartisan than you may think," he said. "We pass 10-12 bills a day on voice vote meaning no one objects enough to ask for a vote by name. It is the two or three controversial ones that get the press."