Poll finds key 2018 voters turned off by Donald Trump's Cabinet picks — A survey commissioned by the Progressive Change Campaign Committee (PCCC) and conducted by Public Policy Polling (PPP) found that 59 percent of voters in seven battleground states said they were "somewhat" or "very" concerned that President Donald Trump's Cabinet picks would "result in conflicts of interest that benefit big business at the expense of regular people."
The poll question noted that Trump has named "numerous bankers and Wall Street billionaires" that could "result in conflicts of interest," and then asked if participants were "very concerned, somewhat concerned or not at all concerned."
Democrats were the most concerned, with 90 percent of those polled in Florida saying they were "very" or "somewhat" concerned. Independents averaged 57 percent, while just 35 percent of GOP voters in the seven states were concerned.
—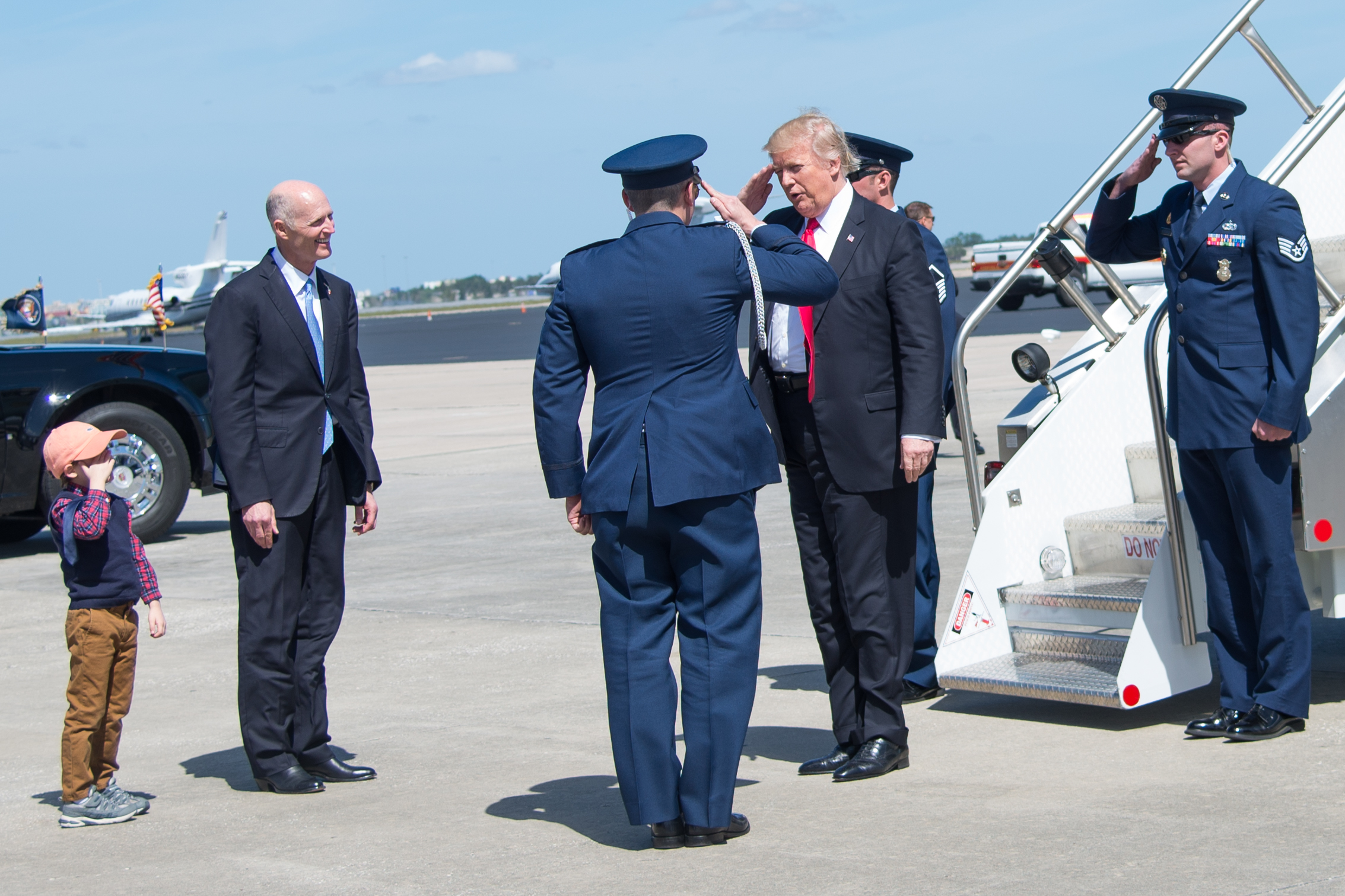 —
For Trump and DeVos, a Florida private school is a model for choice via Michael D. Shear of the New York Times — The president and Ms. DeVos, who for years championed school vouchers as an antidote to failing schools and falling test scores, met with parents, teachers and students at St. Andrew Catholic School, which has embraced a Florida program that uses public money to allow low-income students to attend private schools.
Tuition at the school, just outside Orlando, is normally $6,260 per year, according to the school's website. The Florida scholarship program allows businesses in the state to receive tax credits for donating to nonprofit scholarship organizations that give tuition assistance for students to attend schools like St. Andrew. The families' portion of the tuition bill varies.
The program's goals, according to the website, are to "expand education opportunities for children from families that have limited financial resources; and to enable children to achieve a greater level of excellence in their education."
Such programs are at the heart of the promised changes that Ms. DeVos and Mr. Trump have said they will bring to federal education policy.
—
New American Bridge digital campaign highlights Trump's Florida job losses – The liberal Super PAC is launching a new digital campaign highlighting layoffs and outsourced jobs in Florida since Trump took office, attempting to expose a "harsh reality" behind the president's "we're going to bring back jobs" promises.
According to American Bridge, for every job Trump says he either "saved" or "created," he glossed over others being lost as American workers nationwide are laid off or lose jobs to outsourcing — jobs they say Trump did nothing to protect and keep in the U.S. The ads will appear across social media platforms, and attempt to sway voters of the "real job losses that have continued to happen, even as Trump trumpets the successes of an economy he inherited from President Obama."
The group is also launching TrumpEconomy.com — a new website to track job losses due to layoffs and foreign trade on Trump's watch. The site argues that that 1,038 jobs lost have been lost in Florida alone through layoffs and foreign trade since Trump took office.
—
Federal Aviation Administration reports 27 airspace violations near Trump's Florida estate via CBS News — In one instance, Air Force jets speeding to intercept an aircraft caused a sonic boom that rattled Palm Beach and Broward counties.
The names of the pilots who received the violations weren't released. Agency officials told the newspaper they're investigating each case. Trump's Mar-a-Lago trips cost taxpayers about $10M so far
The Federal Aviation Administration said it would reach out to South Florida pilots to educate them about the restrictions activated within 30 miles of the estate when Trump visits. The agency recently held briefings for pilots at airports in Boca Raton and Palm Beach.
—
Trump administration hires Florida's John Konkus — Veteran Florida politico John Konkus is bringing his communications expertise to the Trump Administration. Konkus is joining the communications team of recently confirmed Environmental Protection Agency Administrator Scott Pruitt.
Konkus says goodbye to Jamestown Associates, where he started and ran the firm's Florida office out of Tallahassee. He is credited with playing an important role in Trump's victory in Florida.
"During the final stretch of the election, John worked on the ground tirelessly to help President Trump win Florida," Jamestown said in a release announcing the appointment. Jamestown billed itself as "the lead agency in the general election."
Konkus and Pruitt will not start their relationship together as strangers. Konkus handled the Administrator's media relations during the transition period.
Before joining Jamestown, Konkus served as Chief of Staff to former Lt. Gov. Jennifer Carroll and current Lt. Gov. Carlos Lopez-Cantera. He was reluctantly in the news in 2011 when a secret recording surfaced of him privately whispering that Gov. Rick Scott was showing a lack of leadership.
Konkus also served as district director for Congressman Cliff Stearns for more than four years. He is married to Mary Thomas, who ran for the Republican nomination for Florida's 2nd Congressional District, but defeated by the eventual winner, Dr. Neal Dunn.
—
Days until the 2018 Election: 606
Nelson holds lead over Scott in early 2018 polls — Two polls released this week show the Orlando Democrat could be in a good position going into 2018. Surveys from both the UNF Public Opinion Research Laboratory and Mason-Dixon Polling & Research show Nelson holds small leads over Gov. Scott in a hypothetical head-to-head general election match up.
According to the UNF survey, Nelson would take 44 percent to Scott's 38 percent of the vote. Michael Binder, the survey's director, said even though it's early in the election cycle the "six-point lead is meaningful."
"The race is going to going to get national attention and Rick Scott's alliance with Donald Trump will likely factor into this election's outcome next year," he said.
Meanwhile, the Mason-Dixon survey gives Nelson a 46-41 edge over Scott. That poll showed Nelson Nelson is "undefined or unrecognized" by 33 percent. Nelson's opponent will "likely be shaped by the political fortunes of President Donald Trump."
—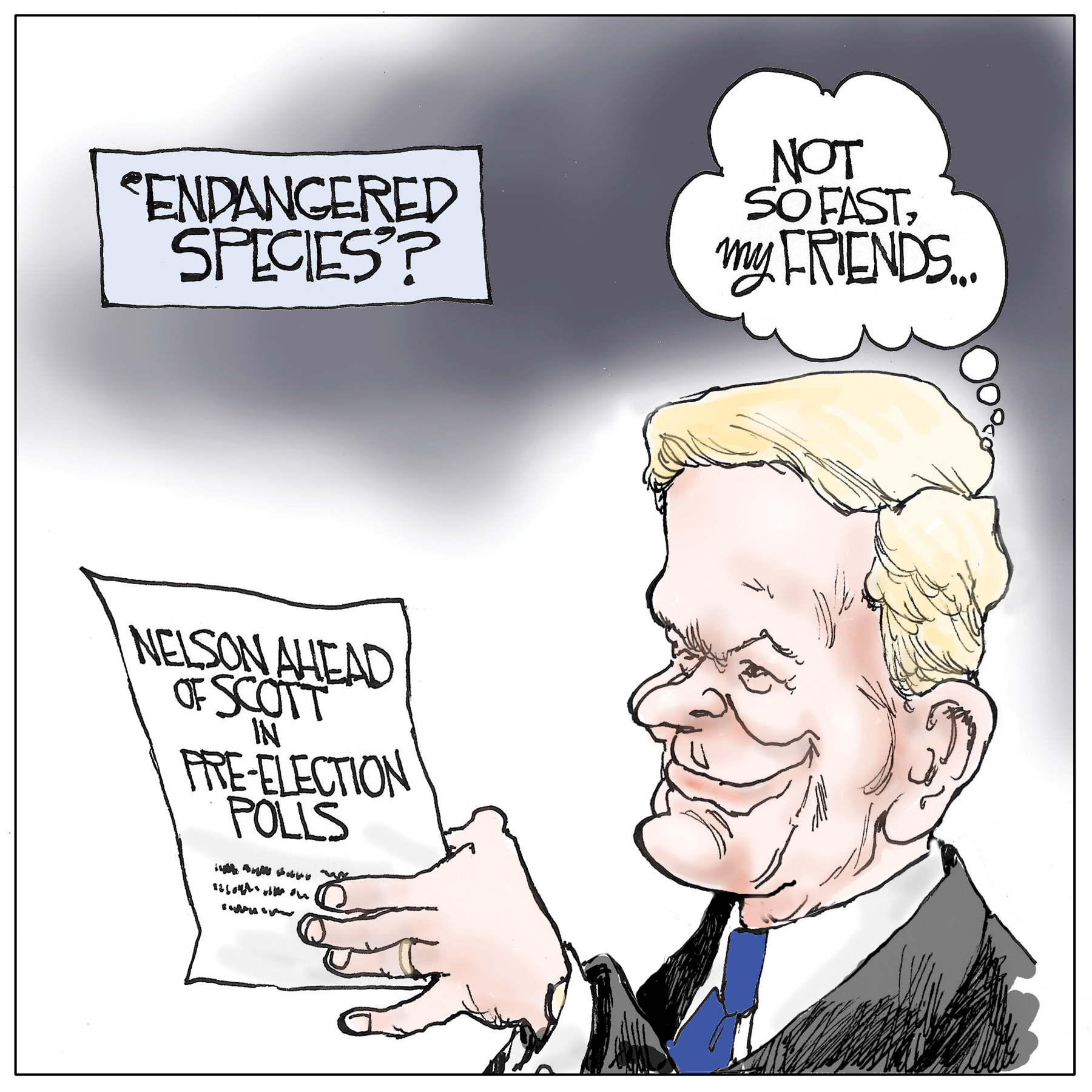 —
Mayors write Nelson and Thune over air traffic control privatization — U.S. Senate Commerce Chairman John Thune and Nelson, the ranking Democrat on the committee, received letters from more than 100 mayors asking lawmakers to reject any proposal to separate air traffic control operations from the Federal Aviation Administration. The list includes seven Florida mayors: Kent Guinn of Ocala, Eugene Fultz of Lake Wales, Robert F. Apgar of DeLand, Lauren Poe of Gainesville, John A. Miller of Fernandina Beach, Bill Barnett of Naples and Gene Whitfield of Zephyrhills. The mayors are rallying against an effort to privatize air traffic control, which they say would drive up ticket prices and give private enterprise control over infrastructure funding as well as taxes and fees.
—
GOP group targets Nelson in radio ad — Republican group One Nation is pressuring Nelson to vote to repeal and replace the Affordable Care Act in a 60-second radio ad.
"We're paying more and getting less," the ads say. "It's time to repeal and replace Obamacare."
Nelson has been an opponent of the GOP plan to dismantle the ACA, and has openly questioned what congressional Republicans intend to use as a replacement for the health care bill.
"What exactly are you going to replace?" he said at an Orlando rally last month. "Are you going to replace the ACA that saved Medicare? That made Medicare more efficient? Do you want to privatize Medicare? Maybe increase the Medicare eligibility age from 65 to 67. Now they've got a new name. They say they want to 'repair' it. They are uncomfortable."
The Nelson ad is part of a $3 million ad buy by the group targeting Democrats who are vulnerable in the 2018 election cycle. They are also putting out ads backing Republicans, asking listeners to tell their GOP representatives and senators "to keep fighting to repeal and replace the Obamacare mess."
A recent poll shows Nelson with a 6-point lead over his expected opponent for the U.S. Senate in 2018, Republican Gov. Scott.
—
Spotted: Susie Quinn, Nelson's chief of staff, in a POLITICO Influence piece about the DSCC "Women on the Hill" fundraiser for female chiefs of staff and lobbyists at Covington & Burling's Washington office.
—
Rubio picks a side in Georgia's Sixth District race via Greg Bluestein of The Atlanta Journal-Constitutio — Rubio endorsed former state Sen. Judson Hill Monday in his campaign for Georgia's wide-open 6th District seat, giving the Marietta Republican a high-profile supporter who was popular in Atlanta's northern suburbs.
Hill was the first candidate to enter the race in November, shortly after Rep. Tom Price was tapped as Trump's health secretary. He's one of 11 Republicans — and 18 contenders overall — who will share the ballot in the April 18 special election. The top two vote-getters, regardless of party, square off in a June 20 runoff.
The Florida Republican, who won Fulton, DeKalb and Cobb in last year's (presidential primary) vote, said Hill knows how to "cut taxes while balancing a budget because he's done it in Georgia." He also praised Hill's opposition to abortion and support for "patient-centered" health care reforms.
—
Hit the slopes with Rubio — Still trying to think of a spring break getaway? How about a ski trip with Rubio? According to the Montana Cowgirl Blog, the Miami Republican is one of the several federal lawmakers taking part in a two-day fundraiser at Big Sky Resort in Montana to benefit Daines Big Sky Committee, a joint fundraising committee that benefits Sen. Steve Daines and Big Sky Opportunity PAC. The $3,000 a person fundraiser is billed as a "weekend in the Montana mountains" with Daines, Rubio, and Sens. John Hoeven, and Lisa Murkowski, and Rep. Luke Messer. The fundraiser is scheduled for March 17 through March. 19.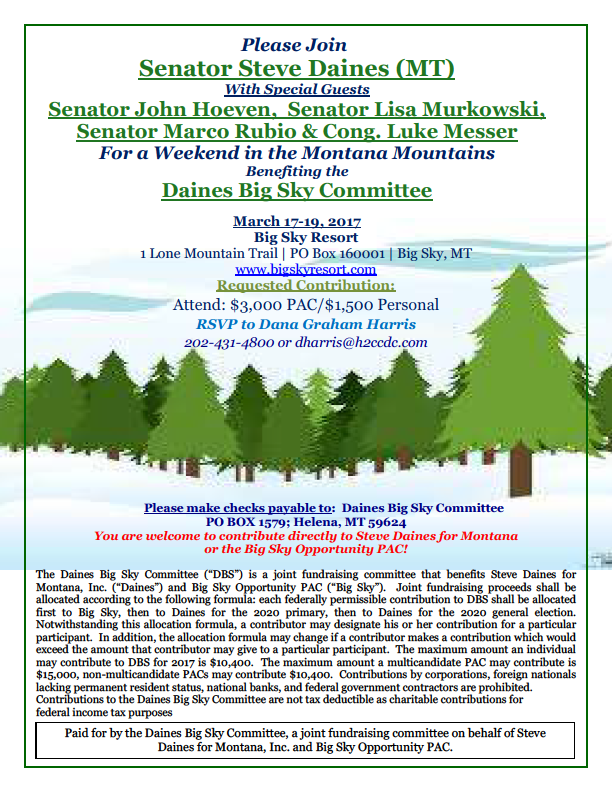 —
Scott loves D.C. — The Governor jetted off to Washington, D.C. this week to talk to federal lawmakers about health care.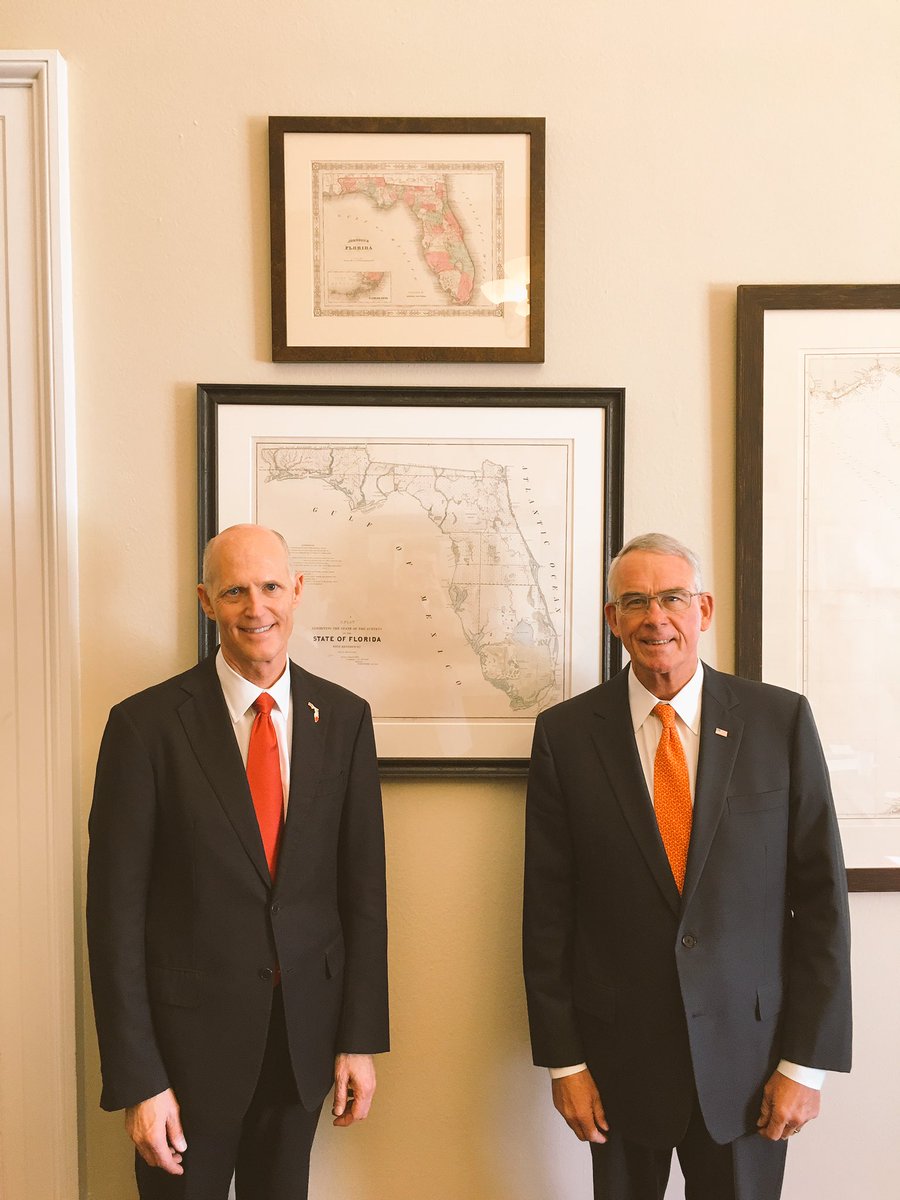 According to his official scheduled, Scott meet with Rep. Todd Rokita and Rep. Neal Dunn on Wednesday, before an afternoon chat with House Speaker Paul Ryan. The governor's whirlwind trip to D.C. continued on Thursday, when he started his day with a meeting with Sen. Marco Rubio. The rest of his day was filled with meetings with Reps. Gus Bilirakis, Francis Rooney, Vern Buchanan, and Brian Mast.
The trip marked the second time in just as many weeks Scott traveled to the nation's capital.
—
Foes outnumber supporters for "Repeal and Replace" – Some in the Florida delegation were quick to weigh in once House Republican leadership released their long-awaited proposal to replace Obamacare. The cons outweighed the pros.
Kathy Castor said the plan "institutes huge cuts to families who rely on Medicaid," and "shortens the life of the Medicare Trust Fund." She also told her constituents the replacement "eliminates the marketplace where over 1.7 million Floridians have found affordable coverage options."
Charlie Crist was also unimpressed. "The plan Republicans have put forward falls far short of current law — driving up health care costs, stripping away important protections, and leaving millions without coverage."
Al Lawson described it as "an exercise in smoke and mirrors," while Lois Frankel lamented it "will make America sick again."
Outside of leadership, few Republicans came forward in support. Gus Bilirakis claimed on the House floor "our bill will lower costs, increase choices, and give patients greater control of their health care.
Rubio said: "It's got some things I've been supportive of in the past and it's got some things I've been concerned about."
Some in the conservative House Freedom Caucus joined Democrats in panning the bill, but for far different reasons. "This legislation is not a repeal, it is an amendment to Obamacare," said Alabama's Mo Brooks. Ted Yoho, Ron DeSantis, and Bill Posey are part of the caucus.
—
A long night (and day) for four delegation members  – Carlos Curbelo and Vern Buchanan had a long, long Wednesday. For Kathy Castor and Gus Bilirakis, it was even longer.
Curbelo and Buchanan are members of the House Committee on Ways and Means, which took up the American Health Care Act, the House Republican proposal designed to replace Obamacare. After 18 hours, the measure emerged on a party line vote of 23-16.
"The fact that the far left and the far right have come together to viciously attack this proposal is likely a good indicator this it is sound, sensible policy," Curbelo said in a statement after the vote. "The consideration of this legislation in our committee this week is only the first step in finding a better healthcare solution for our country."
Not to be outdone, the House Energy and Commerce Committee forwarded their portion of the bill on a 31-23 party line vote. Bilirakis and Castor, along with their fellow committee members, were in and out of the meeting room for 27 hours.
"We stayed up through the night and forced (Republicans) to debate and go on the record opposing measures that address the concerns that we all have been hearing about from our neighbors at town halls throughout the country," said Castor.
The next stop is the House Committee on the Budget before heading to the House floor. Among the 36 members of that committee are Mario Diaz-Balart and Castor.
Hopefully, she will catch up on some sleep between now and then.
—
Ad blitz in support to support American Health Care Act — The American Action Network launched a new ad campaign urging conservative lawmakers to unite behind the push to repeal and replace the Affordable Care Act, often called Obamacare, with the newly unveiled American Health Care Act.
The $500,000 ad buy will air on FOX News and in 30 congressional districts, including in Reps. Ted Yoho, Ron DeSantis, and Bill Posey's districts. The campaign is meant to juxtapose the new plan with Obamacare on key elements, and urges lawmakers to stand with President Trump on replacing former President Barack Obama's signature healthcare law.
"It's time for conservatives to unite behind President Trump and Speaker Ryan to pass the American Health Care Act. This bill gives conservatives the opportunity to deliver on their promise to repeal and replace the disaster that is Obamacare," said Corry Bliss, AAN executive director, said in a statement. "This bill is about empowering patients and doctors, eliminating job-crushing mandates, and making health care affordable again for all Americans."
—
AARP, other organizations, join opposition to GOP health care proposal — The American Health Care Act is taking criticism on Capitol Hill from all Democrats, some Republicans, and organizations involved in the industry. AARP is one of those groups lining up against it.
In a Thursday conference call with media from around the country, the largest seniors' advocacy organization in the country ticked off some problems with the draft legislation. The thrust of the opposition is financial.
Nancy LeaMond, AARP's Executive Vice President and Chief Advocacy & Engagement Officer admitted "no one believes the current system is perfect," but premiums for the elderly would skyrocket. According to AARP, premiums would rise for the elderly in certain age and income brackets between $3,600 to $8,400.
The fate of those covered through Medicaid expansion is a major concern, but Florida is one of the states where expansion did not occur. As for Medicare, LeaMond called the proposal "a windfall to the drug manufacturers at the expense of Medicare."
LeaMond pledged to have AARP representatives in all 50 states talking with their members and legislators to "educate" when they are in their districts.
—
Veterans group targets Crist and Murphy in web ad — Conservative group Concerned Veterans for America released a web ad Tuesday urging first-term Democratic U.S. Reps. Stephanie Murphy and Crist to vote for the VA Accountability First Act of 2017.
"Fraud. Abuse. Veterans dying on wait lists. American heroes deserve better, but our veterans are suffering at the hands of bad VA employees," the ad narrator says. "Congress can change it by passing the VA Accountability First Act of 2017. New reforms that will hold bad employees accountable and cut undeserved bonuses. Reforms that get bad VA employees out — for good."
The ad then urges viewers to contact their representative. In addition to Crist and Murphy, CVA has created versions of the ad for Reps. Ann Kuster, Scott Peters, Tim Walz, Krysten Sinema, Tulsi Gabbard and Ami Bera, all Democrats.
The VA Accountability First Act of 2017 would give the VA secretary more flexibility to remove, demote or suspend any VA employee, including Senior Executive Service employees, for performance or misconduct.
—
Mast, Murphy, and Crist labeled "vulnerable" by their own parties — What do Mast, Murphy, and Crist have in common? In addition to being first-term Members of Congress, they have also been labeled as vulnerable in 2018 by their own parties.
Democrats Murphy and Crist are part of a group of 19 incumbents called the Frontline Program established by the Democratic Congressional Campaign Committee (DCCC). Each won close elections in 2016, a presidential election year where Democrats tend to do better.
Crist won by only four percentage points over Congressman David Jolly in a district reshaped to favor Democrats, while Murphy defeated incumbent John Mica, who ran an ineffective campaign. Both are targets for defeat by national Republicans
Mast is one of 10 Republican incumbents set to receive help from the National Republican Congressional Committee (NRCC). He won by 11 points in the district formerly held by Patrick Murphy, which Trump carried by nine points.
—
Yoho town hall may have set the standard for fellow Republicans — Yoho used a novel approach to take part in a town hall Saturday. The event was held in a Gainesville church, and the moderator was someone who previously ran against him for Congress.
While the town hall was "a boisterous, but largely polite exchange" of views, it did not resemble the chaos of other recent events involving some of Yoho's Republican colleagues from Florida. Moderator Marihelen Wheeler, who opposed Yoho in the 2014 elections, and the local anti-Trump group Indivisible Gainesville kept the process orderly.
"I hope this town hall sets the standard,"  Yoho said. "I thank you for being here, and I thank you for letting me be your representative, even though I know most of you didn't vote for me."
Those who disapproved of Yoho's responses and positions, and there were plenty, were instructed to fold their arms over their heads or give thumbs down instead of shouting. While things were mostly civil inside, a Trump supporter was punched in the face outside the venue.
—
DeSantis makes bold prediction — DeSantis made a provocative prognostication that, if true, will rock the Middle East and U.S. foreign policy in the immediate future, and maybe longer. He was recently in Jerusalem leading an American delegation that, among other things, looked at sites for a future embassy.
In an exclusive interview from Jerusalem with Breitbart News, the third-term Congressman believes Trump will announce the relocation of the U.S. Embassy in Israel from Tel Aviv to Jerusalem before the end of May.
Current law requires the U.S. to locate the embassy in Jerusalem, but successive waivers signed by Trump's predecessors have kept the embassy in Tel Aviv. The latest waiver expires June 1.
"I think President Trump has proven he is a man of his word," DeSantis told Breitbart. "And (by May) we will already have our Ambassador, David Friedman, in place. So I think this is going to happen."
DeSantis believes the United States already has a workable site in Jerusalem — the building holding the current U.S. Consulate. He said all this means "literally just changing the sign to the U.S. Embassy."
—
DeSantis announces "discussions" with constituents events — DeSantis is not officially conducting any "town halls," but he will interact with constituents. On Saturday, he will host three "Discussions with DeSantis" around Florida's 6th Congressional District.
All three events look like town halls, but perhaps using the term "discussion" within the title will attract more who seek conversations rather than shouting confrontations. DeSantis is part of the House Freedom Caucus, the conservative alliance whose members have expressed skepticism about the recently released GOP health care plan.
"Congress is tackling many challenges at the moment: repealing and replacing President Obama's failed health care law, protecting our national security and jump-starting economic growth so that we can bring back American jobs," DeSantis said in announcing the events. "But I need your input."
The "discussions" will take place at 9:00 a.m. in St. Augustine, 1:00 p.m. in Daytona Beach, and 5:00 p.m. in Mt. Dora.
—
Spotted: Rep. Crist in a New York Times article talking about compromise, party pressure and campaign memories.
—
Ross asks VA Secretary to help Agent Orange-Stricken veterans — The CD 15 Republican sent a letter to Department of Veterans Affairs Secretary David Shulkin Wednesday, asking the group to help veterans with diseases caused by exposure to the toxic chemical Agent Orange during the Vietnam War.
Currently, the Department of Defense acknowledges using the chemical in Thailand and Vietnam, but not Guam, making veterans stationed on the island during that era ineligible for expanded VA benefits due to Agent Orange exposure.
Ross has filed legislation to give veterans who were stationed in Guam the same level of care, though until it passes, he asked Shulkin what the VA can do in the meantime to help the affected veterans.
"It is an absolute shame that we have veterans who sacrificed their lives for us but are unable to receive any help for their suffering as a result of that sacrifice," Ross said in a statement.
—
Ross wins award from Family Research Council — Ross received an award from the Family Research Council for his pro-life voting record, the fourth-term congressman announced Tuesday.
Ross won the "True Blue" award based on his votes on a variety of subjects, including votes to defund Planned Parenthood, repeal sections of the Affordable Care Act, authorize school choice in Washington, D.C. and against VA physicians recommending medical marijuana.
"As Americans, we have a moral obligation to protect the rights of the unborn, who are the most helpless of victims," Ross said in a press release. "As a Christian, a father and a Member of the Pro-Life Congressional Caucus, I am deeply committed to preserving our nation's traditional family values and will always be a strong advocate for policies valuing and protecting the sanctity of life."
FRC Action President Tony Perkins said members of Congress such as Ross "deserve praise for their unwavering commitment to stand for life, family, marriage, and religious liberty."
—
Buchanan meets with Florida hospital leaders to discuss heroin epidemic — The congressman met with leaders from Sarasota Memorial Health Care System, Doctors Hospital in Sarasota, Lakewood Ranch Medical Center and St. Joseph's Hospital-South Friday to discuss how to confront the opioid and heroin crisis in Florida.
"The drug crisis is taking too many of our loved ones from us each day," Buchanan said. "Doctors, nurses and first responders need help to fight the mounting number of overdoses. I'm committed to pushing for additional resources here in Southwest Florida to address this public health emergency."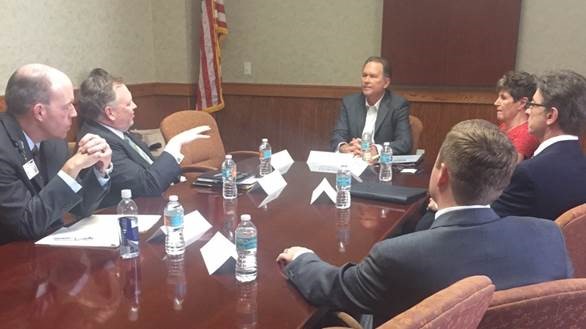 Heroin deaths in Florida went up 80 percent in 2015 compared to 2014, according to the latest data from the state's medical examiners commission. The same report also found that statewide, deaths from synthetic opioid fentanyl increased by more than 77 percent from 2014 to 2015.
—
Buchanan schedules town hall for March 18 — Buchanan announced Wednesday that he would hold a town hall in Sarasota March 18.
According to a press release, the sixth term representative had initially discussed a town hall in early April but decided to move the date up to get constituents' input on the American Health Care Act before it comes to a vote.
"With Congress moving quicker than expected on health care I wanted to make sure my constituents had a chance to be heard and voice their opinion," Buchanan said. "I've held 74 town halls over the years and look forward to hearing what people have to say."
The town hall meeting will start at 11 am at the Sudakoff Center auditorium.
—
Rooney faces raucous crowd at town hall meeting via Tamara Lush of The Associated Press — "You are supporting an appropriations bill to help clean up the Everglades. You recently voted to repeal a rule that allows coal companies to dump toxic ash in waterways throughout the whole country. Would you care to explain?" one man asked.
"We don't live in a perfect world," said the Republican congressman, standing alone in front of a podium on stage at the Englewood Event Center. And that's when the shouting started.
"That was quick," quipped Rooney … "So you want Trump to fail?" The crowd screamed and clapped. One person yelled, "Yes, he already is failing!" A Trump supporter shouted a response from the back: "You people suck!" … In the end, everyone agreed on one thing: Rooney showed guts, standing up in front of a room full of angry voters.
—
Rooney files bill to curb illegal drug trafficking — Rooney also teamed up with Ohio Democratic U.S. Rep. Tim Ryan on a bill that would up penalties for trafficking in the synthetic opioid fentanyl.
The Stop Trafficking in Fentanyl Act would reduce the amount of fentanyl needed to invoke the most serious trafficking penalties for an individual trafficking and manufacturing the drug from 400 grams to 20 grams.
"My concern is that without action, these overdose figures are only going to get worse," Rooney said. "The opioid epidemic has been tearing communities apart across the country. Congressman Ryan and I continually hear about fentanyl from our local law enforcement officers and prosecutors, and this bill will help give them the tools they need to get those who traffic this dangerous synthetic opioid off the street."
—
Frankel leads colleagues in Congressional "walkout" — Wednesday's "Day Without a Woman" featured events in several cities including Washington, D.C. Frankel was among the leaders of a Congressional "walkout."
Around 12:30 p.m. several Democratic members, both men and women, descended the Capitol steps to lend their support to the strike. Frankel, who chairs the Democratic Women's Working Group in Congress, expressed concern about rolling back women's rights.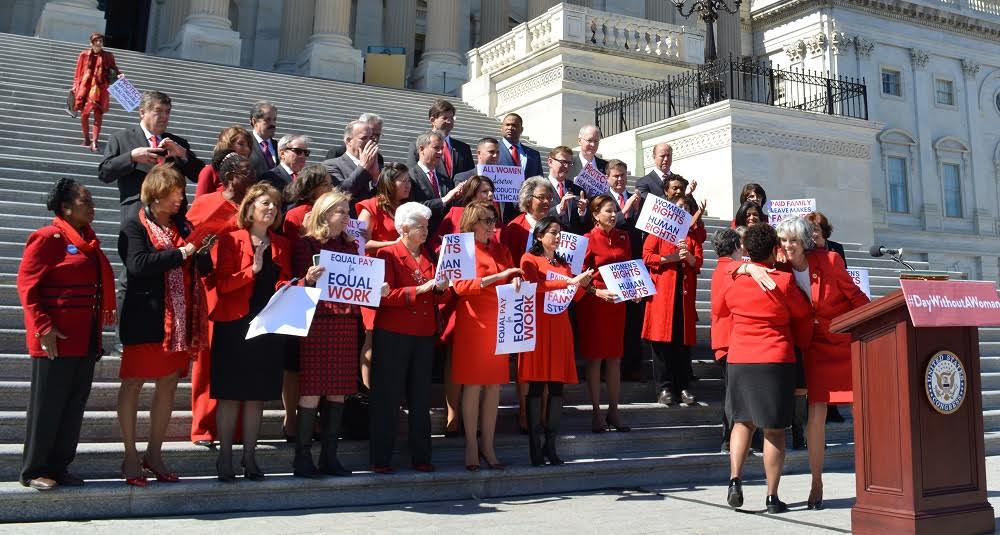 "I join millions of women in recognizing the important economic power of women in the United States and around the globe," she said in a news release. "In Congress Democrats will resist efforts to take us back from hard earned gains."
No votes or roll calls were missed due to the walkout.
—
Deutch again calls for investigation into Trump's ties with Russia — Ted Deutch is repeating calls for a bipartisan investigation into President Trump's ties to Russia and other issues surrounding his campaign and business interests. Deutch made the request during a Thursday meeting of the House Committee on Foreign Affairs concerning "Russian disinformation aims."
Deutch, the ranking member of the Middle East and North Africa Subcommittee ticked off a list of questions directed toward committee Chairman Ed Royce of California.
"Seventeen American intelligence agencies concluded that Russia executed a cyber-attack against the United States," he said. "How can we proceed with a hearing on Russia's involvement in Europe while ignoring the unresolved questions around this attack?"
He concluded by asking for a "full investigation into the Trump campaign, the Trump White House, and the Kremlin" as well as "the President's tax returns" to get the full picture of Trump's "business relationship with Russia".
—
Diaz-Balart gets nod from National Association of Latino Elected and Appointed Officials — Rep. Mario Diaz-Balart received the 2017 Edward R. Roybal Award for Outstanding Public Service from the organization this week.
The Miami Republican was recognized alongside his brother, former Rep. Lincoln Diaz-Balart.
"I am grateful to NALEO for this prestigious award. Your organization is comprised of Latino elected and appointed officials, and to be recognized by my peers from all over the country is truly an honor," he said in a statement. "This award is especially humbling because I am receiving it alongside my role model and mentor — my brother, Lincoln."
The award honors individuals who distinguish themselves as devoted public servants to the nation and pays tribute to the organization's founder and President Emeritus, the late Rep. Edward Roybal.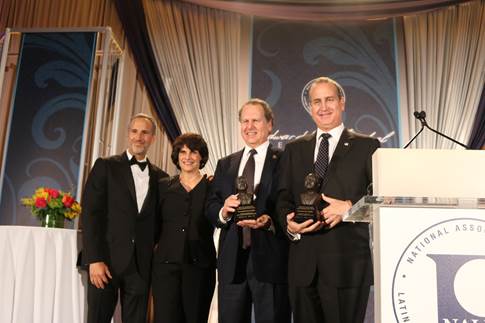 First elected in 2003, Diaz-Balart is a senior member of the House Appropriations Committee and the chairman of the Transportation, Housing and Urban Development Appropriations Subcommittee.
First elected in 1992, Lincoln Diaz-Balart made history as the first Latino be named to the powerful Rules Committee in 1994. He retired in 2011.
"Both Rep. Mario Diaz-Balart and Rep. Lincoln Diaz-Balart have set the bar for what it means to use public office as an avenue to make positive, meaningful change in the lives of immigrants, Latinos and all Americans, exemplifying the true spirit of service demonstrated by the late Congressman Roybal," said Pauline Medrano, NALEO President and Dallas County Treasurer.
—
Curbelo files new DREAM Act in Congress via Patricia Mazzei of the Miami Herald
The "Recognizing America's Children Act," or RACA, would offer an eventual path to U.S. citizenship to immigrants who entered illegally before Jan. 1, 2012, and were 16 years old or younger. The legislation is essentially a new version of the DREAM Act, which failed in the Senate in 2010.
Curbelo is bringing it back because President Trump, in his executive order on immigration, left in place the Obama administration's Deferred Action for Childhood Arrivals program — known as DACA — which shields so-called DREAMers from deportation.
"This White House has sent a very strong message by preserving the executive order that protects these young people," Curbelo said in an interview … "We know that they've been very aggressive when it comes to immigration policy, so it certainly stands out that they have left the DACA executive order untouched."
—
FDP slams Curbelo for vote to advance 'TrumpCare' — The Florida Democratic Party slammed Rep. Curbelo for his vote on the House Ways & Means Committee, saying it shows "how misguided his D.C. priorities are."
"Congressman Curbelo's support of TrumpCare, despite not knowing how many Americans will lose coverage, how much more Americans will be forced to pay in premiums, and what the bill will cost taxpayers, shows how misguided his D.C. priorities are," said Scott Arceneaux, the executive director of the FDP in a statement. "With groups representing doctors, nurses, hospitals, and seniors strongly opposing TrumpCare, it seems Washington Republicans like Curbelo are the only ones in favor of it."
Arceneaux said Democrats spent years crafting and debating a bill that covered 20 million Americans and saved taxpayers money.
"Now, with Congressman Curbelo's help, Republicans are attempting to jam through a taxpayer giveaway to the wealthy while forcing millions of Americans to pay more for less coverage," he said. "TrumpCare is unacceptable and Congressman Curbelo's constituents deserve better."
—
Floridians ranked among highest and lowest of congressional office expenditures — Two members of the Florida delegation were on opposite ends of the spectrum when it comes to spending their allotments for Congressional offices in 2016. According to an analysis by LegiStorm, former delegation member Jolly was second only to Texas Republican John Carter in office spending.
Jolly used more than 99 percent of his budget which was slightly less than Carter's 99.5 percent. The analysis mentioned Jolly and some other members who were "engaged in contentious re-election battles," used portions of their budgets on "franked mailings" to "reach constituents before Election Day."
Ranking 435th, and last, in office spending was Daniel Webster. The Orlando Republican "led the penny pinchers by far, spending only 61.5 percent" of his roughly $1.25 million budget. The next-lowest spent nearly 75 percent of his budget.
On average, Democrats spent 92.59 percent of their budgets while Republicans used 90.77 of theirs. Overall, members used 91.13 percent of authorized funds.
—
SCOTUS to consider Florida-Georgia water war — The U.S. Supreme Court will consider adopting a report from the court-appointed special master who rejected Florida's lawsuit against Georgia over water use in the Apalachicola-Chattahoochee-Flint river system. The closed-door meeting will take place March 17, and the court is expected to adopt the ruling, though it is unclear when they will announce the decision. After the initial decision, Florida's congressional delegation has worked on legislation that would require the U.S. Army Corps of Engineers to modify its plan for the region and cap Georgia's water use.
—
Congress shorts Collier and others on compensation for wildlife refuges via John Ferro of the Naples Daily News  — A federal program intended to compensate local governments for property tax revenue lost by the creation of national wildlife refuges shortchanged Collier County almost $500,000 in 2016, a review of payments data shows.
More than 1,000 U.S. territories, counties, cities, towns, and villages — from northernmost Alaska to the Florida Keys, from Guam to the Virgin Islands — receive payments through the National Wildlife Refuge Fund. But almost all of them get far less than they are due.
The federal formula used to calculate the annual payments to local governments put Collier County's payment at $659,0000 for 2016, but the county received only $164,000, a shortfall of $495,0000, payment data shows.
—
Crenshaw moves on to D.C. law firm King And Spalding via AG Gancarski of Florida Politics  — Crenshaw, who represented the Jacksonville area from 1993 to 2016, will serve as senior counsel in the Government Advocacy and Public Policy practice in King & Spalding's Washington, D.C., office.
"King & Spalding's roster of former government officials—elected and nonelected, both Democrat and Republican—was a compelling platform as I contemplated life after Congress," said Crenshaw.
Officers from the firm noted Crenshaw's knowledge and affinity for consensus-oriented solutions as unique value adds for its newest hire.
—
Jolly launches non-profit policy committee — The former Rep. announced this week he launched Brighter Future Florida, a non-profit organization meant to continue his work on issues important to Pinellas County.
"I am committed to continuing the work I started in Congress," said Jolly. "Brighter Future provides a vehicle to serve our community and to work with people of all political leanings on smart public policy solutions."
The program is initially funded with unused money from the 2016 campaign cycle, something Jolly said he hoped showed a "commitment to real campaign finance reform."
"Instead of using unspent money on endless campaign cycles for other candidates, I felt the right thing to do was to pour the money back into the community," he said.
Jolly has directed funds to I Support Youth, a youth development non-profit in south St. Petersburg; Drug Free America Foundation; and the Jim West Prostate Foundation supporting prostate cancer screenings.
Brighter Future Florida will focus on veterans' issues, early childhood education and literacy, community healthcare solutions, and issues impacting local fisheries and the environment. Jolly has tapped Vito Sheely to serve as the organization's as the non-profit's senior policy advisor, and John David White, his former chief of staff, as the group's director.
—
FWD.us taps former White House official Peter Boogaard as senior Communications Director
Boogaard is a former White House and National Security Council Spokesman and Department of Homeland Security Deputy Assistant Secretary. He joins the growing bipartisan team at FWD.us, an organization formed within the tech community to advocate immigration reform.
Before FWD.us, Boogaard served as Director of Communications and Assistant Press Secretary at the White House, where he held a dual role with the National Security Office and White House Press Office. There, he focused on a range of domestic security issues, including immigration and border security, refugee policy, disaster response, and Western Hemisphere affairs including Central American migration and Cuba policy.
Boogaard previously worked for the Department of Homeland Security, where he served as Press Secretary and ultimately Deputy Assistant Secretary for Public Affairs. He began his career on Capitol Hill as Press Secretary for U.S. Rep. Jim Cooper.
—
Home care advocates march on Washington — The Home Care Association of Florida and the National Association for Home Care will hold its annual March on Washington on March 20 and March 21 to advocate for Medicare home health care. The annual event gives supporters a chance to meet with the congressional delegation, receive advocacy training and take advantage of networking opportunities.
—
Spotted: Venice Mayor John Holic, who was in town to attend American Shores and Beach Preservation Association annual conference. Holic, according to the Sarasota Herald-Tribune, was scheduled to meet with aides for Sens. Nelson and Rubio, and Rep. Tom Rooney, but instead scored meetings with all three elected officials, including the "first-ever meeting with Rubio and an unprecedented 25 minutes with Nelson."
—
Goldmeier gets praise in a Cheshire Academy feature — Prestigious Connecticut boarding school Cheshire Academy highlighted alumnus and South Florida fundraiser Brian Goldmeier in a recent feature.
The article gives an excellent background on Goldmeier, from his early days at the school, through his internship with Hillary Clinton's 2008 presidential campaign, and on to his current stage as a highly successful fundraiser.
"When asked about what makes him successful at his job, it wasn't the total amount of money raised that Goldmeier touted," the article reads. "In fact, it was the invaluable contacts he's created."
In addition to his political work, the article highlights Goldmeier's charity fundraising for the local United Way, and former Miami Heat star Alonzo Mourning's charity, the Mourning Family Foundation.
"The relationships I've created has allowed me to really help Miami, which I truly love," Goldmeier said. "I have a number of charities I help fundraise for using my relationships."
—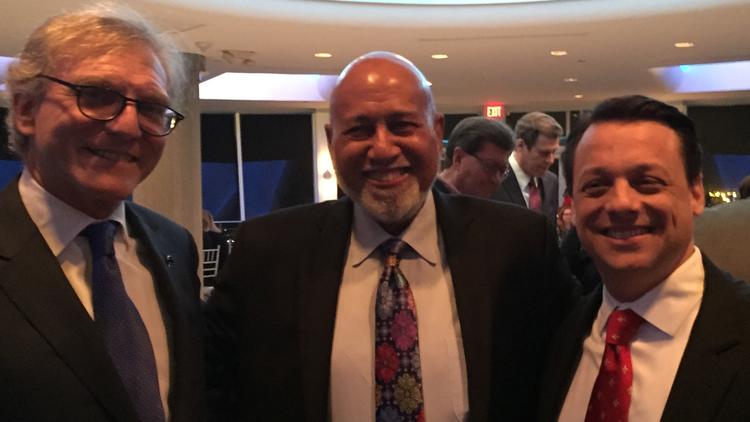 —
Brevard cook dishes on politics in 'Food for Thought' TV show via Suzy Fleming Leonard of FLORIDA TODAY — Lori Halbert wants to bring civility back to politics, one meal at a time.
After five years of cooking up tempting topics on her "Political Food for Thought" for Florida television audiences, she's ready to take the show to Washington … Lori cooked with Rubio in the pilot for the new season. Other people from the national political arena have expressed an interest in participating. The show's producers are working on sponsors and hope to make a deal with PBS to get the show before a national audience.
By combining two of her loves — cooking and politics — Lori wants to open the kitchen to delicious meals as well as bipartisan conversations about issues that affect us all, regardless of party affiliations. "The last few years have been very contentious in this country," the Indialantic woman said. "Us versus them. … It's really hard to be mad at somebody when you're eating really good food."
—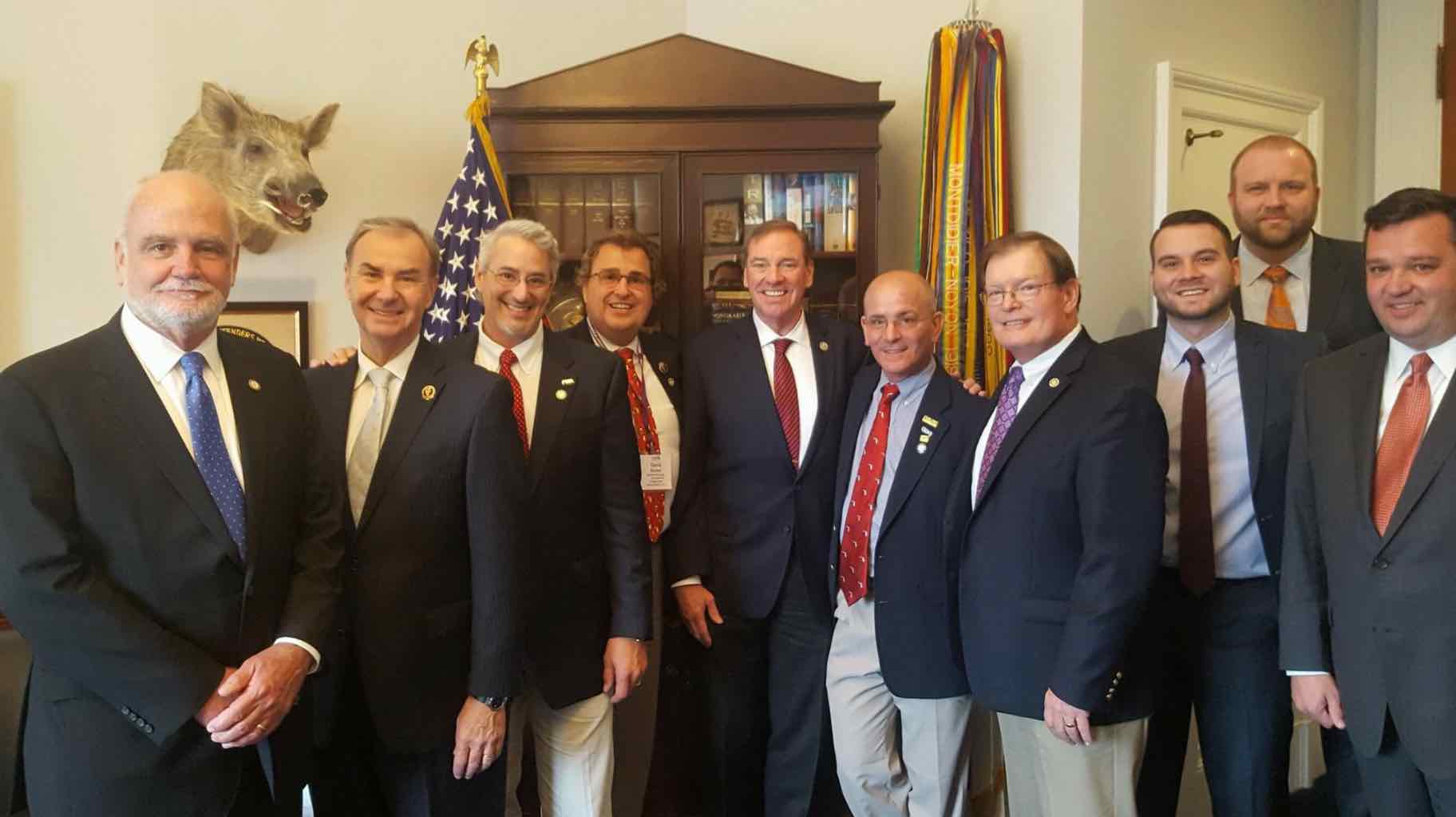 —
Top Rubio aide to lead PR for major GOP digital firm via Marc Caputo of POLITICO — One of the Republican Party's biggest players in digital campaigning is launching a new public-affairs division under the leadership of a top adviser to Rubio, his former chief of staff Alberto Martinez.
In naming Martinez executive vice president, Targeted Victory's expansion comes months after it had to reorganize and downsize some of its operations in the wake of Trump's surprise win in November.
The Alexandria, Va.-based firm grew out of the shambles of Mitt Romney's failed 2012 presidential campaign, becoming a de facto symbol of the Republican establishment — loathed by some Trump supporters — as a go-to firm for the GOP. The company handles strategic consulting for House Speaker Ryan, the National Republican Senatorial Committee and a bevy of Senate and House candidates.
—
Winter's revenge? Snow possible this coming weekend via Wes Junker and Jason Samenow of The Washington Post
Computer models are suggesting a winter storm could develop and bring snow or cold rain to the region. The most likely timing for any storminess would be Saturday night into Sunday — although that could shift some. Forecast uncertainty is very high, and there still is no clear consensus on whether the storm will provide us with accumulating snow, plain old rain or miss us to the south.
Save
Save
Save