The climate is not changing. No one can argue that it is.
No, that is not a scientific pronouncement. Instead, those facts apply only to the atmosphere on Capitol Hill. The political climate created by both parties is as heated as ever and has now settled in.
Last week's major skirmish in the 21st century civil war was fought over health care. Unified Democrats munched on popcorn and lobbed a few grenades while watching Republicans shoot at each other.
This week, the Democratic artillery came out after President Donald Trump issued his executive order rolling back some of the Obama environmental protections under the banner of protecting manufacturing or coal mining jobs.
Ted Deutch humorously envisioned Mar-a-Lago underwater in the future as a result of the Trump policy. Former Rep. Gwen Graham referred to "Donald Trump" (instead of President Trump) working to "dismantle President Obama's Clean Power Plan."
The institution of the Clean Power Plan mentioned by Graham was actually halted by the U.S. Supreme Court by a 5-4 vote on February 9, 2016, just four days before the death of Justice Antonin Scalia.
Which leads to the confirmation of Judge Neil Gorsuch, Trump's nominee to replace Scalia on the court. With Bill Nelson now joining the filibuster against Gorsuch, it is becoming more likely that Gorsuch, who would have easily been confirmed a few short years ago (Scalia was confirmed 98-0), will need a rule change to sit on the bench.
That rule change, which would require a nominee to acquire only 51 votes instead of the current level of 60, is known as the "nuclear option." Senate Majority Leader Mitch McConnell, a Kentucky Republican, has all-but-assured that bomb will be dropped if necessary.
Climate change, and lots of it, would be a welcome phenomenon inside the House and Senate chambers. Don't hold your breath
Meanwhile, here are this week's insights from the Beltway to the Sunshine State.
—
Democrats rip Trump executive order — Florida Democrats wasted little time blasting President Trump's latest executive order that rolls back some of his predecessor's efforts to combat climate change. Trump told several coal miners standing with him they were "going back to work" and domestic energy can be produced in ways that are "affordable, reliable, safe, secure and clean."
Florida Democrats chose to focus on the environmental aspect.
"Donald Trump's order to dismantle President Obama's Clean Power Plan and allow more carbon pollution is a step in the wrong direction that threatens our very way of life as Floridians," said former Congresswoman, and likely governor candidate, Gwen Graham.
Ted Deutch brought some comic relief. "I hope the president invested in flood insurance, because when Mar-a-Lago is underwater, he will have himself to blame," said the Boca Raton Democrat.
"Trump's executive order will cost Floridians a lot" in higher insurance costs, said Kathy Castor of Tampa.  West Palm Beach's Lois Frankel said "there is no potential job killer greater than ignoring the growing consequences of climate change."
Debbie Wasserman Schultz of Ft. Lauderdale responded directly to the core of Trump's message by saying the order "will not bring back a flood of coal jobs, nor will it move America closer to energy independence." She also termed the order as "another dangerous action."
—
Wealthy Trump donors spend big money on media blitz — Making America Great, a nonprofit run by Rebekah Mercer, one of Trump's most influential donors, began airing $1 million in television ads this week, reports Joshua Green with Bloomberg Politics.
The ad blitz is set to air in 10 states Trump carried and where a Democratic senator is up for re-election in 2018, including Florida and Ohio. The TV campaign will be supplemented by a $300,000 digital media campaign, also focused on voters in the state.
The 30-second spot highlights some of the things Trump has done during his first few months in office, including greenlighting the Keystone XL pipeline, reducing EPA regulations, and withdrawing from the Trans-Pacific Partnership.
"We are here to promote successes and hold accountable broken promises — not just to those who voted for Trump, but to all Americans," said Emily Cornell, who is taking over operations at Making America Great.
The campaign comes at a key time for the president. A recent Gallup poll reported his job approval fell to a new low of 36 percent.
—
Boca Raton event for ill and disabled children forced to move by Trump – An aviation kids' day planned for Saturday at the Boca Raton airport is relocating to Miami-Dade County due to restrictions when President Trump is at his Mar-a-Lago resort, reports Eliot Kleinberg with the Palm Beach Post.
Secret Service flight restrictions shut down Lantana's airport and hamstring the West Palm Beach airport when Trump is at Mar-a-Lago. Among the restrictions is a 30 nautical mile ban on sightseeing flights.
Organizers for the "Special Day for Special Kids" event said in February that they would have to move or cancel the event unless Trump committed to not coming to his Palm Beach resort during the event.
Trump will not be at Mar-a-Lago this weekend, though the lack of communication led event organizers to pull the trigger and move the event to Miami-Dade.
The move may have boosted attendance for the event, which had 25 percent more applicants this year than last year.
—
Bondi's D.C. trips fuel speculation she's White House bound — The Attorney General's decision to make a quick jaunt to Washington, D.C. this week once again fueled speculation she could be in the running for a White House gig.
Bondi was in the nation's capital on Monday with Floridians and football greats Tony Dungy and Derrick Brooks in tow, reported Marc Caputo with POLITICO Florida. Bondi and her crew reportedly met with President Trump, Education Secretary Betsy DeVos and HUD Secretary Ben Carson.
On Monday, Bondi told POLITICO Florida she was "working on some special projects with the White House," but declined to elaborate more.
Bondi stuck around D.C., moderating a "women's empowerment panel" featuring to women in the Trump administration, including DeVos, U.N. Ambassador Nikki Haley, and Small Business Administration Chief Linda McMahon.
"As Florida's first female attorney general, I am honored to moderate this panel with such remarkable and accomplished leaders," she said in a statement.
Bondi was also appointed to the President's Opioid and Drug Abuse Commission, headed up by New Jersey Gov. Chris Christie. In a statement, Bondi said she was honored to be chosen and thanked Trump, Christie and many others for caring about this deadly epidemic."
—
SPOTTED: Carol Dover, the president and CEO of the Florida Restaurant and Lodging Association, and Dawn Sweeney, the president and CEO of the National Restaurant Association, with Kellyanne Conway at the White House earlier this week.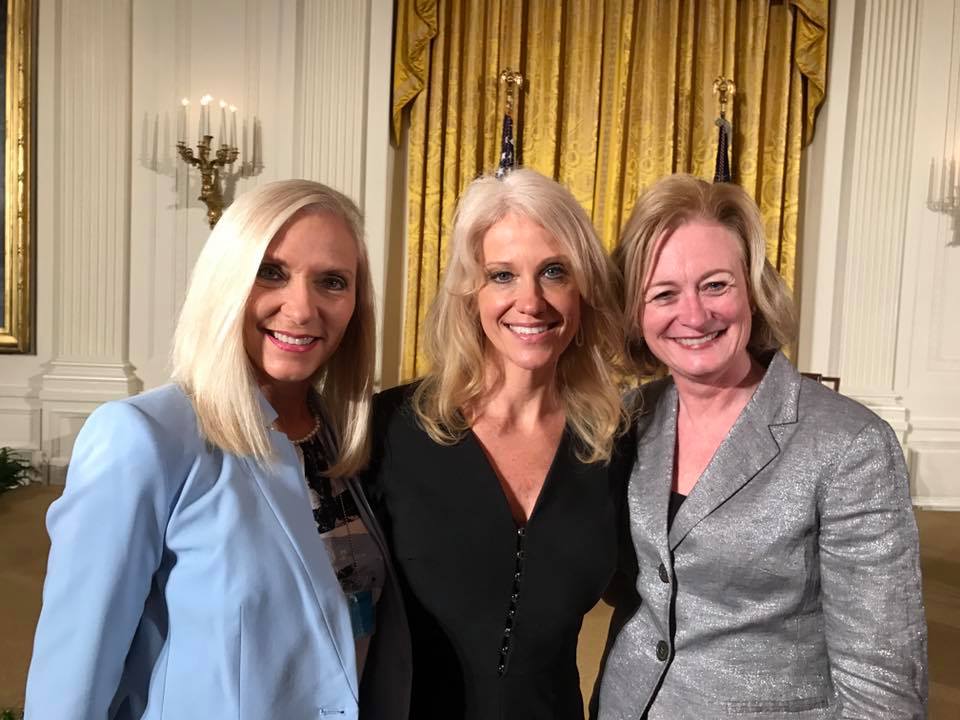 —
NASA looking at spaceport in lunar orbit as deep space gateway to Mars — NASA hasn't officially scrapped its mission to use an asteroid as a stepping stone to Mars, but it's taking steps to chart a new approach that instead would rely on a spaceport circling the moon, reports Ledyard King of USA Today
Under a program dubbed Deep Space Gateway, agency officials Tuesday said they still plan to use the lunar orbit as a staging platform to build and test the infrastructure and the systems needed to send astronauts to Mars.
But instead of breaking off a chunk of asteroid and dragging it to the moon, NASA's new plan calls for building an orbiting spaceport that could have even more uses.
"I envision different partners, both international and commercial, contributing to the gateway and using it in a variety of ways with a system that can move to different orbits to enable a variety of missions,"  said William Gerstenmaier, NASA's associate administrator for Human Exploration and Operations, in a news release Tuesday.
He said the gateway could support robotic or partner missions to the surface of the moon, or to a high lunar orbit "to support missions departing from the gateway to other destinations in the solar system."
—
DNC asks entire staff for resignation letters — The Democratic National Committee (DNC) has asked its staff to submit resignation letters as the party goes through a shakeup after a rough 2016 election cycle, reports Ben Kamisar of The Hill.
Shortly after former Labor Secretary Tom Perez became the party's chair in late February, the DNC requested resignation letters to be dated April 15, giving Perez the ability — should he choose — to launch a large-scale reorganization.
Democrats suffered a damaging loss in 2016, with Donald Trump's stunning defeat of Democratic nominee Hillary Clinton in the White House race and the party failing to recapture a majority in the Senate.
The DNC faced heavy criticism over the leadership of former Chair Rep. Debbie Wasserman Schultz, as well as the large role Clinton's campaign had in running the party last year.
Earlier this month, Perez announced a transition committee that has been tasked with advising him on all aspects of that transition, including staffing.
—
Paul Ryan to meet with top GOP donors in Palm Beach — House Speaker Paul Ryan will touchdown in Florida this week to spend two days meeting with big-money Republican donors in Palm Beach.
The meetings will be held at the swanky Breakers resort and will focus on the path forward following the House of Representative's failure to pass the American Health Care Act – sometimes called RyanCare.
"I will explain how it all still works, and how we're still moving forward on health care with other ideas and plans," Ryan said in a call with donors. "So please make sure that if you can come, you come — it will be good to look at what can feasibly get done and where things currently stand. But know this: We are not giving up."
—
Without Tampa office, Rubio goes mobile –  Rubio, still without a Tampa office after protesters forced the property owner to not renew his lease, is holding office hours at a variety of remote locations in the Tampa Bay region.
The Tampa Bay Times reports that Rubio staffers are meeting constituents "at coffee shops and libraries."
Pulling the lease poses a challenge for Rubio's staff, since Tampa is in what real estate experts call a "landlord's market" for Tampa Bay office space. "Leasing fees are at a high-water mark and vacancy rates are low," said Chris Butter of the commercial real estate firm Franklin Street. "So, landlords can afford to be picky."
—
Rubio, bipartisan Senate group call for U.S. help for starving North Africa — After a hearing on a humanitarian crisis with millions of lives at stake in northeast Africa, the Miami Republican joined a bipartisan group of senators in asking Secretary of State Rex Tillerson to intervene by leading an "urgent and comprehensive" diplomatic effort, reported Scott Powers with SaintPetersBlog.
Rubio signed a letter to President Donald Trump's secretary of state saying that political obstacles in northeastern Nigeria, Somalia, South Sudan, and Yemen are significantly to blame for humanitarian aid from getting in, and consequently millions of people now are starving to death.
"The scale and complexity of these crises might lead some to say the situation is hopeless," reads the senators' letter to Tillerson. "We reject such a response as U.S. leadership can make an enormous difference, and we believe the Department of State can and should lead a diplomatic effort now to reduce the political barriers that are hindering the delivery of food to millions of starving people. The U.S. government has a strategic and moral imperative to do nothing less."
Rubio was joined by Republicans Todd Young of Indiana, Cory Gardner of Colorado, and Jeff Flake of Arizona; and Democrats Ben Cardin of Maryland, Ed Markey of Massachusetts, Jeanne Shaheen of New Hampshire, Chris Murphy of Connecticut, Cory Booker of New Jersey, and Chris Coons of Delaware.
—
Nelson to join filibuster against Gorsuch — Florida's senior Senator has made up his mind on U.S. Supreme Court nominee Neil Gorsuch. To the surprise of almost no one, Nelson announced he would not support President Trump's choice to serve on the court.
"I will vote no on the motion to invoke cloture and, if that succeeds, I will vote no on his confirmation," Nelson said.
Gorsuch supporters held out some hope Nelson would at least be amenable to allowing Gorsuch an up-or-down vote on the Senate floor. In 2006, he voted to end the filibuster against Samuel Alito.
The National Republican Senatorial Committee (NRSC), who is expected to spend a good deal of capital to defeat Nelson's re-election bid in 2018, was quick to react.
"Clearly Nelson has been in Washington way too long and is forgetting he represents Florida, not Washington liberals," said a statement issued by the NRSC.
Gorsuch was set to be approved by majority Republicans on the Senate Judiciary Committee this Friday, but Democrats forced a one-week postponement. The full Senate will take up the nomination in early to mid-April.
—
Florida Why Courts Matter Coalition backs Nelson's opposition to Gorsuch — The Orlando Democrat's declaration he would filibuster to prevent Gorsuch from getting on the high court doesn't seem very Nelson-like, but it's drawing some support from the Florida Why Courts Matter coalition.
"Having a common-sense, often bi-partisan senator like Bill Nelson come out against President Trump's Supreme Court nominee sends a clear signal about just how out of step Neil Gorsuch is with mainstream American values," said Progress Florida Executive Director Mark Ferrulo on behalf of the coalition.
"We agree wholeheartedly with Sen. Nelson that Judge Gorsuch's track record on voting rights, the corrosive influence of money in elections and siding with corporations over hardworking Americans should disqualify him from sitting on the highest court in the land," he continued.
Nelson is up for re-election next year, and it's speculated he joined the anti-Gorsuch train in order to avoid drawing a primary challenger.
—
2018 U.S. Senate race could be a nail biter — Sen. Nelson might be in for a closer race than once predicted, according to a new survey commissioned by Florida Hospital Association.
The poll, conducted by Public Opinion Strategies from March 1 through March 5, showed Nelson led Gov. Rick Scott 46 percent to 44 percent in a hypothetical head-to-head 2018 match-up. The survey of 600 registered voters has a margin of error of 4 percent.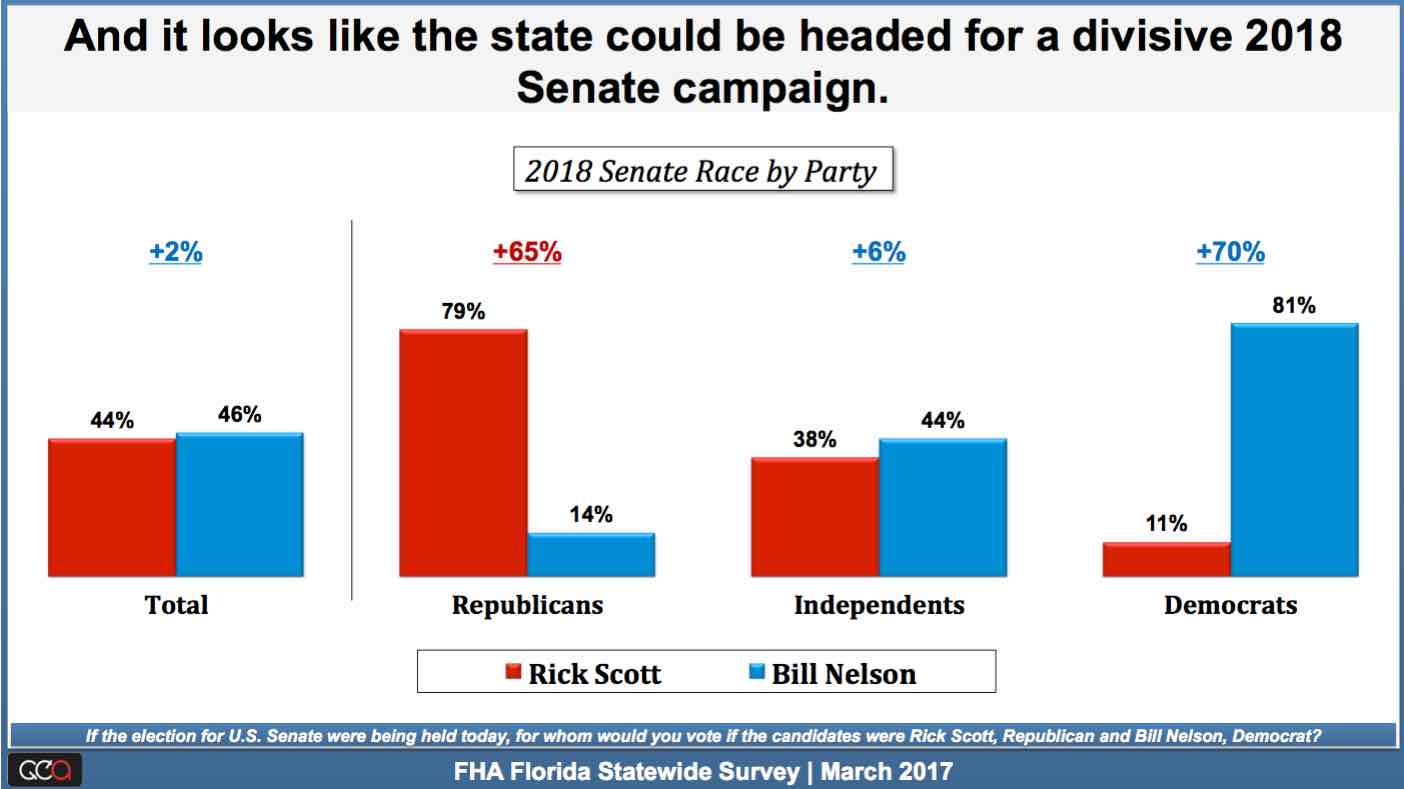 That 2 percent margin is the slimmest margin between the two men in any of the recent polls looking at the 2018 U.S. Senate race. A poll from the Florida Chamber of Commerce released last week showed Nelson had a 6-point lead over Scott, 48 percent to 42 percent. That margin mirrored one predicted in a UNF Public Opinion Research Laboratory survey released earlier in the month that found Nelson would take 44 percent to Scott's 38 percent. A Mason-Dixon survey showed Nelson with a 5-point edge over Scott, 46 percent to 41 percent.
The Florida Hospital Association poll shows both men have strong support among their base. The poll found 79 percent of Republicans said they would pick back Scott, while 81 percent of Democrats said they would pick Nelson.
Nelson, an Orlando Democrat, has a slight lead among independent voters, with 44 percent saying they would support him in a hypothetical election; while 38 percent backed Scott.
The survey also showed Floridians are clearly divided when it comes to President Trump, with just 45 percent of Floridians saying they approved of the job he was doing as president. The poll found 79 percent of Democrats and 43 percent of independents disapproved of his job.
He received a 79 percent approval rating from Florida Republicans.
—
Happening Friday: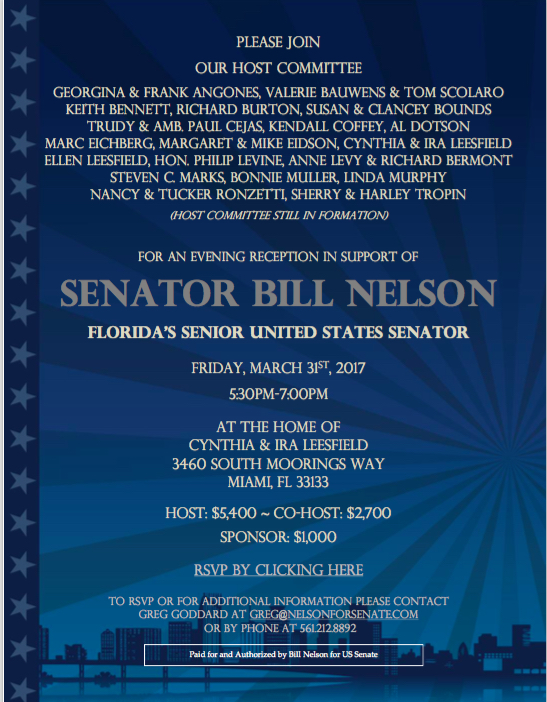 —
Paulson's Principles via Dr. Darryl Paulson
After the 2016 congressional races, Republicans controlled the US House 241 to 194 and the Senate 52 to 48. In Florida, Republicans lost a couple of seats, but still control the House delegation 16 to 11. Each party holds one Senate seat.
Looking forward to 2018, Democrats will have to pick up 24 House seats and three Senate seats to win a majority. Right now, Democratic chances to accomplish this are unlikely.
In 2016, the Democrats had a great opportunity to regain majority control of the Senate because Republicans had to defend 24 of the 34 contested seats. Democrats fell flat, only picking up two seats.
In 2018, it will be the Democrats who must defend a preponderance of Senate seats. Democrats must defend 25 of the 33 contested seats, and 10 of the 25 seats are in states that Donald Trump won.
Of the 27 Florida congressional districts, eight were decided by five points or less in 2016. By Florida standards, the election was very competitive.
What will happen in 2018? In all likelihood, those who experienced close races will face strong challenges. Both parties know that unless a candidate is defeated in their first reelection campaign, there is little chance of defeating them in the future.
Both Larry Sabato and Charlie Cook, two of the best political prognosticators, pick two Democrats and two Republicans from Florida to have close races. Both pick newly elected Democrat Charlie Crist to "likely" win reelection and see another first-timer, Stephanie Murphy, to have a closer contest.
Republican Carlos Curbelo's Miami district barely favors his reelection, while Ileana Ros-Lehtinen's district is viewed as "likely" Republican.
Success or failure for both parties is likely to depend on whether Democrats can maintain their anti-Trump and town hall momentum, or whether Trump and the Republicans can deliver on their "repeal and replace" promise on health care.
The Republicans appear more fractured at this point, especially after their defeat on health care, and the Democrats more united on defeating their common enemy: the Republicans
But, like the 2016 Senate races and the presidential campaign, Democrats have disappointed their supporters before.
—
Gaetz seeks talented young artists — The Panhandle Republican is seeking entrants for the 2017 Congressional Art Competition. Gaetz is promoting entrants within the 1st Congressional District through the Northwest Florida Congressional Art Competition and Show.
The local winner will become a finalist in the national completion (among other Congressional districts) and have their work displayed for one year in the U.S. Capitol. A panel of judges will select the top three before the finalist is announced at a reception on Friday, April 21 at the Pensacola Museum of Art.
Nearly 100 pieces of art have been submitted so far. The deadline for submission is 4:00 p.m. Thursday.
—
Gaetz advises proactive strategy regarding BRAC
The Fort Walton Beach Republican wants the region's military installations to go after more missions when the next round of Base Realignment and Closure (BRAC) decisions are made. Instead of waiting and hoping selected missions are not removed, or worse, Gaetz wants local military leaders to pursue adding to the overall missions of the bases located in his First Congressional District.
"I don't think that it's all that productive to wring our hands about the fears of BRAC," Gaetz told WUWF radio. "I think we should be preparing right now to win BRAC and attract mission to northwest Florida."
BRAC has trimmed military bases six times since 1988. On two occasions it negatively affected the Pensacola Naval Air Station. Gaetz expects "a BRAC to occur during Donald Trump's presidency."
At a recent meeting of the House Armed Services Committee, of which Gaetz (and Stephanie Murphy) is a member, Air Force Vice Chief of Staff Stephen Wilson testified about "a 25 percent excess capacity at our bases."
—
Rutherford's first bill passes unanimously — The Jacksonville Republican not only got his first bill passed, it passed unanimously. The Reducing Department of Homeland Security (DHS) Acquisition Cost Growth Act called for preventing wasteful spending by many of the agencies under the DHS umbrella. It would provide greater accountability at the agencies and more Congressional oversight over troubled programs.
"The passing of H.R. 1294 is great news for preventing wasteful spending at the Department of Homeland Security," Rutherford said in a statement. "I thank the House of Representatives for voting to stop wasteful spending."
The finally vote tally was 408-0.
—
Freedom's just another word for nothing left to lose – A sympathetic profile of the three Florida members of the Republican Freedom Caucus – Ted Yoho, Ron DeSantis, and Bill Posey – surfaced this week in the Tampa Bay Times.
The Freedom Caucus, wrote Alex Leary, was "little known outside Washington — a small, raucous coalition of far-right conservatives" before proving to be the deciding factor in the Trump Administration pulling its health care bill.
Leary got one victory lap quote, via North Florida's Yoho.
"I don't work for Donald Trump. I work with him. I work for the people who sent me up here. He ran on repealing and replacing Obamacare. Those people that put him and me in office expect us to repeal and replace Obamacare."
Despite pressure from outside groups and the administration, the Freedom Caucus recoiled against a bill that wasn't pure enough. They won the day, and got a rare tribute: a favorable writeup in a major paper.
—
Yoho pushing missile defense system for South Korea — The Gainesville Republican said he wants to equip South Korea with an advanced missile defense system to protect the American ally from North Korea's growing missile inventory.
Yoho, the vice chairman of the House Foreign Affairs Committee and the chairman of the Asia and the Pacific Subcommittee, also urged the Chinese government not to stand in the way of South Korean missile defense efforts.
"With the upcoming visit of Chinese President Xi Jinping's visit to the United States, it is important, through this resolution, that we support the timely deployment of the Terminal High Altitude Area Defense (THAAD) system in South Korea and urge China to cease its unwarranted retaliation against South Korea in response to the deployment," Yoho said. "China has done little to stop North Korea's provocative and destabilizing behavior that has included nuclear tests, ballistic missile launches and chemical weapons use like the VX nerve agent."
Yoho also commended the South Korean government for its commitment to missile defense and thanked the U.S. armed forces stationed in South Korea for defending the nation against North Korean aggression.
—
Yoho: Tax reform will be easier than health care —  After a mighty struggle over the American Health Care Act (AHCA) left Republicans a bit bruised and bloodied, the representative from Florida's Third Congressional District offered some encouraging words for fellow Republicans and all Americans weary of the combat. As the House takes up tax reform, Yoho does not anticipate nearly as many problems.
"I think this will be easier than (repeal of) the Affordable Care Act," he told CNN's John Berman. When Brennan brought up the possible controversy surrounding the Border Adjustment Tax, the Freedom Caucus member may have raised a few eyebrows in conservative circles.
"I am not averse to the Border Adjustment Tax," he told Berman. "The Republicans, Democrats and Independents want tax reform and I think it will be an easier push than health care."
If a large number of conservatives hold the same view as Yoho, he is probably onto something. If not, stand by to report to battle stations.
—
'Curbelo, Rutherford played it safe' – In the Tampa Bay Times, writer Alex Leary noted that of Florida's Congressional Delegation, two Republicans – Carlos Curbelo and John Rutherford – didn't give a position on the AHCA.
Rutherford, wrote Leary, refused to give a yes or no answer – simply offering the same statement above.
That's ironic, as Rutherford was a featured speaker at a Jacksonville pep rally for the Trump health care bill.
Our A.G. Gancarski covered the event, and Rutherford's comments were vague and closer to talk radio red meat than policy specifics.
Rutherford said "the American dream is being damaged by Obamacare … a policy that drives up costs and strangles small businesses."
"We need a better way … we must repeal and replace Obamacare with a market-based health care policy that will reduce costs and increase consumer access to health care," Rutherford added.
—
Murphy's first bill attracts large numbers of co-sponsors — The Winter Park freshman Democrat has attracted 179 co-sponsors for her first bill submitted in Congress. She introduced H.R. 804, a three-page bill known as the "Protecting the National Security Council from Political Interference Act," on Feb. 1, just three days after President Trump's appointment of chief strategist Steve Bannon to a seat on the National Security Council.
"Although Bannon may be a controversial figure, particularly among my fellow Democrats, this bill is not about his personal character or party affiliation," Murphy wrote in a recent Orlando Sentinel op-ed. "It is about fidelity to a principle – the separation of national security policy and politics – that is both deeply American and, in light of my background, profoundly personal."
Murphy and her family escaped Viet Nam in 1979. Following 9/11, she served at the Pentagon.
Not surprisingly, all co-sponsors are Democrats. Each of Florida's Congressional Democrats has signed on.
—
Demings and Murphy to speak at Central Florida Tiger Bay — The two Democratic U.S. Congresswomen are slated to speak at the April 7 Central Florida Tiger Bay Club meeting.
The pair will give their insights and views from their first three months in Washington during the noon am meeting at The Country Club of Orlando.
Those wishing to attend will need to RSVP to the Central Florida Tiger Bay Club. The event is free for club members, but will cost $40 for guests and non-members.
—
Buchanan to new Interior Secretary: Drilling off Florida a no-no — The Sarasota Republican has weighed in on one of the rare issues where the Florida delegation shows a strong consensus. He wants to make it clear that oil drilling off the Florida coast is a significant threat to his region and to the state's, economy.
In a letter to Ryan Zinke, the new Secretary of the U.S. Department of the Interior, Buchanan warned "drilling in this area threatens Florida's multi-billion dollar, tourism-driven economy." Last week, the federal government sold oil and gas leases covering 913,542 acres in the Gulf of Mexico.
"We expect that as our nation's newest Interior Secretary, you will follow both the letter and the spirit of the law that currently bans drilling in the Eastern Gulf of Mexico and we strongly urge you to heed the recommendations of the Department of Defense and coastal communities by keeping offshore rigs out of the area," wrote Buchanan.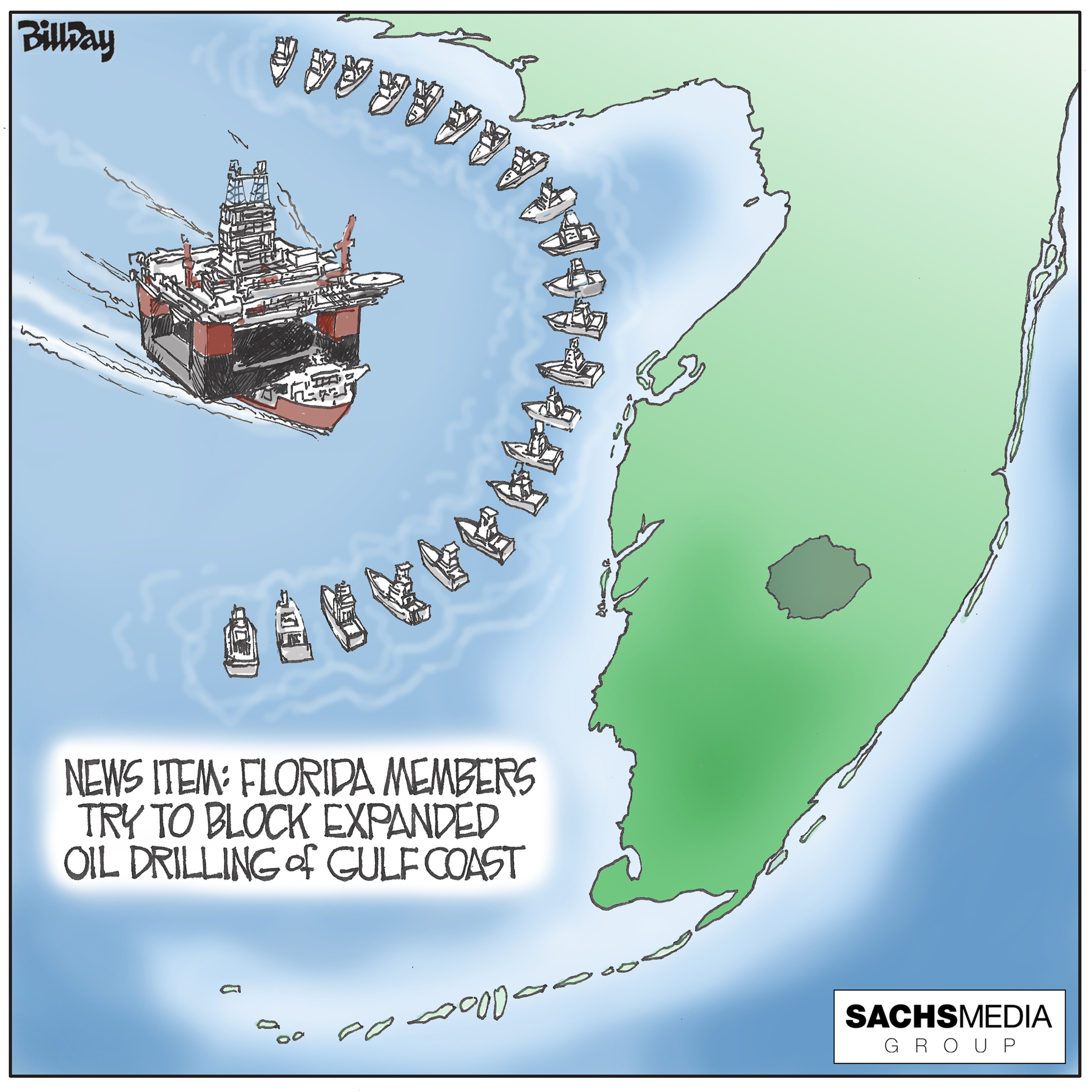 Florida was not involved in last week's lease sale because, as Buchanan stated, drilling within 125 miles of Florida's coast is prohibited until 2022. While waters off Alabama, Mississippi and Louisiana are fair game, Buchanan wishes to extend Florida's protection for an additional five years by co-sponsoring the Preserving Florida's Coast Communities Act launched in the previous Congress by former Rep. David Jolly.
Among the bill's originator and four bi-partisan co-sponsors, (former Reps. Patrick Murphy, Gwen Graham, and Curt Clawson) Buchanan is the only one remaining in Congress.
—
Buchanan meets with Jewish leaders to talk Israeli-US relations – The Sarasota Republican met up with a group of Sarasota Jewish Leaders this week to talk about ways to combat anti-Semitism and Israeli-US relations.
The visit was part of a policy conference put together by the American Israel Public Affairs Committee and saw about two dozen members of the committee head to Buchanan's office in Washington.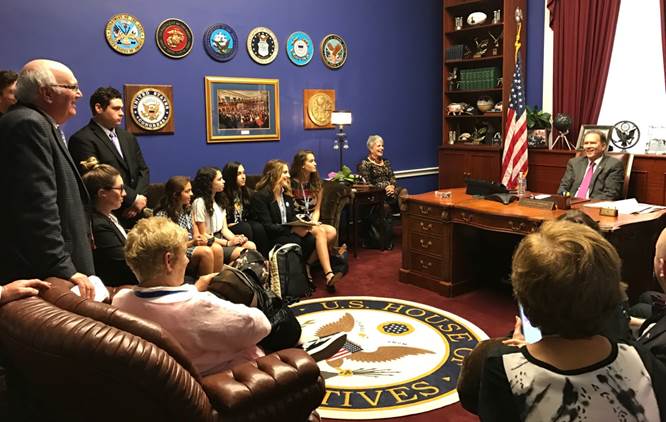 "Israel is the only free democracy in the Middle East and deserves our support," Buchanan said. "As terrorist organizations like ISIS carry out violent attacks against the West, the strong U.S.-Israel alliance is critical in defending democracy and promoting peace at home and abroad."
Buchanan told the group about his recent trip to Israel and assured them he was fighting against rising anti-Semitism through his membership in a congressional task force aimed at fighting it.
—
Mast's independence could be daunting in 2018 – The freshman Palm City Republican tells Roll Call he wants to "do his own way." And, if he is successful, Mast's independent streak could stymie Democratic efforts to unseat him in 2018.
"Mast's independence is becoming part of his political brand," writes Simone Pathé. "He drops terms like 'maverick approach,' when describing his differences with his party on climate change."
Mast – who is a "product of his military background" — has bucked Republican orthodoxy by supporting the Environmental Protection Agency and calling for Attorney General Jeff Sessions to resign if he did not recuse himself over investigations of the 2016 campaign. Democrats' best shot at beating Mast in 2018 — CD 18 is a swing district – could be to portray him as close to the Republican Party and play against his moderation.
—
Hastings asks Trump to extend protections for Haitian immigrants – Democratic U.S. Rep. Alcee Hastings wants an extension to the Temporary Protected Status, or TPS, designation extended to Haitian immigrants after the Caribbean country was hit with an earthquake in 2011.
Haiti's TPS designation covers about 50,000 people in the U.S., and late last year the Obama administration extended it through July 22, 2017.
In a letter to Homeland Security Department Secretary John Kelly, Hastings said the country needs an extension because of the cholera outbreak after the earthquake, and the devastating effects of Hurricane Matthew last year.
Florida U.S. Sens. Bill Nelson and Marco Rubio signed on to the letter, as well as House Democratic U.S. Reps. Ted Deutch, Debbie Wasserman Schultz, Frederica Wilson and Lois Frankel; and, Republican U.S. Reps. Ileana Ros–Lehtinen, Mario Diaz–Balart and Carlos Curbelo.
—
Frankel seeking reimbursement for Trump visits to mansion — The Palm Beach County Democrat wants the federal government to pay up for local costs incurred when President Trump makes one of his frequent visits to his Mar-a-Lago mansion. Costs for police and firefighter overtime, in addition to cyber security, can put a dent in local budgets, she says.
"We understand why the President wants to be here. We understand that. This is paradise, right?" she said at a Monday news conference with Trump's mansion looming in the background. "But what we're asking for is reimbursement for this county and the city."
The news conference, also attended by West Palm Beach Mayor Jeri Muoio and Palm Beach County Assistant Administrator Jon Van Arnam, repeated the concerns and the costs laid out in a recent letter to the President led by Frankel. Also signing the letter were  Reps. Hastings and Deutch, members of the Palm Beach delegation.
Frankel and local officials estimate the cost to local government will amount to between $3.3 million and $5.8 million for the year, including $400,000 to thwart cyber attackers now going after the city of West Palm Beach's computers.
"The reality is these are federal expenses the local taxpayers are burdened with," said Van Arnam.
—
Diaz-Balart, Curbelo targeted in DCCC ads — The failure of the American Health Care Act (ACHA) even before it come up for a full vote in the House is not stopping the Democratic Congressional Campaign Committee (DCCC) from going after the two south Florida Republicans. Both are being dinged in digital ads that say both "voted for" the bill, leading to the ad's final three words: "you deserve better."
"This targeted ad campaign makes clear that Representatives Curbelo and Diaz-Balart's vote for this devastating Republican repeal bill will not be forgotten," said DCCC Chairman Benjamin Ray Lujan, a New Mexico Congressman.
Curbelo and Diaz-Balart are two of 15 Republicans from swing districts on the receiving end of the five-figure digital ad buy. While the bill never received a vote on the House floor, both voted for the bill in committee.
After the committee votes, the bill was amended to attract more support from conservatives. Through this action, Curbelo's spokesperson claimed her boss was undecided how he would have voted had the bill not crashed and burned last week.
—
DCCC wants to know Ros-Lehtinen's position on latest Obamacare repeal effort — It appears the GOP is not done with healthcare, which encourages some Democrats to try and force the veteran Miami Republican to again go on the record on the majority's attempts to repeal/replace Obamacare. The Democratic Congressional Campaign Committee (DCCC) wants to do just that.
With the filing of a full repeal of the Affordable Care Act by Alabama Republican and Freedom Caucus member Mo Brooks, the DCCC wants to know where Ros-Lehtinen stands on the matter. She was the first Republican member of the House of Representatives to publicly say she would vote "no" on the American Health Care Act.
 "Ileana Ros-Lehtinen has voted repeatedly to recklessly tear health care away from millions of Americans with absolutely no plan to replace it," said DCCC spokesperson Cole Leiter, referring to 12 occasions in prior Congresses where she voted for repeal.
Any concrete action is at least 30 days away as Brooks must obtain significant signatures for a discharge petition to bring the matter up for a vote, Politico reports. Currently, there does not appear to be consensus, even within the Freedom Caucus, on the effectiveness of the repeal-only maneuver.
—
Jimmy Patronis learned a valuable lesson recently: Always answer a blocked number, you never know who will be on the other end. The 44-year-old former state House member and member of the Public Service Commission recently traveled to Washington, D.C. to attend the Greek Independence Day Celebration at the White House. We caught up with Patronis to hear more about his trip, and why the annual celebration is important to the Greek community.
FP: When did you find out you were invited to the White House for the Greek Independence Day celebration and what was it like to receive that phone call?
JP: I got the call on Tuesday, it was from a blocked number.  Something told me to answer the call, I'm glad I did.  I have to admit, I am a notorious practical joker, so I was suspect that it was someone pulling my leg.
FP:  You brought your mom, Helen, with you. Why did you decide to bring her?
JP: Mom immigrated from Patmos, Greece in 1946 when she was 11 years old.  She had not met her father (until) she came to the U.S.A.  Once the war broke out, her father couldn't return to Greece. She was more engaged in this last election cycle, more than any other that I have witnessed (even more than cycles when I was on the ballot).  So the combination of the two made it the perfect event to take her to.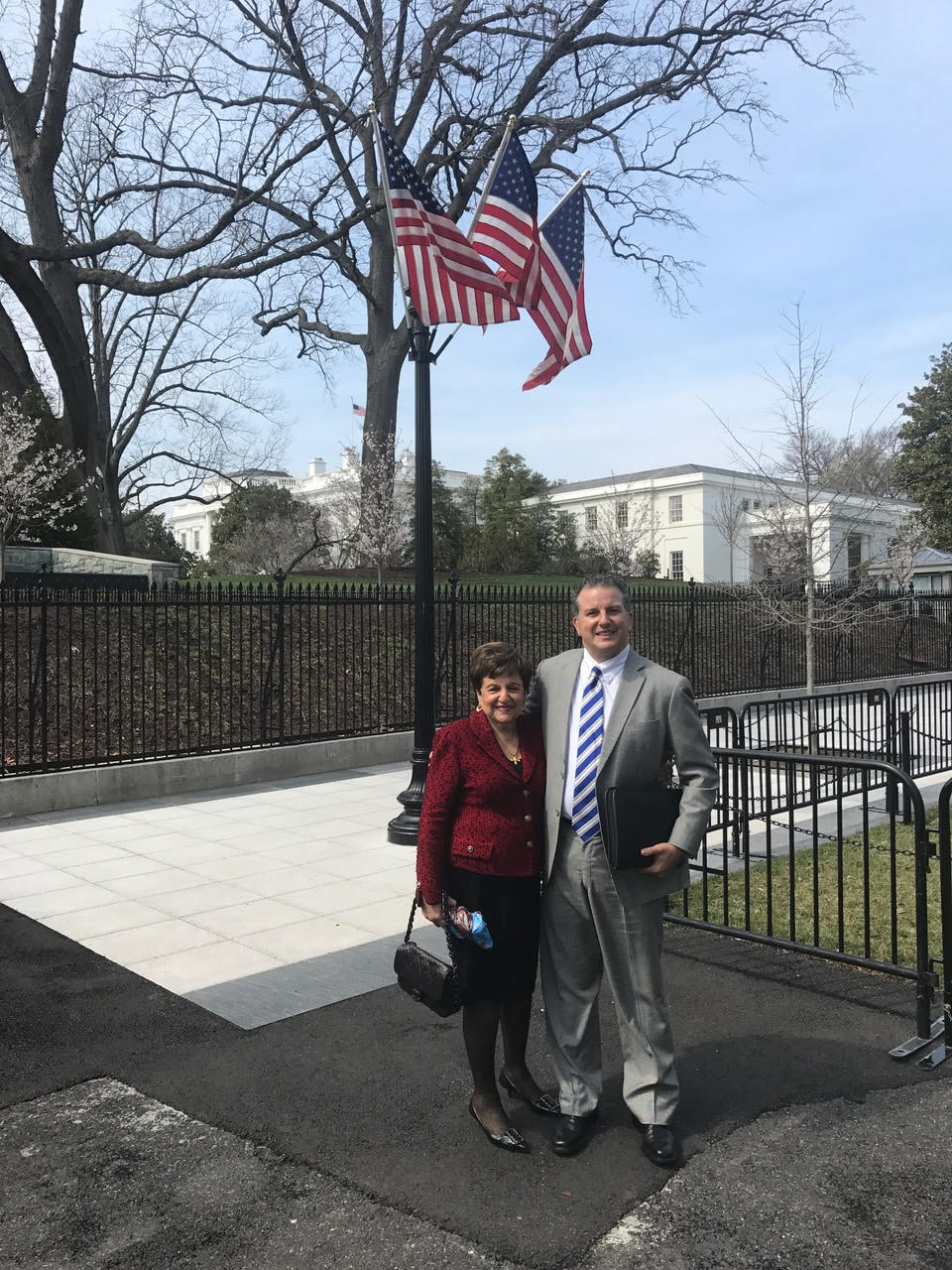 FP: I know you've been to the White House before a bill signing, how was this trip different?
JP: The bill signing was very special, but it was outside on the lawn, lots of protocol, formal.  The Independence Day Reception, well, It was like an authentic Greek wedding reception, live music, lots of Greek food and very happy Greeks. I felt like how history describes how Andrew Jackson invited the public to the White House, make yourself at home, this is the People's House.  I never imaged it would have been so lively.
FP: The White House has celebrating Greek Independence Day for more than three decades. Why do you think it's important for the president and elected officials to mark this day?
JP: It was definitely a way to strengthen his standing in Greek Circles. He had almost 400 folks there, including the Archbishop Demetrios of North and South America. President Trump has a lot of Greeks on Staff: Reince Priebus his Chief of Staff; George Gigicos his Director of Advance to name a couple. The acknowledgment of Greek Independence Day has been a tradition since President Reagan. Trump even said in his comments, "How can't you love the Greeks?" I was thrilled to be included.
—
Brown says corruption charges against her are 'BS' – Former Democratic U.S. Rep. Corrine Brown is a month away from her trial on federal corruption charges and she insists the claims are baloney.
The former lawmaker said the charges are "bull—-. That's what it is. Or BS. That's a better word. Either way, I am looking forward to my day in court and clearing my name."
Browns stands accused of operating a fake education charity, One Door Education, that took in $800,000 in donations but offered only one scholarship for about $1,000.
Brown said she plans to testify at the trial and added that while she isn't afraid of going to prison, she isn't planning on that outcome.
"I've been to federal prisons all the time. They doing some good things," Brown said. "I don't plan on being a part of no federal prison. They try to give me 28 prisons in my district (during last year's redistricting). Now they trying to put me in it. I'm not going."
—
Radel releases memoir, kicks off book tour — Former Rep. Trey Radel released his first book — "Democrazy: A True Story of Weird Politics, Money, Madness and Finger Food" — this week. The book, according to his publisher, recounts "his early days as a TV news reporter and radio show host before running for Congress in 2012, a decision that would launch the new, infamous chapter in his life."
A Fort Myers Republican, Radel was elected to Florida's 19th Congressional District in 2012, defeating several well-known Southwest Florida Republicans in the primary. But in November 2013, he pleaded guilty to cocaine possession charges in a Washington, D.C., courtroom. He was accused of buying $250 worth of cocaine from an undercover officer — an act that earned him the nickname "cocaine congressman."
Radel took a leave of absence, returning to work in January 2014 — only to resign a few days later. He kept a low profile in the months immediately following his resignation, but last year he began doing more television and radio appearances. And in September, Radel returned to host "Daybreak," a morning talk show on 92.5 Fox News in Southwest Florida, which he hosted before he ran for Congress.
Radel's celebrating the release of his memoir with a book tour that kicks off at 1 p.m. on Saturday at Barnes & Noble, 5377 U.S. 41 N. in Naples. A second stop is scheduled for 7 p.m. on April 4 at Books-A-Million, 4125 S. Cleveland Ave in Fort Myers. Radel is scheduled to hold a book signing in at Joseph-Beth Booksellers in Cincinnati, his hometown, on April 12.
In case you were wondering, both Florida stops are located in Florida's 19th Congressional District, but don't look for Radel to run for office again. The 40-year-old told Ben Terris with the Washington Post he doesn't plan to run again. His exact words: "Nope. Nope, nope, nope. No, I'm not getting involved in — I'm not doing it. I'm not running again, ever."
Save
Save
Save
Save
Save
Save
Save
Save
Save
Save
Save
Save
Save