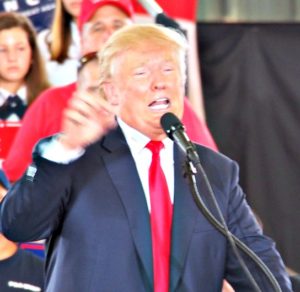 Donald Trump made it clear Wednesday it's really hard to be Donald Trump and run for president, except when he's in front of thousands of adoring and enthusiastic supporters like those at the Southeast Livestock Pavilion in Ocala.
The conspiracy he described of those who are trying to defeat him, or best just not help him, includes the usual suspects, the campaign of Democratic nominee Hillary Clinton, President Barack Obama, and all the media. But Trump also tosses in the U.S. Department of Justice, the leadership of the FBI, Republican leaders in Congress, and the Presidential Debate Commission.
In various ways, Trump condemned them all during his hour-and-six-minute speech Wednesday which focused almost entirely on attacking Clinton and his critics and enemies, saving just a few minutes here or there and at the end to talk about his own policy promises.
Trump promised he would "win Florida and win back the White House! And we're going to bring back your jobs. We're going to secure the border. We're going to reform immigration. We're going to renegotiate the disastrous, aye, aye, aye, trade deals!
But he also spoke about the prospect of losing, and it wasn't pretty.
"If I don't win in November, I will consider this the single greatest waste of time, energy, and money of anything I've ever done," Trump said. "We're not going to be able to lower your taxes. We're not going to be able to save the Second Amendment. We won't be able to fix up the depleted, very depleted military, which is so depleted."
And he set up plenty of reasons he might lose. The latest leaked documents through WikiLeaks.com offered him plenty of fuel to argue that Clinton had managed to avoid prosecution in part because the Department of Justice was informing her campaign of its findings and progress. He argued the debates are corrupt because the chairman of the Presidential Debates Commission was an official in the former President Bill Clinton's campaign. And he laid into Republican leaders who have been trying to distance themselves from him since the release last week of his lewd comments about women to talk show host Billy Bush.
Mostly, Trump used the speech to attack Clinton.
"She would be the most dishonest and corrupt ever elected to high office, and I don't think it would be close," Trump said. "By the way, these dishonest people, these mainstream media, they don't talk about this."
He drew some of his loudest and longest cheers when he renewed his promise to have a special prosecutor investigate Clinton's deleted emails and use of a private server while she was U.S. Secretary of State.
"Lock her up!" the crowd chanted.
He also referred to a WikiLeaks document suggesting Clinton might not be committed to protecting Social Security and Medicare — something Clinton has insisted throughout her campaign she would protect. Trump then made that commitment himself, a statement that might be opposed by other Republican leaders
"A vote for Trump is a vote to protect your Medicare and Social Security — and lower your taxes," he said.
He also cited a report from WikiLeaks that Clinton had talked about open borders.
"Crooked Hillary wants to end, forever, the American independence that our founders gave us. Spinning in their graves! Our founders are spinning in their graves! Like Douglas MacArthur. Like George Patton," Trump said, citing two World War II generals who were not American founders. "Like our generals. They're spinning in their graves!"
He also returned to his statement that Obama founded ISIS, and said ISIS is waiting for Clinton so they could take over much of the world.
"I can tell you this. They are hoping. They are praying. They are hoping and praying that Hillary Clinton becomes president of the United States. Because they'll take over not only that part of the world, they'll take over this country. They'll take over this part of the world, believe me.
"I will be their worst nightmare," he said. "I will be their worst nightmare."