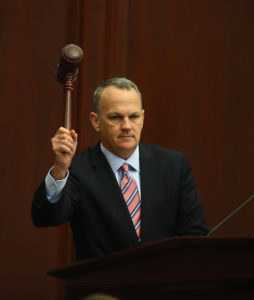 Time to say goodbye.
The Florida House Speaker's Office, which has produced video after video this Legislative Session, it closed out 2017 Session with a three-minute video narrated by House Speaker Richard Corcoran.
"I'm often asked, where are the leaders worthy of the title and I tell them they're right here, in the Florida House," Corcoran says in the video, called "Leaders."
In an email to members, Corcoran said while every member isn't featured "the sentiment applies to all" of them.
Florida legislators ended Session Monday evening by approving an $83 billion by a 34-4 vote in the Senate and a House vote of 98-14. The budget now goes to the desk of Gov. Rick Scott.
The annual 60-day Session was supposed to end last week, but the two chambers didn't reach an agreement on the budget in time for the state-mandated 72 hour waiting period before a final vote.
While session has officially ended, legislators still may have to come back. There is the possibility Scott could veto the budget. During Session, the governor criticized several legislators for severe cuts to his top priorities, such as VISIT Florida, the state's tourism arm, and the Enterprise Florida business incentive program.
Corcoran, in a statement marking some of the successes of 2017, honored his fellow colleagues — including Democrats — and called Florida taxpayers "the real winners" in Session:
"Whether it was cutting property taxes, passing another $25,000 homestead exemption, rewarding the best teachers in the classroom, giving poor children a world-class education, cleaning up the budget process, passing the strongest ethics rules in America, or ending government picking winners and losers, hardworking people won in the Florida House.
"I'd like to thank Democratic leader Janet Cruz for her dedication to her principles and her willingness to work with us on good public policy. Whether we agreed or disagreed, I can always count on leader Cruz to keep her word and lead her caucus.
"Each and every member of the Florida House of Representatives can be proud of the work they did for every Floridian and especially for kids, for veterans, for families and for job creators. The people's house did the people's work and the people will benefit."
Included in the final budget agreement are pay raises for state employees and increased funding to public schools and Florida colleges and universities.