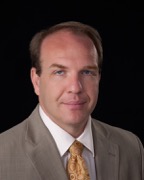 Ed Mansouri, the nationally renowned software pioneer who developed the cutting-edge learning management system used by the Florida Virtual School (FLVS) since 2003, will be transitioning away at the end of this year, after a proud partnership with FLVS, to focus his efforts more fully on his equally impressive new WeatherSTEM educational technology.
Mansouri will continue working closely with FLVS leadership to position the online institution for ongoing success with its new learning management system partner.
Weather data-gathering units installed all over the state by Mansouri's organization inform the WeatherSTEM website and mobile application to provide real-time, localized temperature, humidity and lightning measurements.
Mansouri and his team also have been developing curriculum for Florida's K-12 students in the topical domains of weather and agriculture, with the content driven by live data from weather stations placed at local schools. His vision and generosity translated to donating and installing a WeatherSTEM unit in at least one school in each of Florida's 67 counties, as requests from other schools, emergency operations centers, farms and universities keep rolling in.
"Ed's dedication to measurably helping Florida's students and educators is evidenced by his donation of so many state-of-the-art weather stations and accompanying data to schools across our state," said Michael Olenick, a member of the State Board of Education and former member of the board of trustees of the Florida Virtual School. "His technology is unmatched and offers unique and superior opportunities for students, and also for safety officers, groundskeepers and coaches. The model he has created with WeatherSTEM is a stellar example of a positive public-private partnership, and I'm excited about the already great response from the schools, universities and other organizations who understand its potential and value."
Mansouri will focus the same science/technological mastery and ingenuity that he applied toward the Ucompass Educator platform to now bring WeatherSTEM to classrooms, emergency operations centers, agriculture businesses and beyond.
"In any conversation with Ed, you quickly realize you are in the presence of someone whose considerable talents define real brilliance and whose creative genius powers the breakthroughs that make him a bold and fearless pioneer in new frontiers of learning," said Ron Sachs, a good friend of Mansouri. "Ed's WeatherSTEM project features impressive cool technology and learning-as-fun curriculum tools that will teach a new generation of Florida students how to open up new horizons in their knowledge base — and enhance their own careers, and the lives of us all, in the near future."
The ever-humble Mansouri reflects unbridled enthusiasm for WeatherSTEM and what its effectiveness and success can mean for Florida and the nation.
"The goal for WeatherSTEM is to promote awareness and understanding among young people about the impact of weather on their daily lives and to advance meteorological education," said Mansouri. "I'm excited about having the time and opportunity to put more of my energy and resources into WeatherSTEM because the weather and data skills these students acquire today will enable them to advance their careers and interests in any field in the future."
Mansouri's lifelong passion has been meteorology. He graduated from Penn State University with a major course of study in both engineering and meteorology and completed his master's degree in meteorology at Florida State University.
This fall, he will be returning to FSU to pursue a Ph.D. in meteorology and help conduct groundbreaking research in predictive lightning studies, which could be the breakthrough to save lives and learn from one of nature's most potent energy forces.