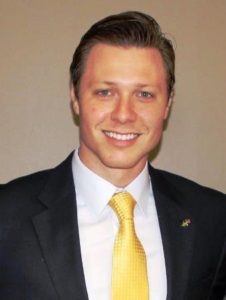 Republican businessman Bruno Portigliatti announced his candidacy for what will be a special election this summer for House District 44 in the Orlando area.
Portigliatti, 29, of Orlando, is chief executive officer of Excellence Senior Living, a developer of luxury assisted living facilities for seniors, and executive vice president of Florida Christian University, a global online university. He also helps manage real estate enterprises for his family's Portigliatti Group LLC.
He'll be running on a platform topped by his passions for reducing regulation and red tape for businesses, creating businesses, and fostering education.
He enters a race that already features Republicans Bobby Olszewski of Winter Garden, John Newstreet of Orlando and Dr. Usha Jain of Orlando. The Democrats are running Paul Chandler of Orlando.
"As an entrepreneur and CEO of a small business, I know what it's like to face tough decisions and make payroll," Portigliatti stated in a news release. "Central Florida can't afford politics that simply show up – we need a fresh face, a new voice with real world business experience and true understanding of our community."
He is a rookie candidate but said he has contributed and assisted in other campaigns.
"I know it's going to be a very spirited campaign, a very spirited race," he said. "But I strongly believe that out of all the options I feel I will be the strongest voice in Tallahassee. I will bring a fresh face, a new voice, with real-world business experience that the others don't have."
A native of Sao Paulo, Brazil, Portigliatti has been a Central Florida resident since 1999. He graduated froM Dr. Phillips High School, received a bachelor's degree from the University of South Florida, a law degree from the Florida Coastal School of Law in Jacksonville, and a master of business administration degree from Florida Christian University in Orlando
He was recently married, and he and his wife Stephanie are both active members of the First Baptist Church of Orlando. He's also a board member of the Dr. Phillips YMCA, Chairman of the City of Orlando Minority & Women Business Enterprise Certification Board, and a member of the Rotary Club of Dr. Phillips. He's also president of New Beginnings Global Outreach, a non-profit charitable organization, and manages several of his families real estate properties and developments.