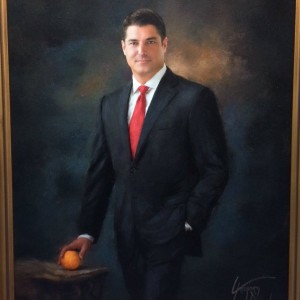 Florida House Speaker Steve Crisafulli bid farewell to his colleagues Thursday, thanking his staff and fellow for making the House "an incredible institution."
"It has been a true honor to serve with all of you," said Crisafulli. "The past two years have been challenging; they have brought on extraordinary times. But I am so proud of this House on how we confronted adversity."
Crisafulli was first elected to the Florida House in 2008 and served as the House Speaker from 2014 to 2016. The Merritt Island Republican can't run again because of term limits.
During his brief remarks, Crisafulli thanked his family and staff for their support over the years. He spoke to lawmakers about the work they've done, and said he hoped he lived up to the promises Crisafulli made when he was first named Speaker.
"When I ran for office, you know that I never sought to hold this position. But it has been a role that I embraced, because it meant getting to know each and every one of you, whether Republican or Democrat," he said. "When I took on this role, I felt that my role would be more of a manager in the process and not the dictator of it. I'm hopeful, in these last two years, that you've seen that as my role played out."
Crisafulli made his remarks after his official portrait was unveiled. In the portrait, which was promptly hung on the walls of the House chamber, Crisafulli is shown standing with his hand on an orange sitting on a desk.
House members also presented him with a custom long range rifle as a gift.
"Over the years of our service together, what has impressed me … is how strong your convictions are and how firmly you hold them," said Rep. Jim Boyd, a Bradenton Republican. "There have been very few things that I have seen that you would be unmovable on, but on those principles, you stood strong and did not waiver."
Crisafulli told members he was looking forward to seeing what came next for them, and encouraged them to remember their roots as they continue their public service.
"For those that will continue on in this institution, whether in this House or across the hall in the Senate, I ask you all to remember that you are not, or never will be, bigger than this process," he said. "Check your egos at the door when you come into this chamber and the one across the hall. Remember how you got here and where you came from. Make the most of this special opportunity."