Democratic hopes to retake the House in 2018 received a boost Sunday, with the announcement that longtime South Florida Republican Ileana Ros-Lehtinen will not run for re-election.
"There was no epiphany. There was no moment, nothing that has happened that I've said, "I've got to move on,'" Ros-Lehtinen, who represents Florida's 27th Congressional District, told the Miami Herald's Patricia Mazzei in an exclusive interview. "It was just a realization that I could keep getting elected — but it's not about getting elected."
Ros-Lehtinen served in Congress for 29 years, first elected in 1988. Last November, she defeated Democrat Scott Fuhrman, a first-time candidate, by 10 percentage points — the closest margin in years. But Ros-Lehtinen — the first Hispanic woman and first Cuban-American ever elected to Congress — said she had no concerns about being re-elected in 2018 if she chose to retain the seat.
"There is no doubt in my mind whatsoever that I would not only win in this election, but I would win by a greater percentage," Ros-Lehtinen said confidently.
Hillary Clinton defeated Donald Trump by 20 percentage points in Ros-Lehtinen's district last year, and the Democratic Congressional Campaign Committee is already boldly declaring that they'll now take the seat next year. C
"As one of the most Democratic districts held by a Republican Representative, this district was always going to be competitive, " said Cole Leiter, a spokesman for the DCCC. "Now it is all but guaranteed to be won by a Democrat who will finally provide the hard working people who live there the representation they deserve. As more vulnerable Republicans recognized the distance between their party and their districts, this retirement could well be the first of many."
In January, the DCCC listed her, along with three other Florida Republicans, as part of a group of lawmakers targeted nationally in a midterm memo circulated to various Democratic allies.
Ros-Lehtinen was one GOP House moderate who did not support the Paul Ryan led American Health Care Act that was pulled at the last hour back in March. She hasn't sounded that enthusiastic about the amended health care bill that may be voted on this week, but she says that Trump is not the reason she is stepping down at the age of 64.
"It's not been part of the calculation of retiring," she said of Trump, adding, "I would be talking to you even if Hillary Clinton were president."
Undoubtedly, there will be those announcing their candidacies for the seat over the next few months. Fuhrman already announced he would run again for the seat in 2018, as has Miami Beach Commissioner Kristen Rosen Gonzalez.
Fellow Republican Mario Diaz-Balart, who represents the adjoining South Florida's 25th Congressional District, called Ros-Lehtinen "one of the most respected and admired" members of Congress. For almost four decades, Ileana has served our community with honor and integrity. From her days as an
"For almost four decades, Ileana has served our community with honor and integrity," Diaz-Balart said in a statement Sunday afternoon. "From her days as an educator to the Florida Legislature, and now ending her tenure in Congress, Ileana truly exemplifies what it means to be a public servant. She never seeks political expediency and always puts the interests of her constituents first. From one corner of the globe to another, she is tireless in her crusade for human rights and democracy.
"To say Ileana is a trusted friend and mentor to me is an understatement; she is a part of my family, and I will dearly miss 'mi hermana legislativa' in the halls of Congress. I wish nothing but the best for Ileana, her husband Dexter, their children, and their grandchildren as she begins this next chapter in her life."
Democrat Ted Deutch, part of the Florida delegation from bit further north in the 22nd Congressional District, called Ros-Lehtinen's retirement a "tremendous loss" for both South Florida and the entire country.
"As a public servant, she has worked tirelessly for her constituents for over three decades. Hardly a day goes by where Ileana isn't on the House floor celebrating a remarkable person or event in her district.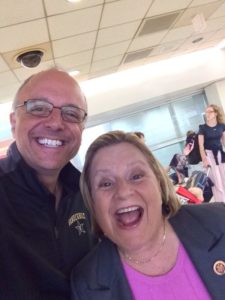 "Ileana broke barriers as the first Hispanic woman elected to Congress and the first female Chairman of the House Foreign Affairs Committee. She has been a stalwart champion for human rights around the world, a voice for the oppressed, an outspoken advocate for LGBTQ equality, and one of the most steadfast defenders of Israel. Her legislative contributions have led to some of the toughest international sanctions against Iran, North Korea and Venezuela, and the promotion of democracy worldwide.
"From the moment I arrived in Congress, Ileana has been a friend and a partner. We have worked together countless times from championing equality to strengthening the U.S. — Israel relationship. It has been a pleasure and an honor to serve with her as Ranking Member of the Middle East Subcommittee. Her humor and good nature (see photo!) provides a welcome respite from the partisan challenges we face each day. Every Member of Congress should learn something from the way Ileana has conducted herself over the past 28 years. She has crossed the aisle to stand up for what she believes is right. She has stood firm in her convictions and stood up for those she represents even when it meant making tough political choices.
"As she finishes out her current term, I know that Ileana will work just as hard as she always has for the people of South Florida and on behalf of our country. I look forward to continuing to work alongside her for the next year and a half, and I will miss working with her when she is gone."
Deutch's statement included a photo of him and Ros-Lehtinen at a bipartisan delegation visit to Israel in July 2014.