The same week that the Senate confirmation chances of its secretary – Surgeon General John Armstrong – continue dangling by a thread, the Florida Department of Health issued a news release in advance of an upcoming HIV/AIDS Awareness Day.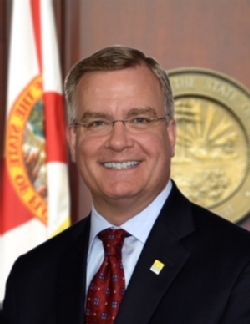 Armstrong has been criticized for, among other things, the state's overall growing rate of HIV/AIDS. Thursday is the 11th annual National Women and Girls HIV/AIDS Awareness Day, the release says.
The news release notes one silver lining: "From 2010 through 2014, the number of new diagnoses of HIV infection among adult women (age 13+) in Florida decreased by 18 percent," but it adds "there is still more to accomplish."
If the former trauma surgeon isn't confirmed by session's end this Friday, he's out of the job: State senators did not confirm him last year after he declined to answer questions about Medicaid expansion.
"The department is fully committed to eliminating HIV/AIDS by working with every affected community in Florida," Armstrong said.
"Florida is a leader in comprehensive HIV/AIDS programs, not only measured by the $320 million budget and over 1,000 department public health professionals in the programs, but with the largest testing program in the nation linked to rapid access to care and community investment in prevention," he said. "Deaths from AIDS and transmission of the virus from HIV-positive moms to their babies are at record lows."
At the same time, the number of reported HIV infections increased 23 percent from 2014 to 2015, the Sun-Sentinel reported, "the biggest increase in a continuing upward trend that began in 2012 after several years of decreases."
At last count, Gov. Rick Scott's press shop and that of the Health Department had sent out at least 20 ICYMI emails ("in case you missed it"), with a different individual or organization encouraging the Senate to confirm Armstrong as the state's top doc.
But the Senate's Ethics and Elections Committee did not issue a recommendation after Armstrong barely made it through the Senate Health Policy Committee on a 5-4 vote.
When asked by reporters Friday, Senate President Andy Gardiner said he had not decided what to do about Armstrong's nomination. The chamber's rules suggest that the confirmation cannot be acted upon by the full Senate without some action by the Ethics and Elections Committee.
Late Friday, Gardiner said he was still "in a reflecting mode."