Ken Lawson, CEO of the embattled VISIT FLORIDA, again pleaded with lawmakers to fully fund his agency, saying jobs depend on it.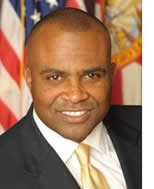 Lawson appeared before the Legislature's tourism and economic development budget conference on Friday as Gov. Rick Scott left the state to attend a National Rifle Association meeting in Atlanta.
Meantime, Scott's political committee, Let's Get to Work, has been "robo-calling" residents in key districts, asking them to encourage their lawmakers to vote for $200 million to start work on fixing the Lake Okeechobee dike to stem further algae-ridden discharges into other waterways.
"This is our state … we have to protect our people," Lawson told lawmakers. "If VISIT FLORIDA is not funded at $100 million, we will lose jobs."
The current proposed budget cuts funding available to the state's tourism marketing agency Visit Florida from nearly $80 million to $25 million.
Enterprise Florida, the state's economic development agency, will get operating money for another year but it will not receive any money for incentives to lure businesses. Scott wanted $100 million for Visit Florida and $85 million for incentives.
Conference committee vice-chair Clay Ingram was unmoved.
"There's still business in action; there are still incentives in the pot to be paid out," the Pensacola Republican state representative told reporters after the meeting. "And whatever happens in the future happens."
Lawson, however, clung to the Governor's Office talking points that every dollar VISIT FLORIDA spends to promote tourism in the state brings back $3.20 in tax revenue. Less tourism means fewer jobs in the tourism industry, he said.
Using it as a cautionary tale, Lawson brought up a video his agency released on decades-old cuts to the Colorado Tourism Office.
According to the video, the state went from the No. 1 summer resort destination to No. 17. More than 21 years later, the state has regained its market share but hasn't returned to the top spot, according to the ad.
Moreover, other states are rubbing their hands together, hoping that Florida tourism promotion is cut so they can reap the benefits, Lawson added.
"Don't let that be the legacy of this Legislature," he said. "We've got to fight the competition coming after us."