Lauren Book has made this trip before.
For the past seven years, Book has laced up her sneakers and walked across the state to raise awareness about child sex abuse. It's a deeply personal issue for the Broward County resident, who endured sexual abuse for six years at the hands of a trusted caretaker.
The annual "Walk in My Shoes" campaign kicked off in Panama City on March 2 and is scheduled to end on March 26 in Aventura. This week, the "Walk in My Shoes" tour will be in Tampa. The focus of the week-long residency will be surviving and thriving after abuse.
"It's been an incredible journey so far," said Book in an interview last week.
This week, Lauren's Kids, the nonprofit organization Book founded in 2007, will work with Alpha House of Tampa to support homeless pregnant women and mothers with young children, many of whom are victims of sexual abuse. That work goes hand-in-hand with the daily 4.2 mile walk at 4 p.m.
"It's a special to be at a place like this," she said.
On Monday, the group had to cancel its first walk in Tampa because of a Donald Trump rally. On Twitter, Book said law enforcement resources were redirected to help with the Trump rally. Book said walks are still scheduled for the rest of the week in Tampa.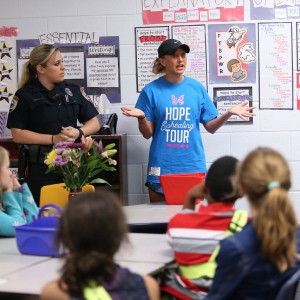 Book said the group works with organizations at all of the stops to educate community members about sexual abuse. In Panama City, Book attended the sentencing of a perpetrator who had abused children who she was walking with. The person, she said, received five life sentences.
There are more than 42 million survivors of sexual abuse in the United States. One in three girls are sexually abused before the age of 18; while one in five boys are sexually abused before the age of 18. According to the Child Sex Abuse Prevention and Protection Center, 30 percent of sexual abuse is never reported.
In Gainesville, where Book and her team spent much of last week, the focus was on education. There, Book visited classrooms as part of the organization's Safer, Smarter Kids program. She developed the curriculum to teach children personal safety information.
"It's incredible to watch their faces," she kids. "It's so much fun and it really helps to propel us forward."
When you're walking thousands of miles each year, every little bit helps. Book is expected log more than 1,500 miles as part of the 2016 "Hope and Healing Tour." Since starting the annual walk in 2010, she's logged more than 7,700 miles, or nearly 300 marathons.
Book, who is currently running unopposed for state Senate District 32, said the walks give her a chance to talk with survivors and advocates.
"I feel a sense of responsibility to survivors, to shine a light," she said.
This year the event will end in Aventura, near where Book grew up. The walk has traditionally ended in Tallahassee, where Book and others lobby lawmakers to advocate for change. Since lawmakers held an early session this year, Book stopped by the Florida Capitol at the beginning of the tour.
"It is exhausting," she said about the month-long event. "But we make it a family."
The 2016 Walk in My Shoes Hope & Healing Tour continues through March 26.
March 14 through March 18 — Tampa
March 19 — Gainesville Walk & Buddy Bash
March 20 — Key West Walk & Hope Fest
March 21 — West Palm Beach Walk
March 22 — Fort Lauderdale Walk
March 23 through March 25 — Miami-Dade County Buddy Bash, Walk and "The Hunting Ground" Screening
March 26 — Broward County Walk & Buddy Bash