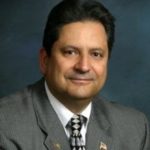 Of the missteps the Legislature committed this year, the most egregious was a failure to live up to its promises that the budget process would be more open and transparent than ever before, according to Florida TaxWatch chief Dominic Calabro.
In an interview tied to TaxWatch's release of its annual list of budgetary "turkeys," Calabro praised House Speaker Richard Corcoran especially for subjecting member projects to unprecedented scrutiny.
Where Corcoran fell down, Calabro said, was in failing to collaborate with the Senate leadership under President Joe Negron from the beginning.
"He just threw it out there — we're going to do this," Calabro said. "The process requires consensus from both sides at some point."
The result was an "I win, you lose" atmosphere. "That's not a way to run the ship of state. The voters really don't want that. We want the Sunshine State to be the best it can be. That requires principled compromise."
Still, Calabro sees an opening to improve the process.
"We could learn a lot from this year's missteps, and have a process that could go on for decades," he said.
"The next step is to do this in a more collegial, bicameral manner. Because that's what we have — a bicameral Legislature. The House would be better off. The Senate would be better off. The people of Florida would be better off."
TaxWatch has identified 111 budgetary turkeys, suggesting around $177.8 million in savings, for the fiscal year that begins on July 1.
TaxWatch, an independent government watchdog organization, has issued its budgetary Turkey List nearly every year since 1983 — although very occasionally the organization found no line items worthy of the approbation, Calabro said.
Governors have tended to follow TaxWatch recommendations in issuing line-item vetoes around 70 percent of the time, Calabro said. Over the years, they have totaled more $3 billion.
Turkeys tend to fall into three major categories. "The first is the old, traditional, flat-out (item) found nowhere in conference — it came out of nowhere," Calabro said. Next are projects that violate established priorities for state spending. Finally, there's parochial spending "on local fairs, local nonprofits, things of that nature."
"There's probably $500 million to $700 million worth of member projects (each year). One could say well, that's out of an $83 billion budget. But that's a pretty high percentage of all the new money we had to spend," Calabro said.
"That's money that's not going to go to great teachers or great principals to get great student outcomes. That's not going into our universities for world-class education. Obviously, it's not going into maintaining 115 million tourists a year, who are key to Florida's economic growth. It's not going to help us close some big jobs with Enterprise Florida. It's parochial projects taking priority over the state's core missions and responsibilities."
Corcoran opened the session with promises of a vastly more transparent budget process. Members had to file detailed requests for project money, and each required a discrete enacting bill.
By the end of Session, however, Corcoran and Negron huddled behind closed doors to settle major budget disputes, many of them rounded up into massive, must-pass conforming legislation that might or might not have been debated in one chamber of the other.
"It was almost too hard for them to adjust," Calabro said. Those member requests amounted to nearly $3 billion, he said. "One would think it's going to be transparent. But it's so huge, it's going to fall under its own weight."
Moreover, the House was forced to compromise on the process with the Senate, which declined to be bound by House procedure.
"They made some good strides. But in the final analysis, by having so many numbers and major dollar amounts kicked upstairs, it gave the strong impression that it was not transparent — it was far less open than prior years."
Calabro gives Corcoran credit for attempting to get control of the process.
"You want the government to be responsive. You want the Legislature to appropriate money where it needs to be," he said.
"Instead, all too often, they get caught up in petty parochialism. And that's what the turkey process for member projects is all about — parochialism that prevents the state from investing in really critical activities."
Calabro partly blames term limits, which encourage lawmakers "to get all you can while you can."
"This is supposed to be about good stewardship in lawmaking. Appropriating with a clear public purpose, and clear, accountable benefits to the people of Florida."
TaxWatch isn't asking Gov. Rick Scott to veto the entire budget — which would require the Legislature to rewrite it before the new fiscal year opens on July 1.
"There's a lot of wonderful things that have been done in this budget," he said — mentioning the Lake Okeechobee and Everglades restoration plan and Schools of Hope funding for charter schools.
"Do they measure up against the high expectations and standards that were set at the beginning of the Legislative Session? No," he said.
"It was also the manner in which it played out. It was very confrontational — I think, probably, more confrontational than necessary."
He cited "the strident language about corporate welfare. The House has been supporting Visit Florida and Enterprise Florida for a long time, and just now did a 180-degree turn."
Corcoran was right to call out those programs for "some terrible spending practices and a few questionable ones. "The beauty of it was, they got fixed. The governor took corrective action, got spending under control," ousted the leadership, and clarified that the organizations are subject to the open records laws, Calabro said.
"Every year, items get kicked up to the speaker and president. It was the volume and size — the number of items and the sheer dollar amount that was unusually high. When that happens, that minimizes your representative form of democracy. Because your House members and senators have little or no say. Out of 160 lawmakers, only two make the decisions."