The Florida Chamber of Commerce intends to push the Florida Legislature this year and candidates next year to focus on tort reform to ease Florida's increasing reputation as a place where litigation is a high cost of doing business.
At the chamber's annual Future of Florida Forum in Orlando Wednesday, Florida Chamber President and Chief Executive Officer Mark Wilson bemoaned what he said where the worst pro-business grades for lawmakers his organization has ever issued, and also decried that Florida has slipped to 46th nationally in the U.S. Chamber of Commerce's annual survey of state's legal climates for business. And it's getting national attention, he said, through several stories in the Wall Street Journal.
"So the issue is, we're trying to recruit major companies to Florida. We're asking companies in advanced manufacturing. They're looking at Wall Street Journal articles," Wilson said at the 2017 Future of Florida Forum conference, being held Wednesday and Thursday at the J.W. Marriott Orlando Grande Lakes resort. "We simply have to find a way to get it [reform] done. And we're needing leadership to work with us in that area."
Those comments came shortly after he outlined what he called "the worst grades in the history" of the chamber's grading system for state lawmakers, which led to 14 lawmakers getting "A"s and 37 getting "F"s, "including leadership in the Senate," Wilson said.
"Even if someone earns an F, we still want to work with them, so we can get as many things done as we can. This isn't personal, but we have twenty and a half million people in Florida who are counting on them to do the right thing," Wilson added.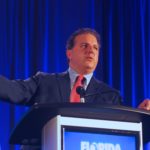 Florida Chief Financial Officer Jimmy Patronis joined in the concern about rising litigation against business during his remarks before the chamber foundation earlier Wednesday, while adding that the legislature has to do something to curb what he called "fraudsters" who are preying on Floridians following Hurricane Irma.
Earlier Wednesday Patronis announced he was sending out "anti-fraud strike teams" of insurance fraud investigators to help to protect Floridians from predatory, fraudulent contractors. But he told the chamber he can only do so much under current laws.
"I don't want somebody to come between the policy holder, the home owner, and the insurance agent," Patronis said. "These guys are bottom feeders. They are coming to take advantage of people at the absolute worst time."
Patronis said one practice he's trying to warn people about are contractors asking home owners to sign away their insurance settlements.
He said the fraud is running rampant particularly in South Florida and he worried that lawmakers from other parts of the state might not see a need to address laws to protect citizens.
"If we don't get the Legislature to understand the gravity of this, then I'm going to work with what I have right now, and what I have right now is to turn up the volume," Patronis said.