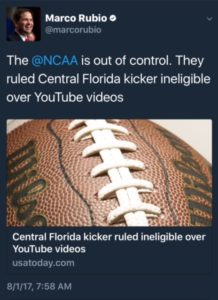 In a time of unprecedented chaos in the West Wing, with a new Chief of Staff shaking up the staff composition, and with questions continuing to mount regarding what Robert Mueller may uncover about the Trump Administration, U.S. Sen. Marco Rubio took to Twitter Tuesday to discuss college football.
Specifically, Rubio opined on the suspension of a kicker from the University of Central Florida, who found a way to monetize YouTube videos promoting his athletic endeavors, and who UCF ultimately ruled to be ineligible in accordance with NCAA guidelines.
"The @NCAA is out of control. They ruled Central Florida kicker ineligible over YouTube videos," Rubio tweeted Tuesday morning.
USA Today reports the kicker in question (Donald De La Haye) sought a waiver from UCF, which granted one on the condition that he could not sell ads promoting his athletic endeavors.
On Monday, NCAA representative Stacey Osburn Tweeted that "UCF declared [the player] ineligible, not the NCAA."
This position was buttressed by a statement from UCF, which asserted that "The waiver also allowed him to create videos that referenced his status as a student-athlete or depict his football skill or ability if they were posted to a non-monetized account. De La Haye chose not to accept the conditions of the waiver and has therefore been ruled ineligible to compete in NCAA-sanctioned competition."
Despite the facts of the case leading to UCF being the ultimate arbiter of ineligibility, Rubio had backup on Twitter from former Florida House Speaker Will Weatherford, who tweeted that the NCAA has "been out of control for a long time … congressional oversight/engagement needed."