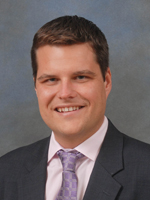 As a former state legislator and now a member of Congress, I've been proud to support investments in protecting Florida's natural resources, including the Everglades. While located far from the Emerald Coast, the Everglades are about as iconic in Florida as the Blue Angels, the Space Shuttle, and the orange. Everglades National Park alone welcomes 1.1 million visitors annually with an economic impact of more than $103 million.
Recently, I joined my colleagues on both sides of the aisle in encouraging President Donald Trump to remain on the current path to Everglades restoration. In a letter delivered by Congressman Francis Rooney, we made the case for why Everglades restoration is critical to preserving such a unique and treasured ecosystem. Congress has already invested $1.26 billion into this ongoing effort. The smartest scientists say these projects are having a meaningful impact on restoring Florida's "River of Grass" and addressing concerns over water quality issues around Lake Okeechobee. For these reasons, we must complete the comprehensive array of fully-vetted projects that are designed to restore the Everglades and reduce the discharges from the lake.
At the heart of the current debate over fixing Lake Okeechobee is whether additional land should be purchased by the government using state and federal dollars through a bonding scheme that relies on future generations paying off the debt. At a time when 42 percent of all land in South Florida is already owned by the government, we should be looking for ways to get government out of the real estate business – not deeper into it. And with Washington so focused on cutting costs, there simply isn't enough money to buy more land, especially for projects for which land has already been acquired by the government.
Instead, the dollars committed by Congress and the state should be going toward projects that the science says can provide communities with tangible benefits for flood protection, storage and water treatment – the most quickly and at the best price.
Land buys are not only costly to taxpayers, but also to those who rely on the land to help put food on our tables. According to the conservative James Madison Institute, more than 4,100 jobs will be lost as a result of the proposed land buy. The study also found the plan could cost Florida up to $700 million in economic output, mostly in already struggling Glades communities.
In the case of the proposed plan to purchase 60,000 acres of land south of Lake Okeechobee, the major landowners have signaled they are not willing to sell. Many of these are multigenerational family farmers. So, without a single seller, why does the debate continue? One has to wonder that if the sellers are anything but willing, is eminent domain really at work?
Instead of a futile land buy, Florida needs to stay the course on completing the Comprehensive Everglades Restoration Plan (CERP), which has enjoyed bipartisan support from our
Congressional delegation since its inception under Governor Jeb Bush and President Bill Clinton in 2000. The plan keeps taxpayer dollars focused on addressing the water quality issues in coastal areas of South and Southwest Florida while also building additional storage at points north, east, south and west of Lake Okeechobee. Most importantly, it does so in a way that respects private property rights and agricultural communities, which play a crucial role in Florida's economy.
Whether you are from North Florida or South Florida, we can all agree that Florida's Everglades are a national treasure we cannot afford to lose. Finishing the projects that were started in 2000 will help to ensure the "River of Grass" will be around for generations to come. We need to stay the course and not get distracted by another government land buy that won't solve the problem but will harm some of our struggling rural communities.
___
Matt Gaetz is the U.S. Representative for Florida's 1st Congressional District, stretching from Pensacola to Holmes County.