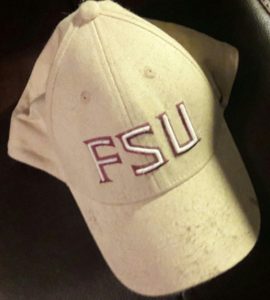 I recently was invited to a screening of "The Bowden Dynasty: A Story of Faith, Family & Football." That's the upcoming movie about the life and career of legendary Florida State football coach Bobby Bowden.
The film will debut Jan. 8 at the Mahaffey Theater in St. Petersburg as part of a celebration for the national college football championship game the following night in Tampa.
If you like football, or you went to FSU, or you think Bobby Bowden is an American treasure, or even if you're a Gator, you should see this movie. It's scheduled for simultaneous, one-night-only release at about 450 theaters around the nation, but I'm sure it will be available before long on DVD and other places.
I was invited to this screening because I covered FSU sports for several seasons starting in 1981 for The Tampa Tribune. That, joyously, included coverage of Bobby Bowden. Now 87, he coached the Seminoles for 34 years before being forced into retirement after the 2009 season.
FSU wasn't the football colossus then that it is now. During the years I covered them, the Seminoles took on all comers – almost always on the road – to build the program. The first season I covered them, FSU had consecutive road games at Nebraska, Ohio State, Notre Dame, Pitt (with a quarterback named Dan Marino), and LSU.
For most programs, that would be a suicide mission, but FSU won three of those five games. Many football coaches are so tight they squeak but Bowden played loose, played fun, and won through innovation and a willingness to take chances. He was completely accessible, too – just call him up direct, no need to go through channels.
His greeting was always the same: "Hey buddy!"
I remember one game against Louisville when the kickoff was moved to late on a Saturday night, which wreaked havoc on newspaper deadlines. The Seminoles were expected to win easily. So what would be the harm, I asked him, if I came down in the break before the fourth quarter and asked a couple of quick questions for my story?
I think you can imagine Bowden's answer.
"Use your own judgment," he told me.
FSU was ahead 35-3 after three quarters that night. Sports Information Director Wayne Hogan, now with the Florida Sports Hall of Fame, escorted me the field, shaking his head as we went. I asked my questions and zipped back up to my spot in the press box.
Imagine asking that same favor today of Urban Meyer or Nick Saban – or even most high school coaches.
Without question, though, my No. 1 Bowden memory came after I had moved from beat writer to columnist at the Trib. It was the opening game of the 2004 season at Miami. The day before, Bowden had attended the funeral of his 10-year-old grandson, Bowden Madden, who had died in a car wreck.
I was assigned to do a story of how the coach handled such a tragedy. The Seminoles lost 16-10 in overtime, like that mattered much. I hung back in the postgame news conference until all the talk about the evening's battle was done, then approached. Bowden was gracious as always, even admitting, "It was hard for my mind not to be somewhere else."
I went on about my business interviewing other people that night when I heard my name. I turned to see Bobby Bowden as he was headed toward the team bus. He flipped the cap he had worn during the game in my direction and said, "Give it to your grandson."
The cap sits on my mantle, waiting to be delivered when I have a grandchild. I will tell him the story of a coach like none other.
The movie of Bowden's life is compelling and revealing, and it's more than worth the two-hour investment in time. The project was spearheaded by FSU alumnus John Correy.
Rob Harvell and Brian Goodwin are the co-directors. They have worked on some of the outstanding ESPN documentaries, including "I Hate Christian Laettner."
They captured the essence of a man who did more than win a lot of football games. We know how important college football is in the South, but what happens when the games are over is the true measure of a coach. Bobby Bowden changed lives and I was blessed to have a ringside seat for things I never will forget.