What was the brain trust at Miami Dade College thinking?
Hopefully you've read Jim Rosica's recent summing up of a high-profile and high-powered duel going on in Miami between two titans of art and business (with kudos to the Miami Herald's numerous stories).
To recap, Miami art dealer Gary Nader has been in a running battle with developer Jorge Pérez, CEO of Related Group, over a proposed development on what's now the college's faculty parking lot.
Nader graciously offered to build out a new Latin American arts museum for the school and fill it with $60 million worth of pieces from his private collection.
Because of state law requirements, the college had to invite other bidders, which spurred Pérez to creep in like a dog in the night and block the project with his own offer.
Long story short, the works have been gummed up with legal challenges, ugly rhetoric and bad feelings.
Meanwhile, the college has been striving to appear above it all – and yet is ignoring one detail that's worth noting.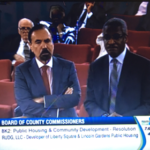 To the left is a picture of attorney Al Dotson with Pérez at the dais before the Miami Dade Board of County Commissioners.   
So what's notable about that? Well, Dotson was also one of the attorneys who advised Miami Dade College's selection committee on the parking lot development. 
He's with Bilzin Sumberg, the same law firm that employs Suzanne Amaducci-Adams, Miami Dade College's outside counsel.
As a side note, Amaducci-Adams was spotted socializing with Related executive Lissette Calderon despite a "cone of silence" that's supposed to surround the bidding process.
Their explanation, according to the Herald: "Amaducci-Adams' visits to Calderon's home were simply pick-ups and drop-offs for her daughter, who is a friend and schoolmate of Calderon's child." Nothing to see here, folks. 
Could there be a conflict of interest with Dotson working for Related on an unrelated (no pun intended) affordable housing project before the Miami-Dade Commission?
When reporters in Miami tried to ask Dotson – you guessed it – he couldn't be reached for comment.
What about MDC bigwigs? Did they have a problem with one of their hired legal guns working for a bidder (again, granted, on a unrelated project) while at the same time advising them on what was supposed to be a neutral process?
There, it gets a little curiouser.
College Provost Rolando Montoya was in charge of overseeing the development's negotiation and selection process. But he stunned all the players by announcing he was retiring Aug. 8.
(By the way, Montoya's "retirement celebration" was Thursday night at the college. We know that because Lt. Gov. Carlos Lopez-Cantera's official daily schedule showed him in attendance at the event.)
Does all this add up to chicanery? Incompetence? Fodder for a bad sitcom? In the bizarro world of South Florida, maybe a little of each. Stay tuned…