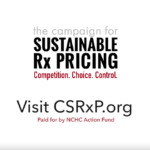 A coalition of seniors, health plans and private companies advocating lower prescription drug costs is launching a campaign in Florida.
The Campaign for Sustainable Rx Pricing (CSRxP) believes taxpayers should get a full accounting of how much they pay for high-cost drugs through federal programs like Medicare, or through research at the National Institutes of Health.
The coalition includes not only groups like Wal-Mart, AARP and the Service Employees International Union 1199, but health care organizations like Anthem, Blue Cross Blue Shield and the American College of Physicians.
"Out-of-control prescription drug prices hurt every American. From the patients who need the medications and the consumers who pay higher and higher health care costs, to the businesses that are forced to choose between providing health benefits and creating new jobs, and the hardworking taxpayers who foot the bill for hundreds of billions of dollars every year," said John Rother, Executive Director of CSRxP. "We need real solutions now. Let's work together to deliver market-based solutions that increase competition, create more choice, and ensure that open and honest prices are driven by the value that they bring to patients."
The organization says that their campaign will include on-the-ground, grassroots initiatives in states across the country to help patients, doctors, nurses, pharmacists, businesses, and taxpayers who feel the consequences of rising drug prices every day.
For years, congressional Democrats have tried to pass legislation to allow Medicare to negotiate prescription drug prices for millions of beneficiaries. It was a major component of Bernie Sanders campaign for president a year ago, and President Trump continues to talk about doing something substantively on the issue.
Last month, House Democrats Elijah Cummings from Maryland and Peter Welch from Vermont met privately for about an hour with Trump and HHS secretary, Tom Price, to discuss ways to combat high drug prices.
Trump tweeted the day before that meeting that he wanted to drug prices to come down.
I am working on a new system where there will be competition in the Drug Industry. Pricing for the American people will come way down!

— Donald J. Trump (@realDonaldTrump) March 7, 2017
CSRxP says that they will air their first ad on broadcast and cable television Tuesday that will run in Washington, D.C. and the districts of key lawmakers around the country. However, they did not return our request for comment on what congressional districts in Florida where the ad may run.