An invitation to a fundraiser for several legislative candidates has some wondering if its part of a larger drama surrounding three Republicans' ambitions to serve as Florida House Speaker.
Billed as an "Evening with Florida Republican House Candidates," the event is slated for August 11th in Orlando. The invitation to the event is emblazonedwith the logos of nine GOP candidates running for the first time to the Florida House: John Courier, Byron Donalds, Randy Fine, Wayne Harris, Alex Miller, Bobby Payne, Bob Rommel, Frank White, and Jayer Williamson.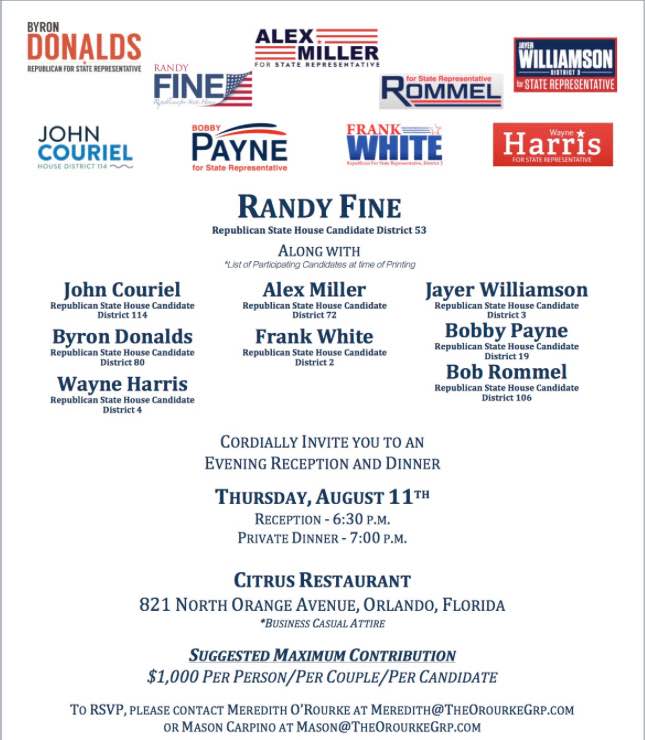 "That looks like a block of votes," observes one Republican political consultant.
Indeed it does. A block of votes for Fine, one of (at least) three contenders engaged in an under-the-radar campaign to lead the House in 2022-24. Readers of this website do not need to have it explained in great detail how this process works. Future legislative leaders are identified early on in their tenures by earning the pledged support of their colleagues in their legislative class. Although he won't say it officially, Fine is competing with Tampa Bay's Jamie Grant and Jacksonville's Paul Renner for control of the gavel during the 2023-24 legislative sessions. (For greater background on the race to be Speaker, read these stories by Brian Burgess and Tia Mitchell).
Jostling for House Speaker is a lot like the fraternity prank that involves taking a cinder block tied to a blindfolded pledge's penis and throwing it just far enough so that it scares the pledge, but not so far that it does any real damage. It's all leap of faith stuff. As we saw during the last Speaker's scrum, in which Chris Sprowls eventually undid Eric Eisnaugle's apparent victory, pledge cards are not worth the paper they are printed on.
That's why this fundraising invitation is so interesting. These candidates — despite any protestations — will be perceived as strapping on leather jackets with the words "Fine Motorcycle Club" written on the back of them.
Fine, as he should, denies the deeper-reading into the invitation.
"This should not be construed as Team Fine as there will never be a Team Fine," he explains. "There will be a Team that Randy Fine is a member of and seeks to serve, should I be so fortunate to be sent by the voters of southern Brevard County to Tallahassee."
Fine says there were candidates that he did not ask to participate in this event "because I was worried it would imply some kind of blood oath that might get their backs up against the wall. There are great candidates in Jacksonville and Tampa Bay that I have gotten to know and am looking forward to helping but do not want that to create an appearance of disloyalty to some regional cabal."
The reason for this slate invitation, Fine insisted, is because it's become such a challenge in the current political environment to raise money.
"Earlier this year, we had a 17-person Republican presidential contest, featuring two major Floridians. Then we had a five-person Senate primary contest that has now rebooted into an entirely new campaign with the entrance of Marco Rubio. Thanks to court decisions, we have had dramatic shakeups in the Congressional maps and have double the number of Senate campaigns as expected – and vastly more competitive races. All of this has led to a domino effect that may create a record-setting number of state House open seats. The demand for resources is exponentially higher – but the supply is unchanged."
Explaining further, "Perhaps by having nine candidates in one room, we get more attention from those interested in what happens in the state House than if we tried nine separate events. And from the amount of attention we have gotten already, it seems that we may be on to something."
In other words, Fine has convinced eight other future freshmen to tie a cinder block to themselves.