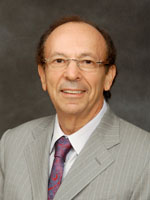 It's a cold case.
It's an old case.
And it may not amount to a hill of beans.
But now that Irv Slosberg is contemplating a run for the state Senate, local chatter about a 16-year old matter is making the rounds once again.
We all remember the 2000 presidential election and the razor-thin victory by George W. Bush over Al Gore. We also remember hanging chads, recounts, ballot punch cards and the famed Votamatic machines – cheesy name, sounds like something advertised on late night TV. Vot-a-matic: It dices, it slices, it creates hanging chads.
We also recall that ground zero was Palm Beach County.
And there was this race for the state House of Representatives where the winner also squeaked out a victory – by a razor-thin margin.
His name was, and is, Irv Slosberg.
Slosberg, it turns out, was in possession of a Votamatic voting machine, a machine he should NOT have been anywhere near. That is not in dispute.
According to several news sources, he at first denied having the machine in his car. But after police began an inquiry, he changed his story and admitted to having it in his possession.
The story gets a little weirder at this point.
At first, Slosberg refused to turn over the voting machine – a machine owned by the county – to the police but apparently the threat of legal action helped him see the light, and he eventually turned it over.
What the heck was a candidate doing with a voting machine in his car? Were ballots missing? Could that machine have mattered in the House race? Could it have mattered in the selection of the President of the United States?
So let's go out on a grassy knoll limb here for just a moment and have a little "what if" fun. Heavy Democratic county. Al Gore hanging on by a chad, and a missing voting machine. Did Irv Slosberg cause the election of George Bush?
Highly unlikely. Extremely unlikely. Kind of silly actually.
However, we will never know what he was doing with an actual voting machine in his car because the County Supervisor, Theresa LePore, declined to press charges – and for good reason.
You see, she was kind of busy trying to manage a recount with THE WHOLE WORLD WATCHING. And she not only admitted as much, she told reporters she had too much on her plate to worry about it. Fair enough.
No charges were ever pressed.
No further questions we ever asked.
It's an old, cold case and one that will never be resolved.
But it will be a narrative in a potential Florida state Senate race nearly 16 years after the fact.
Oh, Palm Beach County…