A former chair of the Florida Public Service Commission has been promoted to a leadership position at Florida's business-oriented Gunster law firm.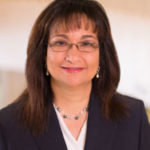 Lila Jaber has become Regional Managing Shareholder, joining three other shareholders who also joined the firm's leadership team, according to a news release.
She already was in charge of firm's government affairs practice. Jaber has served on Workforce Florida's board and was a former chair of Leadership Florida, according to her bio.
She was appointed to the PSC, which regulates investor-owned utilities, by former Gov. Jeb Bush and served two terms.
Jaber's responsibilities now include "recruiting and integrating top talent in North and Central Florida, and enhancing the firm's presence in Tampa, Orlando, and Tallahassee," said H. William 'Bill' Perry, the firm's managing shareholder.
The firm adopted a corporate structure in 2008.
In addition, Derek E. Bruce and Allison E. Turnbull have become Orlando Office Managing Shareholders; Bill Adams is now Jacksonville Office Managing Shareholder, Perry said.
"Developing our leadership team is the next step in advancing our singular focus on Florida," he said in a statement. "Local knowledge helps us have a greater impact in these communities, and attracts the best talent to Gunster."
Gunster, which has 180 attorneys, in 2016 hired four shareholders, 10 associates, and one "of counsel" shareholder, the release said. The firm recently added two offices, in Winter Park and Boca Raton.
For the full news release, click here.