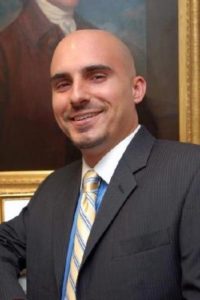 Global public strategy firm Mercury is adding noted Republican political adviser Brian Swensen to its Florida public affairs team as a senior vice president.
Swensen comes to the firm following his role as deputy campaign manager for the successful re-election of Sen. Marco Rubio, the latest in a series of key political victories in Florida and Louisiana. He his tenure with Mercury began Jan. 19, 2017.
In his new role, Swensen will bring extensive experience in the political arena to provide solutions and winning strategies for the firm's clients. He will be based in Mercury's Miami office.
Mercury Florida, now in its fourth year of operation, is led by partner Ashley Walker.
"We are thrilled to welcome Brian, who is one of the leading political operatives in the Southeast region," Walker said in a statement Tuesday. "Mercury continues to assemble the state's most talented team of public affairs professionals, and the addition of Brian underscores our commitment to building Mercury into the strongest bipartisan consultancy in the nation."
"I am excited to work with the incredibly talented team of strategists at Mercury to help address some of the most pressing policy issues facing many organizations and corporations today," Swensen said. "The Mercury Florida team brings together the state's top political advisers across party lines.  Nowhere else can you find such deep, diverse skills and experience, and a winning track record to boot."
"As someone who prides himself on having a great work ethic and outside the box thinking," he added, "I look forward to unleashing my unique skill set to shape strategy, solve problems, and create wins for our clients."
Before joining Mercury, Swensen served as deputy campaign manager for Rubio's re-election campaign, during which he built a political operation that benefited numerous campaigns up and down the ballot, while training and empowering the next generation of political leaders.
Previously, Swensen managed the successful campaign of Jacksonville Mayor Lenny Curry, which helped set the tone for Florida Republicans in the 2016 cycle.
Additionally, Swensen was a part of the Bill Cassidy for U.S. Senate campaign, where he led the political and grassroots operation. He served as political director for the Republican Party of Florida, and was victory director for Gov. Rick Scott's winning campaign in 2010.
Swensen got his start in the political process at The Leadership Institute, a conservative nonprofit based in Virginia, after graduating from Florida International University in Miami.
Mercury provides a suite of services including federal government relations, international affairs, digital influence, public opinion research, media strategy and a bipartisan grassroots mobilization network in all 50 states. With a global presence, Mercury has U.S. offices in Washington, DC, New York, California, New Jersey, Illinois, Pennsylvania, Florida, and Tennessee, as well as international offices in London and Mexico City.
Mercury is a part of the Omnicom Public Relations Group.