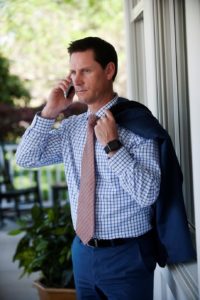 Rob Johnson, a long-time, respected policy advisor and legislative affairs director, has left the Attorney General's Office to join The Mayernick Group.
"The Mayernick Group is excited that Rob is joining as a partner in our firm," said Frank Mayernick in a statement. "We have experienced significant growth and know that as a well-respected professional, Rob has strong relationships and knowledge of the process that will help us continue to serve our current and future clients.
Long on the wish list for private sector recruiters, Johnson served as the Director of Legislative and Cabinet Affairs in the Florida Attorney General's Office since 2007. He began his time there under Attorney General Bill McCollum, and stayed on after Bondi was elected in 2010.
"I want to thank Rob for his 16 years of service to the State of Florida as a policy advisor, cabinet aide and legislative affairs director," said Attorney General Pam Bondi in a statement. "Rob had a great opportunity in the private sector that he couldn't pass up and he will be greatly missed."
Before joining the Attorney General's Office, Johnson served as Gov. Jeb Bush's deputy director of Cabinet affairs. He was also extensively involved in the 2003 workers' compensation overhaul during his time working as legislative advisor to the state's first Chief Financial Officer.
Started by Mayernick and his wife, Tracy Mayernick, The Mayernick Group is one of the leading boutique government relations firms in the state.
Often ranked among the Top 20 firms earning more than $250,000 in the state, the firm saw steady growth in the first three quarters of 2016. According to an analysis by LobbyTools, the firm brought in an estimated $430,000 in the third quarter of 2016.
Among The Mayernick Group's roster of clients are heavyweights like HCA Healthcare, Florida Power & Light and U.S. Sugar.
The husband-and-wife duo with deep connections in the Florida Senate also does work for several "white hat" clients including maternity and infant health charity March of Dimes, Big Brothers Big Sisters of Florida, Lutheran Services and the PACE Center for Girls as well as industry-centric "food fighters" such as AT&T, Alkermes Plc and Dredging Contractors of America.
Johnson's years of public sector experience will likely mesh well with the team at The Mayernick Group. Before striking out on his own, Frank Mayernick served as the legislative affairs director for the Florida Department of Juvenile Justice.
He also served under the Speaker's Legislative Fellowship Program, working in the House Rules Committee, and worked as an aide to both Sen. Charlie Clary, a Destin Republican, and Rep. Jerry Melvin, a Fort Walton Beach Republican.
Tracy Mayernick, meanwhile, boasts a strong appropriations background, as well as a history of working on healthcare, telecommunications, environmental, agriculture, economic development, transportation and criminal justice issues.
Johnson's last day at the Attorney General's Office was Tuesday. His first day at The Mayernick Group is Wednesday.
"I look forward to working with professionals like Frank and Tracy and am committed to providing the firm's clients with sound strategic counsel as we move into the 2017 Legislative Session," said Johnson in a statement Wednesday.
A Florida State University graduate, Johnson is married to Alia Faraj-Johnson, the senior vice president and Florida public affairs leader at Hill+Knowlton Strategies. The couple lives in Tallahassee with their 8-year-old daughter.