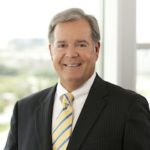 David Punzak has been named vice chair of the St. Petersburg Area Economic Development Corporation (EDC) board of directors.
Punzak is a shareholder with the national Carlton Fields law firm, based out of its Tampa location. He will become chairman in 2018 following his term as vice chair.
"David brings a great depth and breadth of experience and leadership to the organization, and we look forward to his impact over the coming years," said EDC chairman Michael Vivio.
Punzak brings more than three decades' experience as an attorney specializing in transactions for banks, real estate developers and insurance companies. He regularly stands for clients in real estate and finance, mergers, acquisitions and general business matters.
With an extensive history of community service, Punzac has served on the St. Petersburg Chamber of Commerce board since 2012, as well as two terms as chair and as a leader of the Economic Development Committee. He also had leadership roles at Baseball Forever St. Pete, Suncoasters, Heroes of the St. Petersburg Police and The Dali Museum.
"Being named vice chair of the EDC is a great privilege, and I am proud to continue service to my hometown," said Punzak. He added, "The EDC is poised to make a significant impact on the economic prosperity of St. Pete's citizens, and I am excited to be a part of it."
EDC was launched in 2016 as a part of the "Grow Smarter" strategic plan of the St. Petersburg Area Chamber of Commerce, the City of St. Petersburg and community partners over two years ago.
The organization's major focus is to ensure the city develops and maintains a sustainable and inclusive economic strategy. The Grow Smarter plan targets business sectors and partnership opportunities. The program names the EDC a "Storyteller in Chief" for St. Petersburg, promoting it as a premier business destination.
Funding for the EDC comes through investments from over 40 local, private entities as well as significant funding from the Greater St. Petersburg Area Chamber of Commerce and the City of St. Petersburg.
St. Petersburg EDC President J. P. DuBuque said in a statement: "Punzak brings a host of experiences in the economic development space and institutional knowledge of the City that will only add to our ability to be an organization of high impact."