Florida Democratic Party Chairman Stephen Bittel walked into political version of a lion's den over the weekend in Tampa and came out it not only unscathed, but maybe even a bit emboldened.
"That was a warmer greeting than I was expecting," the recently-elected leader said in reaction to the modest applause that he received after he was introduced to the 120 members of the Progressive Democratic Caucus at the Hillsborough County Classroom Teachers Association building on Saturday.
"I know my election doesn't make everyone comfortable," the wealthy real estate developer added, referring to the fact that he was the clear favorite among FDP establishment figures like Bill Nelson and Debbie Wasserman Schultz (who was booed whenever her name was mentioned at Saturday's session) in the brief campaign for party leadership, following another disappointing cycle for Democrats statewide in 2016.
Bittel was elected party chair in January, getting 55 percent of the vote against four other candidates, but it was the controversial circumstances surrounding his election as Miami-Dade County that still sticks in the mind of a number of party members.
FDP bylaws mandate that only local party chairs or committeemen and committeewomen are eligible to run for the state party chair, positions that Bittel did not hold last December, as the race to succeed Allison Tant began heating up..
But a committeeman position magically opened up for him after Miami-Dade County state committeeman Bret Berlin voluntarily gave up his position less than a week after being elected by Miami Democrats.
In Tampa, however, Bittel played the self deprecating card.
"This is not my party, this is our party," he insisted. "I don't do a good job of managing my house. I don't do a good job of managing my business. I try to find smarter better people than me. I want you to help manage me."
Quoting Pinellas County Democrat Amos Meirs that the purpose of the Progressive Caucus is to build a bridge to the state party, Bittel said that bridge "has to be built from both sides."
On substance, Bittel said the party needed structural changes, referring to his selection of an ad hoc committee currently reviewing reforming the charter bylaws. He also said he was "sad" to learn that the state party "had not spent investing ability into our email lists so we could reach out and have more small dollar contributions."
He also said that beginning this week he'll be speaking out on public policies now the the legislative session is underway, talking about ex-felon rights, mass incarceration and the death penalty (the caucus supported a resolution in support of embattle Orange/Osceola State Attorney Aramis Ayala for statement last week that she  would not seek the death penalty against alleged cop killer Markeith Lloyd).
"It will take time for you to trust me," he later conceded, ultimately getting more than a third of the audience to stand and cheer him as he finished his speech.
Among the folks who Bittel was trying to win over was Zenia Perez, a member of the Miami Dade Democratic Executive Committee who was elected on Saturday as at large member to the Progressive Caucus.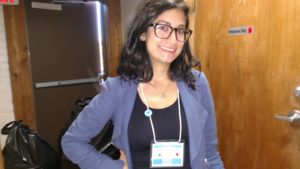 Perez served as the Credential Chair for the Miami-Dade DEC during the saga that led to Bittel becoming a committeeman, a process she describes as a "fiasco."
"I'm just a little ashamed of how we conducted ourselves," she told FloridaPolitics on Saturday. "We kind of became an embarrassment to the state in a time where it's critical that our leadership follow the rules, because they want us all to come together."
Referring to Bittel's appearance, Perez said it was his job to be there and listen to the progressive wing of the Democratic Party, adding, "but then you have to work on it."
A grassroots supporter for Bernie Sanders who also worked on Tim Canova's unsuccessful congressional campaign against Wasserman Schultz, Perez said she was impressed by Tallahassee Mayor Andrew Gillum, who gave the keynote speech this weekend at the Progressive Caucus forum.
"I think he's going to be a really fun candidate to see on the trail," she says of Gillum, who was also in Jacksonville this weekend to introduce himself to Democratic voters.
Perez says she has also met potential gubernatorial hopeful Gwen Graham, and said that she felt after meting her she could definitely vote for her, meeting Gillum sort of knocked her socks off.
"I'm like whoa- I want to knock on doors for you. I want to work for you,"  adding that she likes his plans on educations, the economy and criminal justice reform.
Here's a list of officers and board members selected by the progressive caucus on Saturday:
President- Susan Smith (Hillsborough)
Vice-President – Michael Calderin (Broward)
Secretary- Lisa Murano (Palm Beach)
Treasurer – Marilyn Cappiello (Hillsborough)
Board members
Paul Stolc (Leon)
Zenia Perez (Miami-Dade)
Melody Bernal (Osceola)
Mitchell Stollberg (Broward)
Hillary Keyes (Palm Beach)
Wendy Sejour (Miami-Dade)
Mario Piscatella (St. Johns)
Amos Miers (Pinellas)
Nancy Jacobson (Orange)