Hmmm, they don't seem that provocative.
On Thursday, members of the Women's Legislative Caucus wore purple T-shirts with the slogan, "A Woman's Place is in the House and the Senate."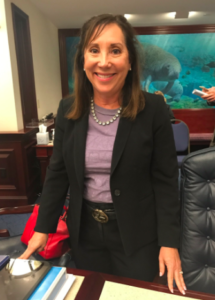 Once on the House floor, however, an alarm rose among some: Were they appropriate?
Rules Chair Jose Oliva, slated to be Speaker in 2018-20, soon put the kibosh on the sartorial messaging.
Take the T-shirts off, the offending members were told, or turn them inside out. The reason: They violate House decorum.
After the session, Florida Times-Union reporter Tia Mitchell tweeted a photo of Rep. Lori Berman with, yes, her T-shirt turned inside out.
" 'A woman's place is in the House & Senate.' But the Sgt at arms says her tshirt is not (forced to turn inside out)," the tweet said.
We've asked the Speaker's Office, House Democratic Leader Janet Cruz, and caucus chair Heather Fitzenhagen for comment on the apparel argument.
We'll report back when we hear anything. In the meantime, we're taking votes on what to call the episode.
"The Great Costuming Quarrel of 2017"? "The Attire Altercation"? "The Disrobing Dispute"?
Other suggestions welcome. The person who comes up with the best name wins a free copy of the Spring issue of INFLUENCE magazine, and maybe a gift card (but don't hold your breath).
Updated 6 p.m. — The plot thickens. On Wednesday, Fitzenhagen sent an email to Women's Caucus members:
"Each member will be hand delivered their shirt today for our celebration of Women's History Month. As a reminder, the plan is for everyone to wear their shirt TOMORROW. We changed the color of the shirts to purple this year in an attempt to raise awareness about Gynecological Cancer and the importance of early detection."
But the next day, she sent a follow-up:
"I'm extremely sorry for the inconvenience, but I'm asking all Caucus members not to wear the shirts on the House Floor during Session. If you do not have an extra shirt, we would suggest turning yours inside out. Again, we are sorry for the inconvenience and hope this notification will allow all House members to make other arrangements."
Fitzenhagen still has not responded to a message seeking comment.