When we wrote about Foley & Lardner's Tallahassee lobbying practice in the last issue of INFLUENCE magazine, we called it "a sort of think tank with political muscle."
The law firm is about to get even stronger with the imminent addition of Jason Allison, head of the state's Agency for State Technology, whose departure from state government was leaked this week.
Last month, the firm stole another Rick Scott appointee: Jon Steverson, the secretary of the Department of Environmental Protection. And his predecessor at the department, Herschel Vinyard, also works at Foley.
Before that, then-Department of Economic Opportunity honcho Jesse Panuccio left Scottworld to practice law for the firm. Now he's headed to Washington for a high-ranking post at the U.S. Department of Justice under President Donald Trump.
Let's not forget another Friend of Rick who was with the firm: Karen Bowling, who co-founded the Solantic walk-in urgent care centers with Scott, was a Foley lobbyist before becoming CEO of a Jacksonville-based health care tech company.
Credit the recruiting of Jonathan Kilman, who co-chairs the firm's Government & Public Policy Practice. The Harvard-trained lawyer first came to Florida as outside counsel to the Florida House in redistricting litigation.
Kilman's clearly setting up his shop as a go-to for those seeking expert Adams Street advice.
He's got some catching up to do. The most recent compensation reports, for fourth quarter 2016, show the firm at 30th in legislative lobbyist compensation, with reported median revenue of $220,000. To compare, the top five firms in town are all throwing up seven digits in median revenue.
But Kilman knows he's in a building season, with eyes firmly on the prize. Don't be surprised if another jaw-dropping hire makes the headlines in the months ahead.
Coming up, the usual assortment of tidbits, leftovers and not-ready-for-prime-time moments by Jenna Buzzacco-Foerster, Michael Moline, Jim Rosica, and Peter Schorsch.
Now, the "Takeaway 5" — the Top 5 stories from the week that was:
Scott vs. Corcoran ad nauseam — The battle between Gov. Rick Scott and House Speaker Richard Corcoran came to its latest head as House Republicans privately huddled behind closed doors this week at the capital's tony The Edison restaurant. Tampa Bay Times reporter Steve Bousquet, who was denied entry to the get-together, tweeted a photo of himself crouched over, ear to the door, trying to listen in. Inside, Corcoran was rallying his troops. He "urged them to 'stand strong' in the face of opposition to his plan to shut down the state's two largest economic development programs," Bousquet later reported. Scott has been going to the home districts of lawmakers who voted to kill Enterprise Florida and VISIT FLORIDA to publicly shame them.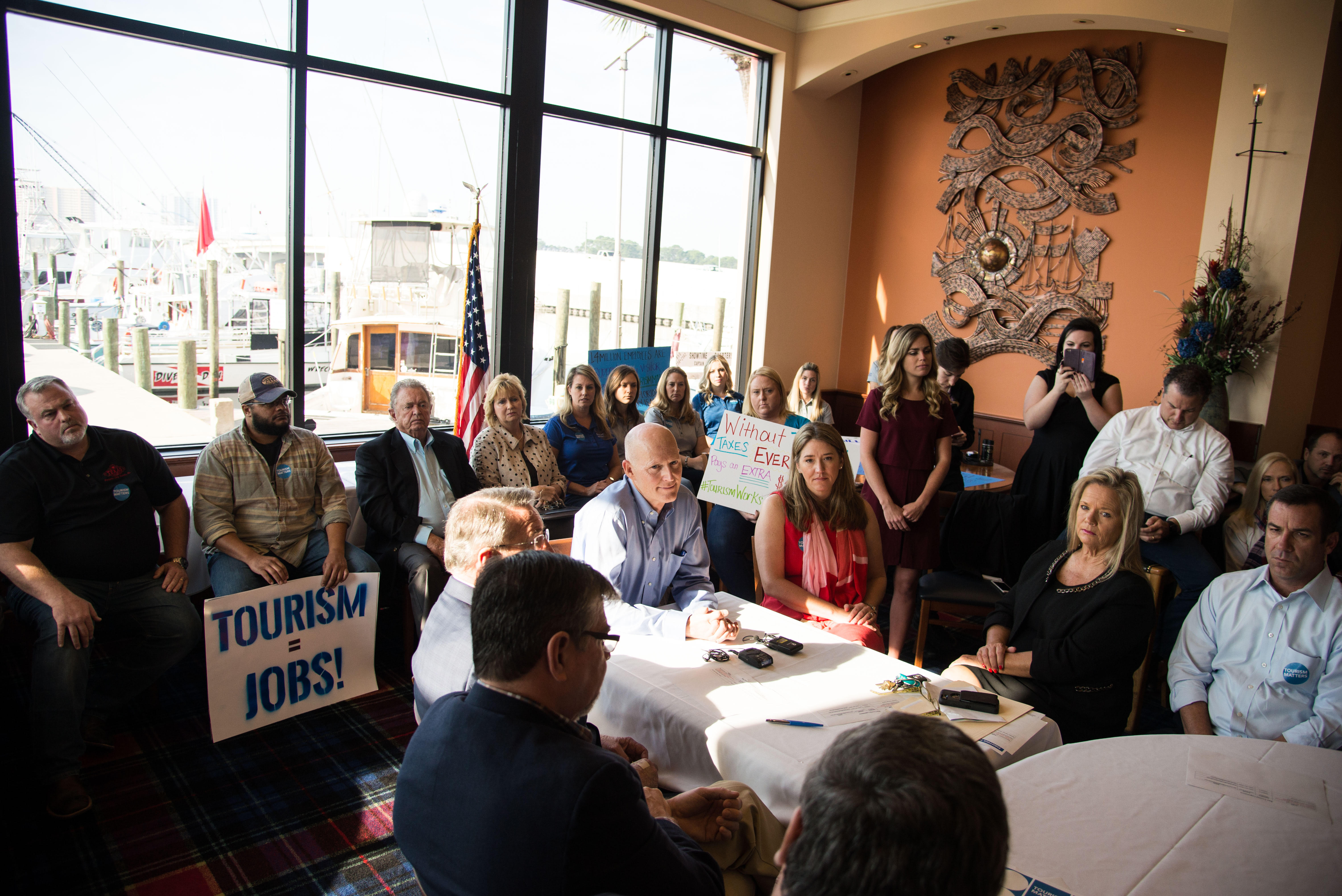 Abortion law still nixed for now — A state Supreme Court order blocking enforcement of Florida's 24-hour abortion waiting period will remain in place while a lower court determines whether the law is constitutional. The Florida Supreme Court issued its ruling Thursday, leaving in place its order from 10 months ago. The court said there's a strong likelihood that a lower court will determine the law is unconstitutional and the state provided no evidence that the law addresses a compelling state interest.
"Docs vs. Glocks" shot down — A federal appeals court ruled that Florida doctors can talk to patients about gun safety, declaring a law aimed at restricting such discussions a violation of the First Amendment's right to free speech. The 11th U.S. Circuit Court of Appeals found that the law did not trespass on patients' Second Amendment rights to own guns and noted a patient who doesn't want to be questioned about that could easily find another doctor. The law was passed in 2011 and signed by Republican Gov. Scott with strong support from the National Rifle Association. It was the only one of its kind in the nation, although similar laws have been considered in other states.
"Wheaties and whiskey" narrowly moves forward — House members served up a sour version of the "whiskey and Wheaties" bill as it barely cleared its first committee. The Careers and Competition Subcommittee cleared the legislation (HB 81) by a vote of 8-7, with the panel's chair, Monticello Republican Halsey Beshears, voting against it. This is the fourth year a version of the bill has been filed. It aims to repeal the Prohibition-era state law requiring businesses, such as grocery chains and big-box retailers, to have separate stores to sell liquor. Beer and wine already are sold in grocery aisles in Florida.
House debuts its gambling bill — The Florida House of Representatives quietly released its gambling overhaul for 2017, setting it for a hearing next Thursday. As expected, the 81-page bill (PCB TGC 17-01) includes a renewed blackjack deal, or "compact," between the state and the Seminole Tribe of Florida, as first struck by Gov. Scott. No Casinos, the anti-gambling expansion group, soon tweeted: "Still analyzing bill, but at first blush @MyFLHouse seems to have found a way to renew compact without turning FL into Vegas/Atlantic City."
—
Pardon our error: Last week we incorrectly identified Scott Ellis in a news item. Ellis is the Brevard County Clerk of Court.
—
Gun-rights lobbyist Marion Hammer vowed to find a way around the 11th U.S. Circuit Court of Appeals' "Docs v. Glocks" ruling.
"This is not necessarily the final word on these important issues, as the state of Florida has both legislative and appellate options to reinstate these important protections," Hammer said in an emailed statement.
On the bright side, she said, the court upheld a provision "prohibiting doctors from discriminating against gun owners," Hammer said.
"Further, the court left intact the provision making it clear that patients have an absolute right to refuse to answer doctors' questions about gun ownership. I'm sure anti-gun doctors are not happy about that."
—
That's a heck of a street you have there, Ormond Beach.
Secretary of State Ken Detzner announced this week that Ormond Beach Main Street had been designated as the February 2017 Florida Main Street Program of the Month.
"Ormond Beach is a successful coastal Main Street program that has been thriving for over 20 years," said Detzner. "With supportive downtown partnerships, Ormond Beach's Main Street program has invigorated public participation and entrepreneurship within the historic commercial district."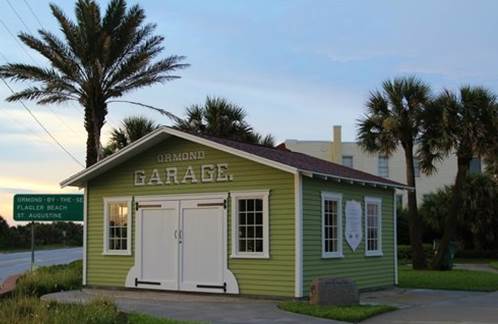 Ormond Beach was originally populated by Native Americans who lived along the Halifax and Tomoka Rivers. The community became a popular winter vacation destination in the late 19th and early 20th century. One of the area's most famous resident was John D. Rockefeller, who purchased a winter cottage known as "the Casements" in 1918 and made Ormond Beach his home for over 19 years.
The Florida Main Street program is administered by the Division of Historical Resources, and encourages economic development within the context of historic preservation through the revitalization of Florida's downtowns.
—
Rep. Byron Donalds is throwing a little shade at Florida's Sunshine.
The Naples Republican filed legislation this week that he says would improve the efficiency of local governing boards. The bill (HB 843) would let two members of a board of five or more members would be allowed to gather information and discuss topics without it being consider an official public meeting, if no public policy is being made.
"This bill provides the opportunity for public servants to be more effective while maintaining the intent of Florida's government in the sunshine principle," Donalds said. "We should allow local officials to have the same flexibility we have in the Legislature to educate themselves on matters they are addressing."
Donalds stressed that the purpose of his bill, which mirrors practices in the Florida legislature, was to improve efficiencies in local government while still maintaining strict safeguards to ensure public business is conducted in the sunshine.
Umatilla Republican Sen. Dennis Baxley filed the Senate companion.
"It's time to clarify what Sunshine law means with local officials and to add a level of common sense and reason," said Baxley.
—
Two Florida lawmakers are hoping to balance recovery with safety.
Sen. Jeff Clemens and Rep. Bill Hager have been working for years to put the brakes on the growth of sober homes, and said this week they will continue their work during the 2017 Legislative Session. The two men have filed legislation (SB 788 and HB 807) that aims to crack down on fraudulent marketing and patient brokering.
"It's hard to measure the strain that has been placed on families and communities by those sober homes operators taking advantage of the system," said Clemens.  "The good operators have joined with us to improve the system for everyone."
The bills create licensing and certification standards for marketers directing patients to specific treatment programs and provide criminal penalties for violators. It also implements an effective and comprehensive plan to control the housing component of the recovery and treatment process and eliminate the exploitation of those in recovery by providers and residence operators.
"Sober homes provide assistance for recovering alcohol and drug addicts. This legislation puts in place a standard of care which will benefit the residents of these homes and their neighbors while the patients continue on the road to recovery," said Hager. "This bill puts in place new regulations across the state for the benefit of Floridians."
The changes are the result of the Palm Beach County Sober Homes Task Force led by State Attorney Dave Aronberg.
—
A coalition of state, local and national organizations wants Florida to just say no to bills an expansion of concealed carry laws.
The Florida Coalition to Prevent Gun Violence said this week it strongly opposes proposals that would allow concealed weapons permit holders to carry handguns into bars, police stations, jails, courthouses, polling places, colleges, and professional sporting events.
The bills, filed by Sen. Dennis Baxley and Rep. Don Hahnfeldt, would also allow the state's 1.7 million permit holders to carry their weapons at Florida's seaports. They come just a few weeks after Sen. Greg Steube filed a flurry of bills to that includes open carry of guns in public.
"Sen. Baxley has taken the notion of guns everywhere and thrown in the kitchen sink," said Patti Brigham, coalition co-chair and 1st vice president of the League of Women Voters of Florida. "The idea of allowing permit holders to take their guns into bars is absurd — and incredibly dangerous. And just why would we want permit holders to take guns into polling places? These gun-happy legislators have gone too far. They are endangering the public, not protecting it."
The coalition is made up of more than 120 local, state and national organizations, including Equality Florida, the Florida PTA and the Interfaith Council of Central Florida.
—
State money for Raymond James Stadium could be on ice.
But House Rep. Bryan Avila, a Hialeah Republican, filed legislation (HB 855) that would "repeal a provision relating to state funding for sports facility development by unit of local government, or by certified beneficiary or other applicant, on property owned by local government."
The arena is undergoing a facelift to the tune of an estimated $120-$140 million over the next decade, a decision made by the team's limited partnership side of the house, which applied for subsidized aid of $1 million a year over the next 10 years.
The Bucs application was ranked No. 1 by default since, according to WUSF News, it was the only application received and reviewed during the application window.
—
There's a few new judges in Florida.
Gov. Scott announced this week he appointed Fabienne E. Fahnestock and Yael Gamm to the 17th Judicial Circuit Court.
Fahnestock has been a shareholder at Gunster, Yoakley & Stewart since 2007. She received her bachelor's degree from the University of Miami, her master's degree from Nova Southeastern University, and her law degree from the University of Florida.
The 43-year-old Parkland resident fills a vacancy created by the resignation of Judge Thomas M. Gamm, a 40-year-old Plantation resident, has been an Assistant State Attorney in the 17th Judicial Circuit State Attorney's Office since 2010. She received her bachelor's degree from Florida State University, and her law degree from Nova Southeastern University.
She fills a vacancy created by the resignation of Judge Arthur M. Birken.
Scott also appointed Matthew Brigham to the 5th Judicial Circuit Court. The 56-year-old Morriston resident fills the vacancy created by Judge Richard Tombrink Jr.
Brigham served as an Assistant State Attorney for the 5th Judicial Circuit State Attorney's Office since 2002. He received his bachelor's degree from the University of Central Florida, and his law degree from the University of Florida.
And finally, Scott announced he appointed James T. Ferrara to the 15th Judicial Circuit Court, filling a vacancy created by the resignation of Judge Moses Baker Jr.
Since 2009, Ferrara, a 51-year-old Boca Raton resident, was a shareholder at Shraiberg, Ferrara, Landau & Page, P.A. He received his bachelor's degree from Furman University, and his law degree from Samford University's Cumberland School of Law.
—
Victims of negligence could see some relief under a bill proposed by Rep. Jose Felix Diaz.
The Miami Republican filed a bill (HB 6523) that would compensate Florida residents who suffer bodily harm or destructive means in situations where the Department of Children and Families was found at fault.
If passed, the bill would "for relief of (any) 'survivor' and (the) estate of (a) 'victim,'" in the form of financial compensation for "injuries (and) damages sustained as result of negligence (by) DCF."
However, it limits the scale of payments for compensation, fees and costs associated with any victimization, to be set within a certain timeframe.
—
Tallahassee's Adams Street lobbyist corridor buzzed over a blog post accusing a lobbyist for Demotech Inc. of posing as that "concerned citizen" to praise the ratings agency during a conference call.
The post said "most industry professionals" believe the caller was Lisa Miller, of Lisa Miller & Associates.
"No," Miller said when asked whether she had done it. "I did not make that call."
Demotech President Joe Petrelli said: "Let me assure you that if this occurred, no one at Demotech coordinated it or scripted it."
Jeff Grady, president and CEO of the Florida Association of Insurance Agents, posted the blog (password protected) on Wednesday.
His post didn't name Miller, but included a link to her lobbyist registration page, which identifies her as representing Demotech, among other clients.
Grady said he's known Miller for 15 years. "I know what she sounds like over the phone. There's no mistaking who that was," he said.
—
Audubon Florida head Eric Draper came out against a bill filed by Altamonte Springs Republican Sen. David Simmons to repair the Herbert Hoover Dike in South Florida. Draper called SB 816 "dangerous" and said it was a distraction from land buy efforts. Last year, however, Audubon scientist Paul Gray said in a letter to the Army Corps of Engineers that the repairs would allow a reduction of releases into Florida estuaries.
—
By investing in children's dental health, Florida saves millions in the long run.
Kids and cavities have always been a worry for parents, but in the last three years, the state of Florida has stepped in to prevent poor dental health through its school health services program for low-income families, devoting millions of dollars to the issue.
The state's public health dental program, "Sealing Sunny Smiles Across Florida," has expanded from 27 to 51 of Florida's 67 counties and is part of a statewide oral health initiative promoting evidenced-based prevention strategies.
By doing investing in the project, the state actually saves money in the long run, according to the Sunshine State's top health official, Surgeon General Celeste Philip.
"Children with poor dental health often deal with pain and infections that can cause tooth loss, and difficulty eating and speaking which negatively impacts their performance in school," said Philip in a statement this week. "Dental sealants are an effective way to prevent tooth decay, and they are offered at no cost to schools, parents or children through the department's school-based sealant program."
Gov. Scott has recommended funding to expand the program to all 67 counties with an additional $1.2 million, according to Philip. For every $1 spent by the state on dental sealants saves $1.88 in costs related to treating decaying teeth, Philip noted.
Dental sealants are thin plastic coatings applied to the grooves on the chewing surfaces of molar teeth and are 86 percent effective in preventing tooth decay, according to the Centers for Disease Control and Prevention. Dental sealants prevent 80 percent of cavities in the back teeth, where nine in 10 cavities occur.
The Florida Department of Health currently serves more than 46,000 children.
—
Your furry friends' favorite food retailer is growing.
Gov. Scott announced this week that Chewy, an online pet food retailer, will add more than 600 jobs and new fulfillment center in Marion County.
The Dania Beach-based company will make $49 million in capital investments in the Ocala area, mainly through the construction of a 600,000-square-foot fulfillment center near I-75 and between the US 27 and County Road 326 interchanges.
Though details of state incentives Chewy will receive were not released, the Ocala and Marion County commissions voted last year to offer a combined $1.75 million in incentives if Chewy adds at least 114 jobs with an average wage of $39,310.
"While Chewy is a Florida-based company, they could have chosen to invest in any of their locations across the country," Scott said. "Instead, they decided to create hundreds of new jobs in Florida because of the hard work of Enterprise Florida and local economic development organizations, and our unrelenting focus on making Florida the best place for business."
—
Welcome to the board!
Gov. Scott appointed Paul Weott and Lance Benson to the state Board of Orthotists and Prosthetists this week.
Weoot, a 55-year-old Bradenton resident, is the owner of Orthotic and Prosthetic Centers, Inc. He succeeds Thomas Chmielewski and was appointed to a term ending Oct. 31, 2020.
Benson was also appointed to a term ending Oct. 31, 2020. The 43-year-old Miami resident is the executive managing director for Newmark Grubb Knight Frank and fills a vacant seat.
Both appointments are subject to confirmation by the Florida Senate.
—
The Florida League of Cities covered a lot of ground during its biannual visit with the Florida Congressional Delegation in Washington, D.C.
The league's Federal Action Strike Team (FAST) met with 20 members of the Florida delegation, and brought their attention to topics including tax reform, flood insurance and infrastructure funding and how they affect league member cities across the state.
"Each participant brought a unique perspective to our meetings, which helped our members of Congress get a better understanding of how the issues we discussed really impact Florida's cities," said FLC Legislative Director Scott Dudley.
The group specifically lobbied for preserving the tax-exempt status of municipal bonds, improving the Federal Emergency Management Agency Public Assistance Program, and maintaining support for an equitable federal flood insurance program.
—
The Foundation for Excellence in Education wants to make education even more excellent.
The education reform think thank released a guide state policymakers better understand provisions of the federal Every Student Succeeds Act. The playbook goes through the top-6 ESSA provisions impacting state-level policy and aims to change policy "from a compliance mentality to one of innovation and opportunity."
The guide also gives a rundown of states that have used ESSA to improve their education systems.
—
The Florida Supreme Court sided with Shands Jacksonville Medical Center over State Farm in a dispute over access to patient records in 29 PIP claims.
A unanimous court took a narrow view of the amount of evidence hospitals and other health care providers are obliged to turn over to insurance companies concerning the reasonableness of personal injury protection claims.
Florida's PIP statute gives insurers access to records pertaining to medical treatments, but State Farm wanted information about Shands' arrangements with other insurers, as well.
The court said State Farm couldn't have them. The Legislature, the court said, intended the statute to afford a "limited pre-litigation procedure for a PIP insurer to obtain specified information about the treatment provided to its insured and the charges for that treatment."
—
In another PIP case, the 3rd District Court of Appeal upheld a state law limiting payments to chiropractors.
The case involved reforms to Florida's personal injury protection insurance system the Legislature approved in 2012.
The court reversed a ruling by a Miami-Dade County trial judge holding that the limits were unconstitutional.
"We must presume that the Legislature conducted its own evaluation of the respective professionals' qualifications," the appeals court wrote.
The law allows only a licensed doctor, osteopath, dentist, or physician's assistant to render that diagnosis, which would have qualified Garrido to bill for up to $10,000 under his patient's PIP coverage.
Since Garrido was not authorized to make the diagnosis, the company paid him only $2,500 against his $6,075 bill.
—
The Senate may balk at Scott's proposal to cut Medicaid reimbursement payments to profitable hospitals that stint on charity care.
Appropriations Subcommittee on Health and Human Services chairwoman Anitere Flores and other senators have raised objections.
"The governor's office has made some assumptions, based on the fact that some hospitals are very profitable, that they can afford a cut," Flores said.
Scott wants to save $298 million "by eliminating arbitrary and inconsistent supplemental payments for hospitals that provide less charity."
—
State attorneys and public defenders feel left out by Scott's plan to give pay raises to corrections officers but not other state workers.
Outside the Department of Corrections, workers would be eligible only for bonuses of up to $1,500 under Scott's proposed budget.
Senate Appropriations Subcommittee on Criminal and Civil Justice chairman Aaron Bean sympathizes, but isn't sure there's enough money.
"The secret is that there's just not going to be enough money to cover everybody's requests," Bean said following the hearing. "That's why we triage."
—
Reunited, for at least a short time: Marty Fiorentino, of the Fiorentino Group, and new Transportation Secretary Elaine Chao.
Fiorentino is doing some consulting work, in an unofficial capacity, for the new Transportation Secretary. This brings him full-circle: Fiorentino was counselor to Chao when she was Deputy Secretary of Transportation in the George H.W. Bush administration.
The work will continue through the Trump administration's transition period. After that, Fiorentino will return to Florida.
"It is an honor and a privilege to be working together again with Secretary Chao," said Fiorentino. "She is a dear friend and a great leader. Her transportation background and experience will be invaluable to President Trump and the nation."
—
Concrete trade group Build With Strength celebrated the Florida Building Commission's decision to stick with concrete construction over wood frame construction for Florida schools and colleges.
"Requiring the use of noncombustible materials that won't rot, mold or warp, and can withstand the full force of hurricane-force winds, is a no-brainer for schools," said Build With Strength spokesman Kevin Lawlor. "In Florida, that means concrete, brick & mortar, steel rebar and not wood-framing."
The group pointed to studies showing lower costs during a building's lifetime for concrete construction, especially when buildings are exposed to extreme weather such as hurricanes.
—
Associated Industries of Florida has proposed cracking down on workers- compensation litigation by making injured workers pay their own legal fees.
The business lobby rolled out draft legislation stipulating that "a claimant is responsible for payment of her or his own attorney fees" for litigation arising from a claim.
"This legislation will allow Floridians to avoid unnecessary, costly and time-consuming litigation and to get benefits into the hands of injured workers as soon as possible," AIF president and CEO Tom Feeney said in a written statement.
Under existing law, judges may force insurers to pay a worker's fee if it loses a lawsuit alleging nonpayment or underpayment of benefits. Critics including AIF believe the law encourages unwarranted litigation.
—
The Florida Division of Workers' Compensation has launched the Coverage Assistance Program (CAP), an online insurance database to find coverage for protecting employees from the aftermath of on-the-job injuries.
"Ensuring that Florida businesses have proper workers' compensation coverage is crucial to the success of the entire workers' compensation system," said Tanner Holloman, director of the Division of Workers' Compensation. "Employers can use the information provided in the CAP to inform conversations with their insurance agents and to help facilitate a smoother, faster policy purchasing process."
Employers can use CAP to search for insurance companies actively offering workers' comp policies based on industry type.
—
Congratulations, kiddos!
Gov. Scott and First Lady Ann Scott announced the 2017 Black History Month student contest winners. This year's theme was "A Recognition of the Role of African-Americans in Shaping Florida Today," and the winners were honored during a reception at the Florida Governor's Mansion.
Student essay contest winners — one elementary, one middle, and one high school student — earned a four-year Florida College Plan scholarship from the Florida Prepaid College Foundation: Isabel Alvarez of Aventura City of Excellence Public Charter School in Aventura (4th-5th grade); Destiny Stewart of Deer Lake Middle School in Tallahassee (6th-8th grade); and Nathalie Sieh of Clearwater Central Catholic School in Clearwater (9th-12th grade).
Student art contest winners each received $250: Hailey Kate Soto of Columbia Elementary School in Orlando (Kindergarten-1st grade) and Christian Dunnon of Glade View Elementary School in Belle Glade (2nd-3rd grade).
The governor and first lady also honored the Excellence in Education award recipients.
Three educators were honored for the Excellence in Education Award; they were nominated by students and peers, and will receive $1,500 each from Volunteer Florida. Recipients are Kimberly Rostick of the Corbett Preparatory School of IDS in Tampa; Michael Burton of Workman Middle School in Pensacola and Makeda Brome of Lincoln Park Academy in Fort Pierce.
The 2017 Black History Month featured artist is Eluster Richardson. Eluster's artwork has been shown in a variety of settings, including the Museum of Florida History, Lemoyne Art Foundation, Florida State Museum of Art, Leepa-Rattner Museum of Art and the Smithsonian Institution in Washington D.C.
Eluster began painting as a child in the third grade and currently maintains a studio in Tallahassee.
—
Mark your calendars: The 3rd annual Red Dog Blue Dog Celebrity Bartender Benefit is scheduled for March 15.
This bipartisan event combines dogs, politics and friendly competition to raise money for an amazing cause. Republican State Sen. Dana Young of Tampa will sling drinks for the Red Team, while Democratic Rep. Evan Jenne of Hollywood will pour for Team Blue at Madison Social in Tallahassee to raise money for animal rescue organizations.
Young and Jenne will compete for tips and donations, with all proceeds divided evenly between the Tallahassee Animal Shelter Foundation, Last Hope Rescue and the Leon County Humane Society.
Last year, Red Dog Blue Dog celebrity bartenders raised nearly $4,000.
The benefit is scheduled for 6 p.m. to 8 p.m. on March 15 at Madison Social in Tallahassee.
—
Time is running out to register for the James Madison Institute's Annual Naples Dinner.
The think tank's event kicks off at 5:30 p.m. on Feb. 23 with a VIP reception at The Ritz-Carlton Naples followed by dinner at 7 p.m. On the docket is a keynote address from Fox News Channel personality and Judge Andrew Napolitano.
Individual tickets are set at $250 for JMI members and $325 for nonmembers, though the event also has several higher tier sponsorship opportunities available.
To grab your tickets or to explore sponsorship opportunities, head to the JMI website, give them a call at (850) 386-3131, or shoot an email to events@jamesmadison.org.
—
The nation's largest Midway now boasts the largest traveling Ferris wheel.
The 2017 Florida State Fair is in full swing in Tampa, and this week the fair debuted its newest ride — the Midway Sky Eye. The 155-foot-tall Ferris wheel is the largest traveling Ferris wheel in North America.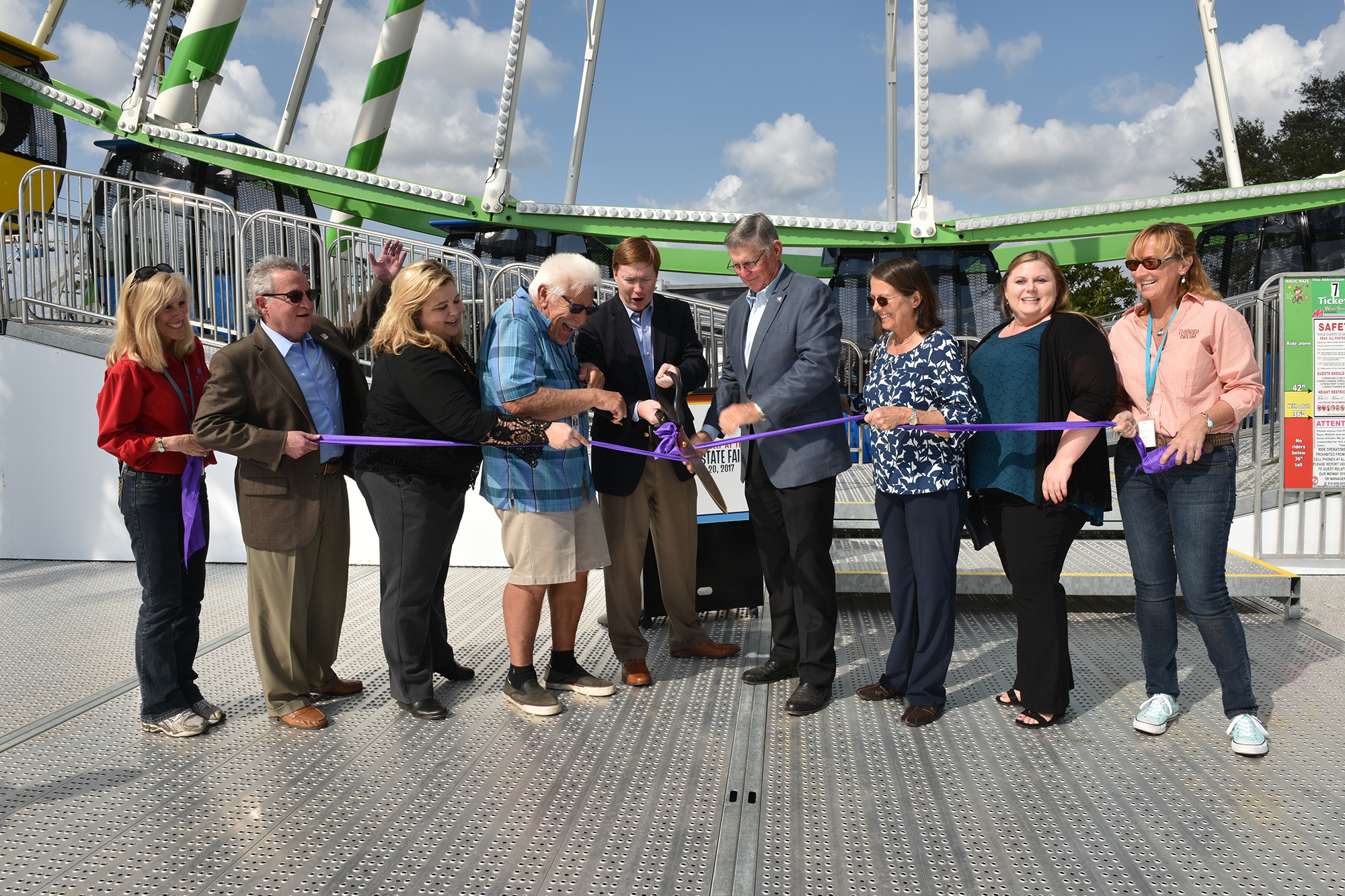 Comprised of more than 500 pieces, construction of the Wheel required an 80-ton crane, at a cost of $3 per minute. The heaviest part is the center axle, which weighs 6,600 pounds. All told, the ride weighs more than 400,000 pounds That's as much as two blue whales.
Lit by more than 524,000 individual LED red, green, blue, yellow, orange, and purple lights, the Ferris wheel requires more than six miles of electrical wiring, which fair officials said is enough to stretch from the fairgrounds to Ybor City.
Want to give it a whirl? The fair runs through Monday.
—
Grab your camera and head out to the great outdoors this weekend.
The Florida Fish and Wildlife Conservation Commission (FWC) is calling for submissions for "75 Years Wild" photo contest.
The competition encourages professional and amateur photographers to help celebrate the 75th anniversary of the state's Wildlife Management Areas. It seeks to capture the natural beauty of Florida's nearly 6-million acre WMA system, with its diversity of wildlife, habitats and nationally recognized trails for paddling, hiking and bird watching.
When taking photos, FWC reminds to respect wildlife by not getting too close to or disturbing birds or other animals you encounter. The theme of the contest is based on the four seasons.
Entries can be submitted through the FWC Facebook page at Facebook.com/MyFWC; look for a photo contest Facebook post and then post your photo in the comments section. Photos also can be entered via Instagram by tagging #WMAzing. For those not on social media, submit photos to ShareVisit@MyFWC.com. Grand-prize winner receives a GoPro camera, with other prizes awarded to semifinalists.
Complete rules are at MyFWC.com/WMA 75.
—
Here's this week's edition of Capitol Directions:
Some material in this edition provided by The Associated Press, reprinted with permission. 
Save
Save