An Orlando entrepreneur is now demanding a jury trial in his suit against Attorney General Pam Bondi, in which he claims she forces businesses to donate millions of dollars to unregistered charities as part of settlements in consumer protection cases.
John D. Smith, who invented Storm Stoppers plastic panels, marketed as a "plywood alternative" to protect windows during storms, filed papers this week in Leon County Circuit Civil court. He had been investigated on a consumer fraud allegation by Bondi's office in 2015.
In another filing, Smith said Bondi "should have at least affirmatively stated that her exercise of powers comports with Florida law."
The latest filings are in response to Bondi's request for a summary judgment, which allows parties to win a case without a trial.
But such motions are granted only when there is a significant dispute as to the facts of a case. They allow requiring enough evidence to make that determination. And Smith's lawyer, Scott Siverson, has said he hasn't been able to get information from Bondi's office.
Bondi's motion says "there is no statutory requirement that … settlements under (Florida law) be made to a charity, much less to a registered charity."
Siverson countered: "A mere possibility that any of the charities were unregistered (or) solicited the contributions they received creates factual disputes which cannot be resolved on summary judgment."
He added: "Nowhere does the Florida Legislature authorize the (Office of the Attorney General) to forward (a) contribution to whomever it pleases."
Since she first assumed office in 2011, Bondi's office settled enforcement actions with 14 businesses in which they wound up paying more than $5.5 million to 35 unregistered charities, Smith's suit says.
Bondi has called the legal action "meritless" and "harassment." The next hearing in the matter is set for next Monday.
Coming up, the usual assortment of tidbits, leftovers and not-ready-for-prime-time moments by Jim Rosica, Peter Schorsch and Andrew Wilson.
But first, the "Takeaway 5" — the Top 5 stories from the week that was.
Corcoran just says 'no' — Republican House Speaker Richard Corcoran asked the state's Constitution Revision Commission to consider a proposal to repeal a section of the state constitution that provides for public financing of statewide political campaigns. State Rep. and Agriculture Commissioner candidate Matt Caldwell quickly said he wouldn't take any public campaign dollars, while Republican gubernatorial candidate Jack Latvala and Democrat Andrew Gillum said Corcoran, expected to toss his hat in the race next year, had his priorities misplaced.
First execution in months — Thursday, the state executed 53-year-old Mark Asay, the first capital punishment in more than 18 months, with an anesthetic never used before in a U.S. lethal injection. Asay was convicted of two racially motivated murders. Prosecutors say Asay made racist comments in the 1987 fatal shooting of a 34-year-old black man, Robert Lee Booker. Asay also was convicted of the 1987 murder of 26-year-old Robert McDowell, who was mixed race, white and Hispanic.
FSU fights shooting lawsuit — The university asked a court to drop a lawsuit filed by a former student paralyzed in a 2014 shooting at its main library to be dismissed, saying the school is not liable for the "action of a madman." Farhan "Ronny" Ahmed seeks damages for pain and suffering, disability and medical expenses. The 21-year-old former biomedical engineering was paralyzed from the waist down. He was shot outside the library by Myron May, a former FSU student and 31-year-old lawyer, who was shot and killed by campus police. FSU denies liability for the incident.
Evers dies in wreck — Greg Evers, the former state senator, died Monday in a one-car accident near his home in northwest Florida. The 62-year-old strawberry farmer most recently applied unsuccessfully for a seat on the Public Service Commission. Evers was remembered for "championing causes, such as criminal justice reform and higher pay for state employees. Greg was a tireless force for his constituents and 'working folks' across Florida. His personality was larger than life, with a signature wit and a toothy grin," his family said in a statement this week.
Miller quits the House — GOP state Rep. Alex Miller of Sarasota resigned this week, citing a need to spend more time with family and on running her medical-supply business. That will create the need for a special election, with less than a month before the first committee week and about four months before the start of the 2018 Legislative session. James Buchanan, a Realtor and son of Congressman Vern Buchanan, already has announced he will seek the seat.
Good morning Scott touts job gains in visit to Fort Myers
Gov. Scott credited incentives money and tax cuts for Florida job growth this week during a visit to a Fort Myers health care and commercial construction management firm.
"Our commitment to cutting taxes and reducing burdensome regulations has helped businesses like Stevens Construction create more than 1.4 million jobs in Florida over the past six and a half years," Scott said. "We will continue to fight to keep taxes low and find ways to use the newly established $85 million Florida Job Growth Grant Fund to ensure Florida continues to be the leading destination for job growth."
Scott said the company, which builds commercial, health care and hospitality facilities, had grown from 18 employees in 2011 to 50 employees today.
When he first ran for Florida governor in 2010, Scott promised 700,000 new jobs on top of what the state would have added naturally. Scott dropped that requirement in his re-election campaign; in recent weeks he has claimed to have "doubled" the promised job gains inside the deadline.
Baez, Campbell file child marriage bans
Rep. Daisy Baez, a Coral Gables Democrat, this week filed a House companion to a Senate bill banning minors from getting married. The legislation (HB 71, SB 140) repeals language now in state law governing weddings of those under 18.
But Baez's bill, unlike the Senate bill, also changes the language in state law defining marriage as between a man and a woman, instead referring to "two parties." The U.S. Supreme Court in 2015 ruled that state bans on same-sex marriages are unconstitutional.
Under Baez's proposal, "marriage would be prohibited to anyone under the age of 18 with no exceptions," a news release said.
"It is absolutely outrageous that children who are unable to legally sign a lease or cast a vote are still allowed to be legally married in our state," Baez said in a statement. "It is time to exercise common sense and ensure that no more children are forced into a marriage they're not emotionally mature enough to understand."
Also, state Sen. Daphne Campbell, a North Miami Democrat, filed her own version (SB 208), but it would allow teens as young as 16 to be wed.
In Florida, 16,417 children — one as young as 13 — were married from 2000-15, state Vital Statistics data show, said Fraidy Reiss, the group's founder and executive director. In one extreme example, a 17-year-old female married an 83-year-old man in 2004, Reiss said. Overall, Florida data show 80 percent of minors who marry are girls wed to adult men, she added, tracking the national average.
Fine files "Scouts Access Bill"
Republican state Rep. Randy Fine of Brevard County this week filed legislation that he calls the "Scouts Access Bill."
The bill (HB 95) "guarantees the Boy Scouts, (Girl Scouts) and other congressionally chartered patriotic societies the ability to recruit in school, as they have for decades," Fine said in an email.
"A district school board must allow a representative of a patriotic society the opportunity, during school hours, to speak with and distribute instructional materials to students to encourage participation in the patriotic society and its activities," the bill says.
The bill would require 60 days' written notice before a group can speak to students and would require them any presentation to take up no more than "10 minutes of instructional time."
If enacted, the bill would go into effect July 1, 2018.
CRC puts out infographic
Proposed constitutional amendments used to have a "long, long journey to the capital city," but luckily the Constitution Revision Commission the online submission process is pretty easy.
The CRC released an infographic Tuesday detailing the process for Floridians who have some changes in mind for the state's governing document. Just create an account on the CRC website, fill out some forms and do your best to translate your idea to legalese before clicking submit.
"The submission tool on flcrc.gov offers a simple, streamlined process to create and share proposed constitutional amendments with the CRC. Just follow the steps in our new infographic and make sure your voice is heard during this historic process," CRC chair Carlos Beruff said in an email.
The commission is considering making Sept. 22 the filing deadline for public submissions, and any that miss the window will have to wait until the commission reconvenes in 20 years or go through the regular amendment process.
Lauren Book's big check
State Sen. Lauren Book, a Plantation Democrat, presented a $500,000 check to Memorial Regional Hospital this week for its maternal addiction treatment program.
The funding will help combat South Florida's "tragic and costly opioid epidemic, allowing Memorial to conduct outreach, substance abuse screening and treatment for pregnant women, as well as provide aftercare for nine months after delivery," a news release said.
The check was presented during the South Broward Hospital District's commission meeting at its corporate offices in Hollywood.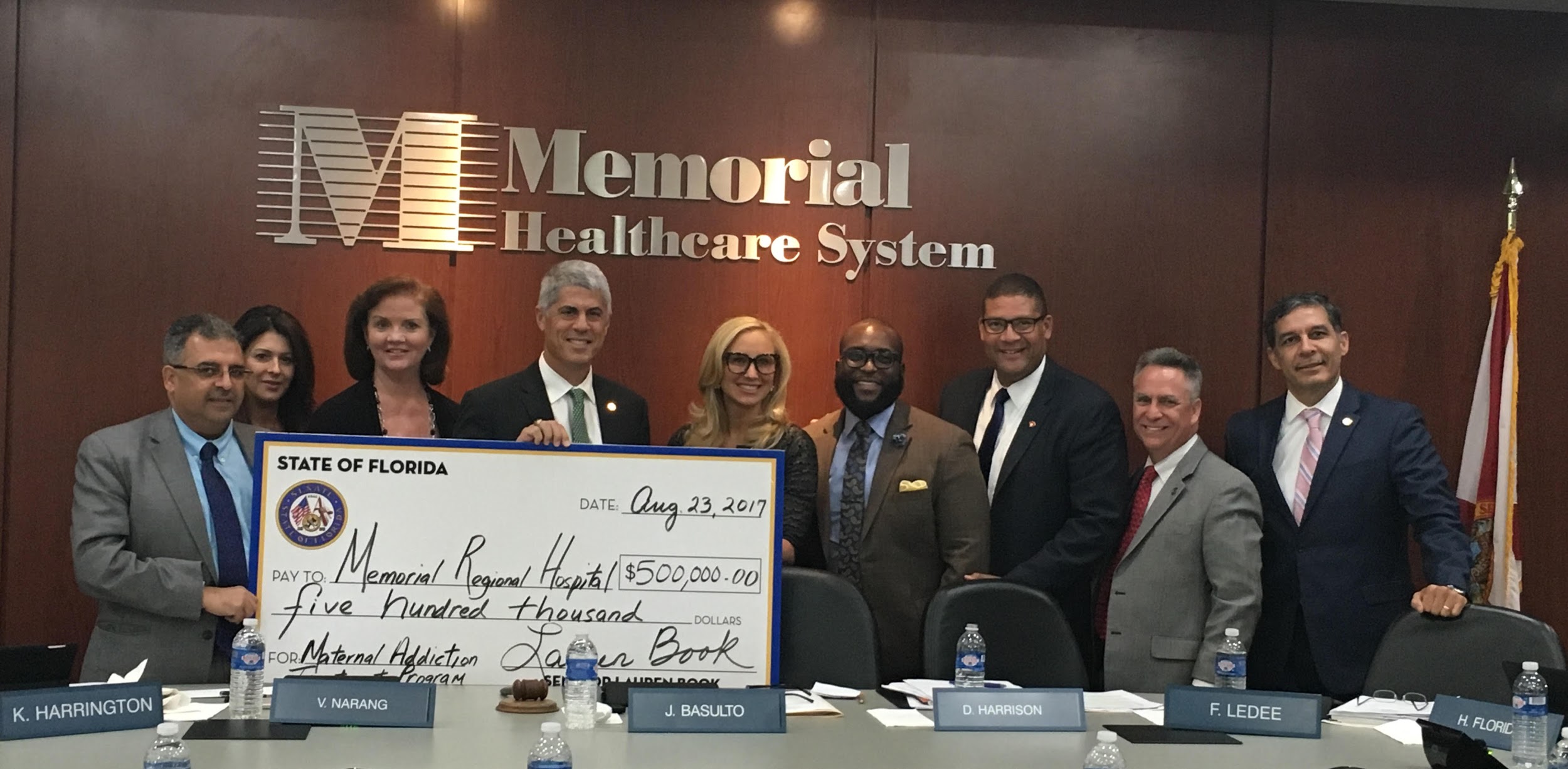 Frank White preps for disasters
Rep. Frank White, a Pensacola Republican, and the Florida Department of Financial Services hosted an emergency preparedness workshop this week at the studios of Pensacola's WSRE-TV.
"As the Atlantic Hurricane Season heats up, it's more important than ever for Floridians to be as informed and prepared as possible," a news release said.
The event, free to area residents, taught tips to ensure that homeowners "have adequate insurance coverage to protect their home and belongings in the event of a storm." The department also provided "one-on-one access to insurance specialists" to answer insurance-related questions.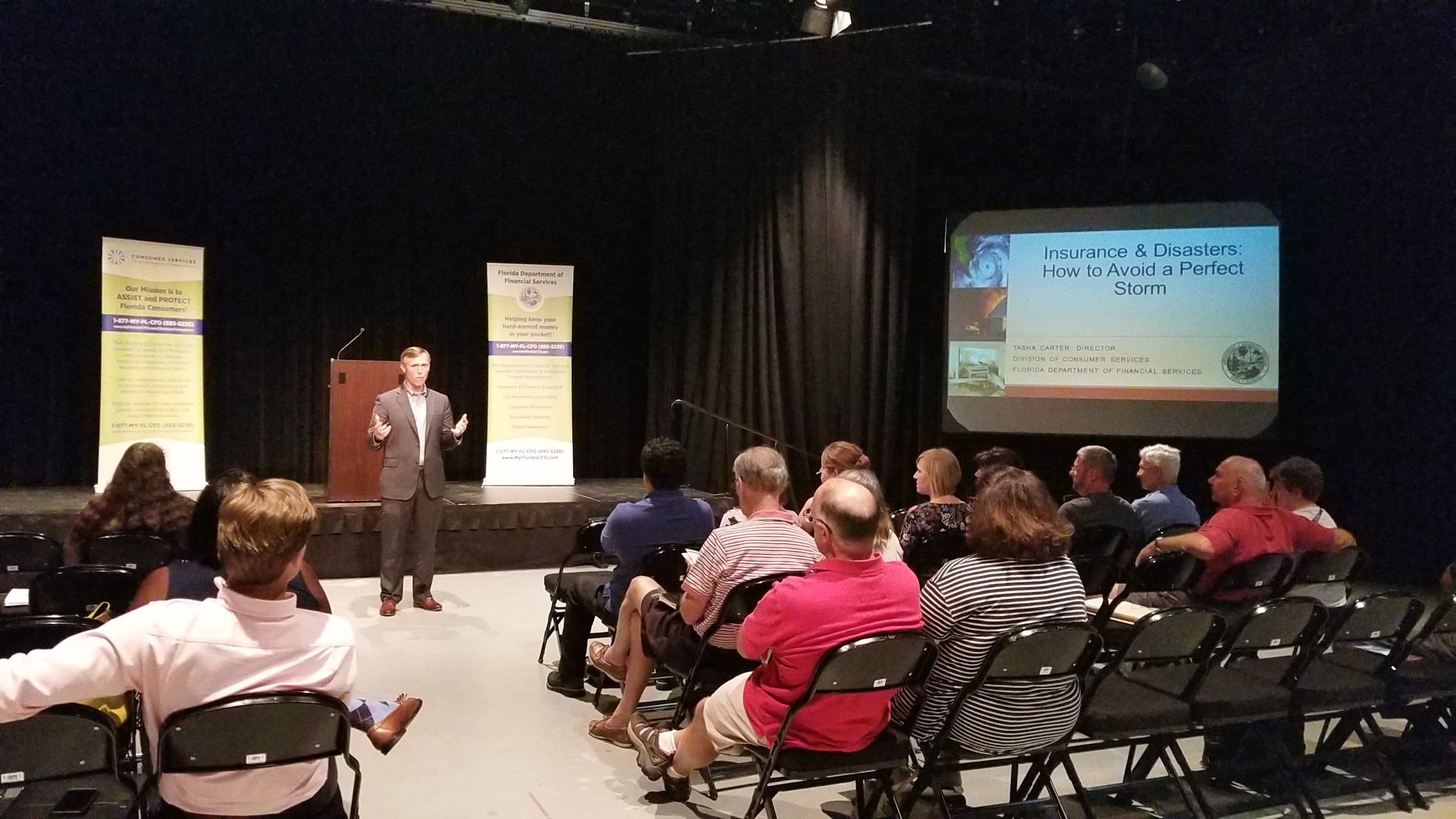 House Democrats to dine at "Dreamer Dinner"
Democratic state Reps. Daisy Baez and Robert Asencio are meeting up with Florida families Sunday to talk about the Deferred Action for Childhood Arrivals program over dinner, which is on the Donald Trump administration's chopping block.
The two lawmakers will be joined by an assortment of advocates and beneficiaries of the program, which since 2012 has allowed certain immigrants who entered the U.S. illegally as minors to receive a renewable two-year period of deferred action from deportation as well as eligibility for a work permit.
The "Dreamer Dinner" will be held at the Winston Park Clubhouse in Miami starting at 6:30 p.m. The event was set up by America's Voice, an organization that pushes civil and political rights for immigrants and their families.
AFP-FL praises lawmakers for new health care bills
Republicans Sen. Tom Lee and Rep. Danny Burgess got a pat on the back this week for bills they filed to expand direct primary care — a system that allows doctors and patients to negotiate prices for care directly.
The bills, HB 37 and SB 80, and the lawmakers earned praise from the conservative group Americans for Prosperity Florida, which said the proposal would cut "bureaucratic and overly costly insurance companies."
"Floridians have been saddled with double digit insurance rate increases since Obamacare became the law of the land. Florida lawmakers need to take matters into their own hands to ensure our most vulnerable, the elderly, and anyone who just wants easy and affordable access to their doctor can get the care they need. This bill will allow consumers to directly connect with the physician of their choice at a price they negotiate directly with their physician," said AFP-FL head Chris Hudson.
LIBRE puts out lawmaker scorecard
A group focused on pushing conservative values among Hispanic Americans graded all 160 state-level lawmakers on their performance during the 2017 Legislative Session.
Unsurprisingly, Republicans got better marks from the group, with many GOP legislators picking up scores far over 100 percent: Rep. Bryan Avila got the top score in the House at 113 percent, while Sen. Kathleen Passidomo took the crown in the Senate — and overall — with a 125 percent rating.
LIBRE added or subtracted one point from lawmakers' scores for every vote on a bill the group supported — both in committee and on the floor — and even let lawmakers rack up multiple votes for the same bill. The group also doled out points for sponsors of their preferred bills and took away for bills they were against.
Florida Association of Counties opens annual photo contest
The association now is accepting photo submissions for its annual contest. The theme for the 2018 FAC Calendar is "Bodies of Water," and it seeks photos of Florida bays, beaches, springs, lakes, rivers and any other natural water bodies.
Last year's contest, "Florida Flora and Fauna," brought in nearly 1,000 photos from across the country.
"This calendar is a way for Floridians to show off their county," said FAC Executive Director Ginger Delegal. "Florida is a spectacular place to live; this calendar lets us share that beauty with everyone."
For more information, guidelines and to submit a photo, visit the website at www.flcounties.com. The contest ends September 8, 2017.
Winning photos will be announced at the 2017 FAC Legislative Conference in November in Sarasota County.
FSU welcomes record busting freshman class
If Florida State University seems a little more crowded when classes start Monday, you aren't seeing things.
FSU announced ahead of the fall semester that it's welcoming 6,500 first-year students this year. That's about 300 more than last year, and is the highest total in school history. The class isn't only the biggest, it's also the brightest, with an average GPA of 4.1 and an average ACT score of 29.
"We're excited to welcome another outstanding group of freshmen to Florida State," said President John Thrasher. "This uptick in freshman enrollment means more and more students are selecting Florida State as their top choice. It's a testament to FSU's rising academic reputation."
With 42,000 undergraduate and graduate students now attending the university, FSU is the fifth-largest state university by enrollment.
Instagram of the week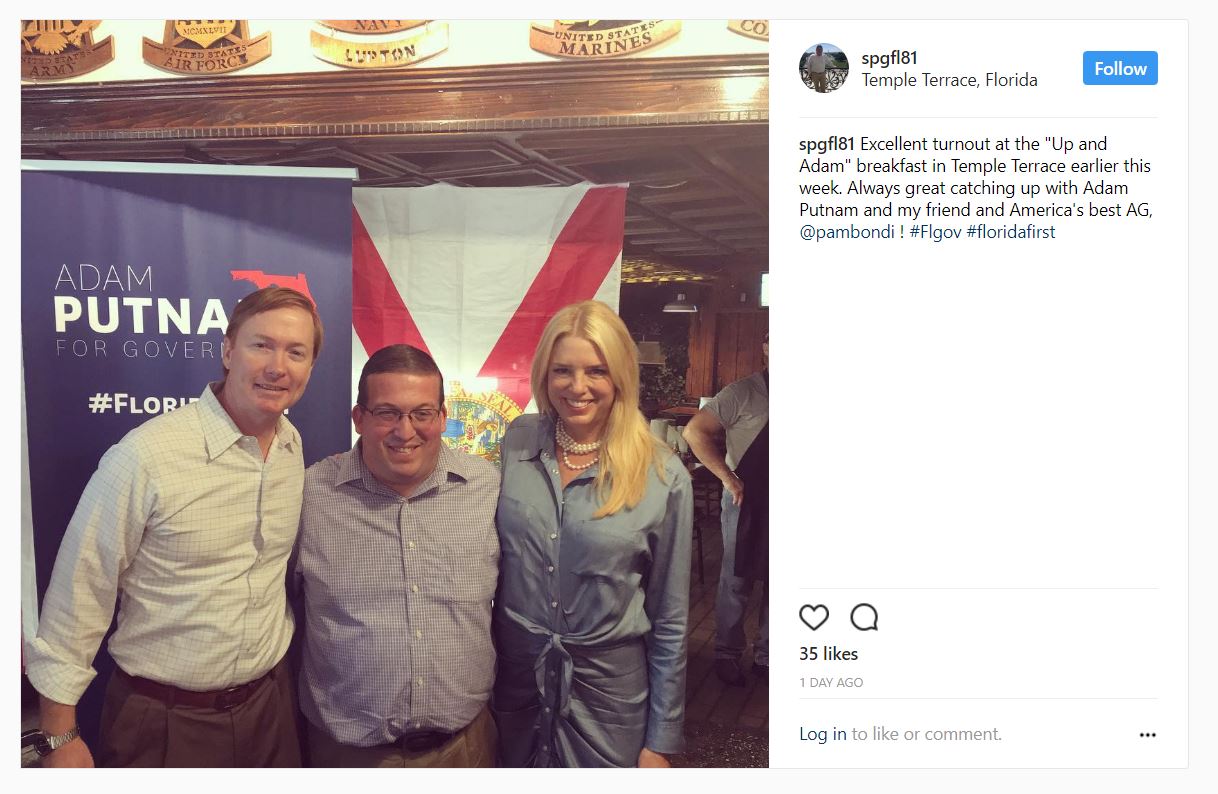 FDOH picks new chief for Marion County ops
The Florida Department of Health has tapped Mark Lander to run the departments operations in Marion County.
"Mr. Lander's previous leadership experience in Columbia and Hamilton communities coupled with his institutional knowledge of the department will serve Marion well," said Deputy Secretary for County Health Systems Paul Myers. "Mark understands that successful outcomes in public health come from an active alliance between the department, local government, and community organizations."
When Lander walks in the doors of his new office on Sept. 15, he'll be bringing a couple of decades experience at FDOH with him. He started with the department in 1990 and since 2012 has served as FDOH's administrator for both Columbia and Hamilton counties.
Lander earned a Bachelor of Science in Food and Natural Resource Economics in 1989 and a Master of Science in Soil and Water Science in 2003, both from the University of Florida.
FMEA celebrates Florida Lineworkers
Saturday is Florida Lineworker Appreciation Day, and the Florida Municipal Electric Association said it'll take advantage of the opportunity to "honor the men and women who risk their lives daily to ensure reliable delivery of electricity throughout Florida."
"Lineworkers literally put their lives on the line every single day to make sure the lights go on when we flip that switch," said Chip Merriam, FMEA President and Orlando Utilities Commission VP of Legislative, Regulatory & Compliance. "I commend and thank all of Florida's lineworkers for their service to our communities."
Lawmakers created the appreciation day in the 2012 and chose Aug. 26 in remembrance of a lineworker for Lakeland Electric, Marc Moore, tragically killed on the job in 2002.
DEO awards grants to pair of small towns
Polk City and Williston each picked up $36,000 worth of Competitive Florida grants from the Department of Economic Opportunity this week.
"DEO is dedicated to improving the future of Florida communities, especially in rural areas. Competitive Florida grants help to improve infrastructure, business development and the quality of life for families," DEO head Cissy Proctor said.
DEO said the money will be used to help the towns roll out economic development strategies, conduct asset-mapping exercises, and kick-start development projects. The two-year program also includes assistance to help towns develop their economic development strategies.
State employees ratify new contract
This week, state employees that are part of the AFSCME Florida bargaining unit voted 99.5 percent in favor of a new three-year master contract, the union said in a news release.
Voting took place across 25 ratification locations around the state Wednesday and Thursday. The contract will be effect through June 30, 2020.
"This contract represents a real investment in our state's future by investing in those that make it happen through their dedication and hard work," said AFSCME Florida executive director Andy Madtes. "State employees have taken a big step forward for their careers and their communities and I applaud them for turning months of organizing and unity into real results."
Tallahassee DIA elects new officers
The Tallahassee Downtown Improvement Authority elected Chris Dudley as its chair and added Claudia Davant as vice chair during its annual meeting.
Dudley, of Southern Strategy Group, said he was excited to be a part of the board and is proud of TDIA's efforts to turn Tally's downtown around with big-city amenities. Davant, president of Adams St. Advocates, was also enthusiastic about her new role with the Authority.
"I am thrilled to be elected Vice Chair of the TDIA because I own a business and real estate downtown. I believe in my community and have seen it grow and prosper. Nothing excites me more than to see Tallahassee become the city we all want to work and live in," she said.
TDIA CEO Paige Carter-Smith said the group has been "blessed with outstanding officers."
FSU convocation is Sunday
Sunday is Florida State University New Student Convocation, which, among other things, means traffic is going to be crazy on the west side of town.
Doors open 12:30 p.m. at the Civic Center, 505 W. Pensacola St., with convocation starting at 1:30 p.m.
Agriculture Commissioner Adam Putnam will deliver the convocation address, and Provost and Executive Vice President for Academic Affairs Sally McRorie "will give a charge to the new students, encouraging (them) to take full advantage of the academic opportunities that are available to them," a news release said.
Highlights include a "Torch Ceremony," in which "three upperclassmen will pass torches to three first-year students, symbolically passing the university's ideals from one class to the next."
Freshman and transfer students are later invited to join University President John Thrasher and first lady Jean Thrasher for a reception. The entire university community and the public are invited to attend. The event will also be live-streamed at learningforlife.fsu.edu/fsu-convocation.
Here's this week's edition of Capitol Directions: