When it comes to state budgeting, what's Richard Corcoran got up his sleeve?
The House Speaker-designate played a tad coy in a social media exchange this week with POLITICO Florida's Matt Dixon and FloridaPolitics.com's Jim Rosica.
Dixon started it by tweeting a photo of an undated budget document, called "Detail New Funding Demands – Speaker's Issues."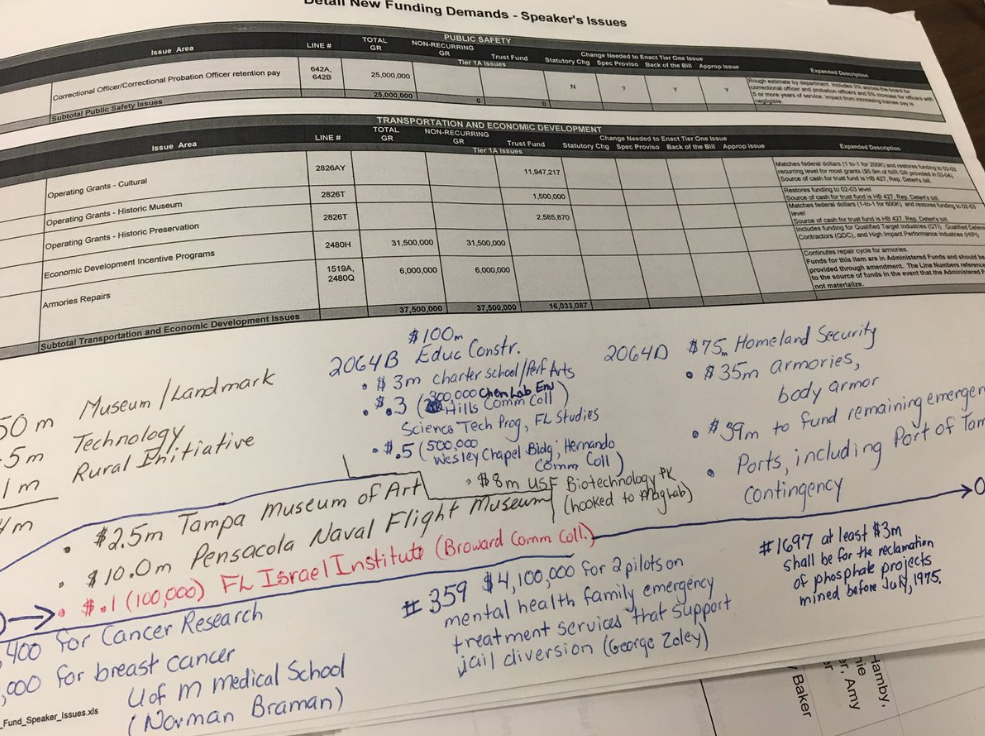 The bottom was filled with handwritten notes: "$2.5 (million) Tampa Museum of Art, $10.0 (million) Pensacola Naval Flight Museum."
Another line seemed to refer to a funding request from Norman Braman, billionaire auto dealer and former Philadelphia Eagles owner, for "U of M Medical School." Braman is a former member of the University of Miami's board of trustees.
Still another handwritten item notes "at least $3 (million) shall be for the reclamation of phosphate projects mined before July 1975."
Dixon commented above the photo: "How the budget really works? The names of outside requesters and hand written notes never seem to be part of conference process."
Rosica quoted that tweet, saying, "Stay tuned. He's got something brewing…"
Corcoran later chimes in with his own tweet: "(G)one will be the days of 'back of the envelope' budgeting – VERY soon. When Matt yells at me, I remember #Sunshine."
The Orlando Sentinel's Gray Rohrer slips in a crack: "Only napkins from now on?"
Dixon also tweets, "Believe there was also some eye rolling," to which Corcoran responds, "(J)ust a needed and overdue dose of transparency and sunshine. Stay tuned!"
What did Corcoran, the House Appropriations chairman for the last two years, mean?
When he was designated a year ago, the Land O' Lakes Republican talked about a new "legislative culture of purpose" that includes, among other things, a more open budget process.
In 2012, he and other freshman GOP House members wrote an 86-page policy paper called Blueprint Florida.
"The budget should reflect the values and priorities of Florida's people," the paper says. "…We will strive for a level of transparency in setting priorities and expending funds never before achieved." It doesn't spell out how to do that, however.
Were the tweets a hint of things to come? Has the Speaker-D come up with the details to realize his ideal budget process? As he said, stay tuned…..
Coming up, the usual assortment of tidbits, leftovers and not-ready-for-prime-time moments by Jenna Buzzacco-Foerster, Michael Moline, Jim Rosica, and Peter Schorsch.
Now, the "Takeaway 5" — the Top 5 stories from the week that was:
Storm season — Hurricane Matthew sideswiped Florida's Atlantic coast this week. The storm was the largest storm to hit Florida in years, and was Gov. Rick Scott spent much of the week encouraging Floridians up and down the East Coast to evacuate. The governor activated 3,500 members of the National Guard to help with evacuations and prepare for search and rescue efforts, and ordered the Department of Transportation to suspend tolls to make evacuation easier. "Don't take a chance," the governor said Thursday afternoon. "There are no excuses not to evacuate." The storm knocked out power to more than 800,000 Floridians, and was expected to cause significant flooding in parts of North Florida.
Storm politics — Gov. Scott might have received praise for his handling of storm prep, but he took heat from Florida Democrats for his decision not to extend the voter registration deadline. The request was made by the Hillary Clinton campaign Thursday, and Florida's Democratic congressional delegation made a similar request Friday. The letter called on Scott to extend the deadline to Oct. 14, saying it would be "logistically challenging and likely impossible for many who who like to register to vote to be able to do so before the impending deadline." Scott, the chairman of a pro-Donald Trump super PAC, told reporters Thursday he wasn't going to extend the deadline, telling them "everybody has had a lot of time to register." The deadline to register to vote is Oct. 11.
In the mail — Elections supervisors began mailing ballots to domestic voters this week. According to the state Division of Elections, more than 2.5 million ballots have been requested. Records show more than 1.09 million Republicans and 977,936 Democrats have already requested ballots. As of Friday, 10,719 ballots had been returned. The mandatory window to mail ballots ends Tuesday.
Taking a gamble —A federal judge heard arguments in a case that could determine the future of gambling in the state of Florida this week. At issue? Whether the Seminole Tribe gets to continue offering blackjack to casino customers. The state and tribe are in court after lawmakers earlier this year failed to approve a renegotiated agreement that would have meant continued exclusivity to offer blackjack in return for a $3 billion payout to state coffers over seven years. Blackjack and other gambling, including slots, has brought in billions for the tribe, making it arguably the richest American Indian tribe in the country. The trial came to a close after just a few days, but the judge was unclear about how long he would take to reach a decision.
Final order — State insurance regulators issued the final order jacking up the price of workers' compensation insurance by 14.5 percent. The decision approves the National Council on Compensation Insurance request for an overall combined state average increase, the bulk of which has been blamed on two recent Florida Supreme Court decisions. "We must work with Florida lawmakers on solid solutions to ensure we can return to a vibrant marketplace in Florida where injured workers can get the care they need, while at the same time, workers' compensation costs do not hinder employers and employees. We need a workers' compensation system in Florida that we all can rely on," said Logan McFaddin, the regional manager for the Property Casualty Insurers Association of America.
—
Want to help Floridians impacted by Hurricane Matthew?
Volunteer Florida has you covered.
The state's lead volunteer agency created a landing page this week to help register volunteers to serve impacted areas. Floridians interested in lending a hand are asked to head to the registration page to sign up.
"One of the most critical times to use volunteers is following disasters," said Volunteer Florida CEO Chester Spellman. "Whether it is shelter staffing, food distribution, or to clean up, we will need volunteers positioned to serve immediately with local disaster relief organizations. Having volunteers prepared and ready to deploy will be a critical tool as we move forward."
—
Make sure your homework when making donations to Hurricane Matthew relief efforts.
The state activated its enhanced charity laws earlier in the week. Under the law, charitable organization must submit financial information regarding contributions and program service expenses on a quarterly basis in the wake of a storm or other disaster. The Department of Agriculture and Consumer Services must post notice of this requirement within 10 days after the disaster.
And in the age of internet fundraisers, Attorney General Pam Bondi said her office is working with GoFundMe to ensure donations are going to those affected by the storm, not scammers.
"Hurricane Matthew has already claimed lives and destroyed communities in the Caribbean, and many good-hearted Floridians and others around the country want to help those affected by the storm," said Bondi in a statement. That is why we are working with GoFundMe, one of the primary crowdfunding platforms, to ensure donations go to those who truly need help and not to scammers using the disaster to prey on the good intentions of our citizens."
Floridians are encouraged to report any suspicious charitable solicitations by calling 1-800-HELP-FLA. Consumers who believe they've been a victim of a scam can file a complaint by calling 1-866-9-NO-SCAM.
—
Beware of price gouging.
Hundreds of Floridians filed price gouging complaints as Hurricane Matthew approached the state's shores this week. NBC-2 in Fort Myers reported 1,800 Floridians filed a complaint with the Attorney General's Office.
Attorney General Bondi activated the state's price gouging hotline earlier in the week to crack down on businesses that try to take advantage of emergency situations. The law prohibits extreme price increases on essential items, like food, ice and hotels during a declared state of emergency.
Anyone who suspects price gouging during this declared state of emergency should contact my office immediately," said Bondi in a statement. "If you do business in our state, do not take advantage of our citizens."
Floridians should call 1-866-9-NO-SCAM to report suspected price gouging.
—
Have an insurance question? The Department of Financial Services is there to help.
CFO Jeff Atwater announced this week his office was extending the operating hours of the Department of Financial Services' Insurance Consumer Helpline in the wake of Hurricane Matthew.
The helpline offers Floridians access to insurance experts who can explain policy coverage details, help consumers locate contact information for insurance companies, and answer claims-filing questions. The helpline will be open from 8 a.m. to 5 p.m. on Saturday and Sunday. Floridians can reach experts at 1-877-693-5236.
—
Florida's military communities are getting a funding boost.
Ten counties were awarded more than $2.2 million through Florida's Defense Infrastructure and Reinvestment Grant Programs this week. The funding will support community projects in military installations to diversify the local economy, provide support for local infrastructure projects, and strengthen bases ahead of potential Department of Defense realignment or closure actions.
"Florida prides itself on being the most military friendly state in the nation, and many of our families and communities depend on the economic investments that Florida's 20 military installations provide," said Gov. Scott in a statement. "We will continue to do everything we can to recognize and support the brave military men and women who serve to protect our freedom."
The 2016-17 Defense Reinvestment Grants were awarded to Bay, Okaloosa, Santa Rosa, Miami-Dade, Walton, Orange, Escambia, Brevard, Clay and Duval counties. Five counties — Bay, Clay, Santa Rosa, Okaloosa and Duval — also received a 2016-17 Florida Defense Infrastructure Grant.
—
Enjoy some locally grown produce this month.
October is National Farm to School Month, and Agriculture Commissioner Adam Putnam is encouraging students and families to take advantage of the locally grown fruits and veggies available in Florida's schools.
"National Farm to School Month in Florida provides students with a better understanding of where their food comes from, and it highlights our continued effort to connect Florida's nutritious produce directly to our students in order to enhance classroom performance," said Putnam in a statement.
The state's Farm to School program supports Florida farmers by promoting opportunities for schools and growers to work together to increase the volume of locally grown produce served in cafeterias. The program positively impacts local economies, reduces transportation and helps preserve farms and farmlands.
—
Congratulations,  Majority Leader Dana Young!
Young was awarded with the 2016 Legislative Achievement Award from The Nature Conservancy in Florida.
"Year after year, you continually advocate for many of our legislative priorities that further our organization's mission to conserve the lands and waters on which all life depends," said Greg Knecht, director of protection and government relations at The Nature Conservancy in Florida, in a statement. "For these efforts, we would like to present you with a 2016 legislative achievement award. This award is being presented to legislators we believe have made significant conservation impacts to Florida's environments."
Young was recognized for her support of several priority projects, including the Legacy Florida initiative.
"Protecting Florida's unique and beautiful environment is one of my top priorities," she said. "This is a fight that I took up in the Florida House, championing environmental initiatives that would ensure the protection and preservation of our land and water, and this is a fight that I want to continue, making sure our one-of-a-kind state is around for generations to come."
—
Think of it as "Archives after Dark."
Secretary of State Ken Detzner announced the state archives will hold two open houses at the State Archives to celebrate American Archives Month. The events include after hour tours of the archives record storage facilities, as well as staff-led workshops.
"We are pleased to offer these workshops to showcase the resources available from the State Archives and the importance of preserving documents significant to Florida's history," said Detzner. "This is a rare opportunity for the public to get an inside look at how the State Archives works and see some of the unique historical records that tell the story of Florida."
The archives will be open until 8 p.m. on Oct. 11 and Oct. 18.
On Oct. 11, there will be a workshop at 6 p.m. on how Floridians can preserve their papers, books and photos at home. That same day there is a workshop about how to do family history research at the archives at 7 p.m.
Archives staff will host a workshop at 6:30 p.m. about how archival resources have been used to preserve and interpret the history of an antebellum home in Florida.
—
Speaking of Florida's history: The state Division of Historical Resources is celebrating the 50th anniversary of the National Historic Preservation Act.
The act was signed into law by President Lyndon B. Johnson on Oct. 15, 1966. It laid the groundwork "for programs and procedural protections fundamental to … historic preservation efforts in Florida – and throughout the nation," said Secretary Detzner in a statement.
The department is planning several events to celebrate the 50th anniversary of the signing. Included in the events, a Oct. 20 presentation about the history of Mission San Luis. The event will feature author and literary journalist Julie Strauss Bettinger.
—
Hey, big spenders!
According to the U.S. Bureau of Economic Analysis, household spending increased by 5 percent in Florida. That was the largest growth in 2015, followed by Oregon and Colorado with 4.9 percent. Those three states were also among the fastest growing states in 2014, the report found.
Floridians pay $7,018 per capita on housing and utilities, and $6,351 per capita on healthcare.
Florida's per capita spending on gas and other energy goods was among the lowest in the nation, at $723. Other states with low per capita spending were New York at $655 and California with $739.
Wyoming saw the slowest growth when it comes to personal consumption expenditures. The report found it increased by 1.5 percent in Wyoming. Household spending in Mississippi and North Dakota increased by 1.9 percent, while household spending in Maine increased by 2 percent.
—
They're back.
The U.S. Department of Agriculture's Animal and Plant Health Inspection Service confirmed the presence of New World screwworm in Key deer. It was discovered in Key deer on a wildlife refuge in Big Pine Key, and marks the first local infestation in the U.S. in more than 30 years.
"The screwworm is a potentially devastating animal disease that sends shivers down every rancher's spine. It's been more than five decades since the screwworm last infested Florida, and I've grown up hearing the horror stories from the last occurrence," said Agriculture Commissioner Putnam. "This foreign animal disease poses a grave threat to wildlife, livestock and domestic pets in Florida. Though rare, it can even infect humans. We've eradicated this from Florida before, and we'll do it again. We will work with our partners on the federal, state and local level to protect our residents, animals and wildlife by eliminating the screwworm from Florida. The public's assistance is crucial to the success of this eradication program."
All of the potentially affected animals are from the same area of Big Pine Key and No Name Key. There have been no human or livestock cases.
Residents who have warm-blooded animals, including pets and livestock, should watch their animals carefully and report any potential cases to 1-800-HELP-FLA.
—
Check out that innovation center.
Harris Corp. unveiled the Harris Global Innovation Center, a state-of-the-art interactive technology showcase, in Melbourne this week. The center was part of a $150 million investment made by Harris over the past three years to create some of the most advanced facilities in Central Florida.
"We designed the Harris Global Innovation Center to inspire creative thinking and collaboration. It is a place for customers, partners and employees from around the world to meet, work and exchange ideas," said William Brown, chairman, president and CEO of Harris Corp. "The center also will be accessible to organizations seeking to foster the next generation of innovators, serving as a place to inspire students and encourage them to consider careers in science, technology, engineering and math."
The company has added more than 500 high paying jobs in Central Florida within the past year. The new center includes multi-media conference rooms, an atrium café for employees and visitors, and exterior courtyard.
—
A CIA analyst will be the special guest speaker at the National Foundation for Women Legislations annual conference next month.
Cindy Storer, a CIA analyst on the team that discovered the terrorist organization Al Qaeda and built the plan to take out Osama Bin Laden, is the special guest speaker at the 2016 conference in Orlando. Storer spent 20 years as an analyst, and her career has been the subject of several films, including the HBO documentary Manhunt.
"I'm excited about the opportunity to talk with so many woman legislators about being a woman in a traditionally male occupation," said Storer in a statement.
The annual conference of elected women is scheduled for Nov. 16 through Nov. 20 in Orlando.
—
CFO Atwater wants to make sure survivors of domestic violence are empowered.
October is Domestic Violence Awareness Month, and Atwater highlighted financial literacy programs offered by his office that are "tailored toward meeting the needs of domestic abuse survivors." Atwater said the "Your L.I.F.E" program "teaches survivors about banking and budgeting, saving and spending, etc."
Studies have found finances play a significant role in abusive relationships. Finances can be manipulated by an abuser to trick a survivor into staying, and a lack of financial stability might prevent someone from leaving.
"It takes an unbelievable amount of courage to walk away from an abusive relationship, and I want to help ensure that survivors have the tools available to be financially successful when they do," said Atwater. "In an overwhelming number of abusive relationships, survivors list financial concerns as one of their top reasons for staying in or returning to an abusive relationship. In fact, that number is 98 percent, and it's a painful statistic to hear. I feel firmly that everyone should hold the keys to their own financial future, and, by empowering survivors to gain financial independence, we hope to help end financial abuse."
The program has been in place for about a year.
"Bottom line is: If you see something, say something," said Atwater. "It is only through education and awareness that we can work toward ending domestic violence in Florida."
—
Happy Birthday, Florida forests.
Agriculture Commissioner Putnam and the Florida Forest Service are celebrating 80 years of Florida state forests this month. First established in 1936, the state's forest system has evolved and grown into one of the most extensive forest systems in the nation.
"After 80 years, Florida's forests still provide an abundance of benefits from clean air and water, to diverse plant and animal communities, and recreational opportunities," said Putnam in a statement.
Florida has 37 state forests covering 1.1 million acres and attracting 2.2 million visitors each year. Over the past 15 years, the Florida Forest Service planted and seeded more than 77,000 acres of trees, including pine, cypress and hardwood.
—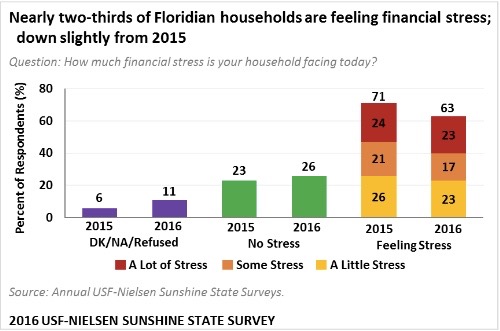 The most important issue facing Florida in 2016? It's the economy, stupid.
The 2016 USF-Nielsen Sunshine State Survey found the economy remains one of the most important issues facing Florida. The first part of the report, which was released this week, found two-thirds of Floridians feel financial stress in their own household.
The survey, conducted by The Nielsen Company, polled 1,248 Florida adults from Sept. 1-19. The survey found 24 percent of Floridians said economy was the biggest issue in the state.
Nearly two-thirds of Floridians said they are feeling financial stress in their household. That is most felt among households with children under 18, with 76 percent of those respondents saying they were feeling financial stress.
When it comes to the biggest threat to the economy, 28 percent of Floridians said they were concerned about a lack of well-paying jobs; while 24 percent said government waste, taxes, and regulations.
—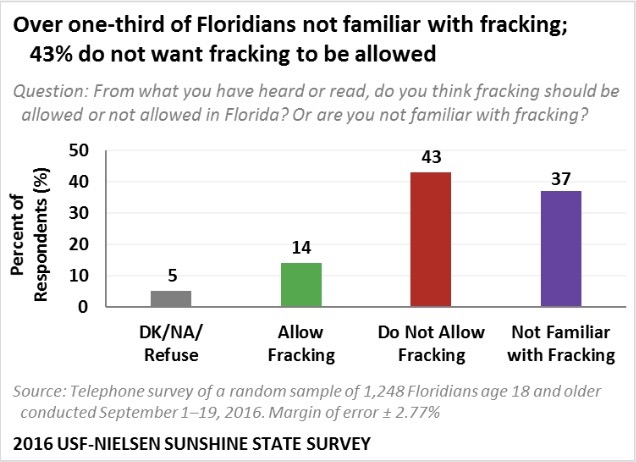 What the frack?!
The 2016 USF-Nielsen Sunshine State Survey added a question to its annual survey asking whether Floridians thought fracking should be allowed in Florida. The response? Thirty-seven percent of Floridians said they aren't familiar with the controversial drilling technique.
The survey found 50 percent of millennials, those people between the ages of 18 and 34, were unfamiliar with the technique. That age group made up the largest share of Floridians who said they were unfamiliar with the technique.
That may come as a surprise to some Florida politicos, since fracking has been a key issue during recent legislative sessions. Attempts to regulate fracking have failed numerous times, and opponents have called repeatedly called on the state to ban fracking.
There does appear to be support for a ban. The Sunshine State Survey found 43 percent of Floridians polled said they did not think fracking should be allowed, compared to the 14 percent who said they thought Florida should allow fracking.
The survey found 46 percent of Floridians with children living at home said they didn't think fracking should be allowed; compared to 37 percent of people without children living at home.
—
Some Republicans say taxes are too high. Some Democrats argue taxes are too low.
The average Floridian, though, thinks their tax bill is "about right."
For the third time in a row the Sunshine State Survey found a majority of Floridians said their taxes were "about right" relative to the state services they receive. The report found 56 percent of Floridians said the amount they pay compared to the services they receive is about right.
Thirty percent of respondents said the amount of state taxes they pay compared to services is too high. The survey found 46 percent of African American and 35 percent of Hispanic respondents said they thought their taxes were too high for the service they were receiving; while 25 percent of white Floridians said their taxes were too high for the services provided.
—
There are a few (thousand) lionfish in Florida's waters.
The 2016 Lionfish Challenge came to a close with 16,609 of the invasive creatures removed from the state waters. Ninety-five people from across Florida and the southeastern United States participated in the challenge, and the Florida Fish and Wildlife Conservation Commission named Volusia County resident David Garrett as the "Lionfish King."
"I want the reefs to benefit from this and save our native fish," said Garrett, a commercial fisherman, in a statement.
As the "Lionfish King," Garrett will receive a lifetime saltwater fishing license and be featured on the cover of the January 2017 Saltwater Regulations Publication.
The competition began on May 16 and ran through Sept. 30. The challenge rewarded participants who took 50 or more lionfish with incentives, including a T-shirt, commemorative coin and the opportunity to take an additional spiny lobster per day during the two-day sport season.
"The success of this program really shows what Florida's residents and visitors can do when faced with a conservation challenge such as lionfish," said FWC Chairman Brian Yablonski in a statement.
—
Aggressive drivers, beware.
The Florida Highway Patrol announced it is kicking off another phase of its Ticketing Aggressive Cars and Trucks safety campaign. The campaign is aimed at educating motorists about the dangers of aggressive driving around large trucks and reducing commercial motor vehicle related crashes.
"The Florida Highway Patrol remains committed to saving lives and reducing the number of commercial vehicle crashes," said Col. Gene Spaulding, director of Florida Highway Patrol. "We can all do our part in reducing traffic crashes by being cautious, patient and courteous while driving, especially around big trucks and buses."
Troopers will be on the lookout for cars and truck drivers who display aggressive driving behavior, like following too closely, speeding and unsafe lane changes. The campaign runs through Oct. 20.
—
Here's this week's edition of Capitol Directions: