If you can't beat 'em, make sure they don't have enough people to fight.
The state's Environmental Regulations Commission this week OK'd new standards that caused conniptions among the clean water set.
The new rules seemingly have a split personality: They "will increase the amount of cancer-causing toxins allowed in Florida's rivers and streams," the AP reported.
Yet commissioners said the plan also "will protect more Floridians than current standards." (In fact, it increases the number of regulated chemicals from 54 to 92.)
The vote, however, was a close 3-2, despite the board having seven seats.
That's because Gov. Rick Scott has left unfilled the positions representing "local governments" and — you guessed it — the "environmental community."
The commission is a "non-salaried, seven-member board selected by the governor, who represent agriculture, the development industry, local government, the environmental community, citizens, and members of the scientific and technical community," its website says.
When Scott does want somebody on the panel, the position gets filled.
In May, he named Craig Varn, his former general counsel at the Department of Environmental Protection. Varn is essentially an at-large member, one of two commissioners representing "lay citizens." He voted for the proposal.
"We have not updated these parameters since 1992," said commission chair Cari Roth, a Tallahassee lawyer who represents developers. "It is more good than harm."
Let's hope so. Meantime, the new rules will likely face administrative challenges from opponents.
Coming up, the usual assortment of tidbits, leftovers and not-ready-for-prime-time moments by Jenna Buzzacco-Foerster, Jim Rosica and Peter Schorsch.
But first, the "Takeaway 5" — the Top 5 stories from the week that was:
Zika in Florida — Gov. Scott announced Friday that one woman and three men in Miami-Dade and Broward counties likely contracted the Zika virus through mosquito bites. The announcement means Florida likely has the first cases of locally transmitted Zika on the U.S. mainland. Health officials believe the infections occurred in a small area just north of downtown Miami, in the popular Wynwood arts district. Blood centers in the two communities were asked to stop collecting blood until they can screen each unit for the virus; and Agriculture Commissioner Adam Putnam issued a mosquito declaration, which will allow for aggressive mosquito control operations.
Water releases — The fight over water quality in Southwest Florida and along the Treasure Coast continued this week. Patrick Murphy delivered several bottles of toxic green water to Gov. Scott's office this week, and criticized the governor for not doing more to stop the problem. Murphy called on Scott to use Amendment 1 dollars to buy land to send water south. But U.S. Sugar officials pushed back, saying buying more land wouldn't necessarily reduce discharges in historic rainy seasons.
More toxins — Florida regulators approved new water quality standards that increase the amount of cancer-causing toxins allowed in the Sunshine State's rivers and streams. The Miami Herald reported the Environmental Regulation Commission voted 3-2 to approve a measure that imposes new standards on 39 chemicals not currently regulated by the state. It also revised regulations on 43 other toxins, many which are considered carcinogens.
Running for governor — The 2018 governor's race was front and center during the Republican and Democratic conventions this month. Gov. Scott can't run again in 2018 because of term limits, and politicians on both sides of the aisle are already eyeing the governor's mansion. The conventions gave possible gubernatorial hopefuls — including Democrats Bob Buckhorn, Gwen Graham, and Philip Levine, and Republican Adam Putnam — a chance to field test their messages, meet with supporters (and potential donors), and talk about the future.
Scott for president — Gov. Scott announced this week he has been tapped to chair the Rebuilding America Now super PAC, which is backing Donald Trump's presidential campaign. As Gary Fineout pointed out on his blog, the appointment is significant because it will connect him with national donors and could boost his national media presence. And while many people believe he'll run for Senate in 2018, his involvement could point to another possibility — Scott could be considering his own presidential campaign.
—
Stop calling.
Ag Commissioner Putnam announced this week that 1 million phone numbers are now on the state's Do Not Call list. The list makes it illegal for solicitors to call or text numbers on the state's Do Not Call list, with penalties of up to $10,000 per violation.
"Since eliminating the fee to join several years ago, we have seen an explosion of Florida residents seeking relief from unwanted sales calls and joining Florida's Do Not Call list," said Putnam.
To get on the list, visit FreshFromFlorida.com, or call 1-800-HELP-FLA (435-7352). Spanish speakers should call 1-800-FL-AYUDA (352-9832).
—
Congratulations, Jennifer Wilson.
Wilson has joined Adams and Reese's Tampa office as a government affairs advisor. Prior to joining Adams and Reese, Wilson worked as a top advisor and campaign manager for several state senators and representatives, including Sens. Tom Lee and Jack Latvala.
"I am pleased to welcome Jennifer to the Government Relations Practice team," said Adams and Reese Special Counsel H. Lee Moffitt, former speaker of the Florida House. "Jennifer's seasoned experience in the Florida Legislature is a key addition to our strong Government Relations team, and we're excited to begin working with her to serve our clients."
A native of Tampa, Wilson is a volunteer with Bridging Freedom Tampa Bay, a nonprofit organization that works to fight domestic minor sex trafficking. She also is an avid baseball fan and writer.
—
It might be time to give Medicaid expansion another look.
The federal government made sweeping changes in recent years to the state's low income pool, or LIP, including reducing the amount of money available to the state. Among other things, POLITICO Florida reported the new rules requires the state to put hospitals into one of four tiers and prevents counties that contribute local tax dollars from receiving a guaranteed rate of return on their funding.
A report by the Florida Legal Services found Hillsborough County will contribute $35 million to fund LIP. If the county sends up its money, but the state doesn't receive remainder of the sum, Tampa General could receive significantly less than what was set aside in the current budget year.
Expanding coverage under the federal health care law is unlikely to happen. While the Senate supported proposals in the past to accept federal dollars and expand coverage, the House has opposed efforts.
—
More jobs are coming to Central Florida.
Gov. Scott announced this week that ADP is opening offices in Orange County. The company will create 1,600 new jobs and invest more than $28 million in the community. According to the governor's office, ADP is one of several companies Scott met with during a domestic trade mission to New York last spring.
"While this global company could have chosen to invest in any other location, they ultimately decided that Florida was the best place for their business to grow," said Scott. "I look forward to ADP's continued success in our state."
ADP serves more than 610,000 clients around the world.
"Powerful technology combined with superior service is why ADP is a human capital management leader," said Debbie Dyson, corporate vice president for client experience and continuous improvement at ADP. "We are strategically placing jobs in the areas of client support and implementation and are happy to be doing this in the Orlando area."
—
Elizabeth Kidder has been reappointed to the board of Florida Healthy Kids Corp.
Gov. Scott announced this week he reappointed the 45-year-old Tallahassee resident to the board. Kidder currently serves as the assistant deputy secretary of Medicaid policy and quality for the Florida Agency for Health Care Administration. She was reappointed to a term ending June 30, 2019.
Scott also appointed Dr. Mansooreh Salari, a 71-year-old Lakeland resident, to the board. Salari is the chief medical officer of Children's Medical Services for the Florida Department of Health. She was appointed to a term ending June 30, 2017.
—
A newly formed task force on the former Arthur G. Dozier School for Boys will meet in August.
The panel is scheduled to meet on Aug. 3 and Aug. 19. Members of the task force include Darrick McGhee, Sr., the vice president of government relations at Johnson & Blanton; David Jackson, a professor at Florida A&M University, and Jerry Cooper, president of the Official White House Boys Organization.
Under legislation (SB 708) passed this year, the panel was set up "to submit recommendations regarding the creation and maintenance of a memorial honoring the children who lived and died" at the school in Marianna, Jackson County.
University of South Florida researchers concluded a multi-year investigation of the campus and exhumed dozens of bodies buried there. Their final report says nearly 100 people, including two adult staff members, died at Dozier between 1900 and 1973. The task force is also charged with recommending a location where unidentified or unclaimed remains that were part of the forensic investigation can be re-interned.
Both meetings will start 9 a.m. Central time (10 a.m. Eastern time) at Marianna City Hall, 2898 Green St.
—
Let the work in the Spring Coast begin.
Jon Steverson announced this week the Florida Department of Environmental Protection and Florida's Water Management Districts identified 35 springs projects to receive more than $56.6 million in the 2016-17 budget for Florida's springs.
"The springs projects that will be implemented because of this funding will make a difference in improving environmental conditions and enhancing local communities," said Steverson.
Projects on the list include an advanced septic system pilot project in the Wakulla Springs cluster and land acquisition in the Gainer Springs group.
"The funds will allow the district to continue the important work of revitalizing and restoring the waters along our Springs Coast, an area which continues to be a unique destination for both our citizens and visitors," said Brian Armstrong, the executive director of Southwest Florida Water Management District.
—
The Florida Supreme Court could soon be weighing in on the future of red light cameras.
A Florida appeals court upheld Aventura's use of red light cameras to issue traffic citations. The Associated Press reported the 3rd District Court of Appeal decision conflicts another appeals court, which found red light cameras used in Hollywood gave too much law enforcement authority to a private vendor.
Judges said the use of red light cameras is an issue of great public importance and should go before the Florida Supreme Court. The Associated Press reported judges certified three questions for the court focused on the relationship between vendors and law enforcement powers.
—
It's time to tackle workers' compensation concerns.
Associated Industries of Florida announced this week it had formed the Florida Workers' Compensation Strategic Task Force. The group will be tasked with coming together to come up with ways to restore a stable, self-executing, and affordable workers' compensation system.
"I appreciate that Associated Industries of Florida is working to develop a broad collection of ideas on this issue that is so critical to the economic success of Florida and the health and well-being of the Florida workforce," said Chief Financial Officer Jeff Atwater. "I look forward to continued conversations on an issue that will undoubtedly play a primary role in our upcoming legislative session, much as it did more than a decade ago."
The chairman of the task force will be Tom Feeney, president and CEO of AIF.
Bill Herrle with the National Federation of Independent Business will serve as chairman of the small employer subgroup; while Marc Salm with Publix Supermarkets will head up the large employer subgroup.
Tom Koval with FCCI Insurance Group will serve as chairman of the domestic insurance carrier subgroup; while Jeff Fenster with AmTrust Financial Services has been tapped to chair the national insurance subgroup.
Mike Costello with Tenet Healthcare will serve as chairman of the health care provider subgroup; and Jim Tolley with Florida Professional Firefighters, and Matt Puckett with Florida Police Benevolent Association will head up the subgroup representing injured workers.
—
The grades continue to trickle in.
Florida Family Action released its first legislative scorecard this week. The scorecard takes into consideration votes lawmakers made across both the 2015 and 2016 legislative session.
"Our hope is that FFA increasingly becomes known for holding all legislators — Republicans and Democrats — accountable for supporting bad policy, and praise for supporting good public policy on issues related to life, marriage, family, and religious liberty," said John Stemberger, president and general counsel of Florida Family Action.
The guide scores 12 issues on the organization's 2015 and 2016 legislative agendas. In the House, the average House Democrat score was 41.35 percent; while the average House Republican score was 90.66 percent. In the Senate, the average Democrat score was 34.12 percent, while the average Republican score was 89.93 percent.
—
Aerospace Technologies Group is growing.
Gov. Scott announced this week the manufacturer has added 50 jobs in Boca Raton over the past five years. The company — which develops, manufactures, and supplies window shade systems for commercial and private aviation — currently employs 150 Floridians.
"With a client list that includes companies like Boeing, Gulfstream, Bombardier, Emirates, Air France and British Airways, it's clear to see why Aerospace Technologies Group is a leader in their industry," said Boca Raton Mayor Susan Haynie, in a statement. "We're proud of ATG's growth and accomplishments and wish them continued success."
The company's Boca Raton facilities include space for research and development and quality assurance.
"Florida manufacturers like ATG are incredible job creators in our state, and we will continue to cut taxes and reduce burdensome regulations to help these businesses create more opportunities for our families," said Scott in a statement.
—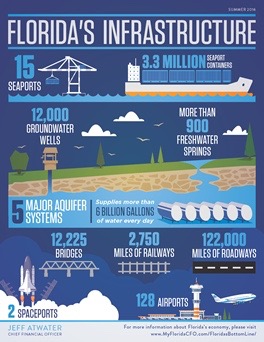 Infrastructure matters.
And that's why it is the focus of the recent issue of Florida's Bottom Line, the quarterly magazine put out by CFO Atwater. The 12-page report focuses on "how Florida can build for the future."
"As Florida continues to grow, so will the need for updating and expanding our infrastructure," said Atwater in his weekly newsletter. "With more than 20 million residents and in excess of two million businesses, we will need new ideas, new investments, and new technology to bridge the gap between today and tomorrow. I'm proud to say that Florida is succeeding at putting these critical systems in place for the future."
Bob Burleson, president of the Florida Transportation Builders' Association; Frank DiBello, president of Space Florida; and House Speaker Steve Crisafulli are among the contributors to this quarter's report.
—
The Department of Health and the Agency for Healthcare Administration announced this week that 13 people have been named to the state's new Telehealth Advisory Council. The creation of the board fulfills the responsibilities of legislation aimed at allowing doctors to treat patients virtually, rather than in person.
The panel will look at types of telehealth services available in Florida, who uses them, and how they are covered by health plans.
The members are: Elizabeth Miller, chief operations officer of WellCare Health Plans; Dr. Ernest Bertha, medical director of Sunshine Health; William Manzie; administrative director of Telehealth Strategy for Memorial Healthcare; Matthew Stanton, senior director of Distance Health for the Cleveland Clinic; Dr. Steven Selznick, CEO/president for Selznick Consulting, a CFP Physicians Group; Darren Hay, senior vice president of Ideal Life; Monica Stynchula, CEO of REUNIONCare and acting state president of AARP; Leslee Gross, assistant vice president of operations for Baptist Health South Florida; Dr. Kevin O'Neil, chief medical officer of Brooksdale Senior Living, Inc.; Dr. Kim Landry, EMS medical director and chief medical officer for Leon County EMS and Lifeguard Ambulance Service, Inc.; Dr. Sarvam Terkonda, site medical director for Connected Care in Florida for Mayo Clinic; Dr. Anne Burdick, professor of dermatology, Leprosy program director and associate dean for Telehealth and Community Outreach for the University of Miami, Miller School of Medicine; and Mike Smith, Telemedicine Program development director for Florida State University, College of Medicine.
—
Call him a champion of liberty.
The Liberty First Network awarded Greg Steube with its 2016 Champions of Liberty award. Steube received a score of 115 and an A-plus-plus grade.
The Liberty First Network believes in educating the voters of Florida on the legislative process and feels it is important that you know how legislators voted on key issues of liberty.
—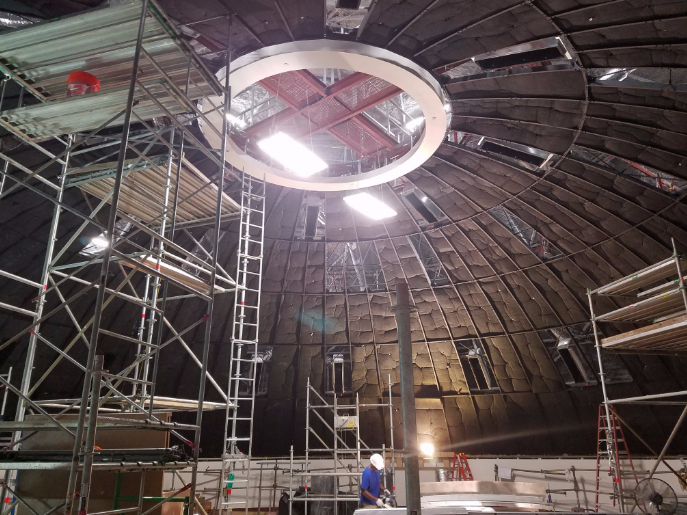 The Florida Senate's facelift is right on schedule.
Katie Betta, a spokeswoman for the Florida Senate, said the chamber's renovations are "right on schedule."
Workers have dismantled the chamber's ceiling and put up scaffolding to install a new dome, modeled after one in the Old Capitol. Betta said she expects the dome to be completed next week.
Outgoing Senate President Andy Gardiner pulled the trigger on the upgrade, recognizing that the chamber "has received only minimal updates since its original construction in the 1970s," he said in a memo.
The renovation project will cost nearly $5 million. Construction is still planned to be wrapped up before the 2016 Organization Session this fall.
—
Expect mosquito control efforts to start ramping up.
Agriculture Commissioner Putnam issued a statewide mosquito declaration this week, after officials announced Florida likely has its first cases of local acquired Zika. The declaration initiates aggressive mosquito control efforts within a minimum 200-yard radius around a locally acquired case patient's home.
"We will continue to proactively work with federal, state and local officials to protect Floridians and visitors from Zika," said Putnam. "Floridians can do their part by draining standing water surrounding their homes, as it can serve as breeding grounds for the mosquitoes that are capable of transmitting the virus."
According to the Department of Agriculture and Consumer Services, the declaration is consistent with Florida's proactive approach to Zika.
—
Florida is one step closer to having its own Auburn University license plate.
According to the iwantmyfloridaauburnplate.com website, 4,066 people had turned in unofficial pledges as of Friday afternoon. New license plates need 4,000 pre-sales before they can be produced.
The push for a "War Eagle" plate has bipartisan backing from Democrat Kevin Cate, a 2005 graduate, and Republican state Rep. Jamie Grant, a 2006 graduate. Grant intends to file a bill next year to create an Auburn plate. If passed, that would add to the 123 specialty tags Florida now offers. It would be the first collegiate specialty tag for an out-of-state school.
Specialty plates cost $15 to $25 a year above the standard registration fee. The money the tags generate goes to charities.
"Now it's up to the Auburn caucus to make sure they have the choice to buy the tag they want," Grant said. "We'll start exploring the most meaningful use of the revenue here in Florida and look forward to making this tag a reality."
—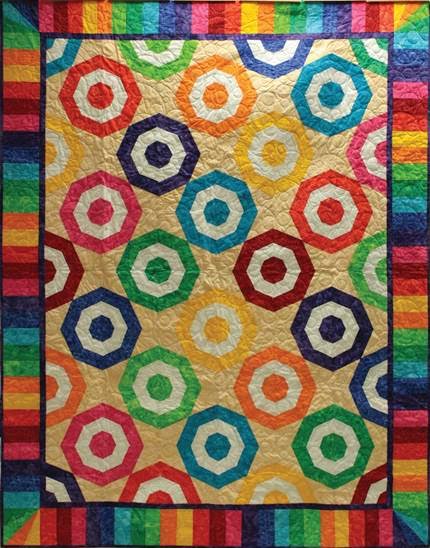 Make sure you check out the annual quilt show next time you're in Tallahassee.
The 34th annual Capital City Quilt Show kicked off this week and continues through Sept. 11. The annual exhibit, which is on display at the Museum of Florida History, features more than 40 handcrafted and machine-made contemporary quilts, ranging from small wall hangings to bed quilts.
"We are excited to share these beautiful fiber arts for the public to enjoy," said Secretary of State Ken Detzner. "Visitors from around the Southeast, including Alabama, Georgia, and Florida are encouraged to come to the museum to view this show and display of craftsmanship."
This year the show includes a display of challenge quilts, a new hands-on magnetic quilt block activity for children and adults, and slideshows projected on two walls.
The show will once again feature an Opportunity Quilt, which is designed and constructed by members of the guild. The 2016 quilt is called "Just Beachy," and made with bright, modern fabrics. Visitors who make a contribution to Quilters Unlimited are entered in a chance to win the quilt.
—
Ever dream of being a multi-millionaire?
If the answer is yes, then don't forget to buy a POWERBALL ticket.
Florida Lottery players have a chance to win a $478 million POWERBALL jackpot Saturday. The jackpot marks the fifth-largest jackpot in the history of the game. The jackpot has rolled 23 times since May 11, and Florida Lottery officials said it has generated more than $38.5 million in contributions to the Educational Enhancement Trust Fund.
"We are proud of the momentous impact this series of jackpot rollovers is having on the Lottery's ability to generate revenue for education," said Secretary Tom Delacenserie. "Jackpots like this one allow the Lottery to play a direct role in helping Florida's students reach their greatest potential."
Players are encouraged to sign the back of their ticket when they get it, and keep it in a safe place. And even if they aren't the big winner, players should also make sure to check their tickets because they can win cash prizes of up to $2 million.
Once you get your ticket, there's only one thing left to do. Ponder whether to take the installments or the one-time lump sum — an estimated $330.6 million — when you win.
—
Here's this week's edition of Capitol Directions: