And so this is Christmas: Gov. Rick Scott's early gift to state law enforcement is a proposed 5 percent pay raise in the 2017-18 budget.
If he can afford it. Which nobody knows yet.
So right now, the raise is like a pretty gift box that's empty. 
Still, the raise "would be a 'thank you' to law enforcement for all they do," reported FloridaPolitics.com's and Orlando Rising's Larry Griffin this week, mentioning this year's hurricanes and the Pulse nightclub shooting as examples.
"They need to be rewarded for their life-saving work," Scott said Thursday. "We need to show we appreciate their commitment to us."
Agriculture Commissioner Adam Putnam quickly issued an attaboy: "Florida's law enforcement officers put it all on the line for us, and I wholeheartedly support Gov. Scott's budget that puts them first."
The problem is the cost, estimated at $11.7 million. The last state financial outlook issued in September showed a paltry $7.5 million left over out of about $32.2 billion in available revenue for next year.
And even that's already outdated, according to House Speaker Richard Corcoran.
"Just looking at the numbers, I can tell you we're more like – in my estimation – somewhere between a half(-billion) to a billion dollars in the hole," Corcoran told reporters after last week's Organization Session.
"It's going to be one of those things where we go through and look at the funding and the priorities and figure out if the money's there," he said to a general question about state worker raises.
On the other side, Senate Appropriations Chairman Jack Latvala has said it's his "highest personal priority … to deliver some sort of pay raise for state employees."
State workers haven't gotten an increase since 2006.
"Now, I'm not going to get into how much, or how to do it, but I've had that conversation with (Senate President Joe Negron, and he's) well aware of where I'm coming from," Latvala said in September.
Meantime, the state's Revenue Estimating Conference is set to meet Dec. 16 to discuss the next long-term revenue analysis. Mark your calendars.
Coming up, the usual assortment of tidbits, leftovers and not-ready-for-prime-time moments by Jenna Buzzacco-Foerster, Michael Moline, Jim Rosica, and Peter Schorsch.
Senate leadership assembled — Senate President Joe Negron unveiled leadership posts this week, giving prominent chairmanships to allies and doling out chairmanships to four Democrats. Sen. Wilton Simpson, who's in line to become Senate President himself, was named Majority Leader, while Sen. Anitere Flores, the President Pro Tempore, will head the Health and Human Services Appropriations Committee, and the Banking and Insurance Committee. Democratic Sen. Randolph Bracy will chair the Senate Criminal Justice committee, and Sen. Lauren Book will chair the Environmental Preservation and Conservation committee.
Rate hike OK'd — A state appeals court allowed a 14.5 percent increase in workers' compensation premiums to take effect on schedule Thursday. The decision comes one week after a Leon County Circuit Court judge ruled the Florida Office of Insurance Regulation and the National Council on Compensation Insurance failed to abide by Florida's open government laws in calculating the increase. Business leaders have blasted the increase, and this week the Florida Chamber of Commerce said many businesses have said "they will be forced to delay hiring, or even cut existing jobs, in order to cover" the increase.
New boss —Enterprise Florida has a new chief. The Board of Directors voted unanimously this week to hire Chris Hart IV, the president and CEO of CareerSource Florida, as the CEO of Enterprise Florida. "Chris understands the incredible impact a job can have on a family and the need for EFI to make job creation the number one priority," said Gov. Scott in a statement. "As President and CEO, I know Chris will immediately get to work to return EFI back to its core mission of creating jobs for our families." Hart starts on Jan. 3, and will be paid between $175,000 and $200,000 a year.
Fined — The state's Medicaid HMOs paid more than $1.2 million in fines for more than 150 violations over the past 15 months, POLITICO Florida reported this week. The website reported the state's Agency for Health Care Administration issued 16 sanctions to managed care plans between July and September of this year, with United Healthcare of Florida receiving the most sanctions during that period. 88 percent of sanctions between July 1 and Sept. 30 of this year stemmed from violations within the state's managed medical assistance program.
The Final 3 — The Supreme Court Judicial Nominating Commission sent three names to Gov. Scott to be considered to fill the seat being vacated by Justice James Perry. The decision came after the state nominating committee spent a day interviewing 11 applicants for the job. The panel recommended that Scott consider Charles Alan Lawson, the chief judge for the 5th District Court of Appeal, Wendy Berger, a 5th DCA judge, and attorney Daniel Gerber for the high court. Some high-profile names were passed over for consideration, including State Attorney Brad King, the lead prosecutor for five central Florida counties, and State Rep. Larry Metz.
—
Graham vs. Putnam in 2018?
Democratic political strategist Steve Schale looked ahead to Florida's 2018 governor's race during a speech this week to the Tallahassee Tiger Bay Club.
On the Democratic side, he likes Gwen Graham's prospects.
"I think there's a pretty good chance that 2018 is going to be the year of the anti-Trump," Schale said. "Gwen is pretty much the opposite of Donald Trump in terms of temperament and approach and everything else."
He expects Orlando attorney John Morgan to succumb to a draft movement. "It's either going to be an amazing success or a complete and utter failure. I don't think it will be anyplace in between."
Schale said the Democratic race could include well-known Florida mayors: Miami Beach Mayor Philip Levine and Tampa Mayor Bob Buckhorn. Much like Morgan, Levine is a "wealthy, self-funder type."
When it comes to Republicans, Agriculture Commissioner Putnam "is obviously the odds-on favorite. I think a Putnam-Graham race would be a smart, high-minded race," Schale said.
"Depending on how the party reacts to Trump, Adam could be very poorly positioned in the primary — he's sort of a very establishment, institutional guy, the definition of a career politician."
Of course, "Like Rick Scott, there's probably somebody on their side we haven't heard from yet who will get in."
—
There's a few new members of the Florida Coordinating Council for the Deaf and Hard of Hearing.
Gov. Scott recently appointed Dr. Karen Goldberg, Eugenia Haliburton, and Debra Knox to the statewide board. The governor also reappointed Dr. Glenna Ashton, Lois Laibl-Crowe, and Rosie Finigan to the board.
Goldberg, a 52-year-old Brandon resident, is the director of deaf mental health at the University of South Florida. She fills a vacant seat with a term ending July 31, 2020.
Haliburton, a 68-year-old Jacksonville resident, is an instructor at Impact Christian Academy. She also fills a vacant seat with a term ending July 31, 2018. Knox is a 44-year-old speech language pathologist and the clinical director at the University of Central Florida. The Oviedo resident replaces Sherilyn Adler and will serve a term ending July 31, 2020.
Ashton, a 66-year-old Boca Raton resident, is an adjunct professor at the University of Florida. Laibl-Crowe is a 58-year-old volunteer program coordinator for the Florida Deaf and Blind Association. Finigan, a 45-year-old Key West resident, is an occupational therapist and the center manager for Select Physical Therapy. All three were reappointed to terms ending July 31, 2020.
Scott also appointed Candice Brower to the Criminal Conflict and Civil Regional Counsel for the First Region.
The 44-year-old Newberry resident currently serves as the Eighth Circuit Civil Division Chief of the Office of Criminal Conflict and Civil Regional Counsel for the First Region. She previously served as the Assistant State Attorney with the Office of the State Attorney for the Third Judicial Circuit. She then worked as a sole practitioner until she joined the Office of Criminal Conflict and Civil Regional Counsel in 2008.
Brower's appointment is subject to confirmation by the Florida Senate.
—
Calling all kid chefs: The Florida Department of Agriculture and Consumer Services is accepting entries for its "Fresh from Florida" Student Chef Cook-Off.
The contest is open to students in grades 9 through 12. Students can submit an original recipe that features locally grown products for a chance to have their creation served in school cafeterias.
Students will first submit their recipes and pictures to be judged on nutrition, originality, and presentation. Finalists will be chosen to compete in five regional cook-offs, scheduled for March and April 2017. First place winners in each region will continue to the statewide cook-off at the Florida School Nutrition Association annual conference in Orlando in April.
"A healthy diet is the foundation for academic success, and our goal is to get students excited about incorporating Florida's fresh produce into everyday meals," said Agriculture Commissioner Putnam.
—
Florida was just a bit safer in the first half of 2016.
The 2016 semi-annual crime report showed the crime rate was down 3.4 percent compared to the first six months of 2015. According to the report, robbery, aggravated assaults and burglaries were down in the first six months of the year.
"Florida's steadily decreasing crime rate is a true testament to the hard work and commitment of our brave law enforcement officers," said Gov. Scott in a statement. "As the crime rate continues to decrease, it is clear that our shared goal of creating safe neighborhoods is working. While this is great news, there is still work to be done and we must continue to focus on reducing crime and making Florida the safest place to raise a family."
The Florida Department of Law Enforcement, however, reported motor vehicle thefts, rape and murder increased during the same time period.
The report showed there were 3,769 reported rapes in the first half of the year. That's a nearly 2 percent increase from the first six months of 2016.
There were 561 murders in the first part of 2016, a 15 percent increase from the same time in 2015. That figure includes the 49 people killed during the Orlando Pulse night club shooting in June.
"This report highlights the commitment of Florida's law enforcement community and our first responders who don't hesitate to put themselves in harm's way to protect their fellow citizens," said FDLE Commissioner Rick Swearingen.
—
BlueGrace Logistics is growing.
The Riverview company has created nearly 300 jobs over the past year and a half, more than doubling the job creation goal announced in 2015. The company is planning to continue its expansion in the Tampa Bay area, the Governor's Office announced recently.
"I am proud to announce that BlueGrace Logistics more than doubled their job creation goals by creating nearly 300 new jobs for families in the Tampa Bay area over the past year and a half," said Gov. Scott in a statement. "The company will also continue expanding in Florida by creating an additional 300 new jobs. (This) announcement shows why we work each day to make Florida the most business-friendly state in the nation so more companies like BlueGrace will choose to invest and create new opportunities in our state."
Founded in 2009, BlueGrace Logistics is one of the fastest growing leaders of transportation services in North America.
"The entire BlueGrace Logistics team is proud to welcome Governor Scott today to celebrate our outstanding success and our ongoing investment in the Tampa Bay community," said the company's CEO Bobby Harris.
—
Congratulations, Rep. MaryLynn Magar.
The Manufacturers Association of Florida presented Magar with the Manufacturing Legislative Excellence Award for her work on behalf of the manufacturers in 2016. Magar led the charge to pass the House bill to permanently eliminate the sales tax on manufacturing machinery and equipment.
"I am honored to receive this recognition from the Manufacturers Association of Florida," said Magar. "I am pleased that this year's election focused so heavily on returning jobs to America and to Florida specifically, and I'm proud that I have made that issue my top priority since I was first elected. But there is more work to do, and I look forward to continuing to work on improving our business and jobs climate in the coming legislative term."
The sales tax exemption is expected to save the industry $77 million a year.
"Florida is one of the highest producing states for manufacturing and our state's leadership has taken great steps to ensure our businesses remain competitive," said Nancy Stephens, MAF Executive Director. "In the 2016 legislative session, Governor Scott, Senator (Dorothy) Hukill, and Representative Magar fought tirelessly for the needs of our manufacturers. Their leadership has ensured the industry will see additional growth, revenue, and job creation in the coming years."
—
Need a place to stay next time you're in Miami? The Atton Hotel might have a room available.
The Governor's Office announced this week the Chilean company is opening its first American hotel in Miami. The expansion has created 130 new jobs in South Florida.
"We are incredibly proud of Atton Brickell Miami. Our staff is extremely excited to show our guests each day why we are ranked among the best hotels in the world," said Claudia Di Gino, the general manager of Atton Hotels. "We want to thank everyone who helped make this day possible and the State of Florida for their support."
The Atton Miami is located in downtown Miami.
"It's great news that Atton Hotels chose Florida over every other state in the nation for their first hotel in the United States," said Gov. Scott in a statement. "I look forward to seeing Atton's continued success in Florida."
—
Barry Moline will soon be California dreaming.
Moline, the veteran executive director of the Florida Municipal Electric Association, is moving to Sacramento to run the California Municipal Utilities Association. His last day at the Florida Municipal Electric Association is Jan. 5.
"Barry brings leadership and passion for our mission, and we're confident he will be a strong steward engaging the community, our membership, and the industry stakeholders," said Michelle Bertolino, the group's president.
California officials told Moline they were looking for someone with strong association management skills, he said.
"Trade associations bring people together," he said. "We don't just lobby. It's a forum to come together and learn from each other, and also to talk about how to serve the customers and communities better."
Moline starts his new gig on Jan. 23.
—
Recess for everyone!
Sen. Anitere Flores filed legislation this week to require schools to provide "at least 100 minutes of supervised, safe, and unstructured free play recess" each week. Rep. Rene Plasencia, an Orlando Republican, filed a similar bill in the Florida House.
The mandatory recess would apply to students in kindergarten through fifth grade, and would break down to at least 20 minutes each school day.
The bill, Senate Bill 78, is similar to a bill that moved through the Legislature during the 2016 legislative session. That bill received overwhelming support in the Florida House, passing 112-2. But it failed to gain traction in the Senate, despite calls from parents and lawmakers to consider the proposal.
—
Florida Power & Light Co.'s 4.8 million customers will pay an additional $811 million for electricity under a compromise rate increase approved by the Public Service Commission this week.
The agreement provides for a $400 million rate increase to take effect on Jan. 1. A customer using 1 kilowatt of electricity each month can expect to pay an extra $63.49.
Rates would increase by $211 million in January 2018, which will work out to $65.88 per month. Rates would increase by an additional $200 million on June 1, 2019, to bring online the Okeechobee Clean Energy Center, a new, high-efficiency generating plant.
The deal also encourages investment in alternative energy technology, including solar and battery reserves.
Eric Silagy, president and chief executive officer of FPL, stressed that power bills will remain low relative to other states. "Our bills will still be lower than they were in 2006," he said.
—
Rep. Dane Eagle is getting a jump on the 2017 legislative session.
The Cape Coral Republican filed his first two bills of the 2017 legislation session this week, and both are meant to enhance government efficiency and accountability.
With House Bill 23, Eagle is hoping to tacking public assistance programs. The bill makes several revisions to the Temporary Aid to Needy Families Program "to focus aid to the truly needy by strengthening eligibility and to reduce waste, fraud and abuse," according to Eagle's office.
A second bill by Eagle, House Bill 49, will allow county property appraisers to reduce the assessed value of residential property damaged or destroyed by a natural disaster. The bill, Eagle said, would provide relief to Lee County residents impacted by the tornadoes earlier this year, as well as communities impacted by Hurricanes Matthew and Hermine
"I am always committed to removing burdensome and unnecessary government red tape, and in this particular case, it will help ease the tax burden on homeowners whose property has been severely affected by natural disaster," he said in a statement. "It is unfair to require property owners to pay taxes on the full assessed value of a home that has been destroyed or rendered uninhabitable."
—
The Florida Department of Health took some time to recognize World AIDS Day this week, and reaffirm its commitment to fighting HIV.
Surgeon General Celeste Philip said the state health department is focusing on four key strategies to make an impact on reducing HIV rates in Florida, including routine screenings and increased testing in high-risk populations.
"Testing all individuals 13-64 years old at least once, as recommended by the Centers for Disease Control and Prevention, is critical to identifying infections," she said in a statement. "We can then begin appropriate and effective treatment and help people lead long, healthy and fulfilling lives. I encourage all Floridians to know their status and get tested through your health care provider or your county health department. We are here to help you before, during and after a diagnosis."
World AIDS Day was Dec. 1. The day Is meant to show support for people living with HIV and commemorate people who have died. More than 1.2 million people are currently living with HIV in the United States, and almost 1 in 8 people are unaware they are infected.
—
Gov. Scott commended a member of the Florida Highway Patrol this week for his bravery.
Scott presented Lt. Channing Taylor with the Governor's Medal of Heroism during a stop in Orlando this week. Taylor was recognized for his bravery during a life threatening incident earlier this year.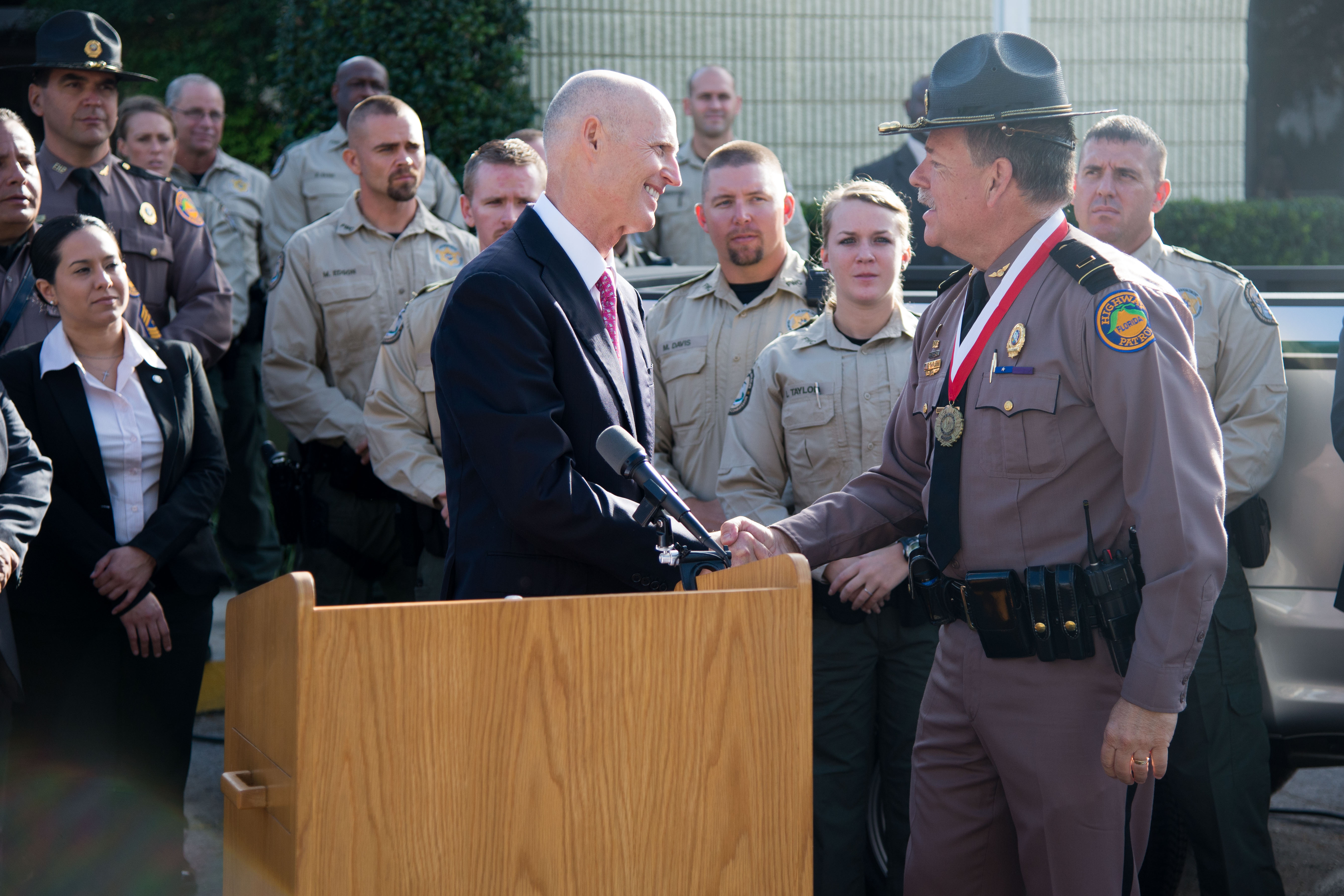 "In June, during a routine traffic stop, Lt. Taylor was ambushed and suffered a gunshot wound to the shoulder before finding cover and returning fire to subdue to aggressor," said Scott in a statement. "Lt. Taylor's heroic actions put an end to a very dangerous situation and our state is blessed to have officers like him keeping us safe."
Taylor was awarded the Medal of Valor, the highest award given by the Highway Patrol, for his "outstanding bravery when faced with great personal danger," according to the Governor's Office. He also was awarded the Purple Heart.
—
Good dog!
PetSmart, the nation's largest pet specialty retailer, donated 1,000 pet treats to give to pets at the Animal Health Checkpoint in Key Largo. The checkpoint was established as part of the screwworm eradication effort and pets will get a treat when they undergo a quick, physical assessment, according to the Department of Agriculture and Consumer Services.
"The Florida Department of Agriculture and Consumer Services has the best interest of our local animals and pets in mind, and we commend them for being proactive in preventing the spread of this infectious parasite," said Alex Garcia, district leader for PetSmart in South Florida, in a statement.  "Together, we hope our pet treat donation will ease the examination process for pets and their pet parents."
The 24-hour Animal Health Check Point is run by the Department of Agriculture and Consumer Services. State officials have checked more than 4,500 animals, including 4,338 dogs. All have been negative.
New World Screwworms can infest warm-blooded animals, like pets, livestock and, in rare cases, people.
"Citizens and visitors have been strong partners in the screwworm eradication efforts underway in Monroe County, and PetSmart's recent pet treat donation is one way we can make the animal health check a more enjoyable experience," said Agriculture Commissioner Adam Putnam.
—
Thinking of giving this holiday season? Make sure to "Check-a-Charity" before you make the donation.
The Department of Agriculture and Consumer Services is encouraging Floridians to use its Check-a-Charity tool throughout the holiday season. The tool allows Floridians to view a charity's financial information and current registration status.
 Charitable organizations registered in Florida received nearly $79 billion in contributions last year.
Agriculture Commissioner Putnam warned Floridians to be on the lookout for people pretending to to be a real charity. And he also reminded residents to make sure to keep good records when they give.
"During the holiday season, many generous Floridians contribute their hard-earned money to support important causes," said Putnam. "Before giving, I encourage you to do your homework and make the most of your donation."
—
Here's this week's edition of Capitol Directions:

Save