What's notable about this week's selection of Florida State University's new law dean is who didn't get picked. 
Erin O'Hara O'Connor, a Vanderbilt University law professor, was named the new head of FSU's College of Law. She's a "leading scholar in the field of conflict of laws," according to her bio. 
She beat out 29 other applicants for the job, including Florida Supreme Court Justice Ricky Polston, who got his undergraduate and law degrees from FSU. He graduated from its law school in 1986. 
Polston must have a hankering to work at his alma mater. He also applied for FSU's presidency in 2014 after Eric Barron announced his departure to lead Penn State University. 
The position, of course, was eventually filled with another high-profile alumnus: John Thrasher, a former state Senator and House Speaker. 
In both cases, Polston wasn't even a finalist. 
In the law dean selection, there were only two other top candidates besides O'Connor, and all are women. 
They are Hari Osofsky, who leads the Law, Science and Technology program at the University of Minnesota Law School, and Heidi Hurd, the first woman dean of the University of Illinois College of Law. 
O'Connor will be the eighth dean of FSU's law school, which opened its doors in 1966, and its first woman dean. 
She succeeds Don Weidner, who retires this month after serving more than 20 years.
Also of note, only one person now at FSU was on the applicant list: Manuel Utset, the law school's Associate Dean for Academic Affairs.
Meantime, Polston faces a merit retention vote this year to remain on the bench. 
No worries, though: No judge has lost a retention election since the system began in the 1970s. 
Coming up, the usual assortment of tidbits, leftovers and not-ready-for-prime-time moments by Jenna Buzzacco-Foerster, Ryan Ray, Jim Rosica and Peter Schorsch.
But first, the "Takeaway 5" — the Top 5 stories from the week that was:
Send help — With the number of Zika cases on the rise — there were 165 travel-related cases in Florida as of Thursday — Gov. Rick Scott called on President Barack Obama and his administration to immediately provide Florida with Zika preparedness kits, and resources to enhance surveillance and abatement, increase training for technicians and to increase lab capacity. Scott said Congress' inaction was "profoundly disappointing."
Learners to Earners — Business, community and educational leaders once again descended upon Orlando to talk about education in the Sunshine State. The Florida Chamber Foundation's annual Learners to Earners Education Summit gave leaders a chance to brainstorm about how they can connect students to future career opportunities. Attendees learned about the impact poverty has on a child's education; the importance of quality early childhood education; and how workforce agencies are working with schools to make sure students are ready to enter the workforce when they graduate.
The NRA vs the world — Marion Hammer urged the Florida Fish and Wildlife Conservation Commission to continue and expand bear hunting season in Florida. In her letter, Hammer said bears posed a "growing danger to human life as well as pets and property damage." While the 2015 bear hunt was opposed by many Floridians, it's likely the FWC will approve another hunt for the coming year. But bears weren't the only topic on the NRA's radar. The group also targeted Rep. Charles McBurney, who is vying to become a judge in the 4th Judicial Circuit. In an alert to supporters, the NRA said McBurney's conduct makes "him unfit to serve on the bench." The conduct? He refused to hear a Stand Your Ground bill
Get prepared — Forecasters said the Atlantic Ocean hurricane season will see a near-average number of hurricanes this year. Officials with the National Oceanic and Atmospheric Administration forecast says there will be 10 to 16 named storms, which includes tropical storms and hurricanes. Between four and eight of those may become hurricanes; and between one and four could become major hurricanes. Florida officials encouraged residents to get prepared, including coming up with a plan, stocking up on essentials and making sure their insurance was in order.
No good, very bad week — It was not a banner week for members of the lobby corps. On Monday, Richard Anderson turned himself in after being charged with a hit-and-run case that left another driver hospitalized in April. Anderson was Belle Isle's interim city manager, an Apopka consultant and a lobbyist. Days later, Tallahassee-based attorney and lobbyist Lance Block was arrested by Florida State University police and charged with one felony count of buying cocaine.
—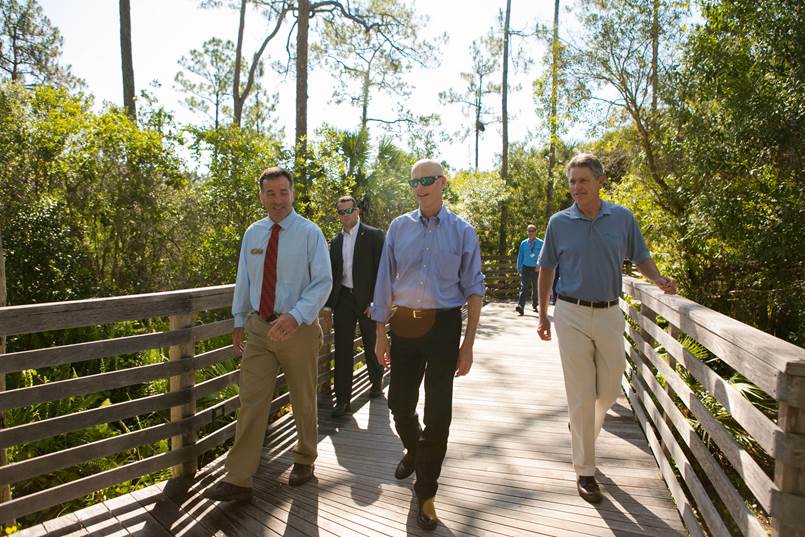 Gov. Rick Scott took to the swamp to highlight Legacy Florida legislation this week.
Scott held ceremonial bill signings of the Legacy Florida bill (989) at Corkscrew Swamp Sanctuary in Naples and Florida Atlantic University Pine Jog in West Palm Beach. The ceremonies were meant to highlight the legislation, which Scott formally signed into law on April 7.
"Florida is known across our world for our pristine ecosystem and waterways, supporting our economy and quality of life," said Scott in a statement at the time. "Over the last five years, we have invested more than $688 million for Everglades restoration. This legislation will continue our commitment to protecting Florida's environment so future generations can enjoy all that Florida has to offer."
The law creates a dedicated funding source to protect the environment. The law sets aside up to $200 million a year for Everglades restoration, up to $50 million a year for the Florida springs, and $5 million a year for Lake Apopka.
—
Rep. George Moraitis is a legislative champion; at least in the eyes of the Boys & Girls Club of Broward County.
The Broward County organization awarded Moraitis with the 2016 Legislative Champion Award and lifetime membership to the organization. The Fort Lauderdale Republican was honored during a visit to the Pompano Beach facility.
"Representative Moraitis has stood up for the children and families of our community, and understands our important place in Broward County," said President Brian Quail. "By focusing on the basics in youth development, we are making a real difference, and Representative Moraitis is a vital partner in that success."
Moraitis said he was honored to receive the award.
"I had the opportunity to visit the Pompano Beach Boys & Girls Club and meet with several outstanding students and staff members" he said in a statement. "I continue to be so impressed with how the Club does so much to help the children of our community between homework assistance, recreational opportunities, character development and leadership training."
—
Children in need will be eligible for free meals throughout the summer.
Agriculture Commissioner Adam Putnam announced this week that the Summer BreakSpot program will provide free meals and snacks to children under 18 who are from low-income families. The program will run from June through August.
"Nearly three million Florida children participate in the free and reduced-price school breakfast and lunch program throughout the school year, and the Summer BreakSpot program helps bridge the nutritional gap during the summer months," he said in a statement. "A wholesome diet is the key to academic success, so it is important that children have access to healthy food leading-up to the new school year."
The Department of Agriculture and Consumer Services partners with more than 3,800 schools and community organizations across the state to offer free, nutritious meals, recreational fun and education activities to children from low-income families.
Last year, the department partnered with 3,800 schools and community organizations, and provided 15.5 million meals to children. The department also has mobile program in 17 counties across the state. That program uses renovated school buses, trucks and vans, and makes stops at parks and recreation centers that don't have an established spot.
Need to find a location? Dial 2-1-1, text FoodFl to 877-877 or visit SummerFoodFlorida.org.
—
Attention, Senators: You might need to find a new parking place.
The Senate parking garage was closed for repairs and renovations on May 27. The garage was closed "in an abundance of caution," while work is being done to reinforce the structure. The garage is closed until further notice.
Maggie Mickler, a spokeswoman for the Department of Management Services, said "several structural components of the House and Senate parking garages, located in the Capitol Complex, are in need of repair."
Both garages "underwent structural analysis to determine the extent of the structural damage" in 2014.
"The Department was informed by the project's engineers that the current state of the Senate parking garage requires immediate attention," said Mickler.
Some staff were told their spaces were being temporarily moved to other state parking garages downtown. Senators were told they would have spots in the central Capitol Parking Garage "in advance of the 2017 Legislative Session."
—
A wall of wind is no match for Jeff Atwater.
The state's chief financial officer marked the start of the 2016 Atlantic hurricane season with a visit to Florida International University's Wall of Wind.
The Wall of Wind is the state's largest and most powerful hurricane research facility. It is capable of simulating a Category 5 hurricane, the largest hurricane on the Saffir-Simpson Hurricane Wind Scale.
Atwater used the visit as a chance to encourage Floridians to prepare a financial emergency toolkit in case of a storm. That toolkit, Atwater said, should include copies of insurance policy numbers, agent and adjuster contact information. Floridians should also include an inventory of their property and financial account details in the toolkit.
"For ten years, Florida has remained storm free but our lucky streak will one day end, and we must all take personal precautions now in anticipation that 2016 may be the year that a storm hits our shores," he said in a statement. "By printing and preparing insurance and financial information now, post-storm recovery and repair claims become easier to complete."
Insurance Commissioner David Altmaier and Citizens Property Insurance President Barry Gilway joined Atwater on the tour of the facility.
—
How does your garden grow?
If you're one of 10 schools in Florida, the answer is pretty darn well.
Agriculture Commissioner Putnam announced 10 schools were presented with the Florida Farm to School Golden Shovel Award. The award recognizes Florida students, educators and community members for their school garden efforts.
"School gardens bring the classroom outside and allow students to gain a hands-on understanding of where their food comes from," he said. "Studies show that children involved in planting, growing and harvesting their own food choose healthier food and show improved academic performance."
The 2016 winners were: Kelsey Pharr Elementary School in Miami-Dade County and Sarasota Military Academy Prep in Sarasota County for the Best New Garden; Bunnell Elementary in Flagler County and D. Hinson Middle School in Volusia County for Best Revitalized Garden; Twin Lake Elementary in Miami-Dade County and Trafalgar Middle School in Lee County for Best Use of Produce; Orange Center Elementary in Orange County and Olympic Heights Community High in Palm Beach County for Most Community Involvement; and Bright Futures Academy in Palm Beach County and Miami Northwestern High in Miami-Dade County for Most Creative Learning Environment.
—
Where there's smoke, there may be a wildfire.
Ag Commissioner Putnam encouraged Floridians to take extra precautions with all outdoor fires. Putnam, whose office oversees the Florida Forest Service, said there is an increased wildfire danger levels across the state.
Putnam said thunderstorms and excessive lightning have sparked wildfires in coastal areas across the state, including the 1,000-acre Tide Swamp Fire in Taylor County. That fire began on May 29.
"Florida's wildland firefighters will likely battle additional wildfires in the coming weeks due to dry conditions and increased lightning activity," he said in a statement. "Citizens can do their part by keeping preventable human-caused wildfires at bay and preparing their families and homes for wildfire."
Lightning accounts for about 25 percent of Florida's annual wildfire activity. Since January, the Florida Forest Service and its partners have responded to 1,200 wildfires that have burned 18,000 acres.
The Florida Fire Service encouraged Floridians to develop and implement a wildlife action plan. It also reminded Floridians to never burn on windy days, never leave an outdoor fire or hot grill unattended; and keep a shovel and hose handy in case the fire breaks containment.
"When citizens are careful with fire, they are doing more than just protecting themselves and their property," said Jim Karels, Florida State Forester. "They are helping to protect the lives of Florida's wildland firefighters and first responders."
—
Give these groups a round of applause.
Commissioner Pam Stewart honored nearly 50 business and community organizations with the Commissioner's Business Recognition Awards during the Florida Chamber Foundation's Education Summit this week.
The awards were administered by the Department of Education and the Florida Education Foundation, and were meant to encourage successful alliances within the business community and among local school districts for the benefit of Florida's students.
"It's a pleasure to recognize these statewide business leaders who have invested their time and resources to support Florida's students," said Stewart in a statement. "Business partnerships provide valuable real-world experiences that are essential in preparing students for continued success on their academic journeys and beyond. These partnerships are mutually beneficial, and I hope that today's event will inspire more business leaders to help students in their communities get ready to enter the workforce."
—
There's another new judge on the bench.
Gov. Scott appointed M. Kemmerly Thomas to the 1st District Court of Appeals this week. The 49-year-old Tallahassee resident has been an attorney and senior partner at McConnaughhay, Coonrod, Pope, Weaver, Stern & Thomas since 1991.
Thomas received her law degree from the University of Mississippi School of Law.
She fills a vacancy created by the resignation of Judge Ronald V. Swanson.
—
Don't drill in Big Cypress.
That was the message Orlando Democrat Sen. Darren Soto sent this week when he sent a letter to National Park Service Director Jonathan Jarvis asking him to reverse a decision allowing oil exploration in Big Cypress National Preserve.
"I strongly urge you to rethink this ill-advised decision to permit oil exploration in the Big Cypress Park and stay true to the Park Service's core mission," said Soto. "The time has come to make decisions consistent with stopping environmental disasters before they happen, and preserving untainted the Big Cypress Park for future generations."
In May, the National Park Service approved a request by Burnett Oil Co. to explore for oil in the national preserve. The work, according to the South Florida Sun-Sentinel, would take place across 70,000 acres 10 miles west of the Broward County line.
Soto is a staunch opponent of hydraulic fracturing. In 2016, Soto proposed legislation that would ban companies from fracking in Florida. The bill did not receive a hearing.
"Just six years ago, Florida and the world helplessly watched as millions of gallons of crude oil gushed unabated from a damaged BP well in the Gulf of Mexico," said Soto. "The aftereffects from that environmental calamity – felt all along the Gulf Coast – still linger today, and have resulted in untold numbers of deformities and death to dolphins and other sea life. Equally troubling, the long-term damage to the ecosystem impacted by the spill has yet to be fully assessed."
—
An audit released this week was critical of how Gov. Scott's administration oversaw a state worker charity campaign.
According to Gary Fineout with the Associated Press, Florida auditors reported that the Department of Management Services didn't initially document costs incurred by a vendor hired to oversee the campaign.
The administration shifted control of the campaign from the United Way of Florida to a New Jersey company called Solix. The Tallahassee Democrat revealed Solix was paid more than distributing to charities.
The agency told auditors that problems with the contract have been corrected. In April, the state lowered the amount it was paying Solix.
—
A registered nurse in every public school.
That was the recommendation from the American Academy of Pediatrics, which recently said there should be registered nurse in every school. The organization had previously suggested one registered nurse for every 750 students.
But Leslie Postal with the Orlando Sentinel reported that Florida's public school would need to triple the number of registered nurses to meet those new recommendations. The state has about 1,300 registered nurses for more than 4,700 public schools.
Last year, there was one registered nurse for every 2,100 students in Florida. The Orlando Sentinel reported that number did not include nurses who worked with students with disabilities.
—
Challenge accepted.
One week after Gov. Scott challenged universities to help students finish college in four years, the State University System said it was pleased to accept his challenge "to keep college education affordable and to build strategies that help our students graduate in four years."
"As our university boards of trustees and Board of Governors develop recommendations to enhance affordability, we look forward to expanding that work to meet the Finish in Four, Save More Challenge you announced at the Summit last week," the Board of Governors said in letter to the governor.
At his Degrees to Jobs Summit in May, Scott encouraged colleges and universities to remove additional fees for online courses and tell incoming freshman how much they'll save by graduating in four years. Scott said this week he was pleased the State University System was accepted his "Finish in Four, Save More" challenge.
"It is important that we do everything we can to remove barriers on our students so they can graduate on time and avoid burdensome debt after college. I hope every college and university president will remove fees on online classes and urge the Legislature to expand the Bright Futures Scholarship to cover summer classes," he said in a statement. "We are committed to making Florida the best place in the nation to get an education and good-paying job, and I again want to thank the State University System for their support in achieving this goal."
—
Stay safe, Florida.
The Sunshine State's crime rate is at a 45-year low. In 2015, there were 10,773 fewer crimes than in 2014. In a statement this week, Gov. Scott said the crime rate dropped 3.1 percent since 2014.
"The crime rate in Florida is the lowest it has been in 45 years and that is due to the great work of our state law enforcement officers who risk their lives every day protecting Floridians and our visitors," said Attorney General Pam Bondi in a statement. "I cannot express the extent of my gratitude to each and every law enforcement officer in our state for their selfless commitment to the safety of Floridians and our great prosecutors who work to keep the worst of the worst behind bars where they below."
In a statement, Scott said lawmakers set aside $4.9 billion in the state budget for public safety.
"We are committed to building safer communities and want Florida to be the safest and best place in the nation to live, work and raise a family," he said.
—
Spend the weekend fishing.
This weekend is a license-free saltwater fishing weekend. The license-free weekend runs from June 4 to June 5.
"Florida is the fishing capital of the world, and I am excited to announce two license-free fishing weekends this month that include both saltwater and freshwater fishing opportunities," said Gov. Scott in a statement. "As children get out of school for the summer break and more tourists visit our state, I encourage every family to take advantage of these weekends to enjoy Florida's great outdoors with their loved ones."
Not a huge saltwater fishing fan? Don't worry, next weekend — June 11 and June 12 — has been designated as a license-free freshwater fishing weekend.
—
Here is this week's edition of Capitol Directions: