Talk about being "busted."
A Tallahassee attorney who fronted "large sums of money" to a professional poker player is suing after the player lost over $22,000 of that bankroll in unauthorized side gambling, according to a lawsuit filed this week.
Hal Lewis is a name partner in the Fonvielle Lewis Messer & McConnaughhay personal-injury law firm and a poker aficionado.
Poker player Maurice Hawkins of South Florida has posted lifetime earnings of nearly $3 million, according to the Hendon Mob online poker database.
The suit, filed in Leon County, is also a glimpse into the world of "staking" in professional poker.
"A poker investor ('the backer') puts up money on behalf of a poker player ('the horse') in exchange for a cut of the profits," explains an Upswing Poker article from last October.
"The backer typically assumes all the risk: Any money the horse loses is on the backer," the article continues. "But if the horse wins, the profits are shared according to the terms of the poker staking contract between the parties (usually, the cut is around 50/50)."
That was the deal cut by Lewis and Hawkins, whom Lewis said he met at a tournament in Jacksonville last March.
"It's a roller coaster," Lewis said of his poker investing in a Friday interview. "These guys win and lose, but you keep going, and you hope that your player eventually wins big," even up to a million-dollar payoff.
Lewis' suit said he "deposit(ed) various large sums of money" into Hawkins' wife's bank account so Hawkins could play last summer's World Series of Poker (WSOP) in Las Vegas. (By the way, Hawkins on Friday was listed as a "trending player" on the WSOP website with $1,854,866 in wins.)
Hawkins played—and lost, the suit says. He told Lewis he wanted to quit the staking deal and give back $22,788 that was left.
That is, he wanted to but couldn't, because he lost that money on bets outside of the deal, according to the suit.
"I just busted," Hawkins said at first, according to copies of text messages from last June that Lewis attached to his complaint. "I owe you 22,788."
But Hawkins later texted he had gotten a "feeling of despair" that "caused me to gamble, which caused me to lose and that's why I lost all the money … I lost the 22,788… I am really emotional … I will make it right."
He didn't, Lewis said.
A complaint in a lawsuit tells one side of a story. Reached by phone, Hawkins disputed Lewis' account, saying he owed the attorney nothing and that Lewis was being a "big bully."
"Do I get a court date?" Hawkins said, avoiding a question about the texts. "Because the truth will come out then."
Lewis now says he's "very soured" on staking: "I still like playing, but I guess of all the people you shouldn't trust, it's probably those who lie, or 'bluff,' for a living."
Coming up, the usual assortment of tidbits, leftovers and not-ready-for-prime-time moments by Jenna Buzzacco-Foerster, Jim Rosica, and Peter Schorsch.
But first the "Takeaway 5" — the Top 5 stories from the week that was:
Rental relief — Attorney General Pam Bondi announced this week her office reached an out-of-court settlement with Avis Budget Car Rental System – which owns Avis, Budget and Payless car rental companies – over claims consumers were charged excessive fees at toll booths in Florida. The Attorney General's Office investigated allegations that the company didn't disclose to consumers there would be a daily fee for the company's e-Toll service, on top of the cost the customer would incur for a toll on a cashless toll road. The settlement agreement, according to Bondi's office, requires Avis, Budget and Payless to clearly and conspicuously disclose its $3.95 a day charge to customers. It also calls on the company to train employees to ensure they aren't telling consumers that the only way to pay for tolls in Florida is through the e-Toll system or telling consumers that all toll roads are cashless. The announcement of the Avis settlement came one day after Bondi was ordered to file a written response to a lawsuit claiming she forces businesses to donate millions to unregistered charities as part of settlements in consumer protection cases.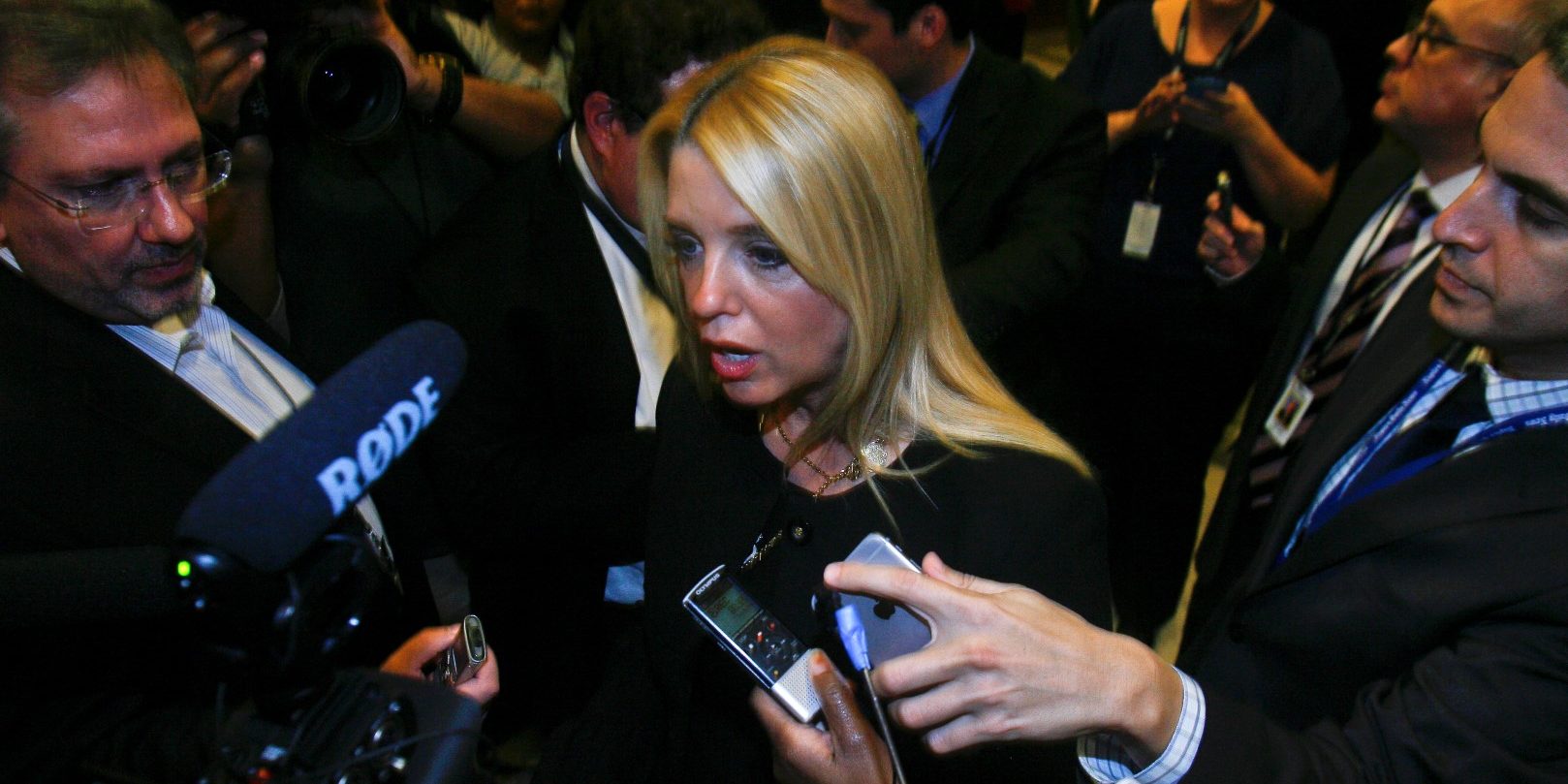 Back to court — The Florida Supreme Court dismissed a challenge of Gov. Rick Scott's veto of reimbursements to homeowners whose healthy citrus trees were torn down by the state. The homeowners had asked the court to undo Scott's veto of more than $37 million by filing a petition for writ of mandamus, an order to an elected official to perform a certain action. The Republican-controlled Legislature agreed to pay homeowners in both Broward and Lee counties whose trees were torn down in a failed attempt to eradicate citrus canker, "a bacterial disease of citrus that causes premature leaf and fruit drop," according to the state's Agriculture Department. But Scott vetoed the money, ignoring an order by the court that the state pay up. In a 6-1 decision, the court declined to nullify the veto, mentioning lower court actions that had been filed. "Because the governor's constitutional line-item veto authority at issue in this case is a part of the process that results in 'an appropriation made by law,' we hereby dismiss this petition without prejudice to seek redress in pending circuit court actions," the order said.
Rejected — Brevard County Commissioners shot down a request by Commissioner John Tobia, a former state representative, to request Congress reject statehood for Puerto Rico. Tobia argued that Puerto Rico's debt issues would impact all taxpayers if it became a state. But his proposal faced significant opposition, with none of his fellow commissioners backing him up and many residents expressing outrage over the request. Some state lawmakers also sounded off about Tobia's proposal. Rep. Bob Cortes sent a letter to the Brevard County Commission requesting them to vote down the resolution, telling members that support for the resolution would send "a message that our exclusive club doesn't need any new members, that the United States is finished accepting applications for statehood, and that even though Puerto Ricans are Americans, the land they live on is not good enough to be included in our United States." Ouch.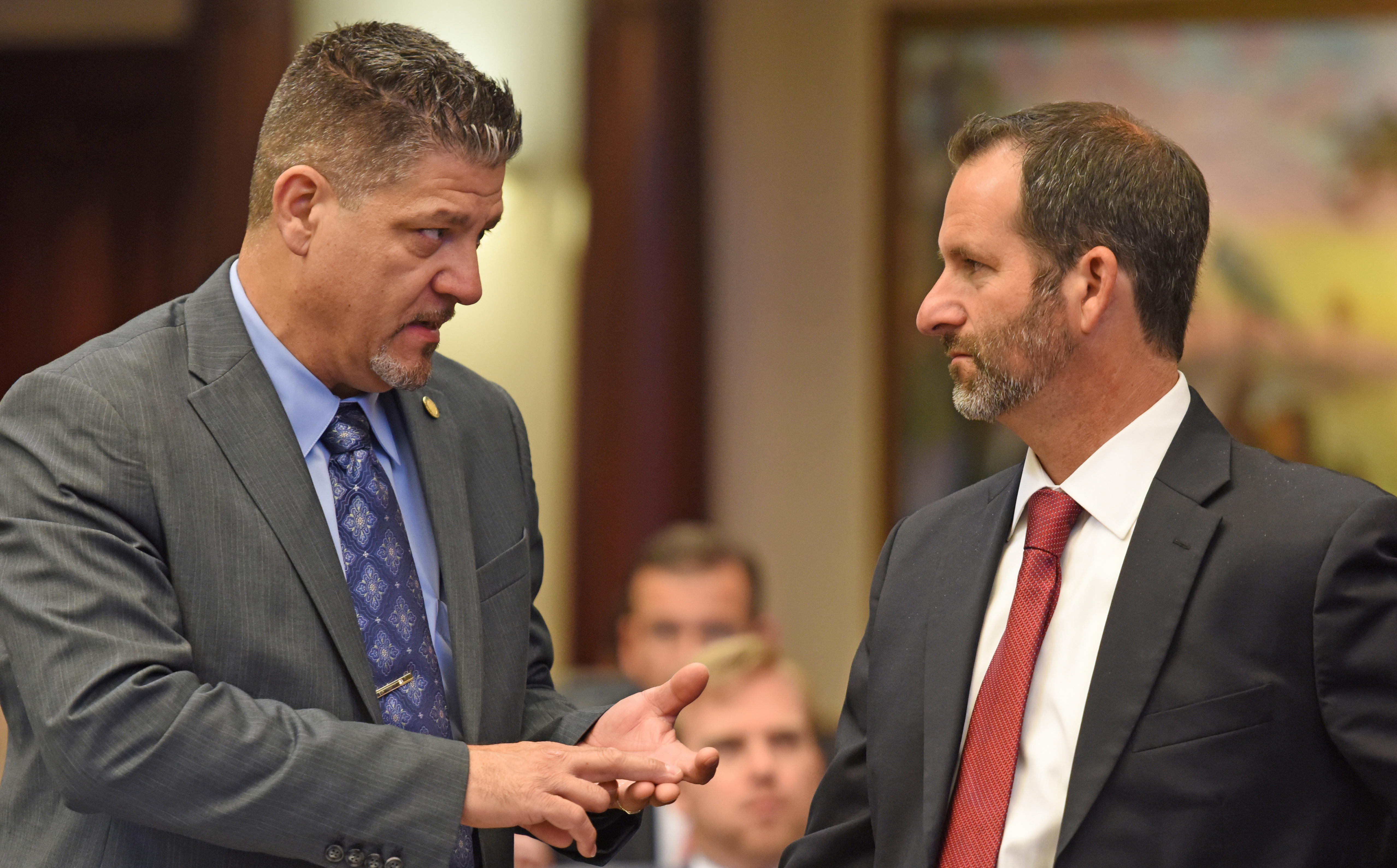 Mo' money — Being an elected official might not be bad for your pocketbook. According to annual financial disclosures filed with the state, lawmakers have an average net worth of $2.14 million, and there are at least 45 millionaires. An analysis of available reports also found more than 100 lawmakers got richer this year; while 22 saw their net worth decrease. While neither House Speaker Richard Corcoran nor Senate President Joe Negron were among the dozens of millionaires in the Florida Legislature, their likely successors are. Senate Republican Leader Wilton Simpson, who is in line to be President in 2020 if the GOP keeps control of the chamber, reported a net worth of $22 million; while Rep. Jose Oliva, who is expected to succeed Corcoran, reported a net worth of $13.4 million. At least eight lawmakers, reports indicated, are underwater.
Slow going —The Republican Party of Florida posted not-so-stellar second quarter fundraising numbers this week. The state GOP raised $338,942 between April 1 and June 30, which covered the second half of the 2017 Legislative Session and a three-day special session. The three-month fundraising period paled in comparison to previous quarterly reports, and forced top officials to put their fundraising efforts into context. Blaise Ingoglia, the chairman of the Florida GOP and a Spring Hill state representative, told state committee members in an email that the state party has more than $4 million cash on hand in its federal and state accounts and fundraising is ramping up. "Last election cycle, we ignored all the noise, completed the task at hand, and finished the election with millions left in the bank," he said. "This election cycle will be no different!" The low fundraising numbers led at least one top Republican to step up to the plate and pledge to help raise money in the final months of the year. Sen. Jack Latvala pledged to raise $50,000 over the next two quarters — $25,000 each quarter — to help the party, and encouraged fellow Republicans to do the same.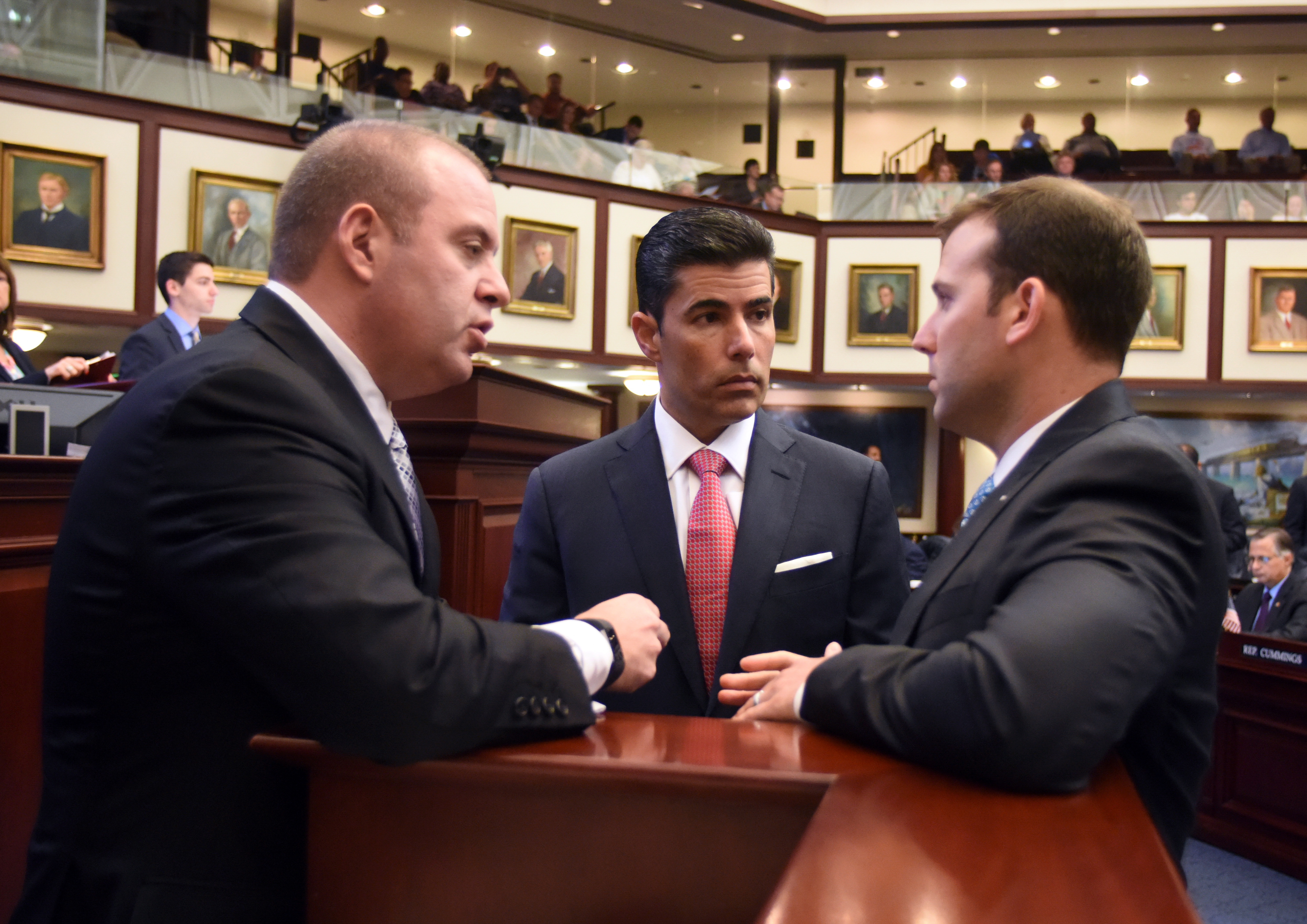 Lost and found
Call it a quarter of a million dollar month.
The Florida Department of Agriculture and Consumer Services announced recently it recovered more than $250,000 for Florida consumers during June.
The department recovered $250,256 total on behalf of Florida consumers during the one-month period. The agency received 3,629 complaints, initiated 230 investigations and arrested 10 individuals during the same time frame.
The department also provided assistance to 21,545 consumers through the consumer hotline, online chats and emails. It also added 17,354 telephone numbers to the state Do Not call List.
Last year, the Department recovered nearly $3 million for Florida consumers from moving companies, vehicle repair shops, pawn shops, health studios, and telemarketers.
Awards season
Top teacher — Hip, hip, hooray: Tammy Jerkins has been named the 2018 Macy's/Florida Department of Education (DOE) Teacher of the Year!
Jerkins, a secondary mathematics teacher from Leesburg High School in Lake County, was presented the award this week during a ceremony at Universal Studios Orlando. She was selected by a DOE-appointed selection committee for her superior ability to teach and communicate knowledge in her field from a pool of 195,744 public school teachers.
"Teachers generously give of themselves every day to educate, inspire and motivate their students. By doing this, they elevate and empower future generations to achieve great things," said Dennis White, Macy's executive vice president and regional director of stores, in a statement.
"Macy's is thankful to have the opportunity to celebrate and honor Tammy Jerkins for the contributions she is making by ensuring our students are equipped with critical thinking and problem-solving skills that are vital to Florida's success."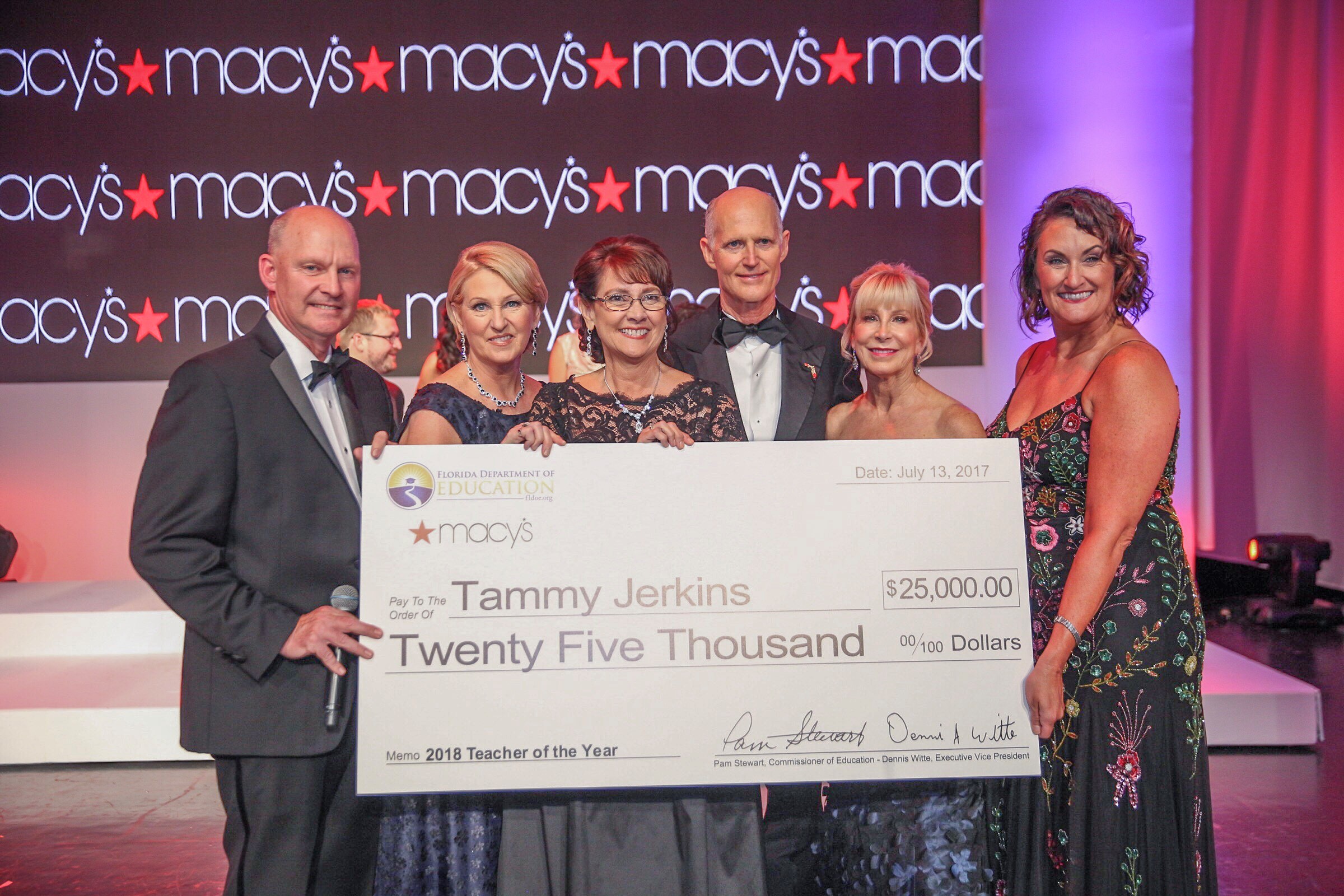 Macy's has sponsored the Florida Teacher of the Year program for 29 years. Jerkins received a $25,000 check, a $1,000 wardrobe, a $1,000 check for her school and an all-expense paid trip for four to New York City to attend this year's Macy's Thanksgiving Day Parade.
"First Lady Ann Scott and I are proud to join Macy's and the Florida Department of Education to recognize the 2018 Teacher of the Year, Tammy Jerkins," said Gov. Scott, who presented Jerkins with the award. "I'd like to thank all of these educators for their incredible impact on Florida students and I applaud their commitment to preparing them for higher education and successful careers. The workers and leaders of tomorrow are in our classrooms today and every day, and Florida teachers go above and beyond to ensure their success."
—
Best of the best — Kudos, Sandra Marquez!
The Florida Retail Federation (FRF) announced that Marquez, a detective with the Aventura Police Department, has been selected as the Florida Retail Federation Law Enforcement Officer of the Year. The 10-year veteran will receive a cash award and a custom-crafted medal. Her name will also be added to an official plaque that lists each of the winners since the program's inception in 1974.
The FRF said Marquez was instrumental in the success of her city's new economic crimes unit, as well as having a positive impact on retail crimes and fraud investigations.
Joseph Leserra with the Leon County Sheriff's Office was selected as runner-up. Leserra is a senior detective in the financial crimes unit, a certified fraud examiner, and a task force officer with the U.S. Internal Revenue Service.
"The men and women of Florida's law enforcement community … keep Florida's 270,000 retailers, their employees, customers and merchandise safe," said R. Scott Shalley, the president and CEO of the Florida Retail Federation. "We are thankful for their dedicated service to protecting all of us, and we are honored to be able to recognize both Detective Marquez and Detective LaSerra on behalf of the thousands of law enforcement professionals throughout our state."
Two other detectives — Lazaro Daniel with the Miami-Dade Police Department and Ismael Hau with the Indian River County Sheriff's Office — received honorable mentions, and will be recognized locally.
—
What a legacy — Atta boy, Sen. Jack Latvala!
The Florida Association of Counties (FAC) presented the Clearwater Republican with the Legacy Award during the recent 2017 FAC annual conference and exposition in Palm Beach County.
"It is critical to have partners in the legislature who understand the importance of home-rule and fight for their communities," said Ginger Delegal, the association's executive director, in a statement. "We are proud to recognize Senator Latvala's partnership and his steadfast dedication to putting policy above politics."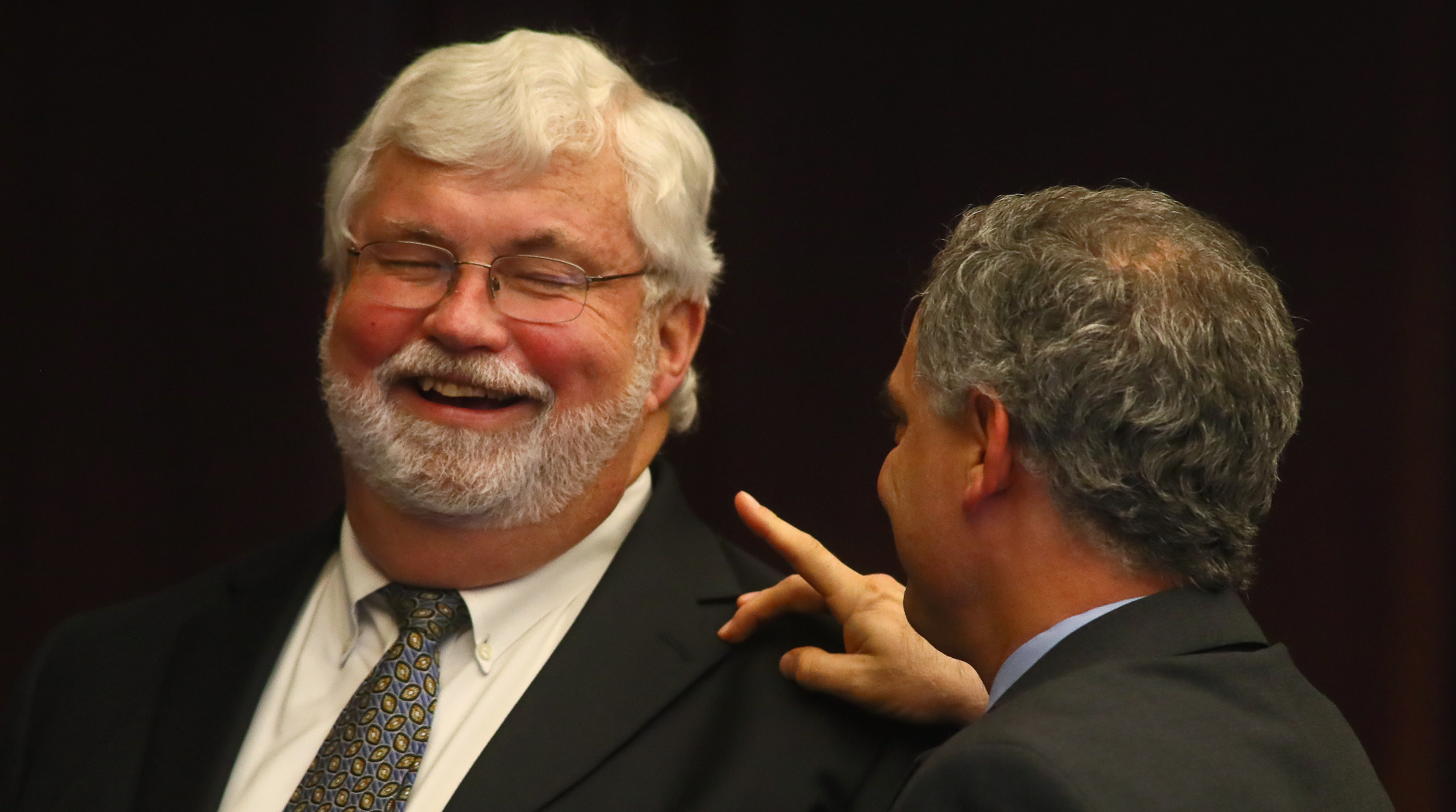 The award is presented to legislators who have demonstrated a commitment to local governments throughout their career in the Legislature. The organization represents the diverse interests of Florida counties, emphasizing the importance of home rule.
"I was very honored to receive this prestigious award from county commissioners who are in the front lines in keeping government responsible and responsive to the people of Florida," said Latvala, a multiple FAC award recipient.
—
Elderly champion — Give Rep. Daisy Baez a round of applause next time you see her.
Baez was recently named a "Champion of the Elderly" by the Florida Health Care Association. The Miami Democrat was recognized for her efforts to support older Floridians and work toward improving the state's long term care.
"Working on behalf of older Floridians, especially in the sense of health care, is one of the main things that drove me to run for public office; I was done with watching from the sidelines as health care decisions that I did not agree with were made, decisions I felt would ultimately hurt people in our state," she said in a statement.
"I see it as my responsibility to be a true representative of my community and ensure that they, as well as all Floridians, have the opportunity to fairly access the care they need," she continued. "I am beyond grateful to be chosen for this honor and I am eager to keep working to improve our health care system on behalf of elder Floridians."
The association is the state's largest advocacy network for long term care providers and the elderly community they serve. Baez will receive her award, and address the association, during the organization's annual conference during the week of July 31 at the Rosen Shingle Creek in Orlando.
—
Safety star — Rock on, Raymond Mowen!
The Florida Fish and Wildlife Conservation Commission (FWC) named Mowen, a Royal Palm Beach resident, the 2016 Volunteer Hunter Safety Instructor of the Year at its commission meeting this week. The award recognizes volunteers who advance the cause of safe hunting through extraordinary service in training and education.
"Ray is doing his part to continue the heritage of hunting in Florida by developing safe, responsible, knowledgeable and involved hunters. He is dedicated to making sure his students learn about safe, responsible hunting as well as teaching them about conservation," said Bill Cline, FWC's section leader for hunter safety and public shooting ranges. "He also is securing the future of FWC's hunter safety program by recruiting others to become hunter safety volunteer instructors. We cherish volunteers like Ray."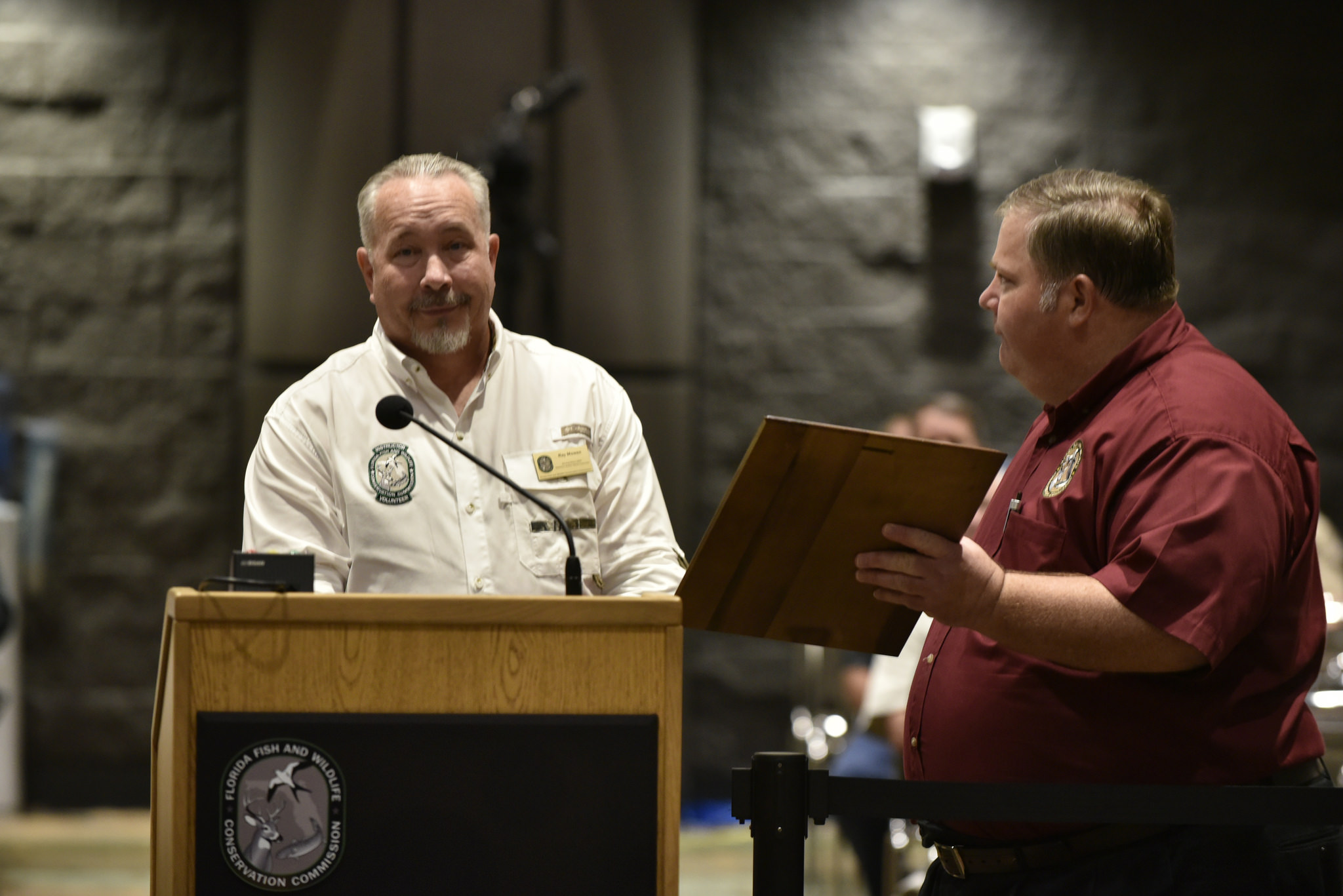 Mown, who spent six years' active duty as an airborne parachute rigger with the U.S. Marine Corps, has volunteered to teach the state's hunter safety course for 24 years. He was the program's top producer in 2016, volunteering 289 hours to teach 21 classes.
"Being a hunter safety instructor is very rewarding," he said in a statement. "At the end of the class, when a student looks me in the eyes, thanks me and shakes my hand – I know they got it and will be taking this safety knowledge home and to the field. That's why I do it."
—
Service honored — Call him a humanitarian; the folks at the Urban League of Broward County are.
The Urban League of Broward County announced this week it will present Rep. Shevrin Jones with the 2017 Margaret Roach Humanitarian Award at its annual gala in September. The West Park Democrat said he was "incredibly humbled to be recognized" by the Urban League.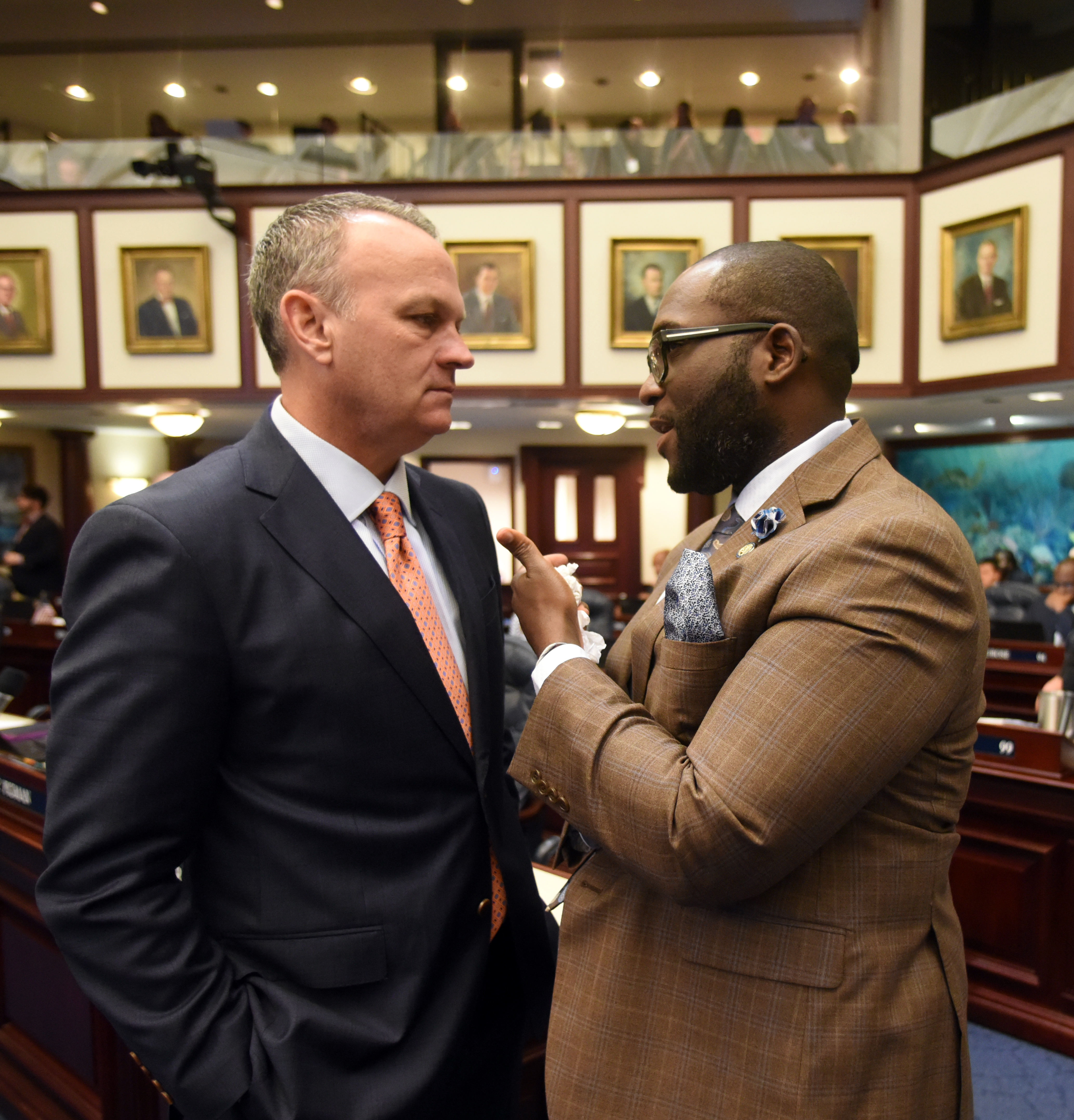 The award is given to community members who have demonstrated ongoing leadership in the areas of social justice, race relations and community service.
"Our communities are stronger when we embrace our diversity as people and work together for the common good," he said in a statement. "While I am proud of the work that I and others have done, we must never be satisfied until true equality for all has been achieved. We must march on."
—
What a woman — Drum roll, please. Agriculture Commissioner Adam Putnam announced this week that Martha Rhodes Roberts has been selected as the 2017 Woman of the Year in Agriculture.
Roberts dedicated 35 years of service to the Florida Department of Agriculture, where she championed policy changes to advance the state's agriculture industry, trade and production practices.
"I'm honored to name Dr. Roberts the 2017 Woman of the Year in Agriculture," said Putnam in a statement. "During her tenure with the department, Dr. Roberts advanced Florida agriculture."
Born in Oxford, Mississippi, Roberts joined the Department of Agriculture and Consumer Services' Division of Food Safety in 1968 as a microbiologist/chemist. She was appointed assistant commissioner in 1984, and was the first woman in the United States to hold such a position.
She served as the department's deputy commissioner from 1991 until 2003, and played a key role in shaping agricultural policies to improve practices in each stage of production. Beginning in 2003, she served 13 years as the director of industry relations and then the special assistant for government affairs for the University of Florida, Institute of Food and Agricultural Sciences (IFAS).
The award will be presented during the 2018 Florida State Fair in Tampa.
Flying high
We're No. 2, and that's a good thing.
Gov. Scott announced recently that Florida's airports ranked second in the nation for airline passenger volume, according to preliminary data from the Federal Aviation Administration and the Bureau of Transportation Statistics. The state, Scott said, handles more enplanements than Texas, placing it second in the nation, behind California.
"Florida's airports are critical to the economy of our state and Governor Scott has demonstrated that by investing over $1 billion in our airport system," said Florida Transportation Secretary Mike Dew.
Several airports — including the Daytona Beach International Airport, St Pete-Clearwater International, and Jacksonville International — received federal Airport Improvement grants. The fiscal 2017-18 budget includes more than $263 million for aviation improvements.
"Florida's airports help welcome millions of visitors, business leaders and families to our state each year, and have a significant impact on supporting job creation and growing our economy," Scott said. "That is why I am proud that we have invested more than $1 billion in state funding in our airports over the past six years."
'Open carry' goes to feds
Dale Lee Norman is asking the U.S. Supreme Court to review the state's Supreme Court ruling upholding the state's ban on the open carry of firearms.
In a 4-2 decision this March, Florida's highest court said the state's open carry ban does not violate a person's constitutional right to self defense.
Norman had been arrested by Fort Pierce police in February 2012 after having gotten his concealed weapon license earlier that day, according to a brief.
"A concerned citizen noticed Mr. Norman's firearm on his right hip and called police," the brief said. "The State's sole allegation in this case is that Mr. Norman carried a firearm conspicuously and openly rather than concealed."
His attorney, gun-rights activist Eric Friday, has said the ban should be stricken because it "infringe(s) on the fundamental individual rights of citizens to bear arms in defense of themselves, their families, and the State."
The latest filing says the "issue is whether a prohibition on peaceably and openly carrying a lawfully-owned handgun infringes on 'the right of the people to . . . bear arms' protected by the Second Amendment to the United States Constitution."
The court has yet decided whether it will consider the appeal, filed earlier this week.
Veteran appreciation
Thank you for your service — Gov. Rick Scott tipped his hat to Florida veterans, spending a few days on the road thanking them for their service.
The Naples Republican presented Governor's Veterans Service Medals to Floridians in Panama City, The Villages, Cocoa and Wauchula. All told, Scott presented more than medals to more than 700 Florida veterans.
"It is important that we continue to appreciate and honor the members of our Armed Forces not just on holidays, but every day," said Scott, following a stop in Panama City. "I'm incredibly proud to recognize these American heroes who dedicated their lives to our great nation and present them with the Veterans Service Medal today."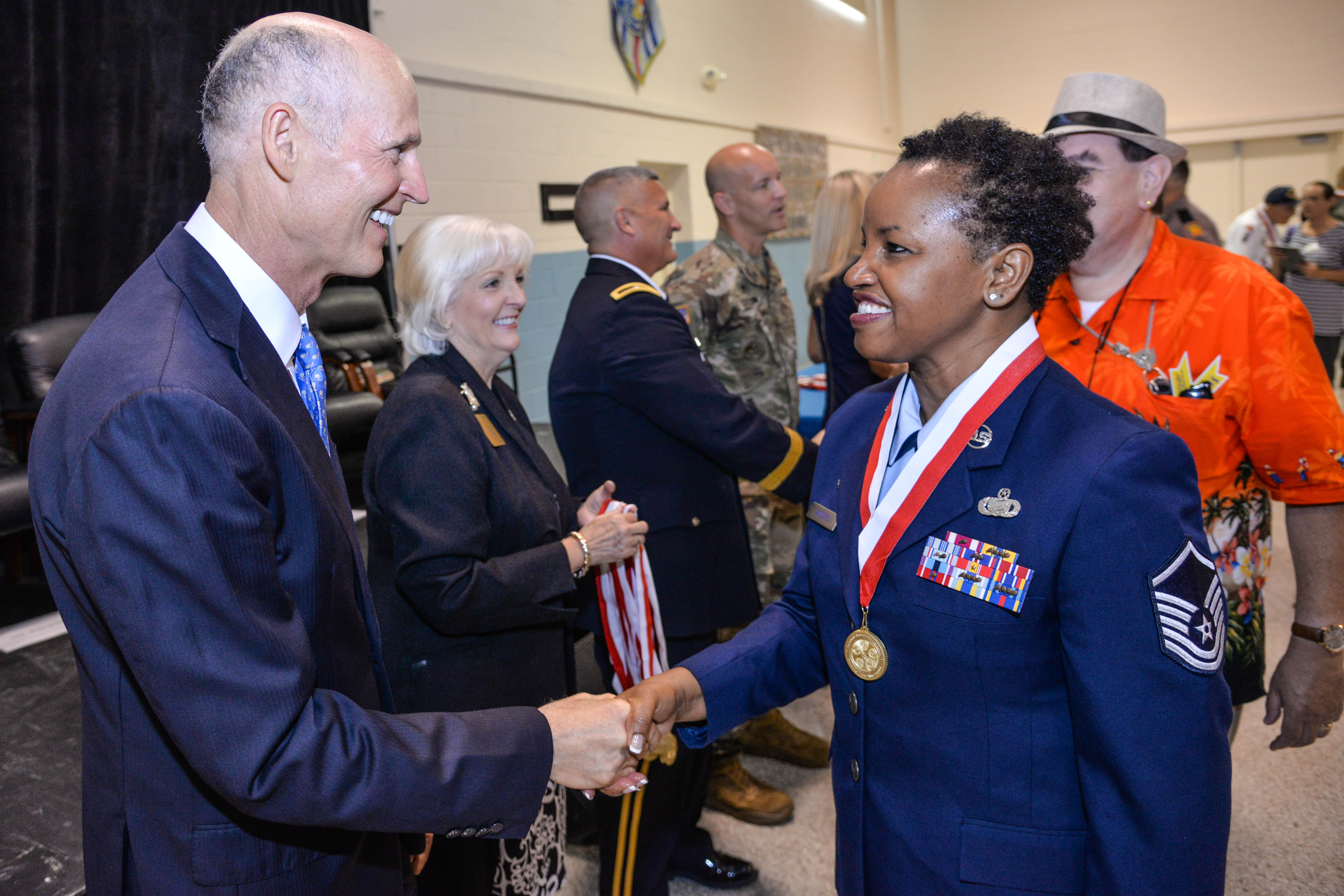 Scott awarded 49 veterans with the Governor's Veterans Service Medal during his Panama City stop, including Staff Sgt. William Yaeger Brookes, who enlisted in the Florida Army National Guard in 2002; Sgt. Taylor Smith, who began his military career in 2006 as Calvary Scout in the Florida Army National Guard; and Maxine McIlroy Mann, who joined the World War II women's branch of the U.S. Naval Reserve after its founding in 1942.
In The Villages, Scott awarded 268 veterans with the Governor's veterans Service Medal. He also honored Staff Sgt. Irving Locker, a 93-year-old who was drafted into the Army and served in World War II from 1943 until 1945, and Cpl. John Trongon, a 94-year-old who was drafted into the Army when he was 18 years old and served in the amphibious operations during World War II from 1943 until 1946.
Scott recognized Army Capt. Donn Weaver, Army Spc. Sebastian Padilla, and Army Spc. Marcus Birkenmeyer during an event in Cocoa. During that stop, Scott handed out Governor's Veterans Service Medals to 274 Floridians.
The governor ended his swing in Wauchula, where he handed out 127 medals to Florida veterans. He also honored Master Sgt. Jeremy St. Clair, who enlisted in the Florida Army National Guard in 1997; Staff Sgt. James Compau, who enlisted in the Army National Guard in 2005; and B.J. Norris, a 99-year-old who served in the Army from 1942 until 1945.
—
Minding military consumers — Attorney General Pam Bondi is doing her part to protect military members and veterans from scams.
Earlier this year, Bondi launched a program — the Military and Veterans Assistance Program — aimed at serving the unique consumer protection needs of Florida's military and veterans' communities.
The program is meant to educate service members and veterans on the types of scams that target their communities, what they can do to protect themselves, and how they can help protect others by reporting scams and deceptive business practices.
"Although we will never be able to fully thank the men and women of our military and the loved ones who support them, my office will continue to protect them from unscrupulous businesses and individuals here at home," Bondi said in a statement.
Get healthy
The list of schools earning a "healthy" designation keeps on growing.
Ag. Commissioner Putnam announced 37 more schools earned the HealthierUS School Challenge designation during June. That brings the total number of schools with the designation to 313. That's up from 27 schools in 2012, when the Department of Agriculture and Consumer Services took over responsibility of the state's school nutrition programs.
"A healthy lifestyle is the foundation for academic success, and these schools have gone above and beyond to give their students the fuel they need to excel in the classroom," Putnam said in a statement.
The HealthierUS School Challenge is a joint effort with the Department of Agriculture and Consumer Services and the U.S. Department of Agriculture. The voluntary certification initiative recognizes schools' efforts to improve food and beverage options, offer nutrition education and promote physical activity.
Book lovers' paradise
#BringABook boom — Call it a success; Volunteer Florida and Leadership Florida are.
The two organizations recently announced that the second annual #BringABook service project collected 1,100 books for Florida students. The event — which was co-hosted by Leadership Florida and Volunteer Florida — was held in conjunction with Leadership Florida's 2017 annual meeting in Palm Beach County.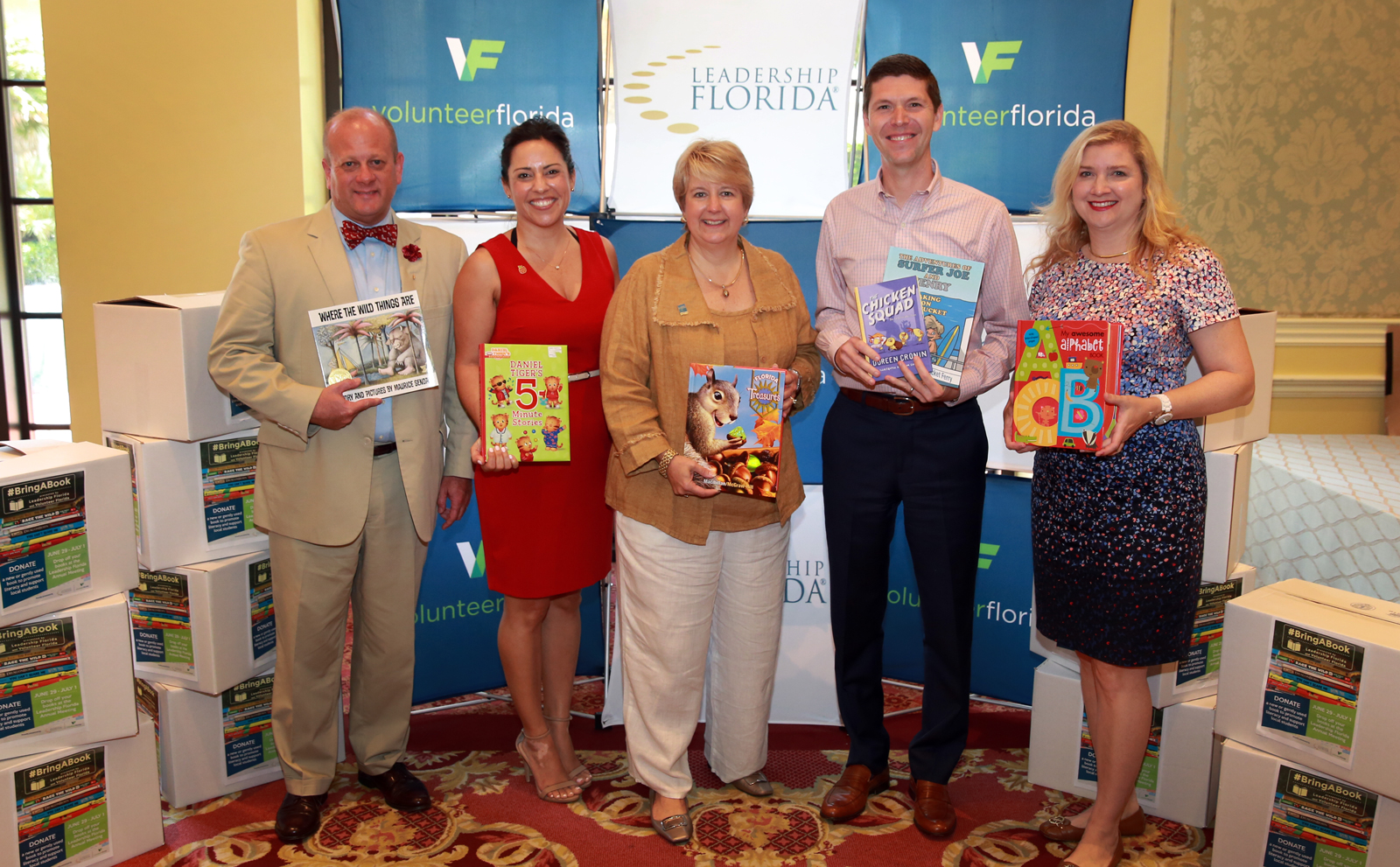 "Volunteer Florida was thrilled to host a #BringABook service project at the 2017 Leadership Florida Annual Meeting," said Volunteer Florida CEO Chester Spellman. "Leadership Florida members donated a record number of books for the event, and we are grateful for their generosity and support of literacy and student success."
The books will be donated to the Education Foundation of Palm Beach County and the Literacy Coalition of Palm Beach County.
"Leadership Florida is grateful to have partnered with Volunteer Florida to host #BringABook and collected over 1,100 books this year at our Annual Meeting," said Wendy Spencer, the president and CEO of Leadership Florida. "As statewide leaders, our members are dedicated to taking a stand for children and value ensuring all Florida students have an opportunity to read at home!"
—
Summer reading winners — Give these kiddos a round of applause.
Forty-five students from Alachua County are improving their reading skills thanks in large part to the Winning Reading Boost program.
Developed through a partnership with University of Florida College of Education's Lastinger Center for Learning and Sue Dickson, an award-winning author and publisher, the program teaches students how to read using a variety of engaging and effective strategies. The University of Florida selects, trains and certifies a team of energetic and passionate educators to deliver the Winning Reading Boost program.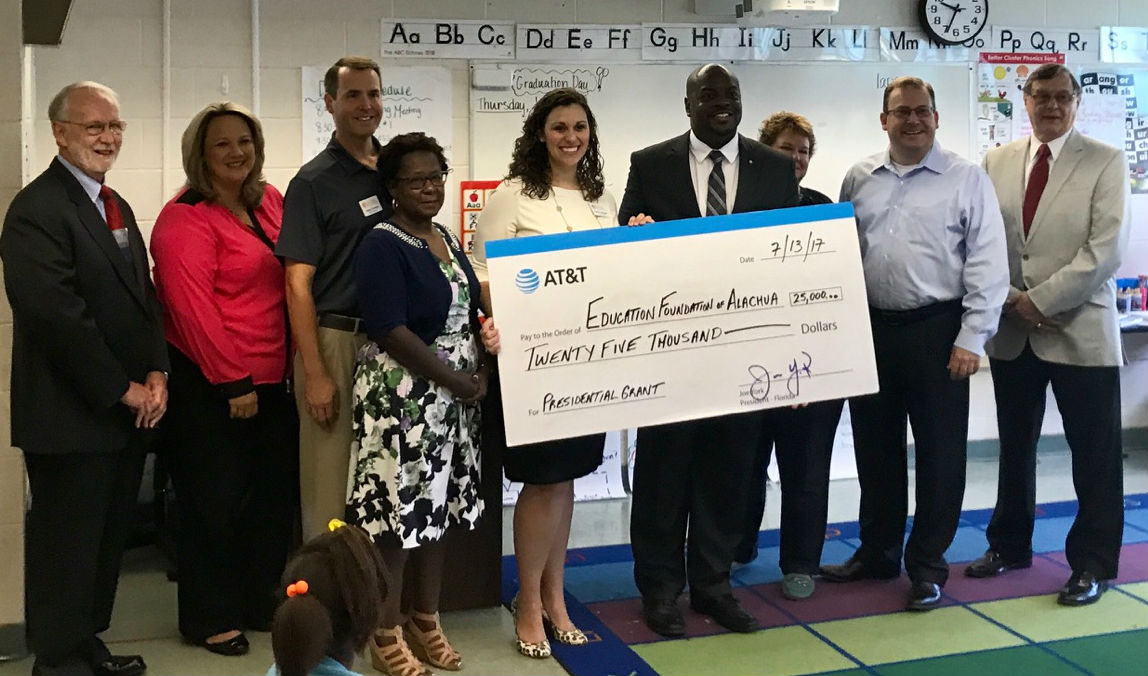 The six-week program is being administered at Lake Forest Elementary School, and this week former Tampa state Rep. Ed Narain, the regional director for AT&T, presented a $25,000 check to leaders from The Education Foundation of Alachua County for the program.
On the board
Kahn joins EFI board of directors — Ken Kahn is taking a seat on the Enterprise Florida Board of Directors.
Senate President Joe Negron announced he appointed Kahn to the board for a term ending July 5, 2021.
"Ken understands firsthand the opportunities available to businesses seeking to locate or expand here in Florida," Negron said. "He has a strong educational background and the diverse business and community service experiences needed to excel in this position. I am confident Ken will be a strong advocate for Florida businesses, and I am grateful that he has agreed to join the Enterprise Florida Team in this important capacity."
Kahn is the president of LRP Publications, a legal and professional publishing company. He serves on the Palm Beach County Education Commission, the Alliance for Eating Disorder Awareness, and the executive committees of Business Development Board of Palm Beach County, the Economic Council of Palm Beach County, and Kravis Center Corporate Partners.
Kahn graduated from Cornell University and Harvard Law School. He has five children, and currently resides in Palm Beach Gardens with his wife and two daughters.
—
Britt reappointed to West Orange Healthcare District — Ward Britt is sticking around.
Gov. Scott announced this week he re-upped Britt, a 76-year-old retiree and Windermere resident, to the West Orange Healthcare District board. The U.S. Air Force veteran was reappointed to a term ended Sept. 30, 2020.
Scott also appointed Gerald Jowers to the board for a term ending Sept. 24, 2017. Jowers, a 69-year-old Winter Park resident, is the president of G.J. Batteries, Inc. & U.S. Lead, Inc.
Established by the Legislature in 1949, the West Orange Healthcare District is governed by a board of 16 trustees who aim to address the health and wellness needs of their community.
Combating anti-Semitism
It's time to appoint a special envoy to monitor and combat anti-Semitism at the State Department.
That's the message a bipartisan coalition of Florida lawmakers recently sent to President Donald Trump when they signed onto a letter authored by the National Association of Jewish legislators calling on the president to fill the position.
"The United States' role in combating anti-Semitism and in the fight for human rights worldwide is unquestionably of the utmost importance," said Rep. Richard Stark, a Weston Democrat, in a statement. "That is why it is vital that President Trump fill this vacant position as quickly as possible so that America remains a leader the rest of the world can look to on these issues.
"All nations must be assured that the United States will not tolerate and will work to end anti-Semitism wherever it is found."
The special envoy position was created in 2004 to document abuses against Jewish communities abroad, as well as "develop and implement approaches to fight anti-Semitism."
The letter was signed by legislators in 26 states, including six members — Reps. Stark, Lori Berman, Randy Fine, Joe Geller and Emily Slosberg, and Sen. Kevin Rader — from Florida.
Money back guarantee
Missing moolah? Time to check the Division of Unclaimed Property.
CFO Jimmy Patronis announced this week that the division returned $313 million during fiscal 2016-17, the highest annual return figure in the program's 56-year history. According to Patronis' office, more than 513,000 claims were paid out last year, a double-digit increase over the previous fiscal year.
"I am impressed with the incredible accomplishments of the unclaimed property program, and I look forward to its continued success in the future," Patronis said in a statement. "It's easier than it might seem to lose track of an account, and I want all Floridians to know that we're working to return their hard-earned funds back to them."
Nearly 5 million claims have been paid since the program was created in 1961. The most common type of unclaimed property, according to the department, are dormant accounts from financial institutions, insurance and utility companies, and securities and trust holdings. Unclaimed property can also include tangible property like watches, jewelry, coins and other currency.
Signed, again
Fighting a crisis — The state's battle against opioids was in the limelight this week, as Gov. Scott held ceremonial bill signings in Sarasota and West Palm Beach.
Scott ceremonially signed legislation (HB 477) that creates new penalties and enhances existing penalties when it comes to synthetic opioid drugs, including fentanyl. The bill, which Scott officially signed on June 15, goes into effect on Oct. 1.
"This bill gives our agency more resources to combat opioid abuse and keep vulnerable Floridians safe from harm," said Sarasota County Sheriff Tom Knight in a statement. "We appreciate the support of Governor Scott and our state leaders as we continue to work together fight the national opioid epidemic."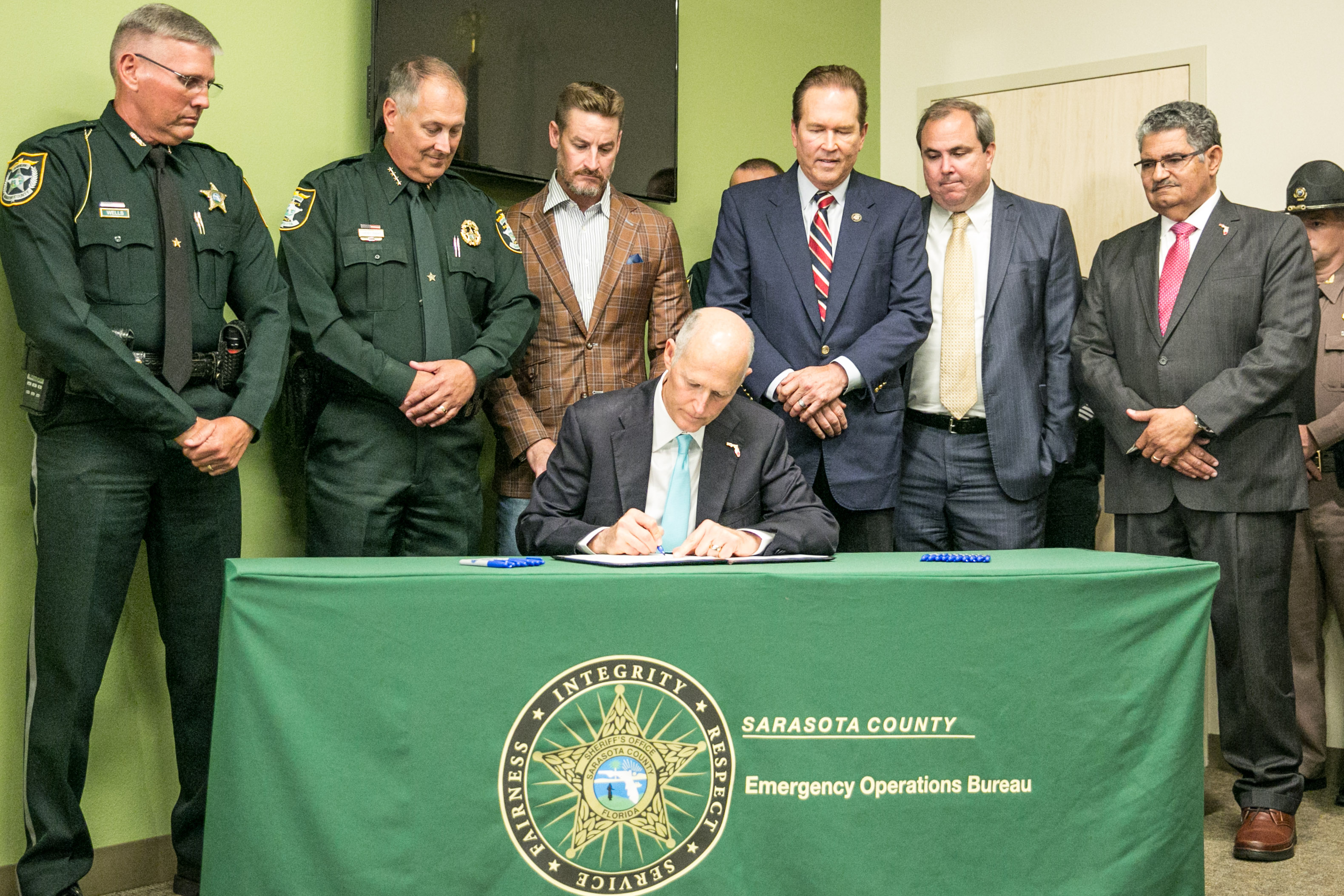 The governor also used the events to highlight more than $27 million federal grant funding made through the Public Health Emergency declaration earlier this year. The Florida Department of Children and Families allocated $375,000 to the Florida Department of Law Enforcement for Naloxone so first responders can have access to the lifesaving drug to respond to overdoses.
"I appreciate the Governor being here today to highlight this important issue in our community," said Senate President Joe Negron in a statement after the West Palm Beach event. "My Senate colleagues and I are thankful for the Governor's leadership, and we are very grateful to the law enforcement officers who are on the front lines and see the real impacts of the opioid crisis day in and day out. We want to make certain these brave men and women have the tools they need to keep our communities safe, and this legislation is a step in the right direction."
—
Pay bump — The state's law enforcement officers will see a little extra cash in their pockets.
Gov. Scott highlighted pay raises for the state's sworn state law enforcement officers, correction officers and state employees during stops in Fort Myers and South Florida this week. The governor in June signed the bill (SB 7022) providing pay raises.
The measure, which went into effect July 1, authorizes a 5 percent pay increase for sworn law enforcement officers with the Department of Highway Safety and Motor Vehicles, Florida Fish and Wildlife Conservation Commission, Florida Department of Law Enforcement, Florida Department of Agriculture and Consumer Services, Florida Department of Financial Services, and State Attorney offices.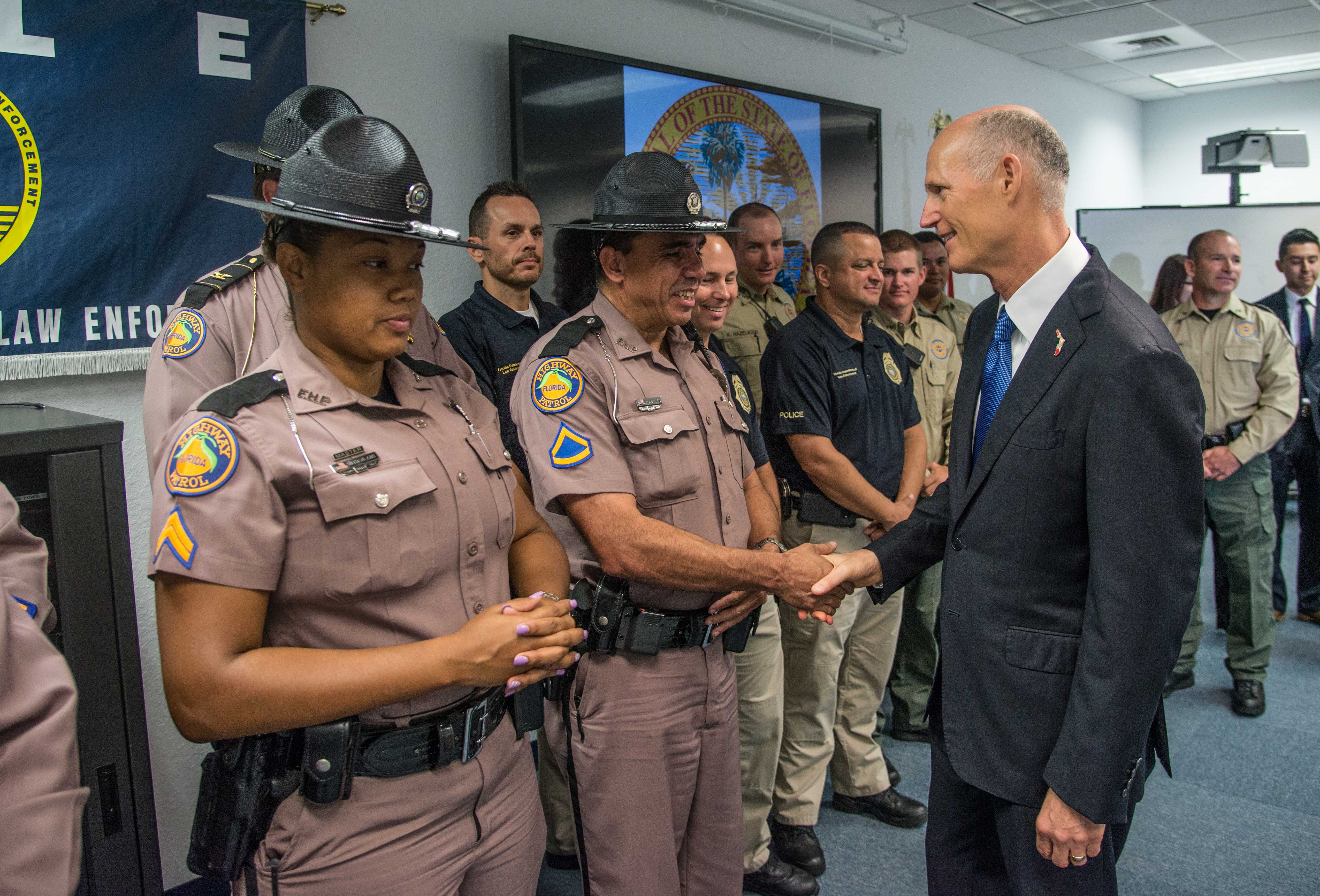 "I am proud to highlight the raises that our hard working state employees and law enforcements officers will receive in our Fighting for Florida's Future budget," Scott said in a statement. "With a 46-year low in crime, Florida's law enforcement officers and state employees help make our state the best place in the nation to live, work and raise a family. I am proud of all they have accomplished for Florida families."
Despite the increase, pay for state troopers still lags behind surround states.
'Fess up
Heading to Denver later this month for the ALEC meeting? Common Cause wants to know.
Liza McClenagan, the state chairwoman of Common Cause Florida, said in a letter to Republican Reps. Neil Combee and Mike La Rosa that "Florida voters have a right to know who is attending and paying the way for this secretive special interest conference."
"Transparency and accountability are a cornerstone of American democracy," wrote McClenagan. "If legislators think they can go to these secret meetings funded by some of the largest corporations in the world without public notice, they are wrong. The people are watching and want to know who is paying their way."
ALEC, or the American Legislative Exchange Council, brings state lawmakers and corporate representatives together to create and lobby for the passage of model bills, which legislators then bring back to their respective states. Combee and La Rosa are the organization's Florida state chairs.
Common Cause Florida also wants Combee and La Rosa to release who is pay for travel, lodging and registration fees to the annual conference.
Need a volunteer
Help is on the way for the state's volunteer fire departments.
CFO Patronis launched the Florida Firefighter Grant Assistance Program this week, delivering a check to the Monticello Volunteer Fire Department. The grant program aims to help volunteer fire departments across the state by making funding available to purchase fire safety equipment.
"Florida's firefighters lay their lives on the line every day to protect our friends and family, and I'm proud to lead a program that will help them purchase better protective gear," Patronis said in a statement. "As this new program grows, we'll keep working until every fire department across Florida has the resources they need to keep themselves and our citizens safe."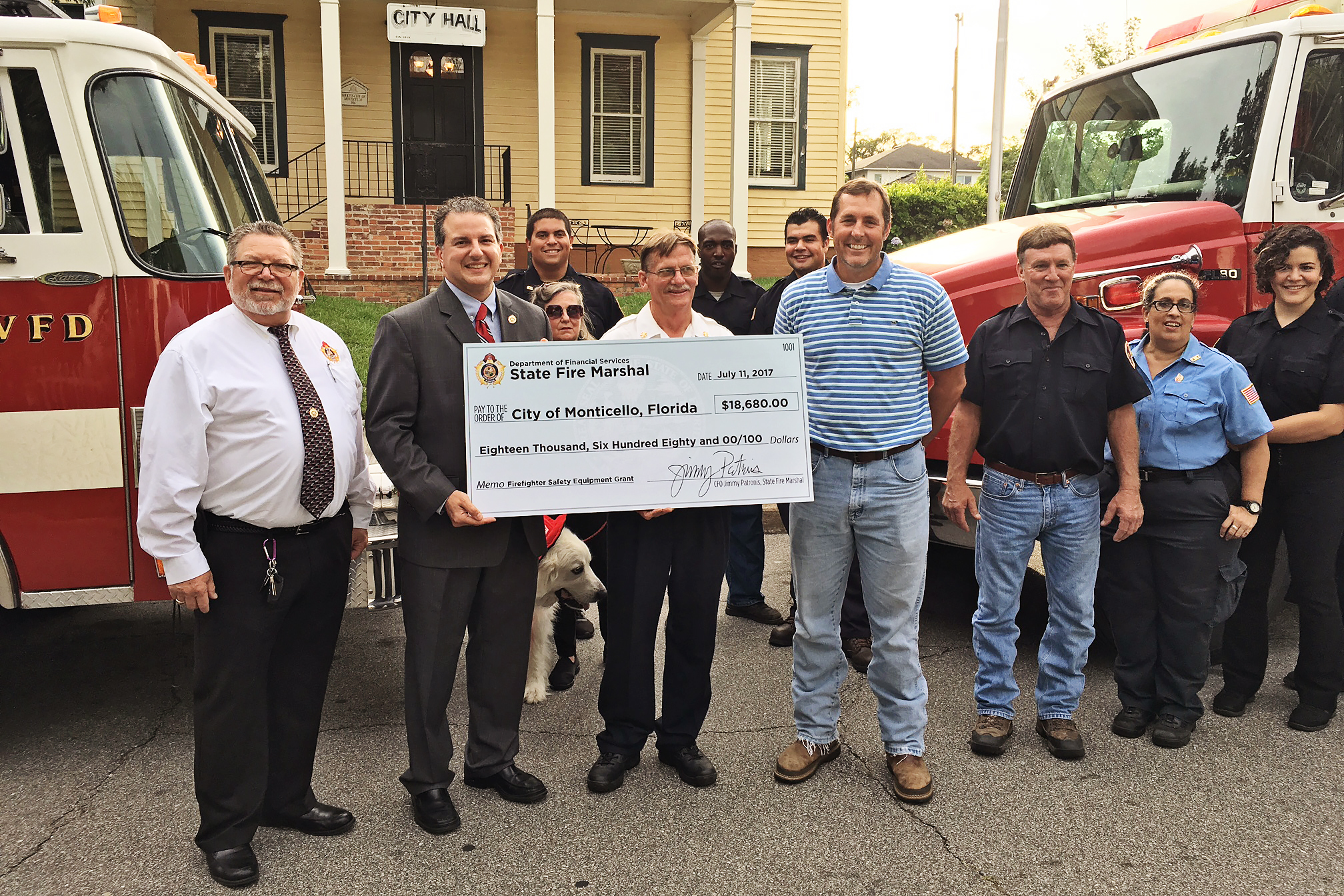 An estimated 12 million Floridians depend on the services provided by volunteer firefighters; however, a wide variety of the departments lack the resources needed to supply firefighters with current safety equipment and training.
During the first year, nine fire departments will receive a total of $150,000. The Legislature increased second year funding to $1 million.
"I've seen the needs of volunteer fire departments first hand, and I know this program will save lives by offering better protection to the first responders who run straight into dangerous situations," said Rep. Halsey Beshears, the Monticello Republican who sponsored the 2016 legislation that created the program. "I thank CFO Patronis for offering me the opportunity to join him in delivering the very first grant funds."
Ideas please
The money is in the bank; now economic development leaders are looking to spend it.
Gov. Scott announced this week that Enterprise Florida and the Department of Economic Opportunity are accepting economic development project proposals for the newly created Florida Job Growth Grant Fund.
"With more than 1.37 million jobs created across our state since December 2010 and the lowest unemployment rate in nearly 10 years, it is clear that Florida's economy has experienced incredible growth. However, we are competing against other states and countries for new jobs, and we must aggressively fight to make Florida the best destination for business," said Scott in a statement.
"That is why I worked with the Legislature to establish the new $85 million Florida Job Growth Fund, which will invest in infrastructure and workforce training needs across the state- two major factors that job creators consider when choosing an ideal location."
The $85 million fund was created during the recent special session. The program, according to the Governor's Office, will be used to promote publican infrastructure and individual job training. The DEO will work with Enterprise Florida, and other state and local organizations, to identify projects for funding.
"Communities across Florida have so many opportunities for economic development and job growth," said Cissy Proctor, the executive director of the DEO, in a statement. "The Florida Job Growth Fund allows DEO to provide needed flexible funding to enhance infrastructure and develop a strong workforce across the state."
Main Street, Fla.
Nice street, Venice!
Secretary of State Ken Detzner announced the Venice MainStreet program was designated the July 2017 Florida Main Street Community of the Month.
"Venice is one of our oldest Main Street organizations and its impact on the community is reflected in all of its great successes," Detzner said in a statement. "Venice is home to many community events, concerts and fairs, and has become a model for Main Street programs in Florida."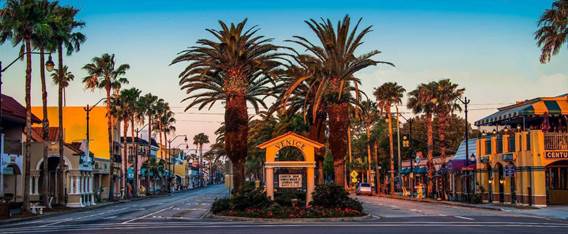 The Venice MainStreet program was started in 1988, and has resulted in the development of nearly 1,000 jobs, 300 businesses and 31,000 hours of volunteer support.
The district includes a variety of restaurants, bars and shops, many of which are in historic buildings. The organization also organizes arts, community and musical festivals, including juried art shows, craft festivals and blues festivals.
—Editor's Note: Because of a typing error, we misspelled Rep. Randy Fine's name in the last edition of Capitol Directions. Our apologies to him, and to all the "Randy Finr"s out there. And now, this week's edition of Capitol Directions: