The newly renovated Florida Senate chamber will ceremonially open Monday, and don't expect another re-do for a very long time.
"We believe the historic components of the remodel have created a timeless design that will limit the need for future renovations," outgoing Senate President Andy Gardiner said in a statement.
The re-opening will take place 3 p.m., the day before the new Legislature's Organization Session. The project began minutes after last session's Sine Die, with sergeants-at-arms hauling chairs and other furniture out of the chamber.
The chamber features redone walls, new desks, and new carpet. Senators will stand under a new ceiling dome, modeled after one in the Historic Capitol.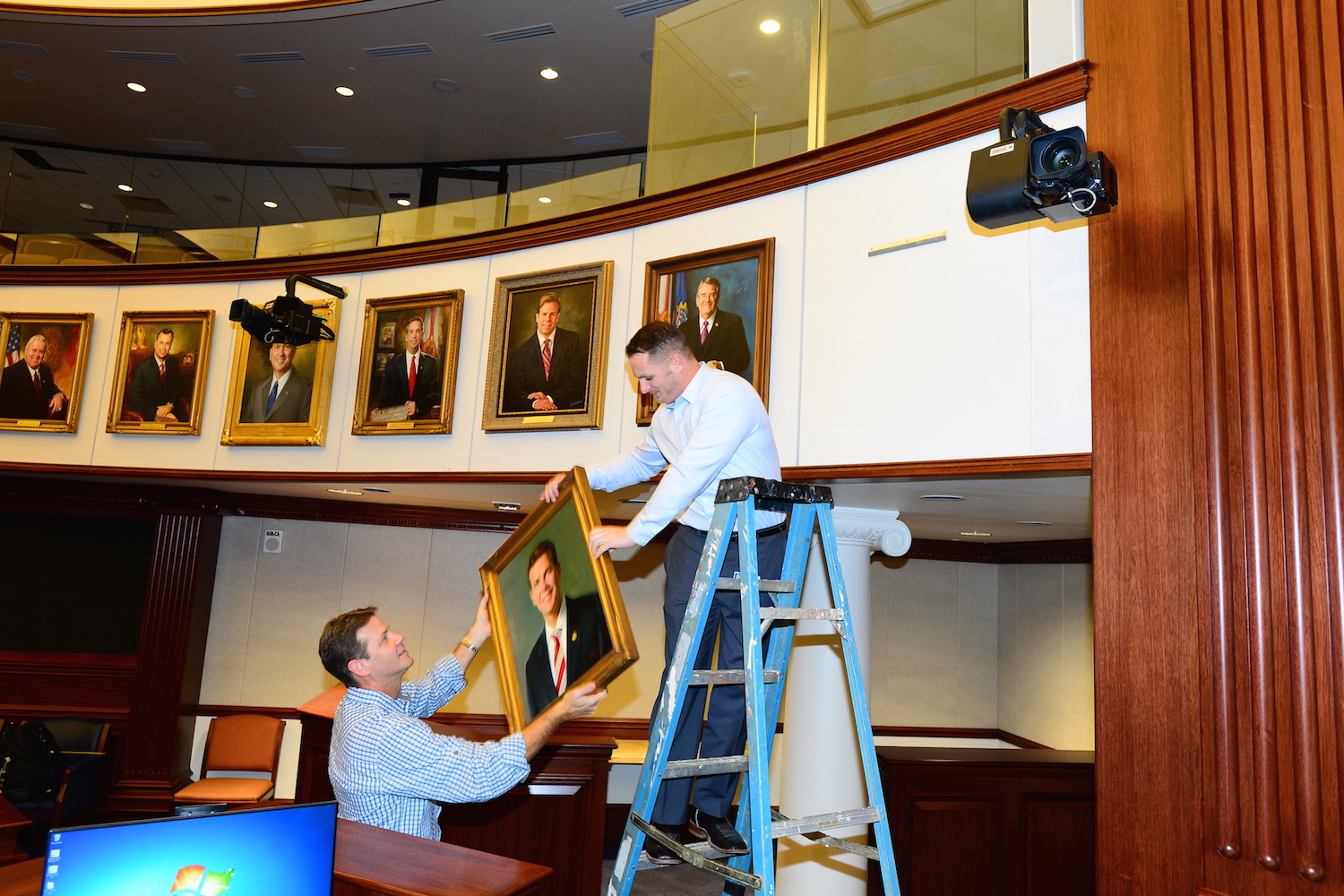 Also as planned, the nearly 40-year-old mural that greeted visitors to the 5th floor gallery has been removed and stored in the old Capitol.
It depicts a Confederate general and flag, which the Senate previously voted to remove from its official seal and insignia.
Gardiner had pulled the trigger on the upgrade, recognizing that the chamber "has received only minimal updates since its original construction in the 1970s," he said in a memo.
Design elements echo the Historic Capitol's exterior, such as a pediment on top of columns over the president's rostrum and the words, "In God We Trust." The renovation project was budgeted for $5 million.
"In my view, we are guests in this building and we have an important responsibility to adequately preserve and maintain (it), Gardiner said.
Coming up, the usual assortment of tidbits, leftovers and not-ready-for-prime-time moments by Jenna Buzzacco-Foerster, Michael Moline, Jim Rosica, and Peter Schorsch.
First, a quick note: We're taking next week off to spend some time with our families, enjoy the parade and football, and eat pie for breakfast, lunch and dinner. We'll be back with all the leftovers from the week that was on Dec. 3. So from our families to yours — Have a Happy Thanksgiving.
Now, the "Takeaway 5" — the Top 5 stories from the week that was:
­Presidential pow wow —  Gov. Rick Scott jetted off to New York City this week to congratulate President-elect Donald Trump in person, increasing speculation that he will join the Trump administration. The Naples Republican was an early supporter of the New York Republican, but has repeatedly said he would not take a job in the Trump administration. The two men met for nearly an hour this week, and the Naples Daily News reported they discussed health care. "I like my job," he said during a Fox News interview this week. Scott isn't the only Floridian being floated for a spot in Trump's Cabinet. POLITICO reported this week that outgoing Rep. Jeff Miller has said he would be opening to serving as the Secretary of Veterans Affairs if asked.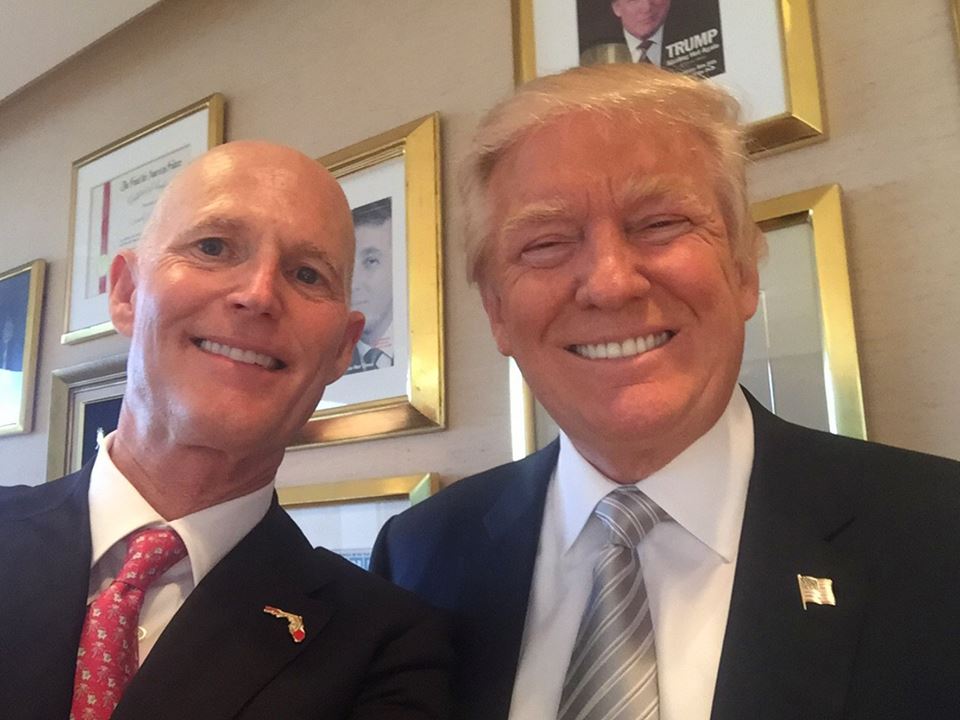 Countdown to 2018 — Thought you'd get a break before the next election? Think again. The 2018 gubernatorial race heated up this week, as a group of Democratic consultants started an effort to convince John Morgan to run for governor. Morgan, a top Democratic donor and Orlando trial attorney, expressed interest and laid his platform, but told supporters he has "much to think about and do" before making a decision. The Tampa Bay Times reported that former state Sen. Jeremy Ring is considering running for Chief Financial Officer. Statewide hopefuls aren't the only ones gearing up for 2018: Dozens of state lawmakers, including Reps. Colleen Burton, Dane Eagle, and Heather Fitzenhagen have already filed to run for re-election.
Dose of reality — Newly elected senators and representative headed to Tallahassee this week for new lawmaker orientation. Lawmakers were briefed on protocol and finances. Some newbies were met with a dose of reality, as lawmakers warned about the state's iffy revenue forecasts. The Legislature will have just $7.5 million in unallocated money to spend next session, and faces shortfalls worth $1.3 billion the year after and $1.9 billion the year after that.
New rules — The Florida Senate's new rules are out, but they don't contain the strict provisions of their House counterparts. The changes include increasing the ethics training requirement to eight hours, allowing the Rules Committee to report the "findings concerning a senator's appeal of his or her removal from committee," and changes the call to end a committee meeting from "rise" to "adjourn." Unlike the House, the new Senate rules only address lobbyists in the context of being on the floor while the Senate is in session. "During a sitting, no person admitted … shall engage in any lobbying activity involving a measure pending before the Legislature during the legislative session," it says.
Shifting unions — Prison and probation officers are giving the Teamsters the boot after five years. The Tallahassee Democrat reported this week that corrections officers have rehired the Police Benevolent Association as their bargaining agent. The PBA collected 3,645 ballots compared to 1,145 for the Teamster's 2011. Corrections officers fired the PBA in 2011, after five years of no pay hikes and deteriorating working conditions. The Teamsters have until Nov. 30 to challenge the results.
—
Guardian Health Services has joined Florida's digital patient-records network.
The Florida Agency for Health Care Administration announced the move this week involving the Florida Health Information Exchange's patient look-up network, which comprises more than 400 hospitals and health care providers.
Guardian provides home-health services and runs Florida Accountable Care Services, a management service for networks of Medicare health services providers.
The network allows medical staff to review a patient's complete medical records and avoid duplication and harmful drug interactions, the agency said.
Patient data are stored on secure local servers run by regional networks, called "nodes," but are accessible to medical teams throughout the larger, statewide exchange.
"As the patient look-up network continues to expand, each additional member supports the effective use of electronic health record technology by creating a more robust framework," said interim Secretary Justin Senior.
—
They went for the "gold," and they got it.
The body that accredits law enforcement organizations has given its "gold standard" designation to the Florida Highway Patrol, the agency announced this week.
"This is the first time FHP pursued and achieved the gold standard accreditation, which distinguishes FHP as a leading law enforcement agency in the nation," its press release said.
The Commission on Accreditation for Law Enforcement Agencies (CALEA) issued its decision Nov. 5 at a meeting in Charleston, South Carolina.
The patrol is under the Florida Department of Highway Safety and Motor Vehicles (DHSMV).
DHSMV Executive Director Terry L. Rhodes said, "FHP members have a very demanding job, and the gold standard accreditation recognizes the high standard in which they perform their duties."
The commission "determined that the FHP is an effective and professional law enforcement agency that provides quality service to a diverse service population during challenging economic times," the release said.
"The commission also added that the FHP works hard and uses the resources available to achieve their objectives and remains focused on providing courteous and responsive services to citizens."
—
The Florida House is attracting all the attention for tearing up the rule book. Speaker-designate Richard Corcoran plans to tighten ethics guidelines considerably, and would require members to file budget requests in the form of actual proposed bills — not lines slipped into the massive appropriations bill.
Senate President-designate Joe Negron insists he's all about an "open, transparent budget process," too.
As a former Appropriations Committee chairman, he allowed public comment during conference committee meetings. "I'm the one that got the public right to speak bill passed, so that the public can be heard," Negron told reporters.
"I think it's important that the entire Legislative session, when we have tens of thousands of our constituents coming to see us, that we make sure their input is heard during the entire session," he continued. "The public's business should be done in public and in the sunshine. I've always been committed to that process."
—
Senate President-designate Negron shared with freshmen state Senators advice he'd received as a young lawmaker from then-House Speaker Allan Bense.
"The most important character trait in this process is keeping your word," Negron said.
Colleagues will remember if you back out of a commitment to support a bill or amendment, he said.
"My view is, if something changes, you can always talk to the person and say, 'Look, I've had a chance to read that and I have an issue here or there,' " Negron said.
"Be cautious in giving your commitment to someone," he continued. "I can remember one time I ended up voting for a bill I wasn't crazy about because I had a too-early commitment to it without hearing all the ramifications. But I figured, 'That's on me. That's not on the person who asked.' "
Florida Agriculture Commissioner Adam Putnam says "two of Florida's biggest rivals, the Florida State Seminoles and the Florida Gators, are competing on and off the field to highlight Florida's farmers, ranchers and fishermen."
Putnam announced this week the Florida Department of Agriculture and Consumer Services' sponsorship of the "Fresh From Florida Sunshine Showdown." It'll promote "Florida's abundance of fresh produce and seafood in 13 head-to-head match-ups over 10 sports between the two schools."
The Sunshine Showdown taps into "one of the most historic rivalries in college sports to not only provide nutritional education to the expansive fan base of these two teams, but to also encourage friendly competition."
Fans can visit SunShineShowdown.com to register for a chance to win a trip to their team's bowl game and 2017 season football tickets in the "Fresh From Florida Sunshine Showdown Sweepstakes." They can also represent their team by submitting pictures to the "hashtag battle" and using #UFroots or #FSUroots to track team support.
—
Twenty senior executives graduated from the Florida Criminal Justice Executive Institute's Chief Executive Seminar this week in Tallahassee.
The goal of the seminar is to prepare Florida's criminal justice leadership for the demands of the future. Class participants study trends and events that may affect criminal justice professionals and Florida, while developing new leadership skills.
The institute was established within the Florida Department of Law Enforcement and affiliated with the state university system in 1990 by the Florida Legislature.
The 2016 graduates are Special Agent in Charge Danny Banks with the Florida Department of Law Enforcement in Orlando; Col. Simon J. Blank with Florida Division of Investigative & Forensic Services at Florida Department of Financial Services; Assistant Chief Josh Cramer with Bradenton Police Department; Deputy Secretary Ricky D. Dixon with the Florida Department of Corrections; Deputy Director Matthew R. Dunagan with the Florida Sheriffs Association; Maj. Warren K. Fast with the Florida Highway Patrol; Acting Director Mark A. Flowers, Volusia County Division of Corrections; Special Agent in Charge Thomas J. Foy with Florida Department of Law Enforcement – Tampa Bay; Assistant Chief Barry E. Fox with the St. Augustine Police Department; Director J. Mark Glass with the Florida Department of Law Enforcement – Statewide Intelligence; Undersheriff Steven C. Harker with the Okaloosa County Sheriff's Office; Lt. Richard J. Jones with the Ocean Ridge Police Department; Lafayette County Sheriff Brian N. Lamb; Assistant Chief James G. McGrew with the Tequesta Police Department; Chief John P. O'Grady with the Mount Dora Police Department; Director Michelle B. Pyle with the Florida Department of Law Enforcement – Business Support; Commander Robert A. Rizzotto with the South Palm Beach Police Department; Chief Lou Tomeo with the Seminole County Sheriff's Office; Col. James W. Wiggins, Sr. with the Florida Department of Agriculture & Consumer Services at the Office of Agricultural Law Enforcement; and Lt. Dexter L. Wimberly with the Florida School for the Deaf & the Blind Campus Police.
—
Secretary of State Ken Detzner announced the A.C. Read Golf Club, located at the Naval Air Station Pensacola as this month's featured course on the Florida Historic Golf Trail.
"In commemoration of Veterans Day this November, we honor those who have served in the United States military and are pleased to feature the historic A.C. Read Golf Club as a partner on the Florida Historic Golf Trail," said Detzner. "With terrific views along Bayou Grande, this golf course has been part of the Naval Air Station Pensacola since World War II, providing service members, their families and the public a challenging golf course in a beautiful setting."

The course was constructed by Naval Air State Pensacola in 1942 to give soldiers stationed there some recreational opportunities. Nowadays, the A.C. Read Golf Club is a public 27-hole golf complex made up of three 9-hole courses that are played in 18-hole combinations.
"We are thrilled to be chosen as this month's featured course on the Florida Historic Golf Trail," said Steve Bobe, general manager of A.C. Read Golf Club on board Naval Air Station Pensacola. "Known as the 'Cradle of Naval Aviation' our incredible legacy is strengthened by a multi-million-dollar Jerry Pate redesign in 2003. We are also the home of the world famous Blue Angels. Check the practice schedule and come enjoy your own personal air show right over your head as you play!"
—
Babcock Ranch Preserve is open for business.
Agriculture Commissioner Putnam announced this week that the state transferred the management of the nearly 70,000-acre ranch to Tarpon Blue Resources and Land Management.
"This new agreement honors the agricultural heritage of the land by keeping the ranch in private cattle production while allowing the state to focus our attention on expanding recreational opportunities for the public. It is a model for others to follow," said Putnam in a statement. "With the rapid growth of our state, protecting our environmental resources, keeping the ranch in agricultural production and providing recreational opportunities to the public is more important than ever."
Purchased by the state in 2005, Babcock Ranch was the single largest state conservation land acquisition in the state's history. The Legislature in 2015 established the Babcock Ranch Preserve Act to protect and preserve the agricultural, scientific, scenic, geologic, watershed, fish, wildlife, historic, cultural and recreational values of the preserve.
—
Congratulations, Pat Geraghty.
The Florida Council of 100 announced this week Geraghty will serve as the chair for the 2016-18 term. Geraghty, a member of the Council since 2012, is the CEO of GuideWell Mutual Holding Corporation and Florida Blue.
"Anyone who has known and worked with Pat Geraghty knows of his integrity and exceptional ability to get a job done," said Steve Halverson, who served as the chair from 2010-12 and in 2014. "The Council is fortunate to have him in this role."
Formed in 1961, the Florida Council of 100 is a private, nonprofit, nonpartisan organization aimed at improving the quality of life and economic well-being of Floridians.
—
Florida's delegation this year's World Travel Market London tradeshow included more than 100 representatives of record 32 organizations ranging from the largest resorts to individual hotels.
"This group conducted more than 720 appointments with senior travel trade executives showcasing the wide range of diverse travel experiences Florida has to offer," Alfredo Gonzales, vice president for international sales for Visit Florida, wrote on the tourism group's blog.
Participating destinations were keen to appeal to the U.K. Irish markets, he said. Universal Orlando pitched its latest addition, Aventura Hotel, scheduled to open in 2018.
—
New Yorkers love Florida.
New data from the American Community Survey shows more than 1.5 million Floridians were born in New York. That marks the largest migration between state of birth to state of current residence in the country. More than 68,200 New Yorkers moved to Florida in 2015, according to the U.S. Census Bureau.
While Florida continues to be a destination for people looking to make a move, the Census Bureau reported the percentage of Americans moving over a one-year period fell to 11.2 percent in 2016, an all-time low.
"People in the United States are still moving, just not to be the same extent as they did in the past," said David Ihrke, a survey statistician in the Journey-to-Work and Migration Statistics Branch of the U.S. Census Bureau.
According to the U.S. Census Bureau, the South saw the greatest number of people moving out in the one-year period. While 901,000 people moved out of the region during the year, the Census Bureau reported another 940,000 people moved in to the region.
—
Hitting the roadways this week for Thanksgiving? You aren't alone.
There's going to be more than 2.29 million motorists on Florida roads during the Thanksgiving holiday.
But don't worry, there's an easy way to track all that traffic. The Department of Transportation's free Florida 511 mobile app features an interactive map showing traffic speeds and incidents on roadways around the user's location. The routing feature also shows up to three routes to your destination, including information about travel times and incidents.
Based on FDOT's Thanksgiving 2015 traffic data, motorists can expect heavy congestion from 3 p.m. to 7 p.m. on Tuesday 22.; from noon to 3 p.m. on Wednesday; and from Noon to 7 p.m. next Sunday.
Head to www.FL511.com for interactive maps showing congestion, crashes, travel times and traffic camera views, or call 511 toll-free for updates.
The Florida 511 app is available on Google Play and the Apple App Store.
—
Attention, home cooks: CFO Jeff Atwater wants you to stay safe this Thanksgiving.
"I'm sure you watched the news stories or read articles about homes that burned down because a turkey fryer was going in the garage or because a hot pot on the stove was left unattended," said Atwater in his weekly newsletter. "With homes filled with guests and distractions at every turn, it's no wonder that accidents happen."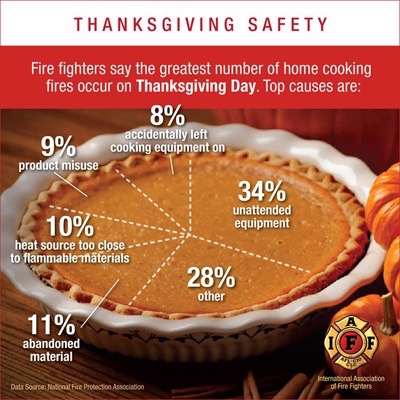 Atwater reminded Floridians to make sure the handles of the pots and pans on the stove were turned inward so they couldn't be knocked over. He also told Floridians to keep the kitchen floors "free of toys, pets and children so you can't trip over them."
And while fried turkeys are popping up on tables all across the state, Atwater warned the delicious main course could also be "incredibly dangerous is proper attention is not paid."
"Remember to take the turkey fryer to the end of the driveway — away from your home — and never fry a turkey in the garage," he said. "Common sense reigns supreme, so please exercise caution and good judgment as you prepare your family's feast."
—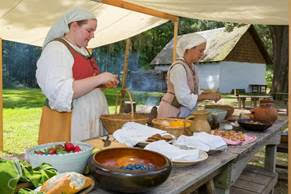 Want to start celebrating Thanksgiving a little early? If you're in Tallahassee, you can.
Mission San Luis will host a public demonstration of culinary traditions at the National Historic Landmark from 10 a.m. to 4 p.m., Sunday.
Visitors will get a chance to see how people and foods from the New and Old Worlds came together. Living history interpreters will take part in cooking demonstrations, cooking over a fire pit and smoking meat and fish on a barbacoa.
There will be discussions on hunting, sowing, growing and preserving food, and hands-on archery activities. Mission San Luis, billed as "Florida's Apalachee-Spanish Living History Museum," will also host a food drive for Second Harvest.
Mission San Luis is located at 2100 West Tennessee Street in Tallahassee. Admission is $5 for adults, $3 for seniors 65+, $2 for ages 6-17, and free for members, children under 6, and active duty military.
—
Here's this week's edition of Capitol Directions: