Florida House members better get used to flying commercial.
One of the new House rules, rolled out this week, prohibits members from flying on planes owned, leased, or paid for by lobbyists.
The proposed change is meant to end a common practice among lawmakers and the influence industry, according to House Speaker-designate Richard Corcoran.
The practice of hopping a ride on a lobbyist's plane is considered fairly common. Lawmakers often pay their own way, but it could create the appearance of impropriety.
The prohibition is expected to billed as a commonsense measure toward good government, and Corcoran is making the argument that lobbyists and their clients shouldn't be covering the cost of travel for members to do their jobs.
But Tallahassee could be one of the most difficult state capitals to get to in the country, especially from South Florida. It would take you about eight hours to drive from the House District 120 office in Key Largo to Tallahassee.
Want to fly? According to Expedia, there are four nonstop flights to Tallahassee from Miami International Airport, where many members of the South Florida delegation would fly from, on Monday, Dec. 5, the first day of the committee weeks in the Florida House. Most of the other flights have a layover in Atlanta.
At this rate, some House members may start considering RedCoach. At least they could get some work done during the ride.
Coming up, the usual assortment of tidbits, leftovers and not-ready-for-prime-time moments by Jenna Buzzacco-Foerster, Michael Moline, Jim Rosica, and Peter Schorsch.
Now, the "Takeaway 5" — the Top 5 stories from the week that was:
Moving on up — The Sunshine State helped send Donald Trump over the top, and now the president-elect could be eyeing a few Florida friends for top positions in his administration. POLITICO reported Wednesday that Attorney General Pam Bondi could be one of several people in the running for the Attorney General's position. When it comes to the Health and Human Services Secretary, Gov. Rick Scott is believed to be under consideration. Outgoing Rep. Jeff Miller's name has been mentioned for the Veterans Affairs Secretary, while outgoing House Speaker Steve Crisafulli has said he would consider a job with Trump if asked.
GOP in charge — Florida Republicans kept their control of the Florida Senate, despite a court-ordered redistricting that redrew political lines friendly to Democrats. The Florida Republican Senatorial Campaign Committee, led by Senate President-designate Joe Negron, raised more than $20 million, a record amount for Republican Senate races, according to POLITICO Florida. Republicans now have a 25-15 majority in the state Senate. Republicans Keith Perry, Dana Young, Anitere Flores, and Frank Artiles all won competitive races. Sen. Miguel Diaz de la Portilla lost his re-election bid, Negron's sole loss of the cycle.
Amendments galore — Medical marijuana proponents across the state celebrated this week, when voters overwhelmingly approved a constitutional amendment that would allow people with debilitating medical conditions, as determined by a licensed Florida physician, to use medical marijuana. The amendment received 71 percent support, significantly more than 60 percent needed to become law. Supporters of a solar power amendment weren't so lucky: Amendment 1, the utility-backed solar power amendment, received 51 percent of the vote. And in Monroe County, residents voted to support the Florida Keys Mosquito Control District's proposal to use genetically engineered, self-limiting mosquitoes to fight against the Aedes aegypti mosquito.
Happy days at Hard Rock — A federal judge ruled the Seminole Tribe of Florida can continue to offer blackjack and other "banked card games" to its Hard Rock Casino customers. U.S. District Judge Robert Hinkle said the state had broken an exclusivity deal with the tribe, part of what's called the 2010 Seminole Compact, allowing it to keep its blackjack tables until 2030. The Compact "afforded the tribe the right to conduct banked card games without competition from card rooms," the judge said. "This was perhaps the most important benefit the tribe obtained under the Compact. The most important benefit to the state was more than a billion dollars." A renewed blackjack deal struck by Gov. Rick Scott earlier this year promised $3 billion over seven years in revenue share to the state, but it failed to gain approval from lawmakers. It wasn't clear whether the adverse ruling would provide the impetus for the state to OK a new deal.
Change is coming — The new rules of the Florida House are out, and there's a lot of changes coming down the pike. The proposed rules increase the ban on former members lobbying their colleagues from two years to six years, and would let House members refuse to consider bill amendments on the floor if they are issues of "first impression" that haven't been vetted through the committee process. Other rules include heightened lobbyist registration requirements, such as disclosing every bill, amendment, and individual appropriation they are trying to influence. "The Florida House will set the standard for others to emulate," said House Speaker-designate Richard Corcoran in a statement. "And those who cannot live up to the highest ethical and professional standards will find the Florida House a difficult place to work or visit."
—
Speaking of the rules, Dominic Calabro has one thing to say: Way to go!
In a statement this week, the president and CEO of Florida TaxWatch said his organization has spent nearly four decades calling for more transparency in the process. The state, he said,  is best served when "elected leaders put hardworking Floridians first in every step of the legislative process."
"We commend House Speaker-designate Corcoran's efforts to increase accountability and transparency in the budget process," he said in a statement. "His goal of making sure every appropriation that is placed in the budget be scrutinized and debated is one we share. Floridians deserve assurance that their money is being invested in critical needs and projects that provide the best return."
—
A1A is back in business.
Gov. Scott announced this week A1A coastal byway in Flagler Beach had been re-opened. The announcement comes 18 days after Scott called on the Florida Department of Transportation to expedite restoration of two-way traffic on A1A in Flagler Beach. About 1.3 miles of the road were compromised and damaged by Hurricane Matthew last month, forcing road closures and traffic to be diverted.
"The Flagler Beach community relies on A1A for its livelihood and the road needed to be fixed immediately," said Scott in a statement. "As we recover from Hurricane Matthew, our top priority is to get people back to work and back in their normal routines. I appreciate the hard work that went into making this happen so quickly."
—
One bus, 12 days, 1,976 miles all for one mission: Build the reservoir.
The Everglades Foundation capped off a 12-day, 22-city bus tour this week aimed at building support for Senate President-designate Negron's proposal to build a water storage reservoir south of Lake Okeechobee in the Everglades Agricultural Area.
In August, the Stuart Republican announced he was planning to push for funding to buy land south of Lake Okeechobee to construct water storage reservoirs. The Everglades Foundation bus tour was meant to rally support for the proposal, said Eric Eikenberg, CEO of the Everglades Foundation.
"We are recruiting an 'Everglades Restoration Army' that will stand shoulder-to-shoulder with incoming Senate President Negron when the Florida Legislature takes up his proposal to buy land for the reservoir south of Lake Okeechobee," said Eikenberg in a statement.
The organization said it gathered more than 7,000 signatures for the "#NoworNeverglades Declaration during the road trip.
—
There's a few new members on the state's Board of Occupational Therapy Practice.
Gov. Scott appointed Paul Arthur and Peter Hendriksen to board, which licenses and regulates practitioners in the field, this week.
Arthur, of High Springs, a provisional research assistant professor at the University of Florida, will fill a vacant seat through October 2020. Hendriksen, of New Port Richey, works as a respiratory therapist at Suncoast Pulmonary Diagnostics Inc. His term runs through October 2018.
Scott also reappointed three people to the Regulatory Council of Community Association Managers.
The governor reappointed Angela Phillips, a 53-year-old Satellite Beach resident, and Robert Sibley, a 72-year-old Winter Springs resident, to terms ending Oct. 31, 2019. Phillips is the owner of Dependable Property Management; while Sibley is a retired financial manager with Charles Schwab and Company.
Scott reappointed Lisa Riddle, a 53-year-old Boynton Beach resident and vice president of operations for GRS Management Association, Inc., to a term ending Oct. 31, 2020.
Scott also named former Rep. Doug Holder to the Sarasota Manatee Airport Authority's board. Holder served in the state House between 2006 and 2014, but finished second in a crowded race for the GOP nomination in Senate District 23.
Scott turned to Lynda Bell, a former Miami-Dade county commissioner, to fill a vacancy at the Florida Communities Trust. She finished third in the GOP primary in House District 118.
Bell, president of Florida Right to Life, will serve through 2019, subject to confirmation by the Florida Senate.
The trust administers state grant programs that help local government and nonprofit organizations develop parks and open space, and supports aquaculture.
—
Got a kiddo? Better start saving for college.
The open enrollment period for the Florida Prepaid College Board's five prepaid tuition and prepaid dormitory plans in now underway.
"Prepaid Plan prices for this Open Enrollment period remain near the historic lows we have seen for the past three years," said Board Chairman John Rood. "We encourage families to start saving now, by selecting the plan that best fits their college savings goals."
This year, families can purchase a 4-Year Florida University Plan for a newborn for as low as $187 a month, a 2 + 2 Florida Plan for under $148 a month or a 4-Year Florida College Plan for less than $117 a month. The 1-Year Florida University Plan for a newborn starts as low as $47 per month and covers 30 university credit hours.
If a child attends an out-of-state college or private college, Prepaid Plans will pay the same amount as they would pay at a public college or university in Florida.
Open enrollment runs through Feb. 28.
—
Gov. Scott watched the election results Tuesday, but wasn't following along too closely.
Scott said was too busy overseeing voting and counting by the Florida Department of State to watch. The Naples Republican told reporters his most important job "was to make sure we had an election that everybody was happy about in Florida."
"That was my most important job," said Scott, who served as chairman of a pro-Donald Trump super PAC. "To be governor and make sure that people thought that, whoever won, it was an honest, fair, ethical election."
—
Just call it economic progress.
This week marked the five-year anniversary edition by state Chief Financial Officer Jeff Atwater of Florida's Bottom Line, a quarterly online magazine containing news and analysis about the Florida economy.
"When I took office in 2011, Florida remained in the midst of a recession that hit our state more severely than others, and in this edition, we recapped the journey that we have been through, the obstacles that we have overcome, the challenges that we have conquered, and the achievements we have earned," Atwater said in a statement.
Since then, "Florida has added nearly 1.25 million private-sector jobs, tourism has skyrocketed, GDP is up, unemployment has decreased by 6.5 percent, and home prices have returned to their pre-recession values," according to a news release.
—
Congratulations, Eastern Shipbuilding.
The Bay County company was chosen as the best company to build nine offshore patrol vessels for the U.S. Coast Guard. The contract, according to the governor's office, has the potential to be more than $10 billion.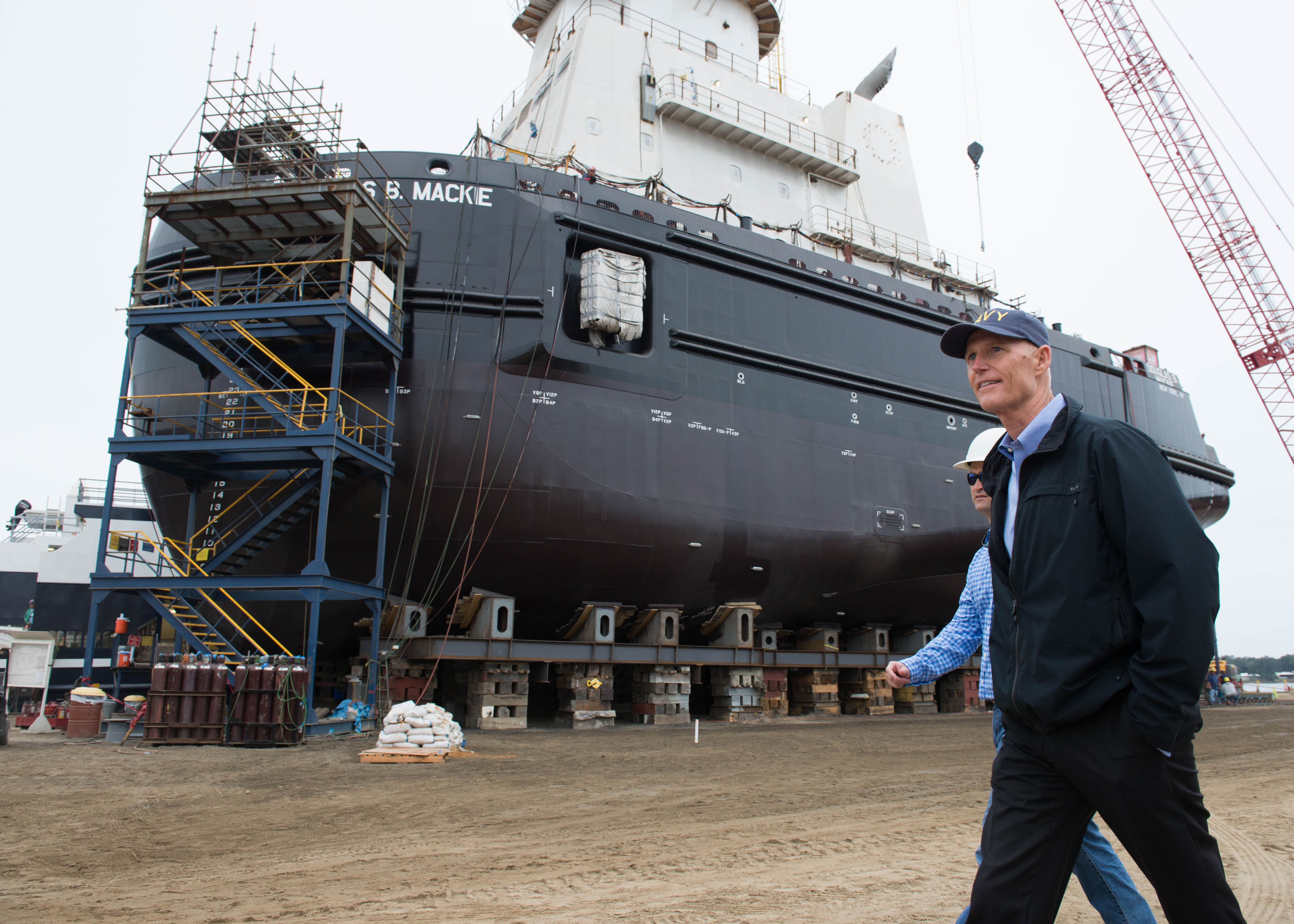 "This is a huge win for Florida and for Bay County and shows how important it is to do all we can to make Florida more competitive so more companies like Eastern Shipbuilding will choose to invest in our state," said Gov. Scott in a statement. "I am very proud of the work Eastern Shipbuilding has done to win this contract and I would like to congratulate all of the hard work you put in to secure this opportunity."
Eastern Shipbuilding is a family-owned company with headquarters in Bay County. The company currently has a portfolio of over 350 vessels.
—
Dismal third quarter earnings for Hertz Global Holdings could mean bad news for Florida taxpayers.
Florida Watchdog reported this week that Hertz Global Holdings, the parent company for Hertz rental car, reported earnings of $1.50 a share, missing forecasts of $2.73 per share and causing a drop in the company's stock price.
The stock closed at $35.74 per share. According to Florida Watchdog, by noon Tuesday the price dropped to $20.05 a share.
Hertz received an $85 million tax credit and economic incentive package from Enterprise Florida, the state's public-private business development organization, and Lee County government. The rental car giant moved its corporate office from New Jersey to Estero as part of the deal.
Florida Watchdog reported Hertz is required to "make a $57 million capital investment for its Estero headquarters and create 700 new jobs." The company, the news organization reported, spent $38 million in capital investments to-date and created 150 jobs as of March.
—
Emergency response teams will get a boost from Volunteer Florida.
Volunteer Florida announced it was awarding $300,000 in federal funding to 40 law enforcement organizations, local emergency management offices, municipalities, and counties across the state to establish and enhance Community Emergency Response Teams across the state.
"Volunteer Florida's CERT funding specifically trains Floridians to take action following emergencies or disasters like hurricanes and tornadoes," said Chester W. Spellman, Volunteer Florida chief executive officer. "This unique training allows citizens to support the critical work of our emergency management officials by deploying CERT volunteers when they are needed, saving taxpayer dollars."
The program was created as a grassroots approach to encourage neighbors helping neighbors in the event of emergencies and disasters. Grantees conduct emergency management training to enhance the capabilities of local emergency management personnel. Once trained, grantees deploy citizens to impacted areas to assist in response and recovery.
—
The Florida citrus forecast is looking up.
Florida growers are projected to harvest 72 million boxes of oranges in 2016-17, according to the U.S. Department of Agriculture's crop update. That marks a 3 percent increase from the October report.
The The Ledger of Lakeland reported the additional boxes will come from the early and mid-season orange crop, about 36 million boxes. The newspaper reported another 36 million boxes projected for Valencia oranges will be picked between March and June.
The USDA held its grapefruit projection at 9.6 million boxes, and dropped the estimate for tangerines to an estimated 1.5 million boxes.
—
Congratulations, Valerie Wickboldt!
Wickboldt announced this week she was leaving the James Madison Institute to join the Florida Department of Revenue. She will serve as the agency's director of communication.
"Through my time at JMI, I've met some wonderful people who deeply care about Florida's families and the state's economic future," she said in an email. "I'm very fortunate to have had this experience."
Wickboldt also has been director of communications and development at CoreMessage, Inc. and communications director for the Boys & Girls Club of Big Bend. She graduated from Florida State University.
—
Usually during hearings in the Florida Capitol, the questions come from the people in suits sitting behind the big bench up front.
On Thursday, members of the public were welcome to query state agency officials as they outlined spending requests for FY 16-17 to Gov. Scott's aides.
One thing they learned is that the Florida Office of Insurance Regulation is having trouble retaining actuaries, and wants $1.2 million to boost its analytical firepower. Agency budget director Richard Fox said the increase would mean promotions bringing higher pay for some actuaries and other staff, but the office would save on turnover.
Savings would be good, considering the state's general revenue fund is expected to run on razor-thin margins and into the red in subsequent years.
Other agencies want $141,000 to boost training for alcohol and tobacco enforcement agents; $343,000 to study leasing instead of buying desktop computers for state workers, and $147.3 million to increase staffing, replace old buildings, and buy new vehicles, including transport vans.
—
Kudos, Sen. Anitere Flores and Rep. Jeanette Nunez!
Senate President-designate Joe Negron named Flores, a Miami Republican as his Senate president pro tempore.
"Anitere is a loyal friend and trusted ally. She also has longstanding relationships with many new and returning senators," said Negron in a statement. "She has a proven ability to work in a bipartisan manner without compromising her own unwavering principles."
The announcement came one day after House Speaker-designate Richard Corcoran named Nunez as his speaker pro tempore.
Flores, a Miami Republican, was first elected to the Florida House in 2004, serving three terms before being elected to the Florida Senate in 2010. She handily won re-election Tuesday, defeating Democrat Debbie Mucarsel-Powell in the newly drawn Senate District 39.
Nunez, also a Miami Republican, was first elected in 2010, and served as the deputy whip from 2011-12.
—
Here's this week's edition of Capitol Directions: