Will Gwen Graham's announcement that she's "seriously considering running for Governor" cause a gunning of the campaign engines?
As a website devoted to Florida politics, let's hope so. Let's take two examples.
On the Democratic side, contender Bob Buckhorn has played it coy. As far back as last June, the Tampa Mayor wouldn't say which way he was leaning.
"You know, I don't know the answer to that yet," he told the Tampa Tribune. "I'm going to spend the next year figuring out whether the message works … whether it's something my family and I want to do. So when the day comes when I do have to make that decision, I'll be ready."
That year, by the way, is almost up.
And the leading Republican favorite (at least according to the lounge chatter at the Governors Club) still is Agriculture Commissioner Adam Putnam, who can avoid an answer about his political future like nobody's business.
Here's a classic answer, also from last year: "These things have a natural ebb and flow," Putnam told TCPalm. "There will be an appropriate time for people to evaluate what the future will be. But the better job you do, the more options you'll have … and I haven't closed any doors."
Putnam's political committee, by the way, has about $3.3 million in cash on hand. Not bad for a guy who's term limited in his current position.
Yeah, we know the general election is still 2 ½ years away. But now that Graham has jumped in the pool, expect more candidates (or their surrogates) to start ringing phones among the smart set.
Coming up, the usual assortment of tidbits, leftovers and not-ready-for-prime-time moments by Jenna Buzzacco-Foerster, Ryan Ray, Jim Rosica and Peter Schorsch.
But first, the "Takeaway 5" — the Top 5 stories from the week that was:
— Commissioner search — CFO Jeff Atwater is not giving up on his top pick for the state's insurance commissioner, once again picking Rep. Bill Hager to interview for the job during Tuesday's Cabinet meeting. Atwater and Gov. Rick Scott couldn't come to an agreement during the last commission meeting, and decided to once again accept applications for the position. Scott, who favored Jeffrey Bragg for the position, was expected to meet with Hager about the position, and was scheduled to interview four more candidates by phone on Friday. Current Insurance Commissioner Kevin McCarty plans to leave his post later this year.
— No violation — The Florida Commission on Ethics said a former Washington law firm didn't violate Florida's lobbying laws when it appealed to Attorney General Pam Bondi and her staff on behalf of corporate clients. The investigation started in January 2015 after a series of articles in The New York Times looking at efforts by corporations to influence state attorney generals. According to The New York Times, the commission concluded the firm's top partner could not be formally defined as a lobbyist.
— Back to school — Senate President Designate Joe Negron took the ultimate college road trip this week, hitting all 12 state universities in just four days. The Stuart Republican has made improving the state university system a priority during his two-year term as president, and spent the week talking to students, faculty and administrators at the 12 state universities. Negron was joined by his colleagues at stops along the way, with Sens. Lizbeth Benacquisto and Anitere Flores joining him for the majority of the road trip. Negron said he plans to announce a specific action items later this summer.
— Skip ahead to 2018 — Gwen Graham announced Thursday she wasn't running for re-election, instead she was considering a 2018 gubernatorial run. While the announcement wasn't entirely a surprise, it did open the floodgates to discussion of who else was considering throwing their hat in the race. Jeremey Ring said he was also considering running for governor; while Bob Buckhorn said he's waiting until after November to make a decision. Why November? Don't forget, there's an election this year too.
— Going green — Florida citrus growers said as many as 80 percent of their trees are infected by citrus greening, according to a University of Florida Institute of Food and Agricultural Services survey. According to the Southeast Farm Press, surveyed growers said, on average, 90 percent of citrus acreage and 80 percent of their trees have been infected. Florida has lost $7.8 billion in revenue to citrus greening since 2007.
—
Move to Florida, save some cash.
That's the message Gov. Scott sent as he tried to lure families and businesses to Florida. Scott issued a news release Monday telling people that Florida's annual state and local tax collections are more than $1,000 less than the national average.
And once you moved, the Naples Republican has a few ideas on how you can spend that $1,000 you saved. Some suggestions include 490 gallons of gas "which can drive around over 663 miles of beaches 23 times," 50 fishing rods or 18 tickets to the Kennedy Space Center.
Or you could put that $1,000 toward 333 bags of Florida oranges and guarantee you'll never get a case of scurvy.
—
The North Broward Hospital District's board of commissioners has a new member.
Gov. Scott appointed Linda Robison to the board Monday. Her appointment comes just days after board Chairman David Di Pietro resigned.
The 67-year-old Pompano Beach resident is a partner at Shutts & Bowen LLP. She previously served as the chairwoman of the Florida Commission on Ethics.
"This board serves an important purpose in the community, and I am sure that Linda will be a good steward of taxpayer dollars, which the Board is entrusted to protect," said Scott. "I am confident she will faithfully serve Floridians with honor and dignity."
—
One of the country's largest freight brokerage firms is expanding.
Total Quality Logistics is expanding in Sarasota. The company will create 100 new jobs, and will involve a capital investment of about $600,000. The Sarasota location is the seventh location in Florida. The company already has offices in Jacksonville, Daytona Beach, Orlando, Tampa Bay, Fort Lauderdale and Miami.
We are pleased to expand our footprint in Florida," said Kerry Byrne, president of Total Quality Logistics. Adding our seventh location there gives us access to the best available talent so we can provide the world-class service our customers have grown to expect from us."
The expansion was made possible through partnerships between Enterprise Florida, Florida Department of Economic Opportunity, Sarasota County, the Economic Development Corporation of Sarasota County and the city of Sarasota.
"TQL continues to rapidly expand in cities all across Florida, providing hundreds of new jobs for jobseekers around the state," said Cissy Proctor, executive director of the Florida Department of Economic Opportunity. "Their success is evidence that Florida is the best place in the nation to grow a business."
—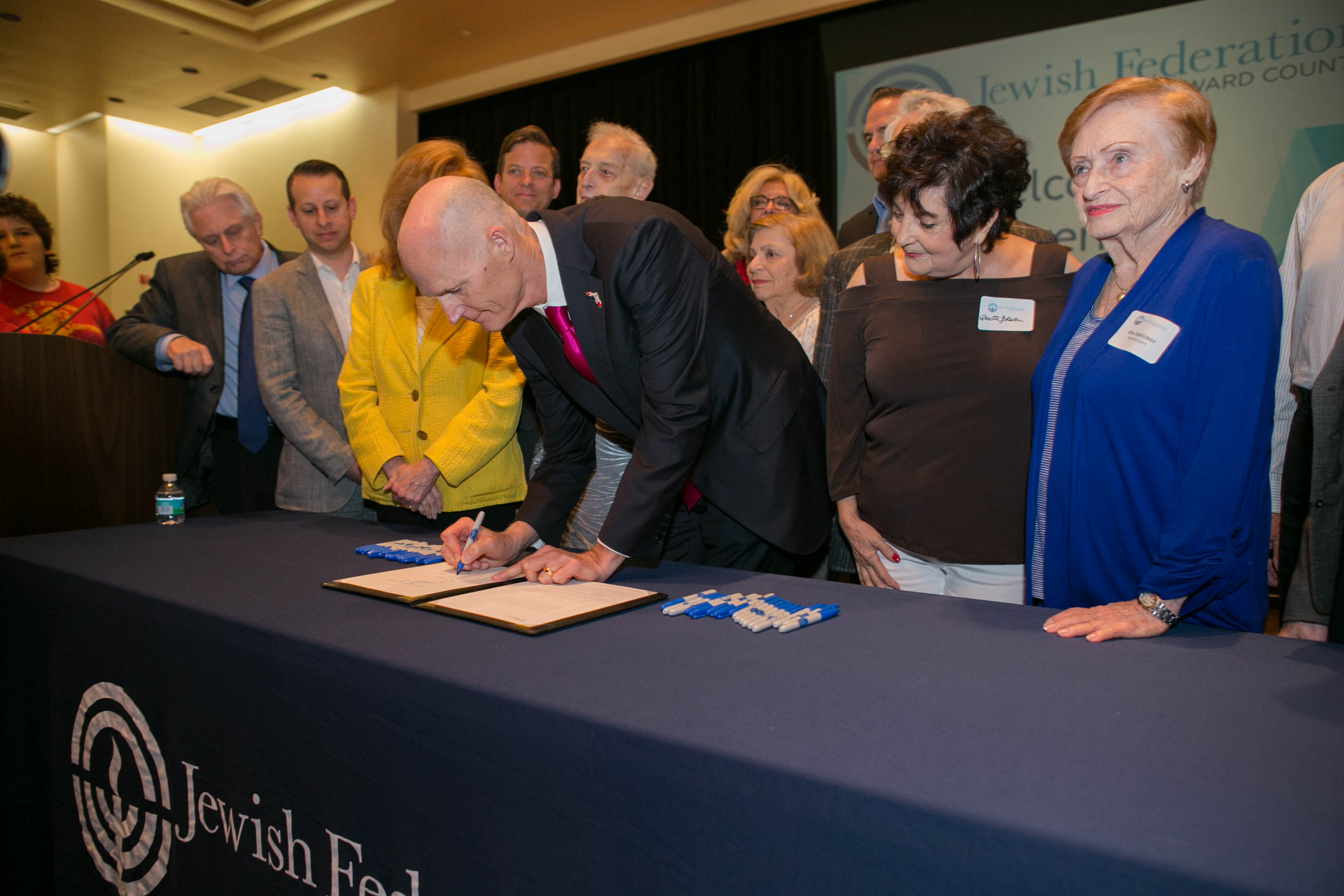 The Capitol Complex will soon have a Holocaust memorial on its grounds.
Earlier this month, Gov. Scott signed a bill into law that creates the Florida Holocaust Memorial to recognize and commemorate the millions of people murdered before and during World War II. Scott held a ceremonial bill signing ceremony in Boca Raton on Monday.
"Over the years, Florida and Israel have joined together in support of peace and security for our families- which is incredibly significant when we remember the horrors of the Holocaust," said Scott in a statement. "Florida is home to many Holocaust survivors and their families, and this bill will help create a memorial to not only recognize the victims of the Holocaust, but also remind us of the importance of confronting all forms of hatred and bigotry."
Scott applauded the bill's sponsors — Democrats Sen. Eleanor Sobel and Rep. Jared Moskowitz — and other lawmakers for passing the bill in honor of the innocent lives that were lost."
"Someday, we will not have witnesses to remind us of the tragedies of the Holocaust and the importance of fighting against intolerance," said Moskowitz in a statement. "I appreciate Governor Scott and my fellow Legislators for their work creating the Florida Holocaust Memorial to educate Florida's future generations and keep the memory of those affected by the Holocaust alive."
—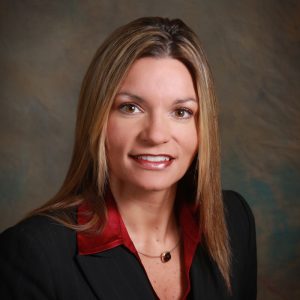 Tamela "Tammy" Perdue has been appointed to the Workers' Compensation Panel.
Gov. Scott appointed the 44-year-old Tallahassee resident to the board Monday. She succeeds Terry Morrow, and serves at the pleasure of the governor.
Perdue currently serves as the general counsel for the Associated Industries of Florida. Before joining AIF in 2006, she specialized in insurance defense and administration law. She also worked in the Florida Senate.
Perdue earned her bachelor's in science from Lee University and her J.D. from Stetson University.
"I am honored and thank Governor Rick Scott for appointing me to serve and represent employers on the Florida Workers' Compensation Three-Member Panel," she said in a statement. "The work of this panel helps facilitate timely health care to injured workers in the self-executing manner the law intends. I am excited to participate in this important component of Florida's successful workers' compensation system."
Her appointment is subject to Senate confirmation.
—
Congratulations, Walter Graham.
Chief Financial Officer Jeff Atwater has appointed Graham as the director of the newly created Division of Unclaimed Property. Graham has spent more than a decade as the administrator for the CFO's unclaimed property program.
"Walter has dedicated his career to improving Florida's unclaimed property program since 2003 including helping to usher in the recently-launched e-claim process for certain accounts," said Atwater in a statement Tuesday. "In addition, Walter and his team have succeeded in returning record amounts of funds to consumers year after year."
During his time as administrator, Graham oversaw the payment of more than 3.7 million claims or about $2.4 billion. The Bureau of Unclaimed Property returned $32 million, a one-month record, in February.
Graham is the past president of the National Association of Unclaimed Property Administrators, and was named the National Unclaimed Property Administrator of the Year by the Unclaimed Property Professionals Organization.
—
More roadside barriers will be installed along some Florida roadways.
Tucked into a wide-sweeping transportation bill was language that requires the Florida Department of Transportation to install roadside barriers to shield water bodies bordering state roads. Those barriers will be installed at locations where a vehicle accident that resulted in a drowning occurred.
Gov. Scott signed the bill into law on April 14.
The provision was the same as a bill sponsored by Sen. Darren Soto and Rep. Rene Plasencia, and was a direct response to the death of Chloe Arenas, who died in June when she lost control of her vehicle and drowned after plunging into a retention pond off State Road 408 exit ramp at the Alafaya Trail interchange in Orange County.
"No parent should ever have to bury their child. With Chloe's Law's passage, we can begin to take steps necessary to ensure Florida has the safest roadways," said Plasencia in a statement. "It was an honor to work with both chambers in a bi-partisan effort to ensure this law's passage."
The law goes into effect July 1.
—
Two South Florida communities have been named as some of the best cities for entrepreneurs to start a small business.
Deerfield Beach and Riviera Beach were among WalletHub's 2016 Top 20 Best Cities to Start a Small Business list. Deerfield Beach clocked in at No. 10; while Riviera Beach was No. 18.
According to the South Florida Business Journal, WalletHub ranked 1,268 cities based on their business environment, access to resources and business costs. The company also ranked cities on their individual qualities, like highest average growth for a small business or shortest average work week.
Fort Myers and Sarasota were among the cities that had the lowest employment availability; while Miami Beach, Davie, Plantation, Sunrise and Boca Raton dominated the list of cities with the highest number of startups per capita.
—
The state's interim surgeon general is hitting the road to hear from Floridians.
Interim Surgeon General Celeste Philip kicked off a tour of the Florida's 67 counties Tuesday at the Department of Health in Monroe County, where she was expected to talk to public health professionals.
"Public health begins at the local level and having spent several years of my career at the county level I know how important it is to hear from community leaders to understand how we can work together to improve health outcomes in Florida," she said in a statement. "I look forward to hearing from public health professionals and gaining new insights on the direction to move health in our state."
Philip will wrap up her tour in mid-May. She's expected to share highlights of her trip on Twitter using the hashtag #FLHealthSHIP.
—
CFO Atwater celebrated Floridians' financial liberation on Wednesday.
April 20 was what many conservatives call "Tax Freedom Day." That's when taxpayers collectively have earned enough money to pay their total federal, state and local tax bill for the year. Florida's Tax Freedom Day comes four days earlier than the national day, owing to is lower-than-average tax structure.
"With one of the lowest tax structures in the United States, it's no surprise that Florida's population continues to grow—even passing the 20 million mark this year," said Atwater, observing the holiday. "Many states tax and spend as if there's a never-ending pot of money to pull from, but in Florida, lawmakers have remained committed to using taxpayers' dollars wisely, so that more of our residents' hard-earned money stays in their pockets where it belongs."
The CFO's office pointed out Florida's Tax Freedom Day comes considerably earlier than Illinois', which falls on April 29, California's on April 30, and New York's on May 11.
—
CFO Atwater also took time on Wednesday to hold a press conference with anti-domestic violence advocates.
Atwater and Tiffany Carr, president and CEO of the Florida Coalition Against Domestic Violence, spoke to reporters at the Capitol in an effort to raise awareness about the role of finances in domestic abuse.
"Today I am reminded of the bravery it takes to stand firm against domestic violence," said Atwater. "Every Floridian should have the tools they need to make the financial decisions that are best for them and their families.
Studies show, according to the CFO's office, that in 98 percent of domestic violence cases, abusers use finances as a tactic to keep survivors trapped in an abusive relationship. Behind fear, survivors often cite income, employment and financial stability as the strongest deterrents to leaving abuse situations.
"Economic justice and financial independence are consistently identified as top needs by survivors of domestic violence," said Carr. "Survivors are often faced with the devastating choice of leaving behind a home, income, benefits and economic security in exchange for seeking safety away from violent perpetrators."
—
Interactions with law enforcement are set to get a little less stressful for deaf Floridians.
This week, Senate Democrats announced Gov. Scott signed into law a bill to would allow deaf residents to indicate their status on their driver's license, so that police will know ahead of time they are not able to hear commands and to proceed accordingly.
"In the event of a stop or arrest, it is critical to both deaf citizens and law enforcement that their unique abilities are clearly known to safeguard public safety and constitutional rights," stated Soto.
The language was sponsored by Sen. Soto, who introduced the bill to stop unnecessary escalations during traffic stops with deaf people, as happened to his constituent Lorraine Vazquez. That bill died in committee, though Soto and House sponsor Rep. Vic Torres were able to shepherd the language onto an omnibus transportation bill signed by Scott.
The new provisions go into effect July 1.
—
Welcome aboard, Dr. John Curran.
The Florida Department of Health announced Wednesday that Curran has been named the Deputy Secretary of Children's Medical Services. In his role, Curran will oversee the Office of CMS Managed Care Plan and Specialty Programs, the Division of Medical Services and CMS area offices.
"I am pleased that we continue to receive valuable input from the public and our health care community when it comes to caring for Florida's children with complex medical conditions," said interim state Surgeon General Dr. Philip. "Dr. Curran is an accomplished pediatrician and has long served the children of our CMS program as a consultant and regional medical director. We are confident his knowledge of pediatric medicine and his extensive leadership experience will guide him as he shepherds CMS into its next chapter."
Curran currently serves as a charter member of the University of South Florida's College of Medicine faculty. Until recently, he practiced at Tampa General Hospital as the founding neonatologist and chief of pediatrics. He has served CMS since 1974 and as a medical director for the Tampa Bay region.
Curran served for 26 in the U.S. Air Force Medical Corps, retiring as a colonel.
—
Play ball!
Total attendance at Florida spring training games was 1.5 million during the 2016 season. The average per game attendance was 7,096, marking the first time the number topped 7,000 in over 100 year of Grapefruit League Games.
"I am proud to announce that Florida's Spring Training reached a 100-year record high per game attendance this season," said Gov. Scott in a statement Wednesday.
The Houston Astros, playing in Kissimmee's Osceola County Stadium, showed a 15.3 percent per game attendance increase; while the New York Mets, playing at Tradition Field in Port St. Lucie, saw a 13.2 percent increase.
According to the Governor's Office, renovations at Ed Smith Stadium in Sarasota, McKechie Field in Bradenton, Hammond Stadium at the CENTURYLINK Sports Complex in Fort Myers and construction of Jet Blue Park in Fort Myers have helped increase seating capacities.
"Spring Training and Major League Baseball are a major attraction for families and visitors, and have an incredible economic impact on the local communities that host these fifteen Florida Grapefruit League teams," said Scott. "Last year we welcomed 105 million visitors to our state, and we will keep working to support the tourism industry so we can reach another record year in Florida."
—
Going for a drive? Put away your cell phone.
According to the Department of Highway Safety and Motor Vehicles, there were more than 45,700 distracted driving crashes in 2015. Those crashes resulted in more than 39,000 injuries and more than 200 fatalities.
"Distracted driving is extremely risky behavior that not only puts drivers and passengers in danger, but others out on the road as well," said Col. Gene Spaulding, director of the Florida Highway Patrol. "Focused attention on driving increases your reaction time to dangerous situation, helps to prevent crashes overall and saves lives."
According to the agency, distracted driving crashes accounted for 12.2 percent of crashes in Florida last year. The Florida Highway Patrol worked approximately 43 percent of distracted driving crashes statewide.
The DHSMV reported that almost 20,000 drivers under 30 were involved in a distracted driving crash in 2015.
"Distracted driving is deadline, and we must do everything possible to educated people about the risks involved," said Winter Park Police Chief Brett Railey, president of the Florida Police Chiefs Association. "Our lives are full of distractions, but there is no text message, no conversation, no interruption that is worth a life."
April is Distracted Driving Awareness Month.
 —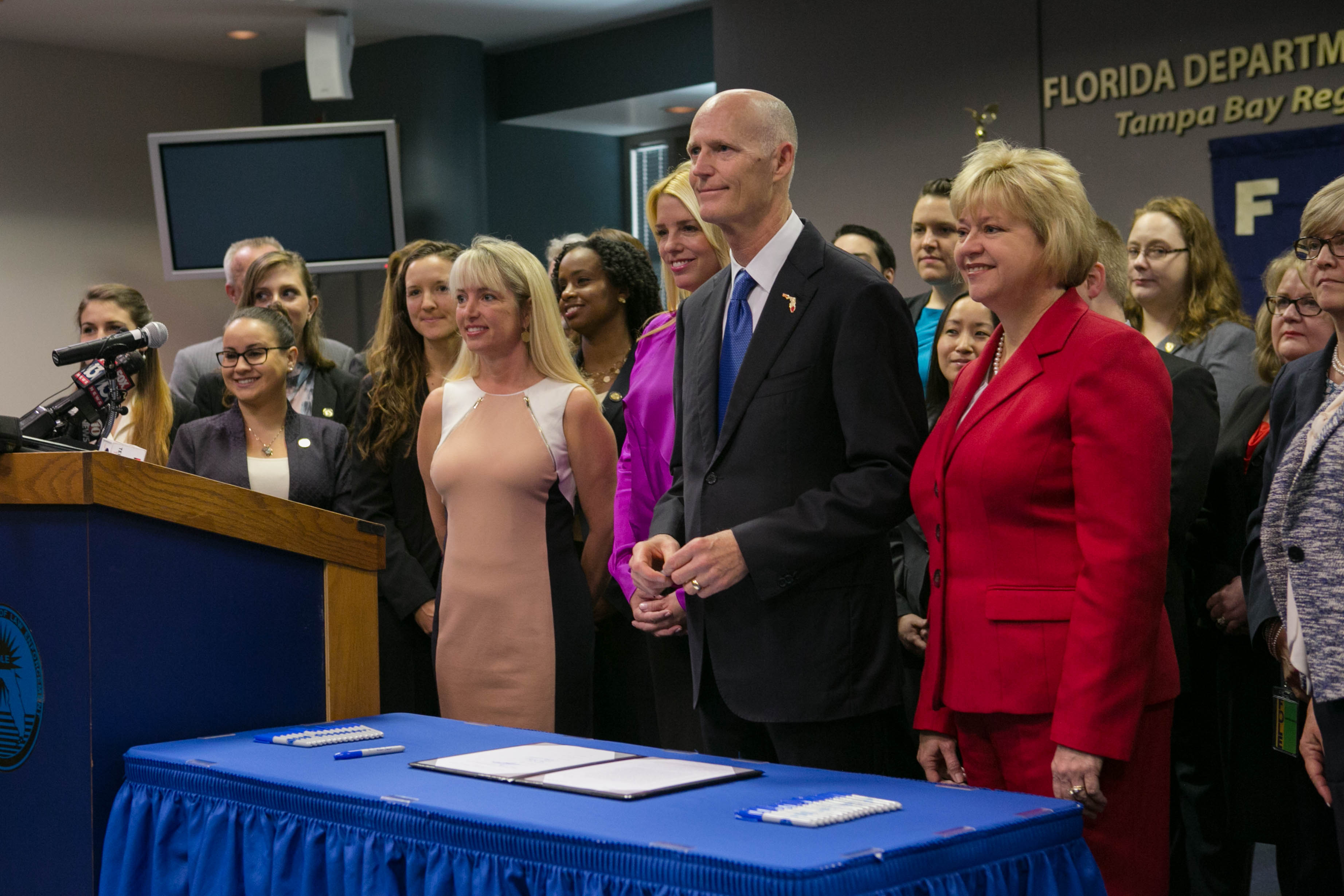 After a long, sustained outcry from critics, Gov. Scott ceremonially signed legislation to eliminate the state's backlog of untested rape kits.
Scott held a ceremonial bill signing at the Florida Department of Law Enforcement's Tampa Bay Regional Operations Center on Thursday. The Naples Republican formally signed the bill — sponsored by Sen. Benacquisto — in March.
"This legislation will provide thousands of women with a renewed sense of safety and closure as they heal from the horrific crime of rape," he said in a March 23 statement about the bill.
The Tampa Bay Times reported that during the bill signing ceremony, Scott said someone put a drug in his daughter's drink during her first year of college. Scott said his daughter wasn't raped, but said personal experience was one of the reasons he supported the state the state becoming more aggressive in testing sexual assault kits.
The new law sets time limits on how long kits can sit on investigators' shelves before being processed, and clarifies procedures to encourage doing so. The law goes into effect July 1.
—
Issues relating to growth and development were the topics du jour during a legislative wrap-up forum in Southwest Florida this week.
The event — hosted by the Real Estate Investment Society, the Urban Land Institute of Southwest Florida and the Florida Planning and Zoning Association — gave lawmakers from Collier and Lee counties a chance to talk about water policy, building codes and business tax cuts.
Rep. Matt Caldwell of North Fort Myers, Rep. Dane Eagle of Cape Coral, Rep. Heather Fitzenhagen of Fort Myers, Rep. Kathleen Passidomo of Naples and Rep. Ray Rodrigues of Estero also used the breakfast to tout their 2016 achievements.
"We have really, really good delegation. About 2,000 bills are filed (each year) and only about 200 pass, and at this table you have probably more than a dozen bills of that 200 that actually got done," said Caldwell during the event. "I'm excited about the success we have as a delegation and that really comes from working very hard to focus on each other, to make sure we're all successful as a group."
—
Speaking of accomplishments: Rep. Eagle said one of the most impactful measures passed during the 2016 legislative session was a bill to try to prevent youth suicides.
The provision — which was substantially the same as a bill sponsored by Eagle and Sen. Benacquisto — was included in a wide-sweeping education bill signed into law on April 14. Eagle said the measure calls on teachers in elementary, middle and high schools get training on how to "spot the signs and be able to prevent" youth suicides.
"It's something that's preventable and something we can do," he said.
According to a January analysis prepared by state House staff, suicide was the third leading cause of death for Floridians between 5- and 24 years old. The suicide rate was 10.3 per 100,000 for 15 to 24 year olds.
"We hope to curb those statistics and save some lives," said Eagle.
—
The Department of Financial Services better clear some space on its walls.
The Florida Public Relations Association Capital Chapter awarded the agency with an Image Award and an Overall Grand Image Award for their entry of "Florida's Bottom Line," CFO Atwater's quarterly newsletter.
"Receiving this Grand Image Award is a testament to the staff who work diligently to produce Florida's Bottom Line—from those who helped launch the newsletter in 2011 to those who continue to make each edition better than the last," said Atwater. "We have seen unprecedented growth in distribution and readership in the last year, and I am very pleased at the feedback that so many Floridians are finding the publication informative."
The department also received an Award of Distinction for their special event entry of the ribbon cutting ceremony of the monument to Florida's firefighters at the Capitol.
"Receiving this Grand Image Award is a testament to the staff who work diligently to produce Florida's Bottom Line—from those who helped launch the newsletter in 2011 to those who continue to make each edition better than the last," said Atwater. "We have seen unprecedented growth in distribution and readership in the last year, and I am very pleased at the feedback that so many Floridians are finding the publication informative."
"I am incredibly proud of the team who creating a truly memorable event in honor of our fallen firefighters," said Atwater, who also serves as State Fire Marshal. "The ribbon cutting ceremony will be remembered by the hundreds of people who attended for the rest of their lives we look forward to another outstanding event when we mount the statue on the Monument in 2017."
—
Agriculture Commissioner Adam Putnam is looking for a few good women in agriculture.
The Florida Department of Agriculture and Consumer Services is now taking nominations for the 2016 Woman of the Year in Agriculture award. The award, given out each year since 1985, recognizes women who have made outstanding contributions to Florida agriculture.
"Women play a crucial role in shaping and growing Florida's agriculture industry," said Commissioner of Agriculture Adam H. Putnam. "I am honored to have the opportunity to bring some well-deserved recognition to Florida's women in agriculture."
Previous winners include Jo Ann Smith, the first female president of the National Cattleman's Association; Jennie Lee Zipperer, a horticulturist and cattle breeder; and Louve "Vee" Frierson Platt, who took over the daily management of her family's 700-acre sugar cane farm with her nephew and brother in 1973.
The deadline for submitting nominations is June 1.
—
Here is this week's edition of Capitol Directions: