The state's election officials are getting a raise, just in time for the presidential election.
Twenty-five new state laws go into effect today, including a law that bumps up the pay of county supervisors of elections. Signed by the Governor in March, the law puts elections officials' salaries in line with the base salaries of elected clerks, comptrollers, property appraisers, and tax collectors.
Thirty-three of the state's 67 elections chiefs make less than $100,000 a year.
The change will cost about $1.2 million statewide, or an average $18,540 per county. Elections chiefs are expected to get an 18.7 percent increase on average.
Most new laws take effect July 1, but a small number of laws have an Oct. 1 effective date.
Other laws that go into effect today include a law that prohibits someone from removing, destroying or tampering with an electronic monitoring device, or ankle bracelet, when it's being worn; one that makes several technical changes to the administration of the workers' compensation system; and one that requires state agencies to develop and implement a veterans' recruitment plan for employment.
One more law of note: A measure meant to protect consumers from gas pump skimmer fraud. The law requires gas stations to have, at minimum, security tape on the pumps to show it hasn't been tampered with. It also makes the crime of tampering with a gas pump a second degree felony with the possibility of 15 years in prison.
"With more than 10,000 gas pumps in Florida, and the potential for one skimmer to impact more than 100 people, this important legislation will go a long way towards protecting millions of Florida's residents and visitors," said Randy Miller, the president and the CEO of the Florida Retail Federation.
Here's a breakdown of the rest of the laws going into the effect today, with summaries provided in part by LobbyTools:
SB 180: Includes financial information in the definition of protected trade secrets.
SB 182: Expands public records exemptions for certain data processing software obtained by an agency, certain information held by a county tourism promotion agency, and information related to trade secrets held by specified entities.
SB 218: Makes it a crime to traffic in EBT (electronic benefit transfer) cards, formerly known as food stamps.
SB 380: Providing enhanced criminal penalties for a third or subsequent violation of an injunction for protection.
HB 387: Creates "Carl's Law" to prosecute offenses committed while evidencing prejudice based on mental or physical disability of victim.
SB 436: Creating the crime of falsely reporting the use of firearms in a violent manner against a person or persons.
HB 479: Revising legislative intent with respect to the Uniform Special District Accountability Act to include dependent special districts; specifying the Legislature's authority to create dependent special districts by special act.
HB 545: Includes human trafficking as predicate offense for felony murder; provides that minors may not be charged with specified prostitution offenses; requires person convicted of specified racketeering offenses to register as sexual predator or sexual offender.
HB 821: Prohibits agent or attorney representing claimant from directly or indirectly requesting, receiving, or obtaining reimbursement from claimant for assessments charged to agent or attorney by U.S. Department of Veterans Affairs.
HB 1333: Revises sexual predator and offender criteria; revises reporting and registration requirements.
SB 1416: Providing an exemption from public records requirements for certain reports and documents submitted to the Office of Insurance Regulation related to an own-risk and solvency assessment by an insurer or insurance group.
SB 1422: Requiring an insurer to maintain a risk management framework; requiring certain insurers and members of an insurance group to prepare and submit a corporate governance annual disclosure.
SB 1470: Revising penalties for violations related to stone crab traps and spiny lobster traps; prohibiting possession of undersized spiny lobsters by certain persons; specifying that each undersized spiny lobster may be charged as a separate offense.
SB 7002: Amending a provision which provides a public records exemption for the audit report of an internal auditor and certain records relating to investigations in the custody of an inspector general of a local government.
SB 7020: Amending provisions relating to an exemption from public records requirements for personal identifying information of an enrollee or participant in the Florida Health Choices Program and for proprietary confidential business information held by the corporation.
SB 7022: Regarding an exemption from public records requirements for a photograph or video or audio recording held by an agency that depicts or records the killing of a person, this narrows the exemption to depictions or recordings of the killing of a law enforcement officer who was acting in accordance with his or her official duties.
SB 7030: Provides an exemption from public records requirements for portions of meetings in which a vendor participates in a negotiation, makes an oral presentation, or answers questions as part of a competitive solicitation or in which negotiation strategies are discussed.
SB 7033: Removes scheduled repeal of public records exemption for emergency notification information held by an agency.
HB 7035: Removes scheduled repeal of public records exemption for confidential or exempt information received from certain state or federal agencies, and information received or developed by OFR in joint or multi-agency examination or investigation.
HB 7071: Revising the definition of the term "bribery"; revising the prohibition against unlawful compensation or reward for official behavior; revising applicability of the offense to include public contractors; revising the prohibition against bid tampering to conform to changes made by the act.
And your bonus law (takes effect Oct. 3):
SB 626: Authorizing the Office of Financial Regulation to deny a license or take disciplinary action against a person who violates the Military Lending Act.
Coming up, the usual assortment of tidbits, leftovers and not-ready-for-prime-time moments by Jenna Buzzacco-Foerster, Michael Moline, Jim Rosica, and Peter Schorsch.
Now, the "Takeaway 5" — the Top 5 stories from the week that was:
Future talks — The future's so bright, Florida has to wear shades. The Florida Chamber Foundation brought together hundreds of elected officials, community and business leaders this week for its 2016 Future of Florida Forum. The annual event gives Floridians a chance to brainstorm about how to plan for the next generation of Floridians. The line-up included a who's who of Florida politicos, including Gov. Rick Scott, CFO Jeff Atwater, Attorney General Pam Bondi, and Agriculture Commissioner Adam Putnam. Attendees got a chance to discuss healthcare, workforce development, and education opportunities for Floridians. The forum also was a chance to celebrate the 100th anniversary of the Florida Chamber of Commerce. "We were literally created 100 years ago by the business community and the issues of the time, if you look over the minutes from the Chamber of 1916-17, were water, education, and trade," said Mark Wilson, the president and CEO of the Florida Chamber. "The reality is, Florida needs the business community to align more than ever before."
More money, more problems — Gov. Scott announced this week he planned to include $85 million in his budget for economic incentives to help lure companies to Florida. The governor made his announcement during the Enterprise Florida Board of Directors meeting, and said he would also propose legislation to restructure Enterprise Florida so it can focus on creating jobs in the Sunshine State. "We have to be part of the game," said Scott. "We have to get a good return for taxpayers but we have to be part of the game." The announcement instantly put him at odds with House leadership. Speaker Designate Richard Corcoran said the House position on incentives has been clear, and "there will not be any corporate welfare in the House budget."
Going up — State regulators approved a 14.5 percent average increase in workers' compensation insurance premiums this week. The new rates take effect Dec. 1, and are lower than 19.6 percent hike initially proposed by the National Council on Compensation Insurance. The business community was up in arms over the announcement, pointing to two recent state Supreme Court rulings for the rise. Bill Herrle, executive director for Florida of the National Federation of Independent Business, said the rate increase is "a hard hit to small business owners and our economy." Both the Florida Chamber and Associated Industries of Florida are organizing to find a way to reinstate the curbs on attorney fees and other cost-containment provisions the Legislature approved in 2003 — and which the high court invalidated in Castellanos v. Next Door Co. and other rulings.
Plea deal — State Rep. Reggie Fullwood pleaded guilty to wire fraud and tax charges this week. Under a plea deal, he was convicted of two of the 14 counts he was indicted on in April. He'll be sentenced in January. According to House rules, a member convicted of a felony may be suspended immediately for the remainder of his or her term. In a statement Thursday, House Speaker Steve Crisafulli said Fullwood is "is now obligated by House Rule to resign from his seat. I am hopeful that he will do what is right and do so immediately." On Friday, Fullwood tweeted that he "officially filed a letter with (Florida Secretary of State Ken Detzner) and am no longer a candidate for FL House District 13."
Skeeter funds —  Congressional leaders OK'd a $1.1 billion funding package to help combat the spread of the Zika virus this week. The money was part of bill to keep the government running through Dec. 9. The president signed the legislation Thursday, and Gov. Scott urged Washington to hurry up and send the money. "After two visits to Washington D.C. and months of calling on Congress to get something done, it is great to finally have federal funding approved," he said. "However, we are still waiting on many details about how this bill will be put to use. We do not yet know how much funding our state is getting and we do not know when we will receive it. But one thing is absolutely certain: Florida needs this funding now. Our pregnant women and their developing babies cannot wait."
—
Kudos, Rep. Jeanette Nuñez.
The Miami Republican was appointed to serve a four-year term on the National Assessment Governing Board. She will serve as the role of Republican state legislator on the board, which sets the policy for the National Assessment of Educational Progress, also known as the Nation's Report Card.
"We are elated to have Jeanette join the Board," said Terry Mazany, the chair of the governing board. "Her dedication to her community and ongoing commitment as a lawmaker in such an important state will play a critical role in maintaining the high quality of The Nation's Report Card."
The governing board is made up of governors, state legislators, local and state school officials, educators and researchers, business representatives, and members of the public. Her term runs through Sept. 30, 2020.
—
There's two new members of the state's veterinary board.
Gov. Scott announced this week he named Rudd Nelson and Sharon Powell to the Board of Veterinary Medicine.
Nelson, a 43-year-old Lighthouse Point resident, is a veterinarian who owns Bayview Animal Clinic in Fort Lauderdale. He holds a doctorate of veterinary medicine from Mississippi State University. He succeeds Terry Spencer on the board.
Powell is a veterinarian at the Edison Park Animal Hospital. The 53-year-old Fort Myers resident received her doctorate of veterinary medicine from Kansas State University and succeeds Nanette Parrato-Wagner.
Both were appointed to a three-year term ending Oct. 31, 2019. Both appointments are subject to Senate confirmation.
Scott also appointed Leslie Long to the Hardee County Housing Authority.
Long, a 54-year-old Bowling Green resident, is the business development and client support specialist for Debut Development, LLC. She was appointed to a term ending Dec. 17, 2018.
Scott also appointed Dr. Susan Vadaparampil to the Biomedical Research Advisory Council. The 43-year-old Lakeland resident is the senior member at the Moffitt Cancer Center. She was appointed to a term ending Jan. 10, 2018.
—
When it comes to teachers, Florida is in the middle of the pack.
A new study from WalletHub ranked the best and worst states for teachers. Florida, the report found, was ranked 28th overall. The state was ranked 31st when it came to "job opportunity and competition," and 22nd when it comes to "academic and work environment."
According to the report, "job pressures, low pay and lack of mobility force many teachers to quit soon after they start, leading to the perpetual attrition program in America's public schools." The study looked at all 50 states and the District of Columbia.
WalletHub found New Jersey was the best state for teachers, while Hawaii deemed the worst state in for teachers.
—
Tens of thousands of veterans and active military veterans have received expedited concealed weapons licenses.
Agriculture Commissioner Putnam announced this week his office has expedited 50,000 concealed weapon license applications for active military members and veterans since last year.
"The men and women who serve and have served our country deserve all of the support we can provide," said Putnam in a statement. "I'm pleased that we have been able to expedite so many active military members and veterans' applications for a concealed weapon license."
Putnam announced the Department of Agriculture and Consumer Services would expedite military and veterans license applications after an attack on military personnel in Chattanooga, Tenn., last year.
—
Congratulations, Rep. Larry Metz!
Metz has been named Legislator of the Year by the Florida School Board Association.
"We are proud to honor Rep. Metz for his continued commitment to student safety and ethics for School Board officials," said Andrea Messina, the FSBA executive director, in a statement. "We find that his previous experience as a Lake County School Board member is valuable when he is faced with decisions affecting Florida's school districts."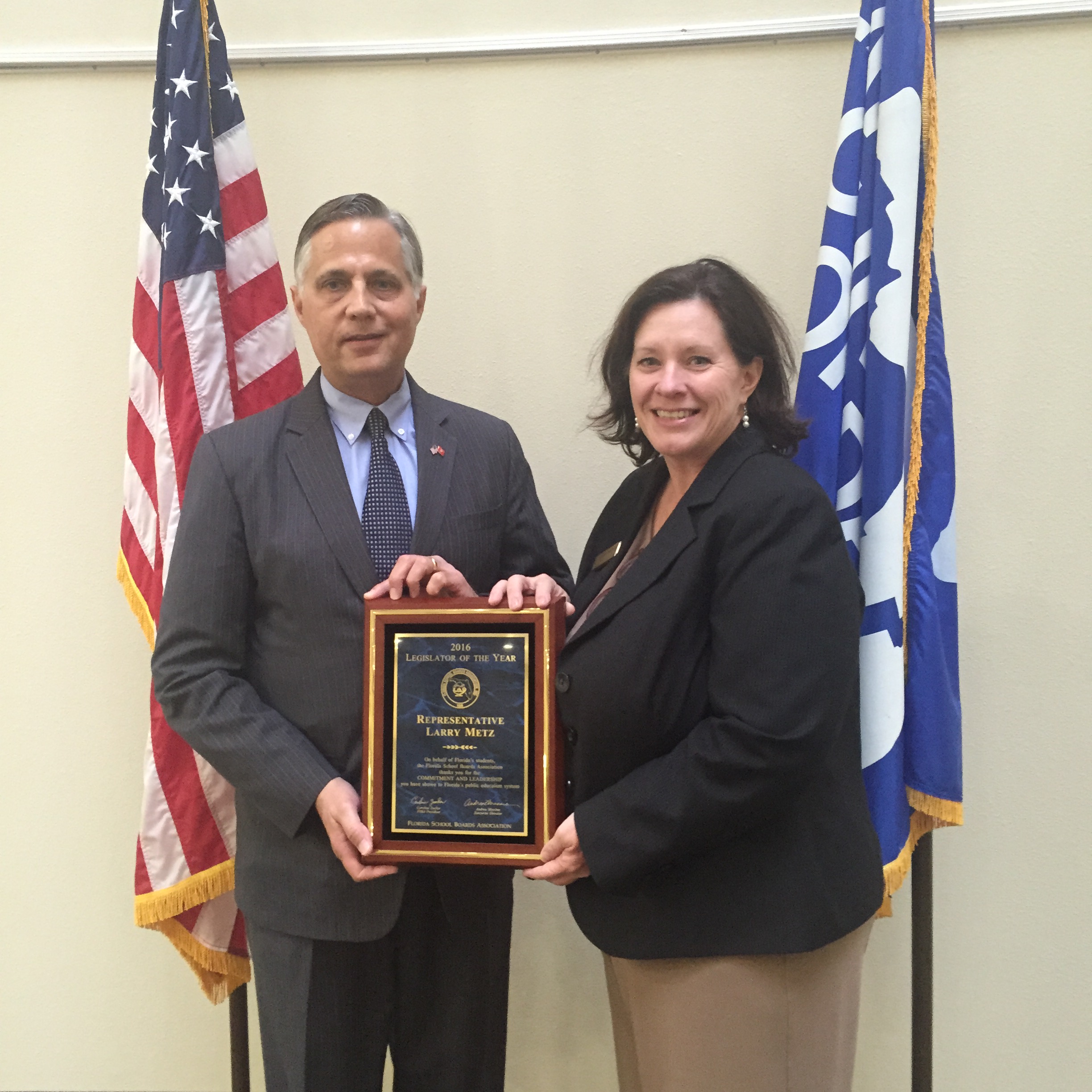 Metz, who previously served on the Lake County School Board from 2004 until 2010, was honored for his time as an advocate for school safety and equity in education funding.
"In presenting the award, Ms. Messina recognized the work I have done in the Legislature on several issues including government accountability and student safety. It was a privilege to be selected as this year's recipient, and I look forward to continuing to work on these issues," said Metz in a statement.
—
The Tampa-based Florida State Fair Authority re-elected all of its officers at its meeting this week.
Doyle E. Carlton III of Wauchula was re-elected as chair, Robert M. Thomas of Thonotosassa will serve as vice-chairman. Linda Syfrett of Okeechobee is treasurer, and Jack Vogel of San Antonio continues as secretary.
The authority oversees the operations of the Florida State Fairgrounds in Tampa and the annual Florida State Fair.
It is authorized by state law and operates under the oversight of the Florida Department of Agriculture and Consumer Services. Florida's Commissioner of Agriculture, now Putnam, appoints members of the authority.
The authority does not receive state, county or city tax dollars, according to the release: "Operations are funded by revenue generated by the annual Florida State Fair and the rental of Fairgrounds facilities to outside entities throughout the year."
For more information, go to floridastatefair.com.
—
No surprise here: Florida ranks among the most competitive states in the country for small businesses.
The Tax Foundation ranked the Sunshine State as the the 4th most competitive tax code in the nation in its new State Business Tax Climate Index. The report, released this week, measures how well-structured each state's tax code is.
Florida was ranked No. 1 when it comes to individual income tax structure and No. 2 in the unemployment insurance tax structure. When it comes to the corporate tax structure, Florida ranked 19th; while the state found itself ranked 28th in sales tax structure.
The most competitive states included Wyoming, South Dakota, and Alaska, according to the report. The least competitive states included Louisiana, Maryland, and Connecticut.
—
Government regulations top the list of concerns for Florida's small businesses, according to a new report by the Florida Chamber of Commerce.
The Chamber's Small Business Index, released this week during the Florida Chamber Foundation's Future of Florida Forum, found small businesses continue to worry about government regulations. Economic uncertainty was the second most frequently citied challenge facing Florida small businesses; while the quality of the workforce clocked in at third.
The survey found 72 percent of respondents said they employed less than five employees. About 26 percent of respondents said they employed between 5 and 49 employees.
"Burdensome regulations such as the federal overtime rules and workers' comp rate increases continue to plague small businesses and threaten Florida's economy," said Debbie Harvey, the chief operating officer of Ron Jon Surf Shop of Fla., Inc., in a statement. "The Florida Chamber Foundation's Small Business Council will continue to identify and promote solutions that help Florida's small business community grow and thrive."
The electronic survey was conducted from Aug. 29 to Sept. 19.
—
Florida's economy is one of the strongest in the nation.
State officials announces this week that 15 of the state's 22 metropolitan areas grew faster than the national average. Overall, the state's real gross domestic product was $789.8 billion, up by 3.1 percent from the year before. The national economy grew at a rate of 2.4 percent.
The Miami-Fort Lauderdale-West Palm Beach area grew by 3.3 percent; Tampa-St. Petersburg-Clearwater by 2.7 percent; and Jacksonville by 2.6 percent.
"Florida's economy is one of the strongest in the nation, illustrated by our consistent job creation, low unemployment rate, and growing GDP," said Cissy Proctor, executive director of the Florida Department of Economic Opportunity. "The strong growth in output across our local communities proves that Florida is a great place for business success."
—
The long-range plans are coming.
The Florida Department of Military Affairs was the first agency to release its Long Range Program Plan this week, according to LobbyTools. The plans outline long-term goals for fiscal 2017-18 through fiscal 2021-22.
Other agencies that got their plans in early were the Department of Transportation and the Department of Veterans' Affairs.
Agencies needed to submit their plans by Sept. 30.
—
CFO Atwater is launching a financial literacy program aimed at helping Floridians with developmental disabilities.
The program — called "My Money" — will be an interactive, web-based platform that teaches individuals with developmental disabilities how money works and how to bank independently. Families and caregivers can also use the program to learn how to help their loved ones.
"Without a firm understanding of how money works, people cannot make sound financial decisions for themselves, and the financial literacy programs that provide these skills must be inclusive and tailored to Floridians of all ages and ability levels," said Atwater in a statement.  "Our My Money program provides an avenue for people with developmental disabilities to take an important step on their pathway toward independence."
The program was developed in partnership with the Florida Department of Education, Agency for Persons with Disabilities, the Commission on Jobs for Floridians with Disabilities, the Florida Developmental Disabilities Council, the Arc of Florida, the Florida Alliance for Assistive Technology, Disability Rights Florida, and the National Disability Institute.
To learn more about the program, visit MyFloridaCFO.com/MyMoney.
—
Florida's colleges could do more to help the state's poorest students.
Those were just some of the findings of a new report by the LeRoy Collins Institute. The report looks at the historical role the Florida College System and identifies ways the college system can prioritize resources to better prepare students for success.
While the report found the system remains a strong choice for students, it also said the system be bettered by prioritizing the needs of Florida's financially disadvantaged students and increasing accessibility for underserved populations.
"The Florida College System is an essential part of Florida's higher education landscape and has been doing an exemplary job," said Carol Weissert, a Florida State University political science professor and LCI director. "However, there are challenges for the FCS that should be acknowledged. Our hope is that this report will help lead to a more robust education system with opportunities for all students who seek a degree or certificate."
—
Want to reduce crime?
Here's one suggestion: Stop arresting children for first-time petty offenses.
Florida Watchdog reported this week a new study by The Children's Campaign found people under 18 who are arrested for minor crimes are twice as likely to reoffend as those issued civil citations.
The study showed that increasing the use of civil citations up to 75 percent would allow law enforcement to invest up to $62 million in preventing and addressing felonies and serious crimes. The process would also significantly improve life outcomes of nearly 7,000 arrested youth.
"We are unable to find any data that shows arresting youth for common youth misbehavior instead of issuing civil citations is a good idea," said Dewey Caruthers, president of dewey & associates and the author of the report.
The report found three counties — Duval, Hillsborough, and Orange — were responsible for 24 percent of arrests — nearly 3,000 people — for common youth misbehavior in fiscal 2014-15.
—
You might want to start calling CFO Atwater a "Consumer Champion."
The Florida Association for Insurance Reform sure is. The organization presented Atwater with the award during its annual awards ceremony this week. The awards "recognize insurance and policy leaders whose work has made a meaningful difference in the lives of Floridians."
"I believe that Floridians need strong representation when insurance issues are discussed, and it's my privilege to go to bat for the people I've been elected to represent," said Atwater, whose Department of Financial Services oversees the Florida Office of Insurance Regulation. "I am honored to receive this award, and I thank the FAIR team for the work that they do on behalf of Florida's more than 20 million residents."
FAIR also honored upon state Sens. Anitere Flores, a Miami Republican, and Maria Sachs, a Democrat from Delray Beach; and State Rep. Holly Raschein, a Republican from Key Largo.
—
Create a culture of service.
That was request Chester Spellman, the CEO of Volunteer Florida, made to business leaders at the Florida Chamber Foundation's Future of Florida Forum this week. Spellman was one of several speakers who addressed the crowd, telling business leaders and elected officials he wants Florida to be No. 1 in the nation for volunteerism.
"At Volunteer Florida, we see the impact of volunteerism across the state each and every day. We realize that civic engagement and community service is essential to the health of the society," he said. "I believe volunteerism and service is a critical part of securing Florida's future."
Spellman said new research showed 35 percent of Floridians said they have volunteered in the past year. That number goes up when people are asked whether they've done service, like helping out at their church or being involved with their son's Boy Scout troop, that typically isn't thought of as volunteerism.
Spellman said 93 percent of Floridians said they wanted to volunteer, but many said barriers, like not enough time outside of work, prevent them from doing so.
"(We want to) be the No. 1 state in the nation for volunteerism. We definitely have a long way to go, but I believe that goal is attainable if we work together," he said. "As you think about the future of Florida, remember that volunteerism and service are a critical part of securing our future."
—
Get ready for another summit.
Gov. Scott announced this week he plans to hold an economic summit, similar to an education summit the Naples Republican hosted earlier this year.
"Early next year, I will be hosting an economic summit with economic development leaders and job creators from across the state to discuss how we can bring even more opportunities to Florida. Florida undoubtedly has a lot to offer to outcompete other states for jobs wins," said Scott in a statement. "Our business climate, low taxes, education system, workforce, transportation infrastructure and even the weather are all variables that companies look at when considering locations to move or expand. But, we cannot lose sight that economic incentives are an important part of this toolkit."
The summit is expected to be held early next year.
—
Attorney General Bondi has a mission: Keeping Florida safe.
"I always say its (Gov. Scott's) job to bring jobs to our state, but its mine to keep Florida the safest place to live, work and raise a family," she said during a speech at the 2016 Future of Florida Forum this week.
Bondi updated business leaders and elected officials on her efforts to protect Florida families, focusing largely on the work to get synthetic drugs off the street. Her speech came just days after she signed an emergency order making U-47700 illegal across the state.
Authorities have said the drug — which was already illegal in Georgia, Ohio, Virginia, and Wyoming — is 7.5 times stronger than morphine. According to The Ledger in Lakeland, it's now a third degree felony to be caught with the drug, and punishable of up to five years in prison if convicted.
Bondi has spent much of her time in the attorney general's office cracking down on drugs. She led the charge against pill mills, and has signed several emergency orders addressing 136 different drug compounds.
"I need your help," she said. "Teens, college kids, older people don't think they're taking anything that strong. But they're taking things that could basically tranquilize an elephant. We're doing everything we can to fight that, to get those off the street and I'll continue to do that with everything I've got."
Bondi said she expects to sign a few more emergency orders in the coming weeks. She said lawmakers will then be asked to formally ban these substances during the 2017 legislative session.
—
Speaking of Attorney General Bondi's priorities: The 2016 Human Trafficking Summit is just around the corner.
The summit — hosted by the Statewide Council on Human Trafficking, the Florida Juvenile Justice Foundation, Department of Juvenile Justice, Department of Children and Families, and the University of Central Florida — is meant to bring together local, state and national leaders to discuss ways to eradicate all forms of trafficking.
This year, Bondi said, the forum will include a panel focused on the transgender, gay, and lesbian communities.
"I typically say it's girls that are being trafficked. But for so many of our gay community, when their family finds out they're gay, they kick them out of their houses," she said during the Future of Florida Forum this week. "These kids, teens, young adults are living on the streets and they're being trafficked."
The summit is scheduled for Monday, Oct. 10 at the Rosen Centre Hotel in Orlando.
—
No hands, no problems.
At least when it comes to the future of transportation.
"We're about to enter a new era of transportation that we call a technology tsunami," said Florida Department of Transportation Secretary Jim Boxold this week. "The private sector is putting a lot of work into autonomous vehicles and smart cities."
Boxold told attendees during the 2016 Future of Florida Forum that conversations about autonomous vehicles have shifted from "not if, but when." In fact, Boxold said just last month Elon Musk, the founder of SpaceX, said "autonomy is going to come a hell of a lot quicker" that people initially thought.
And Florida is prepared. The state has been recognized as a leader when it comes to preparing for autonomous vehicles. Earlier this year, lawmakers approved wide-sweeping legislation aimed at autonomous vehicles, and Quartz recently called Florida the "most important U.S. state in the race to legalize self-driving cars."
And while driverless cars might be around the corner, Boxold said you might be waiting a bit longer for your flying car.
"If you came here expecting that FDOT was going unveil our flying car, I'm sorry to disappoint you," said Boxold.
—
Dislike trial attorneys? You aren't alone.
A new Florida Chamber Political Institute statewide poll found 35 percent of Floridians had an unfavorable opinion of plaintiff trial lawyers. That's slightly higher than a survey in August, which found 34 percent of Floridians had an unfavorable opinion.
The most recent survey — conducted Sept. 15 through Sept. 20 — found 14 percent of Floridians had a favorable view, while 24 percent said they "never heard of" them.
Those numbers aren't great, but trial attorneys do far better than the presidential nominee in either party. The survey found 55 percent of Floridians disliked Hillary Clinton, while 53 percent said they had an unfavorable opinion of Donald Trump.
—
Love seafood? Then October is your month.
In honor of National Seafood Month, Agriculture Commissioner Putnam announced this week the Department of Agriculture and Consumer Services is partnering with VISIT FLORIDA to promote seafood festivals throughout the state. A comprehensive list of seafood festivals is now available on VISIT FLORIDA's website.
"VISIT FLORIDA is proud to partner with the Florida Department of Agriculture and Consumer Services to promote the Sunshine State's seafood festivals through our website and social media efforts," said VISIT FLORIDA President and CEO Will Seccombe. "Helping ensure our residents and visitors are aware of activities that combine a passion for fishing, dining, and festivals is a win-win for us all."
The festivals celebrate the $258 million industry that commercially harvests more than 99.2 million pounds of seafood per year.
—
Here's this week's edition of Capitol Directions: