Disasters sometimes aren't real until they happen to you—or someone you know.
While Tallahasseeans waited for Hurricane Hermine to blow over Thursday night, veteran Capitol Press Corps reporter Dara Kam was on bucket brigade.
A tree tumbled down on her property, falling at rest over her pool and on the back of her house. A branch from one of the limbs stabbed into the roof and through the living room ceiling.
It hit with such force it buckled one of the interior walls.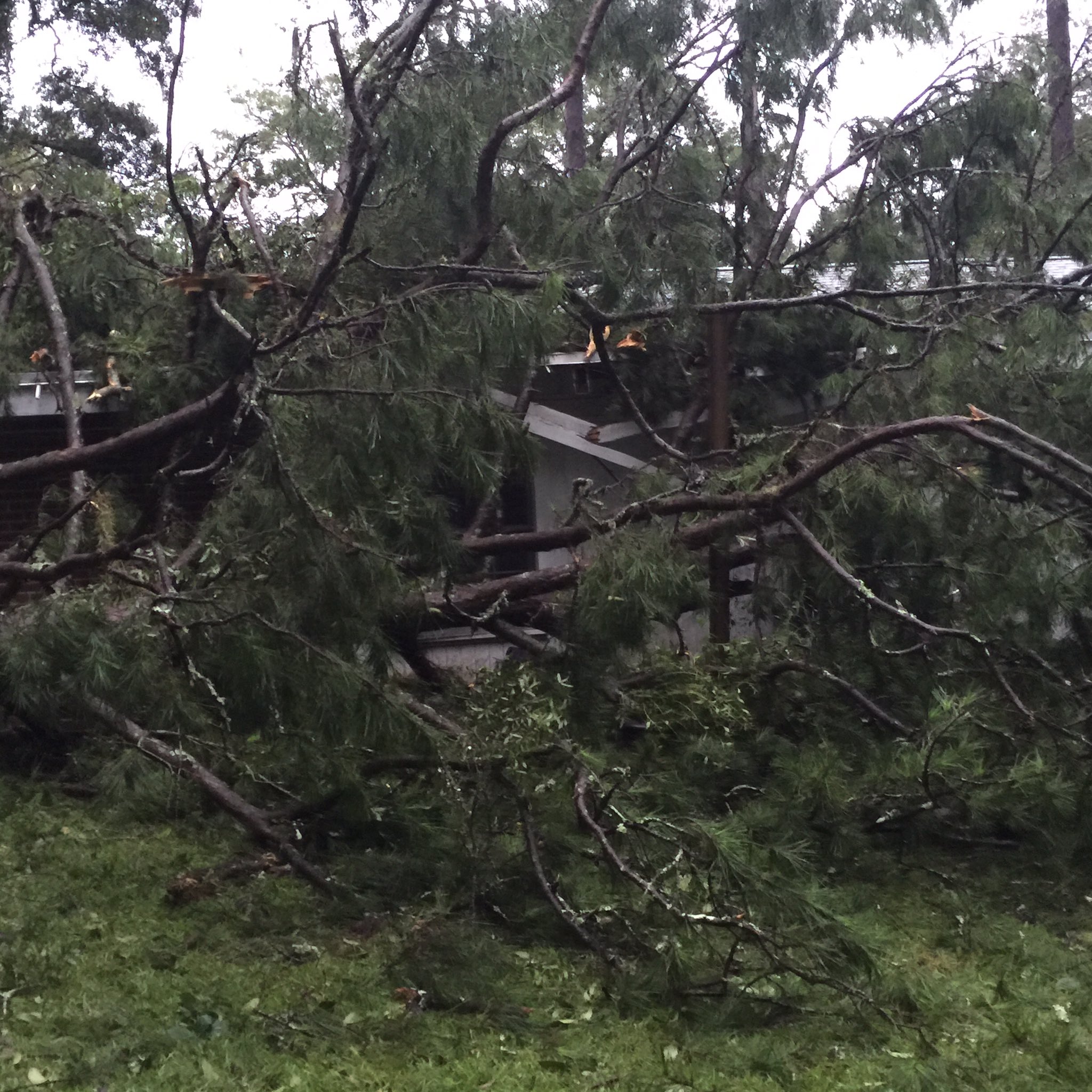 Luckily, Kam—who's with News Service of Florida—and her housemate weren't injured.
"Safe but still scared," she wrote on Facebook, with photos of the damage. "Thanks to everyone for support."
One bright note: Gov. Rick Scott called to check on her after he got news about her house. As her housemate posted, "Heard we had damage and offered his assistance and kind thoughts."
Coming up, the usual assortment of tidbits, leftovers and not-ready-for-prime-time moments by Jenna Buzzacco-Foerster, Michael Moline, Jim Rosica, and Peter Schorsch.
But first, the "Takeaway 5" — the Top 5 stories from the week that was:
The streak is over —Hurricane Hermine made landfall in Florida's Big Bend area early Friday morning, the first hurricane to hit the Sunshine State in 11 years. Gov. Rick Scott warned Floridians about the dangers of storm surges, high winds, downed trees and power outages. He declared a state of emergency in 51 counties ahead of the Category 1 storm, which hit just east of St. Marks with winds around 80 mph. "You can rebuild a home, you can rebuild property, you cannot rebuild a life," Scott said at a news conference Thursday afternoon. More than 70,000 Tallahassee residents were left without power, with the Tallahassee Democrat reporting it could be days before it is restored.
(Mostly) smooth sailing — The 2016 primary went off without a hitch, mostly. More than 2.9 million Floridians voted in the primary, putting unofficial turnout numbers at nearly 24 percent. That's higher than 2012, when turnout for that's year's primary was 21 percent. The state's elections officials reported few problems. But of course, it wouldn't be an election without a snafu in South Florida. The Broward County Supervisor of Elections released returns about 20 minutes early Tuesday. State law prohibits the release of results before polls close, and Secretary of State Ken Detzner said he "referred this breach to the state attorney and the sheriff of Broward County."
Welcome to Florida Senate — Primary night shepherded in a few new senators, but the new kids on the block aren't new to the capital city. Several House members won their primaries, and all of them are either favored to win their general election come November. Reps. Doug Broxson, Kathleen Passidomo, Greg Steube, Randolph Bracy, Victor Torres, Kevin Rader, Bobby Powell, and Daphne Campbell all came out on top.
Third grade retention — Could reforms be coming to the state's third-grade retention rules? Florida's superintendents appear to want to see some, with the head of the superintendents' organization telling the State Board of Education they'd like the state to allow flexibility as close to the school district to make decisions. Parents in six counties challenged the existing rule, which has been in place since 2003. Parents say some districts refuse to consider other options, like portfolios of classroom performance.
Pigskin picks up — Labor Day weekend marks the unofficial end of summer … and the official start to college football season. That means tailgates, school spirit and a boon for college towns across the state. The influx of visitors for college ball helps boost the local economy, as football fanatics spend money on hotels, food, memorabilia and transportation. As Dominic Calabro, the president and CEO of TaxWatch, noted recently when Florida State won its third National Championship, "even bottom-tier games generated $1.5 million in economic revenue for the Tallahassee area each weekend." Go, sports!
—
This bill gets results.
S&P Global Ratings revised its outlook to positive and affirmed its A+ rating on Miami-Dade County Public School's outstanding general obligation bonds. The revision, said Sen. Anitere Flores, was the direct result of the passage of HB 499.
The law reforms the Value Adjustment Board process for resolving property tax disputes. It also takes steps to certify that local entities receive annual funding without long delays.
The revised outlook reflects strong assessed value group over the past few years.
"Investing in our kid's education is investing in the future of our community," said Flores in a statement. "It is exciting to see that the hard work and leadership that went into passing HB 499 has been favorable, and that its implementation has resulted in a positive rating on the outstanding general obligation bonds"
—
Call this mayor, Ms. President.
Boca Raton Mayor Susan Haynie was installed as the president of the Florida League of Cities. Haynie is a 44-year resident of the city, and rose to the position of mayor after years as a Boca Raton city employee.
"We all recognize that the best government is the one closest to the people," she said in a statement. "Working together through the Florida League of Cities, we can enhance the single most important function of government—protecting our citizens."
Haynie's signature policy initiative for her term will be "Safe Cities, Safe Florida."
It will focus on training city workers on public safety; providing citizens with online and other educational material and partnering with agencies and organizations to create "a network of experts for city officials to turn to when needed."
—
The leader of a campaign by Florida court officials to protect the state's courthouses learned the importance of security as a military lawyer.
"Military service showed me that basic security is the floor that must be laid before we can begin to address these loftier questions of justice," said Circuit Judge Margaret Steinbeck of Fort Myers, who served in the U.S. Army's Judge Advocate General's Corps early in her career.
Steinbeck is Chief Justice Jorge Larbarga's pick to oversee his new trial courthouse security work group. The panel will evaluate security practices in the state's trial courts; review what courts elsewhere are doing; work with the courts, counties and sheriffs to evaluate funding; and propose a statewide reporting system for security incidents.a
The Supreme Court's Judicial Management Council made security for judges, court workers, court users and facilities a priority in its latest strategic plan.
"We want to move ahead quickly on this issue—and stay ahead," Labarga said. "There can be no question of its urgency. It is underscored by the shock, fear, and grief we all have witnessed and experienced this long summer."
Other appointees include judges from Jacksonville, Miami, Orlando, Pensacola, Sanford, Tallahassee, and Tampa, and attorneys from Jacksonville and Tallahassee.
—
Keep this in mind next time you get behind the wheel — more than 19,000 people died in motor vehicles in the first half of the year.
The National Safety Council reported there were 19,100 motor vehicle deaths between January and June, up 9 percent from the same time in 2015. It also marked a 18 percent increase from 2014.
The increase in fatalities likely reflects the effects of low gas prices. The National Safety Council reported the estimated cost of motor-vehicle deaths, injuries and property damage through June was $205 billion.
A @NSCsafety report on Motor Vehicle Fatalities shows a 43% increase for FL btwn 2014-16: https://t.co/AW0xNjjgFI pic.twitter.com/dX3TnoZ5sb

— LobbyTools (@lobbytools) August 24, 2016
—
Florida Taxwatch has turned its attention to criminal justice.
The organization's latest report focuses on the state's juvenile pre-arrest diversion programs. In the report, Florida TaxWatch found the programs are crucial to keeping juveniles from deeper involvement in the juvenile and criminal justice system.
"People, especially young people, sometimes make mistakes. However, we should not subject young offenders to unsuccessful policies that doom them to a bleak cycle of crime," said Dominic M. Calabro, the president and CEO of Florida Taxwatch. "JPAD programs are an effective and efficient way to ensure that juvenile offenders are held accountable for their actions without subjecting them, and taxpayers, to the monetary and societal costs of an arrest."
The report, however, notes there are inconsistencies in eligibility and application across the state. That creates a system where a juvenile offender in one county may receive alternative referral for services, while someone in a nearby county would be arrested for the same crime.
The report calls on the Florida Legislature to work with existing programs to create a graduated system of sanctions and consistent eligibility standards across the state.
—
The ratings are out.
The American Conservative Union Foundation released its 2016 ratings of the Florida Legislature. The organization rated nearly 100 legislators, and found Republican legislators voted more conservatively compared to the previous year.
"The 2016 session of the Florida legislature continued to make strides in implementing conservative principles," said Matt Schlapp, chairman of the ACU, in a statement. "They strengthened laws preventing taxpayer funding for organizations that perform abortions, such as Planned Parenthood, passed a comprehensive education reform bill that strengthens school choice, and reduced taxes on manufacturing and aviation fuel– although it provided less tax relief than that proposed by the Governor. Unfortunately, the Senate failed to take up House-passed bills to increase energy production and ease restrictions on the carrying of firearms."
The list of lawmakers given "Award for Conservative Excellence" include Sen. Rob Bradley, Speaker Designate Richard Corcoran, and Rep. Matt Hudson. Those ranked in the "Award for Conservative Achievement" category were Sens. Lizbeth Benacquisto, Jeff Brandes, Bill Galvano, and Wilton Simpson.
As for the losers? Well the ACU named Reps. Shevrin Jones, Kionne McGhee, Richard Stark and Barbara Watson as the "Coalition of the Radical Left." That's a badge they'll probably wear with honor.
—
Cheryl Flood is interim no more.
Agriculture Commissioner Adam Putnam announced Flood has been appointed as the full-time director of the Florida State Fair.
"Cheryl's passion for the Florida State Fair's mission and drive to see it succeed is unrivaled," said Putnam in a news release. "I have the utmost confidence in her experience and ability to continue to make the Florida State Fair the best in the country."
Flood is a fifth-generation Floridian who, according to the Department of Agriculture, "grew up on a cattle ranch east of Lake Wales and has dedicated her career to promoting agriculture."
She graduated from the University of Florida's Agricultural Leadership Education program with minors in Agribusiness Management and Sales, Agricultural Law, and Agriculture and Natural Resources Ethics and Policy.
The fair is held every year at the Florida State Fairgrounds in Tampa; the next one is Feb. 9-20.
—
Liens on zombie foreclosures won't be discharged when a home goes through a judicial sale.
The 4th District Court of Appeal upheld a lower court ruling recently that liens placed on abandoned properties for code violations can't be extinguished once the home is sold through the judicial process.
According to a Housingwire report, the decision is noteworthy because Florida has the third highest total zombie foreclosures — homes that have been foreclosed and abandoned by the homeowner, but not yet sold — in the nation.
Recent RealtyTrac data found Florida had 2,467 zombie foreclosures as of the second quarter of 2016. That placed it behind New Jersey, which had 4,003 zombie homes, and New York, which had 3,352 zombie homes.
—
Florida is seeing gains when it comes the number of bank-owned sales.
The Sarasota Herald-Tribune reported bank-owned sales were down 22.5 percentage points from a peak of 27.9 percent in January 2009. In May, bank-held properties accounted for 5.4 percent of total real estate sales.
The state saw 15.8 percent of its total sales in the distressed category. However, it saw the largest decline of any state from the same time last year, at 5.5 percent.
—
Shame on you.
The Florida Supreme Court publicly reprimanded a judge who jailed a domestic violence victim for not showing up to testify against her alleged abuser.
According to reports, Florida Chief Justice Labarga told Seminole County Judge Jerri Collins that her behavior was "intolerable" when she publicly belittled the Lake Mary woman upon sentencing the victim to three days in jail for contempt last year.
The Associated Press reported that Collins admitted her misconduct and agreed to take an anger management course and one on domestic violence. The state Supreme Court found that she had the legal right to jail the woman, but shouldn't have been so mean.
—
Former Senate President Don Gaetz is moving on to the next round.
Gaetz is among the eight candidates who will be advancing in the search for a new president of University of West Florida. The next round of interviews is scheduled for Sept. 12 through Sept. 14.
The seven other candidates, according to the Pensacola News Journal, are Martha Saunders, the school's provost; James Applegate, the executive director of the Illinois Board of Higher Education; Frank Ashley, a senior vice president of the College Board; Ronald Elsenbaumer, a senior advisor to the president for entrepreneurship at University of Texas at Arlington; Bahman Ghorashi, provost at Tennessee Tech University; Mike Sherman, the vice president for innovation and economic development at the University of Akron; and Alan Utter, the vice provost for research at Appalachian State University.
—
A South Florida elected official could be in deep trouble.
The South Florida Sun Sentinel reported this week that state officials may look into allegations that Vice Mayor Bill Julian accepted favors from a developer. Julian is currently under investigation by the Broward State Attorney's Office.
The investigation comes after commissioners approved a $450 million condo and hotel project at the Diplomat Golf and Tennis Club. When robocall went out blasting Julian, he called the number given and was recorded on its voicemail.
The Sun-Sentinel reported he appeared to say he was promised campaign workers to help keep his seat in November.
—
A charity campaign is back.
The Florida State Employees Charitable Campaign runs through Nov. 10, and officials are hoping to have a more successful campaign than last year's effort. The campaign benefits charities across the state, but only raised $546,000 in pledges, the lowest amount in three decades.
The reason? The Tallahassee Democrat reported hundreds of state workers rescinded their donations after they learned half of the proceeds were going to Solix Inc., a New Jersey company.
The campaign was created by the Cabinet in 1980, and was later included in state statues. For years, the United Way ran the campaign. But state workers complained about the organization's fundraising tactics, and the state replaced the United Way with Solix.
Under a new contract with Solix, the state lowered its fees for 2015 and future years.
—
Florida has the 35th highest adult obesity race in the nation.
A new report from the Trust for America's Health and the Robert Wood Johnson Foundation found Florida's obesity rate is 26.8 percent. The adult obesity rate is up from 18.4 percent in 2000 and 11.4 percent in 1990.
According to the report, the obesity rate among blacks in Florida was 35 percent. It was 25 percent among whites, and 27 percent among Latinos. The report also found the obesity rate was 32 percent for people between the ages of 45-64.
"This year's State of Obesity report is an urgent call to action for government, industry, healthcare, schools, child care and families around the country to join in the effort to provide a brighter, healthier future for our children," said Risa Lavizzo-Mourey, president and CEO of RWJF. "It focuses on important lessons and signs of progress, but those efforts must be significantly scaled to see a bigger turn around. Together, we can build an inclusive Culture of Health and ensure that all children and families live healthy lives."
Louisiana has the highest rate of adult obesity at 36.2 percent. Colorado has the lowest rate at 20 percent.
—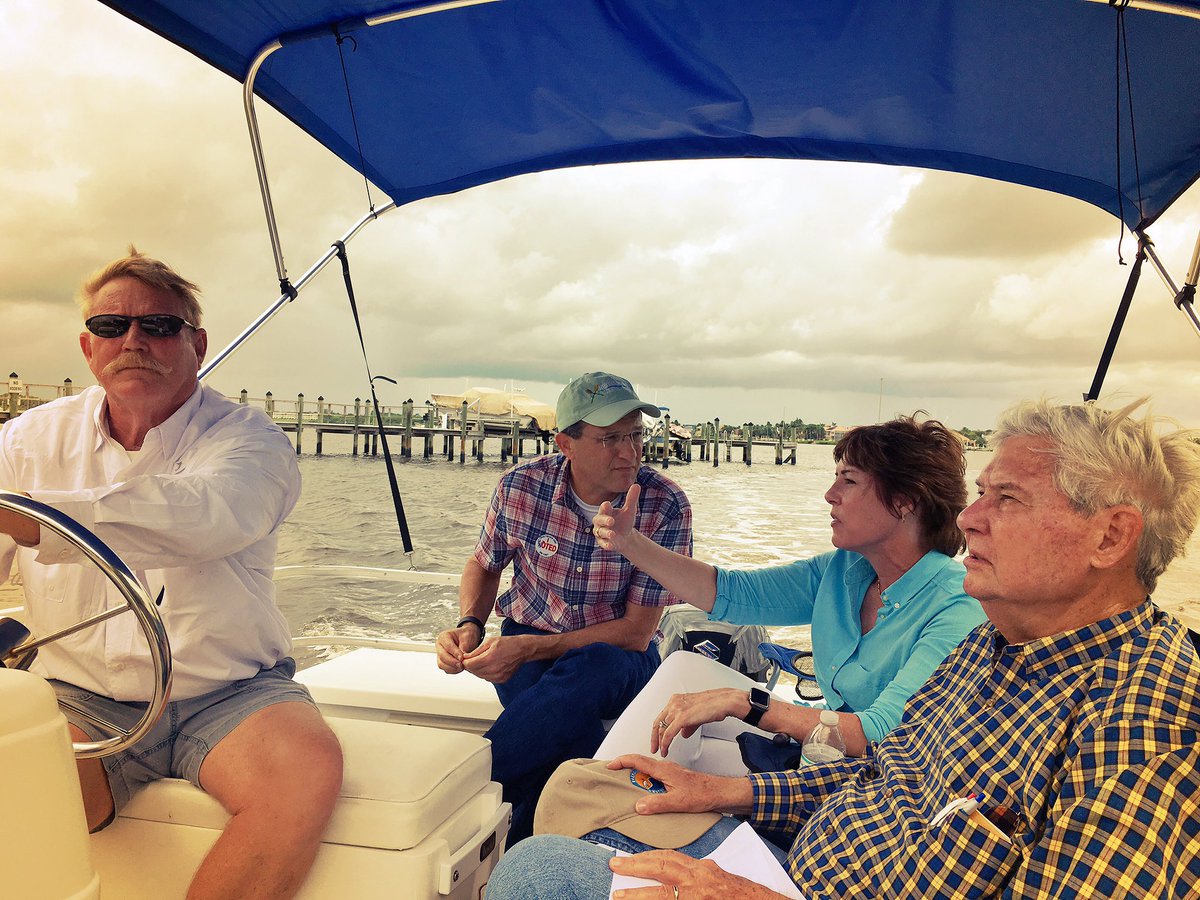 Senate President Designate Joe Negron got praise from an unlikely source for his recent water proposal: Rep. Gwen Graham.
The well-known Democrat said the Stuart Republican's plan was a good first step to deal with the area's water woes. Graham, who is considering a 2018 gubernatorial bid, was on the Treasure Coast on Tuesday with her father, former Sen. Bob Graham, for a workday, testing blue-green algae in the St. Lucie River estuary.
Negron announced he wanted to set aside money to purchase land for water storage south of Lake Okeechobee. He identified two areas — an area south of the lake that straddles the Miami Canal and the Bolles Canal, and an area to the southeast adjacent to existing stormwater treatment areas, canals and the A-1 flow equalization basin — as possible locations for the project.
Graham told POLITICO Florida she invited Negron to the workday, but he couldn't attend. The event was the same day as Tuesday's primary, and Negron's wife, Rebecca, was running for Congress.
—
Americans for Prosperity presented state Reps. Richard Corcoran and Jose Oliva with the Washington Award at the group's tenth annual Defending the American Dream Summit this week in Orlando, Florida.
Corcoran, a Land O' Lakes Republican, will be House Speaker in 2017-18; Oliva, a Miami Lakes Republican, will be speaker after that.
"The Washington Award is the organization's highest honor, and is offered to those who not only stand and fight for the group's values, but also make progress toward policies that spread economic freedom and prosperity around their communities and the country," the organization said in a press release.
—
Luke Russert is Florida bound, but not to cover an election.
The former NBC New correspondent will deliver the keynote address during the Florida Association of Professional Lobbyists annual conference. The meeting is meant to bring together leaders in Florida's political influence sector to learn about the latest trends and best practices.
Russert joined NBC News in 2008, at 22, shortly following the death of his father, Tim Russert, host of "Meet the Press." His reporting on the presidential election that year earned him a share in an Emmy award, and he has covered Congress for the network.
The conference kicks off Wednesday at the Grand Hyatt Tampa Bay, 2900 Bayport Dr. in Tampa. Russert speaks at 12:15 p.m. Thursday.
—
A constitutional challenge to the state's medical malpractice law will get its day in court.
The Florida Supreme Court issued an order scheduling arguments about part of the law dealing with ex parte communications in malpractice lawsuits. The arguments are scheduled for Dec. 8.
The law was passed in 2013, and immediate led to a debate over access to health information. Critics said the law violated a patient's right to privacy; while supporters said the law was a fairness issue because it could give defense attorneys access to information plaintiffs' attorneys already had.
The Supreme Court will hear arguments in an Escambia County case file by Emma Gayle Weaver. The 1st District Court of Appeal upheld the constitutionality of the law, which prompted lawyers to take it to the Supreme Court.
—
Congratulations, Heather Cox Rosenberg.
The Florida Department of Children and Families announced Rosenberg had been named the agency's ombudsman. She will will serve as go-between for the department and children under its care.
"We are excited to welcome Heather to the DCF team and start her work as the ombudsman for the children we serve to give them a direct line of communication to the agency," Secretary Mike Carroll said.
"Heather's previous work with foster and adoptive families gives her unique insight into the challenges these kids may face and will help inform us as we make decisions that often impact children in care."
Rosenberg is president of the Tallahassee Area Foster and Adoptive Parent Association. She lives in Crawfordville with her husband, Evan, and their three adopted children. Since 2009, they have fostered 16 other children.
—
Zika-carrying mosquitoes have been discovered in Florida.
The mosquitoes were trapped in the 1.5-square-mile area of Miami Beach that had been identified as an active zone for transmitting the virus. The Department of Agriculture detected Zika in three mosquito samples
"This find is disappointing, but not surprising," Commissioner Putnam said. "Florida is among the best in the nation when it comes to mosquito surveillance and control, and this detection enables us to continue to effectively target our resources."
According to the Department of Agriculture, now that Zika-positive mosquitoes have been identified in Miami Beach, Miami-Dade County Mosquito Control team will continue inspections to reduce mosquito breeding and perform spray treatments as necessary within a 1/8-mile radius of the trap location.
—
The Supreme Court is pondering PIP.
Supreme Court justices heard oral arguments in a consolidated lawsuit by health care providers. The suit, Christine Sexton with POLITICO Florida reported, is the latest in a series of challenges to Florida's auto insurance laws. The law requires drivers to carry $10,000 in personal injury protection (PIP) as part of their auto coverage.
The court is taking up the issue of whether Allstate provided enough legal notice to health care providers that the company would use Medicare rates to pay doctors.
Attorneys for Allstate Insurance said a ruling in physicians' favor would negatively impact policy holders. But attorneys for the healthcare groups said the contract isn't clear.
The case is on appeal after a Fourth District Court of Appeal opinion, which was in conflict with rulings from three other appellate courts.
—
The state's top insurance official is offering some tips to help consumers file claims after the storm.
Insurance Commissioner David Altmaier and CFO Jeff Atwater laid out a few tips about filing claims on damaged property and belongs.
Altmaier told Floridians to locate all applicable insurance policies, including homeowners' and flood policies. He said Floridians should "document all damaged property and belongings." A photographic inventory, he said, is "a handy resource for this situation."
Other tips including contacting the insurance company or agent as soon as possible. And cover damaged areas to prevent further damage.
Consumers who have questions about their insurance coverage are encouraged to call CFO Atwater's Department of Financial Services, Division of Consumer Services' Insurance Helpline at 1-877-MY-FL-CFO.
—
Here's this week's abbreviated edition of Capitol Directions (a lack of power to the home of our writers an graphic designer prevented us from producing a full-blown edition):
Rick Scott – Double Up arrow – As Michael Williams tweeted, "Agree with him or not but @FLGovScott has been going nonstop this summer. Florida has been in good hands."
Duke Energy – Up arrow – Sent trucks and manpower to north Florida to help with restoration of power. Maybe investor-owned utilities aren't so bad.
Daubert and Frye – Crossways arrow – No, not a British comedy duo, but competing standards for allowing expert witnesses testimony. The state's lawyers now bite their nails waiting for a decision from the Florida Supreme Court.
Florida State – Up arrow – Kudos for kicking off a series of informal public policy chats in Tallahassee that will take place at a bar/restaurant. It'll be like "Cheers" with a bunch of brainy Cliffs and Norms.
Sydney Ridley – Up arrow – Our favorite legislative aide leaves Dana Young to head up gov't and reg affairs for Frontier. Smart move after their missteps in Florida this year.
Open government – Down arrow – Takes another licking after judge rules agencies don't have to give specific reasons for each redaction they make in a public document. Let's hope for a successful appeal.
Tallahassee Democrat – Up arrow – Temporarily dropped its paywall so readers can get local updates after Hurricane Hermine. Three cheers for publisher Skip Foster and editor William Hatfield.
Whataburger – Down arrow – A tree took out the historic 24-hour burger joint in midtown Tallahassee. For those of us who stop in at 2 a.m., this is an oh-the-humanity moment. Good news: It mainly took out the parking canopy.