The lawyer for the Florida Lottery says don't count on any kind of settlement between his client and House Speaker Richard Corcoran in their grudge match, er, lawsuit.  
"It wouldn't be workable for the Lottery," said Barry Richard, of Greenberg Traurig's Tallahassee office, on Friday. "They couldn't have a deal where they can't enter into a contract until they first get an appropriation. That wouldn't work for many agencies." The Lottery reports to Gov. Rick Scott.
A bench trial before Circuit Judge Karen Gievers is set for March 6 — the day before the start of the 2017 Legislative Session.
Corcoran filed a "writ of quo warranto," a court action against government officials to demand they prove their authority to perform a certain action. His suit faults the Lottery "for signing a contract that spends beyond existing budget limitations."
Richard counters that the Legislature cannot "micromanage individual contracts because that's a quintessential executive function." As he further told the AP, if lawmakers don't like a particular deal, "they don't have to fund it."
The deal in quesiton, worth as much as $700 million, with International Game Technology (IGT) will provide the Lottery with new retailer terminals, in-store signage, self-service lottery vending machines, self-service ticket checkers and an upgraded communications network.
The contract is for an initial 10-year period, and the Lottery already exercised the first of its three available three-year renewal options.
Richard is as boggled over this suit as he was over the federal lawsuit lodged by the state against the Seminole Tribe of Florida, which he also represents. Scott sued the Tribe for continuing to offer blackjack despite the expiration of a revenue-sharing agreement. The tribe won; the state is appealing. 
Last month, Richard said about that case, "I don't recall in my career an opposing party working so hard to keep my client from paying it hundreds of million of dollars." 
Friday, he added: "The reason for this contract is because (the Lottery) is doing so well that they need more equipment … I don't understand the (House's) point."
Lottery proceeds go into the state's Educational Enhancement Trust Fund, which helps pay for public education. The agency this week announced it had "reached the $1 billion mark for this fiscal year (July 1-June 30) earlier than any other year in (its) history," referring to money it kicks into that fund.
Moreover, under the contract, IGT gets a cut of sales. "The longer the contract is, the lower the percentage is that the state has to pay, because it gives them more security over time, and it locks in the vendor," Richard said. "So they save about $18 million."
Speaking of money, Richard agreed to be paid up to $60,000 for a trial, which he doesn't expect to last more than a day, and an extra $40,000 for an appeal. He's best known for representing then-Texas Gov. George W. Bush in the 2000 presidential election challenge. 
"Under both Republican and Democratic administrations, he has been retained at various times as special counsel to the Governor, the Florida Senate, the Florida House of Representatives, the Florida Attorney General, the Florida Secretary of State, the Florida Department of Health, the Florida Department of Transportation, and the Florida Department of Insurance," his law firm bio says.
And sometimes, a case just has to go to court, he added: "That's how I feed my family."
Coming up, the usual assortment of tidbits, leftovers and not-ready-for-prime-time moments by Jenna Buzzacco-Foerster, Michael Moline, Jim Rosica, and Peter Schorsch.
Now, the "Takeaway 5" — the Top 5 stories from the week that was:
Life support — Enterprise Florida and a slew of other economic incentive programs appear to be on life support after the House Appropriations Committee voted 18-12 to approve a bill that would eliminate the state agency. Two Republicans, Holly Raschein and Bill Hager voted against the bill. While the original bill would have eliminated Visit Florida, the state's tourism marketing agency, lawmakers amended it this week to put it under strict transparency and accountability rules aimed at increasing oversight of spending. And if the battle between the House and Gov. Scott weren't enough to drive you to drink, the Senate weighed in this week when Sen. Jeff Brandes filed his own bill aimed at Enterprise Florida.
On the attack — Gov. Scott didn't take the vote lightly. The Naples Republican released a scathing statement before the final vote was even cast, and later in the week his political committee released a video on Facebook labeling House Speaker Corcoran a "career politician" who trades in "fake news" and "waste(s) your money." Scott says the video was prompted by Corcoran's own staff-produced video that slammed the governor for failures of business incentive projects that began before his time in office. The speaker appeared to turn the other cheek, telling reporters this week if Scott reached out and poked him in the chest he "would take it 10 out of 10 times."
All in — The Senate Appropriations Committee approved its sweeping gambling bill, which allows the expansion of slot machines and the Seminole Tribe to offer craps and roulette at all of its casinos, this week. The committee approved it overwhelmingly, with just two members voting against it. Over in the House, the Tourism & Gaming Subcommittee OK'd it's gambling bill, which allows the Seminoles to keep blackjack and slot machines for 20 years, but doesn't allow for the expansion of gambling to other part of the state. Now the question is: Who folds first?
Cleared for the floor — A bevy of bills cleared their final committee stop this week, meaning lawmakers could have a full plate when the 2017 Legislative Session is called to order on March 7. The House Judiciary Committee this week OK'd a joint resolution to place term limits on Supreme Court justices and appears court judges, a top priority for Speaker Corcoran. The same committee also approved a bill that would create a system that would allow victims of terrorism to sue terrorists and their enablers in state court. House and Senate bills to make require jury unanimity when recommending the death penalty cleared their final committee this week; as did a House bill to ban red light cameras. And the Senate's Excellence in Higher Education Act, a top priority for Senate President Joe Negron is now ready for a vote of the full Senate.
Election fever — Can you feel it? Florida's political class has election fever, but it doesn't seem to be spreading to the general population. Associated Industries of Florida conducted hypothetical ballot tests for Governor and Cabinet as part of a recent survey of Republican primary voters. The survey found that, in a hypothetical four-way race between Agriculture Commissioner Adam Putnam, House Speaker Corcoran, Senate Appropriations Chairman Jack Latvala and businessman (and alligator 'wrassler') Ron Bergerson, 71 percent said they would be undecided. Ouch. But that isn't stopping us from talking about 2018, especially since it seems like Miami Beach Mayor Philip Levine and Tallahassee Mayor Andrew Gillum are inching closer to an announcement. Gillum said on Twitter this week he was "seriously considering running for Governor so that we can rebuild Florida into a state that works for all of us." Levine announced he started his own political committee and hired Matthew Van Name, who ran Rep. Charlie Crist's campaign. And Sen. Bill Nelson seems unfazed by the prospect that he might face a primary challenger in 2018, challenging a reporter who asked about it to a push up contest this week. We can tell you one thing, he's probably got us beat on that one.
—
Can't stop, won't stop us from writing about estoppel.
Yep, that arcane legal issue is back in the Legislature for the third year in a row, still pitting the real estate crowd against homeowner's associations.
Associations send estoppel letters, or estoppel certificates, for a real estate closing to document any money owed them. More often than not, what's at issue is unpaid association fees by owners who defaulted on their mortgage.
In previous years, the battle was about cost-shifting between Realtors and title companies and the associations, with neither side wanting to bear the cost of research and preparation. And if associations pay, they say, that means their constituent homeowners ultimately are on the hook through their dues.
How much the letters really cost has been a bone of contention for years. Former state Sen. Gwen Margolis once opined that all the associations do to figure out what's owed is "punch a button on a computer. (They) never see a problem … until they have to pay … It's been a ripoff for a while."
On the other hand, a lobbyist for the statewide association of community association managers has said preparing estoppel letters can legitimately cost anywhere from $15 to $400.
"The legislature has refused to pass a home tax (bill) two years in a row," Mark Anderson told us. "Unless all sides can agree on something that will not cost homeowners more money as the current bills propose to do, it will be difficult to see how a conservative Florida legislature passes any estoppel bills."
This year's bill (SB 398) caps the cost per letter to $200 if nothing's owed, and an extra 200 bucks if there are unpaid fees or fines. The measure cleared its first committee this week.
In an effort to make the subject the least bit accessible to the public, news media and lawmakers, Tallahassee-based communications savant Kevin Cate last year rebranded the issue as "smashing the home tax." 
We can only hope we once again get to see lawmakers using sledgehammers to clobber cinder blocks with "home tax" stamped on them.
—
When it comes to Advanced Placement testing, Florida is No. 1.
According to the Advanced Placement data report released this week by the College Board, Florida ranks first in participation in AP exams during high school. The Sunshine State, according to the report, placed third in the nation when it comes to improvement over the last decade.
"We are thrilled that Florida's students have once again demonstrated a strong commitment to academic success, and I am confident this is just the 'tip of the iceberg' for the graduating Class of 2016," said Education Commissioner Pam Stewart in a statement. "Support from teachers and school administrators is integral to students on their education journey, and I thank them for the ongoing guidance and support they provide to help their students reach their full potential."
According to the state Department of Education, the number of Florida graduations participating in AP exams more than doubled over the last decade, increased from 44,893 students in 2006 to 84,986 students in 2016.
—
College students take note: You better make time for volunteer hours if you want that Bright Futures scholarship.
Sen. Daphne Campbell and Rep. Nick Duran have proposed legislation requiring students to volunteer 15 hours per semester to maintain eligibility for Bright Futures scholarships. The proposal was recently amended, decreasing the required per semester hours after constituents expressed concerns that the original 30 hours per semester was too much for students trying to balance maintaining their grades and paying for school.
"The amended bill gives students the time they need to dedicate to their commitments but still ensures that these students are also giving back to their community. Fifteen hours of community service can be finished in one weekend and is much more feasible for these dedicated, but busy students," said Campbell in a statement.
The required hours can be completed by volunteering for a variety of organizations, including schools, hospitals and government agencies. Active duty military members are exempt from the requirement.
"An education is not just about what you can learn in the classroom, but also in the valuable life experiences that can be gained from immersing yourself within your community," said Duran in a statement. "The lower service hour requirement will still add valuable capacity to the diverse efforts across the state while inspiring our young, bright minds."
—
Speaking of college: Rep. Bill Hager wants students to know what they'll make once they've got that degree
That's why the Boca Raton Republican filed a bill requiring Florida colleges and universities to tell incoming students the average wage they can expect for degrees they grant.
Hager said he has seen a split over the past 20 years between "soft degrees" in liberal arts such as psychology and political science and "hard degrees" such as engineering and physics, with STEM degrees often paying more.
"It is not government's job to tell students what to study – but it certainly is our job to provide fundamental information such as income and employment possibilities matched to degrees.  For us to do anything less is snookering our students," Hager said.
HB 869 would require any higher education institution receiving state funds to list online the average salary for each degree it grants for alumni who are 1 year, 5 years, 10 years and 20 years after entering the workforce. The deadline for posting the information would be July 1, 2019.
—
Maybe Zoe Mattina should be a lobbyist when she grows up.
The 3-year-old certainly charmed members of the House Health Care Appropriations Subcommittee when she appeared with parents Ryan and Lara Mattina to support a proposed $500,000 appropriation for early therapeutic intervention for children with hearing loss.
"Thank you, friends," Zoe told the committee members.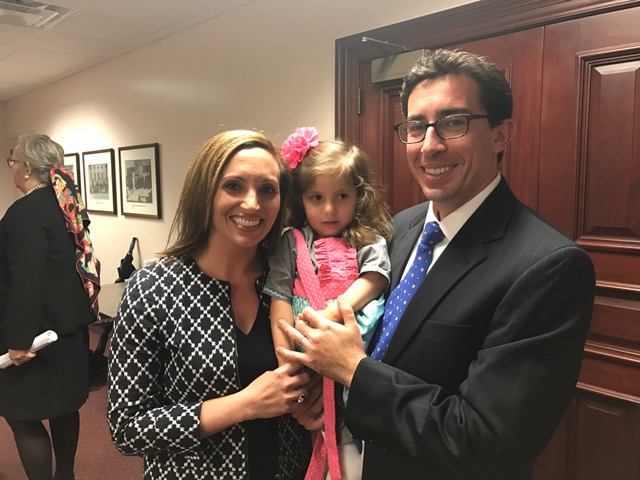 "Zoe even filled out a hearing card," putting her appearance on the official record, chairman Jason Brodeur noted.
Zoe was born deaf because her mother had been infected with cytomegalovirus, her parents explained. She benefited by early auditory-oral intervention and cochlear implants, and can hear now.
"For Zoe, early intervention services have helped her literally find her voice," her dad said.
Lara Mattina took the occasion to issue a warning on the virus. Women who are pregnant or considering becoming pregnant should avoid kissing people, including toddlers, on the lips, and should wash their hands frequently.
"It is absolutely preventable," she said. "It is something I think OB-GYNs should be talking to all of their patients about."
—
Yippee for manatees!
The Florida Fish and Wildlife Conservation Commission reported this week a preliminary county of 6,620 manatees in Florida waters. That marks the third straight year of a minimum count higher than 6,000 manatees in Florida water, according to the Florida Fish and Wildlife Conservation Commission.
Researchers conduct synoptic surveys annually to count manatees that are visible in the water at the time of the survey. They are conducted after a cold front and cover all known winter habitats of Florida's beloved sea cow. The 2017 count was helped by warm, sunny weather with low winds and good visibility.
"The relatively high counts we have seen for the past three years underscore the importance of warm water habitat to manatees in Florida," said Gil McRae, FWC biologist and head of FWC's Fish and Wildlife Research Institute, in a statement. "The FWC will continue to work diligently with our many partners to ensure the long-term viability of these habitats and the well-being of the manatee population."
—
Lisa Edgar has resigned as director of the Florida Park Service after less than two months on the job, citing "an immediate family emergency."
Edgar notified Gary Clark, the Department of Environmental Protection's deputy secretary for land and recreation, in an emailed note Thursday.
"Gary. Thank you for the opportunity to work for you and the Florida Park Service. It has been an honor. Unfortunately, an immediate family emergency requires my full attention. As such, I regretfully must resign at this time," Edgar wrote.
"I wish continued success to you and the agency."
Edgar, a three-term member of the state's Public Service Commission, previously was deputy secretary of DEP. She decided not to seek another term on the PSC and was replaced by water use engineer Donald Polmann of Dunedin.
—
The Florida Board of Bar is looking for a few good lawyers.
The organization is looking for lawyer applicants to fill two vacancies on the Florida Board of Bar Examiners. A joint screening committee of the Board of Governors members and Board of Bar Examiners members will recommend six nominees for two lawyer vacancies at its May 26, 2017, meeting.
Attorney members must have been a member of The Florida Bar for at least five years, be practicing lawyers with scholarly attainments and have an affirmative interest in legal education and requirements for admission to the Bar. Appointment or election to the bench at any level of the court system will disqualify any applicant. Law professors or trustees are ineligible.
—
Want to track information in Florida? There's an app for that.
The Florida Forest Service released FLBURNTools, a new mobile app this week that is meant to inform the public about drought, wildfire danger, and wildfire activity. The app can also be used by prescribed burn practitioners to plan and submit authorization
"Wildfire activity is on the rise and wildfire danger is expected to increase greatly in the coming months," said Jim Karels, Florida State Forester. "Floridians equipped with the 'FLBurnTools' app can view the locations of nearby wildfires and see up-to-date drought and wildfire danger information."
—
Welcome to the board!
Gov. Scott appointed this week announced he appointed Mark Harden and Rocky McPherson to Florida is for Veterans Inc.
Harden, a 65-year-old Pensacola resident, is the military aid director for the Navy-Marine Corps Relief Society. He has 30 years of military experience and retired from the United States Navy in 2004.
McPherson, a 72-year-old Fernandina Beach resident is the former vice president of Military and Defense Programs for Enterprise Florida, Inc. and a retired Colonel of the United States Marine Corps with over 30 years of military service.
Both were appointed to a term ending July 14, 2020.
Scott also reappointed James Sampey, a 56-year-old Indian Rocks Beach resident, to a term ending July 14, 2020.
—
Sen. Travis Hutson is getting a thumbs up from the League of Southeastern Credit Unions & Affiliates.
The organization applauded the Palm Coast Republican this week for filing legislation that would provide public depository choice for government entities.
"Public depository choice, our top priority during the 2017 Legislative Session, would allow credit unions to accept deposits from local government entities," said Patrick La Pine, president and CEO of LSCU & Affiliates. "Not only would it allow school boards and local governments, as well as universities and colleges, the opportunity to bank with their local, member-owned credit unions, but it would also allow local funds to stay within the community, spur competition among eligible public depositories, and allow for greater rates, savings and returns to consumers."
—
Poor Tallahassee.
A new report by WalletHub ranked Tallahassee toward the bottom of the list of the best state capitals to live in 2017. The personal finance website ranked the 50 state capitals across 42 key metrics, including cost of living, quality of K-12 school system, and number of attractions.
Tallahassee ranked No. 37, with an overall score of 49.12. It was wedged in between Columbia, South Carolina, and Harrisburg, Pennsylvania.
When it comes to affordability, Tallahassee came in 39th. It didn't fare much better in the rankings when it came to the economic well-being rankings, where it ranked No. 48. WalletHub ranked Florida's capital city 22nd when it comes to quality of education and health and 21st when it came to quality of life.
The worst capital city to live, according to WalletHub, in 2017 is Jackson, Mississippi. The best? Austin, Texas.
—
Volunteer Florida wants to boost student achievement in rural communities.
The statewide organization announced this week it was giving $100,000 in grant awards to 12 organizations across the state so they can provide important educational programming to students.
"Volunteer Florida is thrilled to announce the recipients of this new grant funding," said CEO Chester Spellman in a statement. "The Rural Community Assets Fund will broaden our impact and help rural communities meet the needs of local students. We look forward to working with innovative organizations in Florida's rural areas so that they can more effectively put volunteers to work to serve underserved students."
The Rural Community Assets Fund allows grantees to recruit, equip and mobilize volunteers in eligible communities across the state to address acute educational needs of underserved children and youth in early childhood education settings or within the K-12 education system.
—
Sen. Jose Javier Rodriguez is hoping to cut costs with a series of bills he filed this week.
Rodriguez filed a series of energy related bills aimed at protecting the environment and protecting consumers' pocketbooks.
"Consumers in Florida continue to subsidize an outdated energy system in Florida that stifles innovation, shuts out competition and hurts our environment — the bills I have filed will address those issues while giving consumers a much-needed break," he said in a statement.
Rodriguez filed bills that would allow property owners to generate and distribute solar energy to residents and tenants on their own property; create a mechanism to prevent utilities from passing on to customers the cost of remediating environmental damage the utility caused; create a progressive rate schedule for utilities customers; and repeal advanced nuclear cost recovery in Florida.
—
Give these heroes a hand.
Attorney General Pam Bondi announced this week Florida Highway Patrol Lt. Channing Taylor was the 2016 Law Enforcement Officer of the year. Bondi recognized Taylor and nine other officers for their dedication to protecting Floridians.
"I am eternally grateful for these nominees and all our brave law enforcement officers who risk their lives daily to keep us safe," said Bondi in a statement. "We cannot thank these officers enough for the sacrifices they and their families make to protect our communities."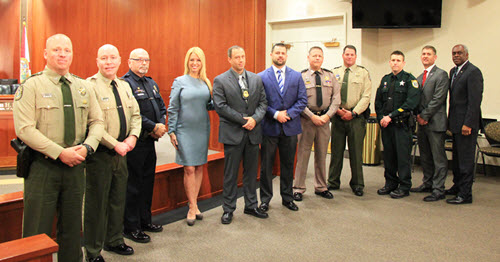 On June 14, 2015, Taylor approached a vehicle after he noticed a truck being operated without headlights. He asked the driver for her license, when suddenly a male passenger produced a revolver, fired it at Taylor, striking him in the shoulder.
Taylor took cover and drew his firearm. When the suspects tried to flee the scene, he left his covered position to gain a clear line of sight of the vehicle and its occupants and fired his service firearm, striking the male passenger and causing the vehicle to stop.
Bondi also recognized Officer Christopher Ayala with the Florida Department of Agriculture; Officer David Brady and Officer Jason Hutchinson with the Florida Fish and Wildlife Conservation Commission; Deputy Emanuel Gonzalez with the Osceola County Sheriff's Office; Officer Niel Johnson with the North Miami Police Department; Special Agent Travis Lawson with the Florida Department of Law Enforcement; Investigator Jason Newlin with the the State Attorney's Office for the Second Judicial Circuit; Investigator Jayson Paul with the Volusia County Sheriff's Office; and Deputy Nicholas Worthy with the Brevard County Sheriff's Office.
—
Call it a success, the folks in charge of the 2017 Florida State Fair sure are.
Unaudited numbers show the fair ended with an 11.4 percent increase in attendance over 2016 and solid gate and midway revenue, fair officials said this week. The final day of the 2017 fair was Monday.
"I am so excited we were able to share the Fair with so many fellow Floridians," said Cheryl Flood, the executive director of the Florida State Fair Authority, who assumed her position in September. "We placed a renewed focus on family entertainment, booking Shopkins and other kids' entertainment. We had a huge success the last weekend with a Peppa Pig Meet and Greet."
The fair featured the largest variety of entertainment ever, including a museum quality exhibit exploring candy in pop culture; the Florida State Fair Championship Tractor Pull; Budweiser Clydesdales; concerts and agricultural exhibits.
"Agriculture is at the heart of what we do. We crowned our new Champion of Champions, Ainsley Peterson, a young lady from Mayo and showcased thousands of youth participants from all over the state," said Doyle E. Carlton, III, FSFA Chairman. "Our barns and buildings including Salute to Agriculture, Florida Fish and Wildlife Conservation, Florida Ranch and Cattleman's Exhibit and Agriculture Hall of Fame were filled with the best that Florida has to offer and we were delighted to demonstrate our rich agricultural and cultural heritage to so many people."
Missed the 2017 fair? Don't worry, planning is already underway for the 2018 fair, which is scheduled for Feb. 8 through Feb. 19.
—
Looking for a culturally diverse city? Then look no further than Orlando.
A new report from WalletHub ranked the City Beautiful as the ninth most culturally diverse mid-size city in the United States. The number crunchers at the personal finance website compared 501 of the largest cities in the country across three key metrics, including ethnoracial diversity, linguistic diversity and birthplace diversity.
Orlando landed in the No. 9 spot on the list of mid-size cities; but ranked 21st overall. Jersey City was the most culturally diverse midsize city; while New York landed the No. 1 spot when it came to large cities.
—
The American Cancer Society Cancer Action Network (ACS CAN) rallied in Tally this week, calling on lawmakers to support $2.6 million for the Mary Brogan Breast and Cervical Cancer Program.
The program provides lifesaving screenings to underserved women between the ages of 50 and 64, whose incomes are below 200 percent of the federal poverty level. Since it first received state funding in fiscal 2013, more than 132,500 women have received screenings and diagnostic services through it.
Recent estimates from the American Cancer Society show Florida has moved up to second in the United States for the number of new breast cancer cases each year, as well as the number of deaths.
ACS CAN also called on lawmakers to increase the tax on a pack of cigarettes by at least $1.
"When you consider the toll that cancer takes each year in Florida, it is a moral imperative to ensure we have policies in place that will allow everyone to have the disease detected and treated," said Dr. Beth Lesnikoski, a surgical oncologist from West Palm Beach, in a statement. "We also have to do everything in our power to protect our youngsters from a future cancer diagnosis and there is no better way to make that happen than to increase the tax on a pack of cigarettes by at least $1."
—
Rep. Emily Slosberg wants to extend a tax break to help struggling Floridians.
The freshman Democrat filed a bill to extend property tax breaks for homeowners with corrosive drywall. Currently set to expire in July, Slosberg's proposal extends the tax breaks through 2025.
Millions of sheets of tainted Chinese drywall were sent to Florida between 1999 and 2009, severely impacting the market value of the property. Slosberg said "homeowners are being indirectly punished as they lose thousands of dollars in capital and on repairs" and said it was imperative the state extend the tax break to "continue to offer relief to those affected."
 Orlando Democratic Sen. Linda Stewart is sponsoring the Senate version of the bill.
—
Three Florida organizations have something to celebrate this week.
Gov. Scott announced the Florida Defense Support Task Force has awarded $765,000 in grants to three groups across the state. The Clay County Development Authority will get the bulk of the money, $400,000, to preserve and protect the Camp Blanding Joint Training Center from land development through the purchase of adjoining property.
"We are proud to be the most military-friendly state in the nation and this funding not only supports our military members but the thousands of families that have jobs across the state thanks to our military installations, " the governor said in a statement. "We will continue to do all we can to recognize the many brave military men and women, and their families, whose service and sacrifice keeps our country safe."
The Greater Pensacola Chamber of Commerce will get $265,000 to use on a project to give the Naval Aviation Museum a more direct entrance, while the South Florida Progress Foundation of the Greater Miami Chamber of Commerce will receive $115,000 to "unite, champion and represent the local defense community" through the creation of the South Florida Defense Alliance.
—
Millions of Floridians continue to struggle to make ends meet, according to a new report from the United Way of Florida.
The United Way ALICE Report found 29.5 percent of working households are struggling to make ends meeting. Another 14.5 percent earn less than the federal poverty level, according to the ALICE (Asset Limited, Income, Constrained, Employed) report.
Introduced two years ago, ALICE is meant to put a spotlight on the number of residents who are working, earning more than the federal poverty level, but have difficulty affording the basic necessities of housing, food, child care, health care and transportation.
The report also showed the basic cost of household expenses increased steadily across the state between 2007 and 2015. It also showed households with children are more likely to struggle, particularly those with a single parent.
The 2017 report also shows the so-called "Gig Economy" is moving "more jobs from full-time jobs with benefits to part-time, on-demand or contingent employment." This, according to the report, creates "opportunities for ALICE to fill short-term gaps in standard employment, but also transfers many costs and risks from employers onto individuals."
—
It's time to clean out your closet for a good cause.
Volunteer Florida and Uber announced this week it will host the second annual #SuitsForSession service project at the Florida Capitol on March 15. Members of the Legislature, Cabinet, local nonprofits, private sector and others will collect gently used professional attire for job-seekers in need.
"At Uber Florida, our goal is to keep people connected and we are proud to support initiatives that give back to the communities we serve," said Kasra Moshkani, Uber General Manager, Miami/Fort Lauderdale, in a statement. "Volunteer Florida's #SuitsforSession connects people with the tools to be successful and we are excited once again to be an integral part of this year's effort."
The items will be donated to the Chapman Partnership in Miami, Dress for Success Tampa Bay, ECHO Outreach Ministries in Tallahassee, Bridges of America in Orlando, and the Florida State University Unconquered Scholars program.
My team & I donated to #SuitsforSession last year & we will again next month. Join us with your (work attire) donations on March 15! #FBF pic.twitter.com/WQZHk6kkNE

— Jeff Atwater (@JeffAtwater) February 24, 2017
"It is an honor to sponsor the Second Annual #SuitsForSession service project at the Florida Capitol," said Senate Majority Leader Wilton Simpson. "As a business owner, I know the importance of having a workforce that is prepared for both the job search and the job itself, and providing professional attire for those in need is a great way to start."
Volunteer Florida and Uber Florida will accept gently worn clothing from 9 a.m. to 5 p.m. on March 15 at the Capitol. They'll be accepting blazers and jackets, blouses and shirts, dresses and skirts, pants, and shoes for men and women.
—
CFO Jeff Atwater isn't phoning in his last legislative session.
Atwater released a laundry list of legislative priorities this week ahead of his final legislative session as chief financial officer. Atwater announced earlier this month he was stepping down at the end of the 2017 legislative session to take a job at Florida Atlantic University.
"Since day one, I've set out to protect Floridians from fraud, waste and abuse, and this legislative session, I've put forward a set of priorities that I believe continue that commitment," said Atwater. "In addition to enhancing current programs and building in consumer protections, we're looking at ways to address the growing problems associated with the misuse and abuse of the assignment of benefits tool."
Atwater's 2017 legislative priorities include bills aimed at further streamlining the state's nationally-recognized unclaimed property program; bills aimed at improving processes and honing investigative techniques to combat insurance fraud; and bill designed to streamline the state's insurance receivership process.
—
Florida's economy is cruising right along. Nothing there to change the big picture for legislators writing the next state budget.
State economists who met to crunch the numbers found that growth in tourism and slack housing starts will offset each other as overall growth produces about $31 billion in general revenues.
"Those are going to compensate for each other. So, overall, you end up about where you were, on the same path where we were heading," said Amy Baker, coordinator for the state Office of Economic and Demographic Research.
"Florida has been moving in lock step in line with our forecasts for several years now. We have not really had any big surprises. I think that will continue to be the case," Baker said.
"It's positive, from the fact that we continue to see some strength. But it's not going to change what they're facing this year."
—
Calling all children artists: Your masterworks are needed.
The organizers of Children's Week, the annual advocacy event that takes place at the Florida Capitol, are asking families and teachers to participate in the "Give Us a Hand" campaign by helping young children and students create artwork of their hands that will make an impact on legislators during the session.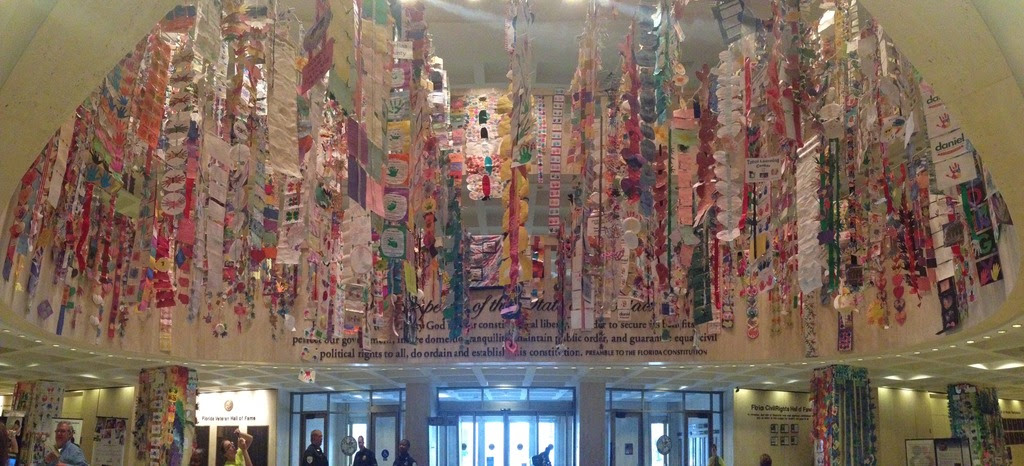 The artwork is meant to convey a message to lawmakers. Last year, more than 100,000 paper hand cut-outs were collected and transformed into an exhibition.
"The hands show decision makers a visual representation of the vast number of children their decisions affect. We hope that legislators will see the thousands of hands – see the personalization of each one – and envision the children who made them," said Jason Zaborske, statewide coordinator for Children's Week.
To have your students or child's artwork displayed in the Capitol rotunda during Children's Week, it must be postmarked by March 10 and sent to the Early Learning Coalition of the Big Bend Region c/o Children's Week, 2639 N. Monroe St. Building C, Tallahassee, FL 32303.
The Hanging of the Hands ceremony is scheduled for March 26.
—
Here's this week's edition of Capitol Directions:

Save
Save
Save
Save
Save
Save
Save
Save
Save
Save