It's long been a Capitol cliché, but there are few pronouncements on a piece of legislation as inauspicious as calling something "a heavy lift."
Saying a bill is "a heavy, heavy lift" sounds even more portending of defeat.
Yet that's how House Speaker Richard Corcoran referred to the omnibus gambling bills now on their way to conference. They include a new agreement for continued exclusive rights for the Seminole Tribe of Florida to offer blackjack in return for $3 billion over seven years.
"It's got a long way to go," the Land O' Lakes Republican said in a press conference after Thursday's floor session.
Generally, the House holds the line on gambling expansion; the Senate is open to some expansion, including allowing slot machines at pari-mutuels in counties that approved a slots referendum.
Having blackjack money for the upcoming $80 billion-plus state budget could mean an extra $340 million-$350 million.
"It's a heavy lift. There's a reason it hasn't been passed in decades," Corcoran said. "But this is the first time, probably that anyone can recall, where you have two bills moving … That puts them in a posture to see where a negotiation goes.
"But I would still say it's a heavy, heavy lift … We'll see how it unfolds."
Another sign: Neither chamber factored gambling revenue share from the Seminole Tribe to the state into their respective budgets, he said.
"I think it's generally considered an irresponsible budgeting practice to budget money" that you don't know you have, Corcoran said.
Sen. Bill Galvano, the Bradenton Republican who's the Senate's point man on gambling, said any gambling revenue—assuming a deal is struck—"would come in at the back end."
The Senate passed its gambling package (SB 8) Thursday; the House Commerce Committee cleared its bill (HB 7037) later that day. It's set to be discussed next Tuesday on the House floor.
Galvano, speaking to reporters after the Senate's floor session, said getting both sides to 'yes' won't be easy.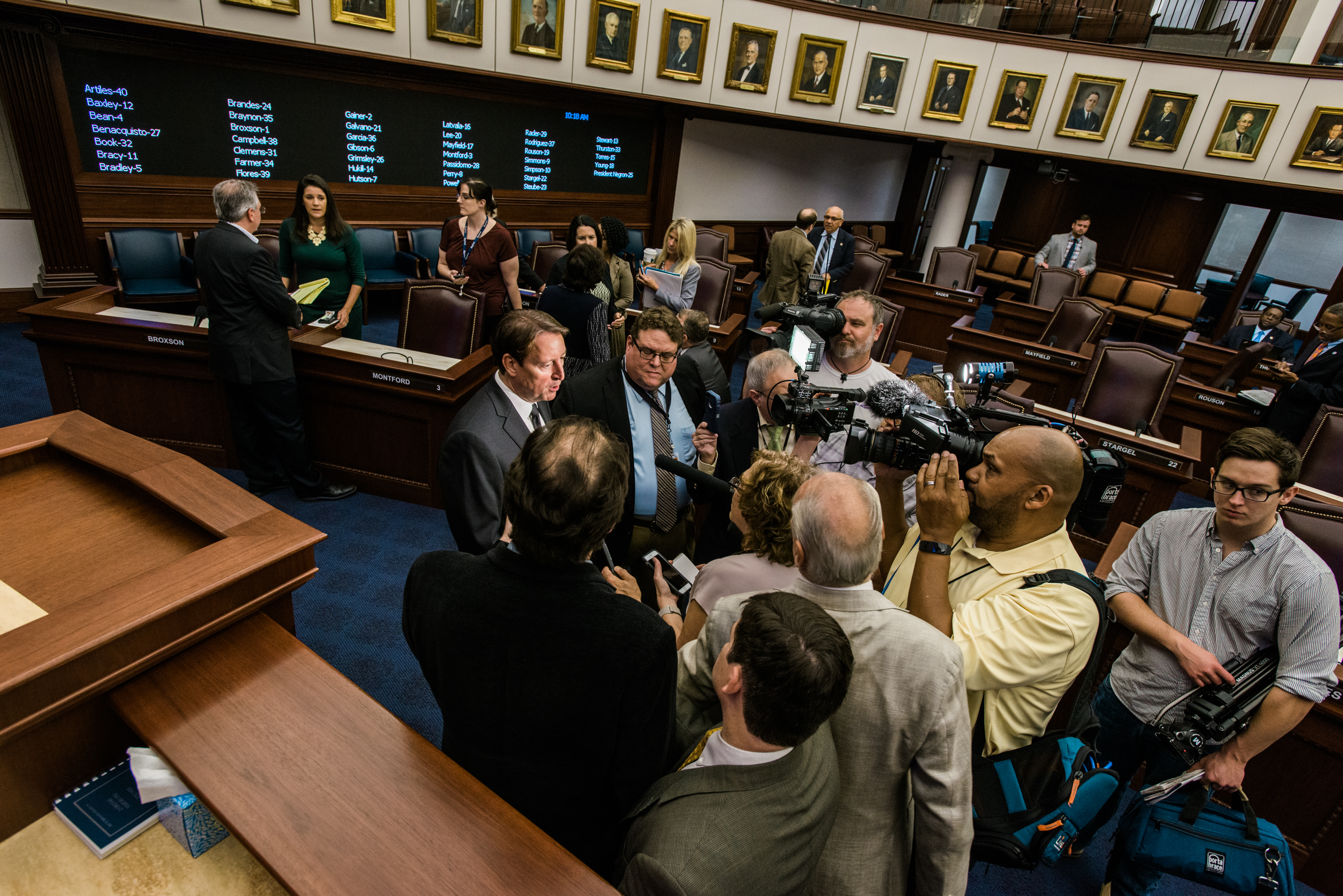 "I told the members here today that I couldn't guarantee we'll ultimately have a final resolution," he said. The House is "interested in seeing something move …  My conversations with the Seminole Tribe have been positive."
The Tribe had sent a letter to Corcoran, Gov. Rick Scott and Senate President Joe Negron saying "neither (bill) would satisfy the requirements of federal law nor satisfy fundamental tribal concerns" and called them "not acceptable."
The Tribe's concern was that it would be financially squeezed by the Legislature's current proposals without getting enough in return. It offers blackjack at five of its seven casinos, including the Seminole Hard Rock Hotel and Casino Tampa.
When told his warning to his colleagues "sounded ominous," Galvano said, "I have to manage expectations," adding the chambers were still "light years ahead of where we've ended in the past."
That is, nowhere. And still in wait is a state Supreme Court decision on whether Florida dog and horse tracks outside South Florida can have slot machines. That could add additional revenue to state coffers, but would cross the Seminoles, who have slots exclusively outside South Florida.
Moreover, a Leon County circuit judge recently ruled that slot-machine looking games known as "pre-reveal" (one example is here) can't be legally defined as slots.
The Tribe has disagreed, saying such games also violate the existing agreement, the Seminole Compact, between the Seminole and the state. That would entitle them not to pay any more slots money. Galvano said he doesn't believe the games violate the Compact.
Still, "if we can't get to where we have the votes in each chamber to pass, then we have to walk away," said Galvano.
Coming up, the usual assortment of tidbits, leftovers and not-ready-for-prime-time moments by Jenna Buzzacco-Foerster, Michael Moline, Jim Rosica, and Peter Schorsch.
But first, the "Takeaway 5" — the Top 5 stories from the week that was:
Show us the money — Got plans this weekend? Cancel them. The first drafts of the budget are out. The Senate released its proposed $83.2 billion spending plan on Thursday, while the House released its "leaner" $81.2 billion early Friday morning. The release comes after budget writers spent the week slowly unveiling their plans. Some highlights (or low lights, depending how you look at it): The House has proposed slashing the state's share of Medicaid by $238.6 million, bringing the total cut from hospitals to $621.8 million once the federal match is factored in. The Senate has cutting $99.3 million from the state budget, which would equal a $258.6 million total hit. The Senate has set aside $22.6 million for land acquisition, while the House is suggesting spending $10 million. The Senate also wants to boost Everglades restoration funding to $275 million, while the House would like to spend $166 million on it.
Battle lines drawn —  When it came to Visit Florida and Enterprise Florida, no one was surprised when House and Senate budget writers unveiled vastly different spending plans for the embattled state agency this week. The Senate Transportation, Tourism and Economic Development Appropriations Subcommittee suggested matching Gov. Rick Scott's $76 million request for the tourism marketing agency; while the House put just $25 million in its budget. The Senate has set aside $80 million for programs tied to Enterprise Florida, which — in case you've forgotten — the House voted to abolish. Scott applauded the Senate and criticized the House, before spending several days on the road hosting round tables focused on military and defense economic development programs on the chopping block.
Floor action — Week 4 brought lots of action, with the House and Senate spending two days this week on the floor passing priority legislation in both chambers. The Senate voted 32-6 to its wide-sweeping gambling bill, sending it over to the House where it will be voted on next week. Over in the House, members voted 73-46 to approve a proposed constitutional amendment to impose term limits on justices of the Florida Supreme Court and state appellate judges. If approved, Florida would become the first state in the nation to impose term limits on judges and justices. The House also passed a raft government and ethics reforms, including a proposed constitutional amendment to impose a six-year lobbying ban on former elected officials. House members also OK'd a bill that would prohibit sports teams from building or renovating a building on publicly-owned land cleared
Citizens sound off —Hundreds of Floridians turned out for the first Constitution Revision Commission public hearing at the University of Central Florida this week. According to the commission, more than 95 people spoke during the meeting. Speakers included several UCF students, and participants made requests for the commission to look at amendments that would restore voting rights for non-violent ex-felons, require a certain percentage of power be generated from renewable resources; and open party primaries so unaffiliated voters could participate. The commission has already drawn criticism, with the League of Women Voters of Florida holding a rally this week denouncing the commission for discouraging public participation. The group said the CRC rules fail to provide timely notice of meetings, schedules too few public hearings, and lacks safeguards to shield commissioners from undue influence. The next commission meeting is scheduled for Tuesday at Florida International University.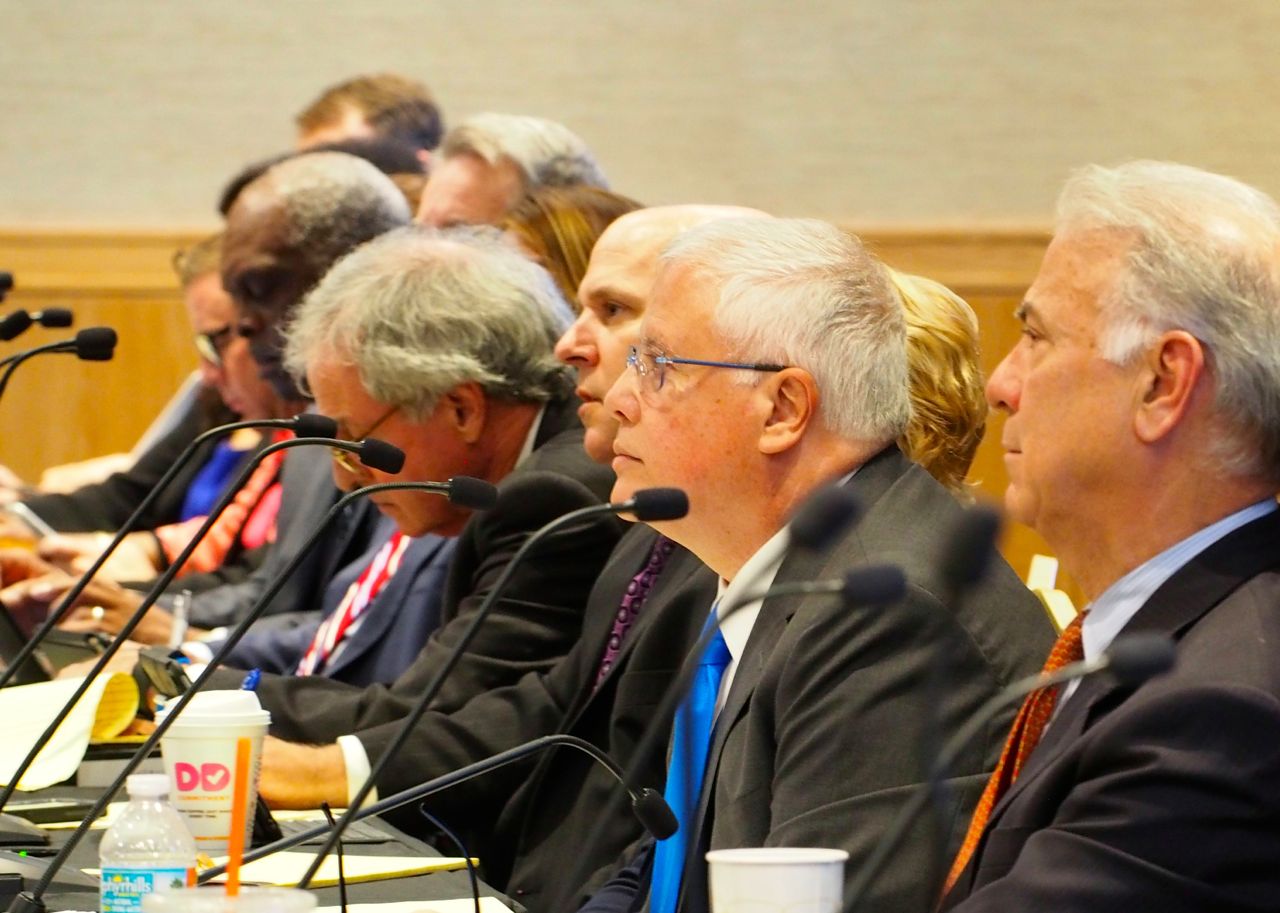 Bye, bye Bondi? — Attorney General Pam Bondi spent several days in Washington, D.C., once again fueling speculation she's considering trading one capital city for another. Bondi was in the nation's capital Monday with football greats Tony Dungy and Derrick Brooks. Bondi and her crew reportedly met with President Trump, Education Secretary Betsy DeVos and HUD Secretary Ben Carson. She also was also tapped to moderate a "women's empowerment panel" featuring to women in the Trump administration, including DeVos, U.N. Ambassador Nikki Haley, and Small Business Administration Chief Linda McMahon. And on Wednesday, the White House announced she was appointed to the President's Opioid and Drug Abuse Commission, headed up by New Jersey Gov. Chris Christie. In a statement, Bondi said she was honored to be chosen and thanked Trump, Christie and many others for caring about this deadly epidemic."
—
Rep. Jennifer Sullivan flailed a bit when asked to defend her proposed judicial term limits constitutional amendment, against suggestions the policy would crimp the career of conservative U.S. Supreme Court nominee Neil Gorsuch if applied at the federal level.
The conservative Florida Justice Reform Institute raised that argument in a letter denouncing the Mount Dora Republican's proposal. A reporter asked her about it during a House leadership news briefing.
"The bill didn't address the U.S. Supreme Court," she replied. "I'm happy to answer questions as it relates to what the policy did for the state of Florida."
"I'm talking about the concept of a guy who's already spent 10 years on the appellate bench, and under this idea would only be able to spend two more years" on the Supreme Court if confirmed, the reporter continued.
That's when House Speaker Corcoran stepped in.
"I think they're reading the bill wrong," said Corcoran, before explaining separate 12-year terms would apply to stints on the district courts of appeal and the Florida Supreme Court.
—
Legislation to allow patients to remain in ambulatory surgical centers for up to 24 hours, and to create recovery care centers where they could stay for up to 72 hours, cleared the House floor.
The bill (HB 145) marks"a real victory for patients," said Rep. Paul Renner, the bill's sponsor, said following the 79-34 vote this week.
"It increases their access to care and also lowers the cost. At a time — since 2006 —when deductibles have gone up over 300 percent, this is a big step forward," he said. "Currently, we have a nonsensical rule that requires people who seek elective surgery at an ASC to be out by midnight, whether they're ready or not."
Renner dismissed fears among hospitals that the measure would disrupt their business model, saying patients would be screened before treatment.
"If its determined that you need acute hospitalization, you go to a hospital," he said. "If you need intensive care, you go to a hospital. Critical care or coronary care, you're not eligible to go to a recovery care center."
—
The mosquitoes are coming.
With rainy season just around the corner, Gov. Scott met with public health officials and community leaders in South Florida this week to talk about Zika preparedness.
There have been two cases of locally transmitted cases of the virus this year, and there are currently no areas identified with active Zika transmission. However, Scott said it was "crucial that we … work together to remain vigilant and take precautions to stay ahead of this virus."
"I urge all Floridians to remember to eliminate any standing water around your homes, businesses and communities, and to wear bug spray to prevent mosquito bites. It is also important to protect yourself if you travel outside of Florida to an area with Zika virus," said Scott in a statement. "Last year, our aggressive actions helped lift the previous Zika zones in Wynwood, Little River and Miami Beach. This year, we stand ready to once again do all we can to protect Florida's families, visitors and communities."
—
Thank you for your service.
Gov. Scott recognized more than 240 veterans during a visit to the Louie C. Wadsworth Armory in Live Oak this week.
"I'm proud to honor some of Florida's great veterans for their service to our state and country," said Scott in a statement. "As a son of a World War II veteran and Navy veteran myself, I recognize the sacrifices our service members make to protect our freedom We must take every opportunity to honor and thank our American heroes."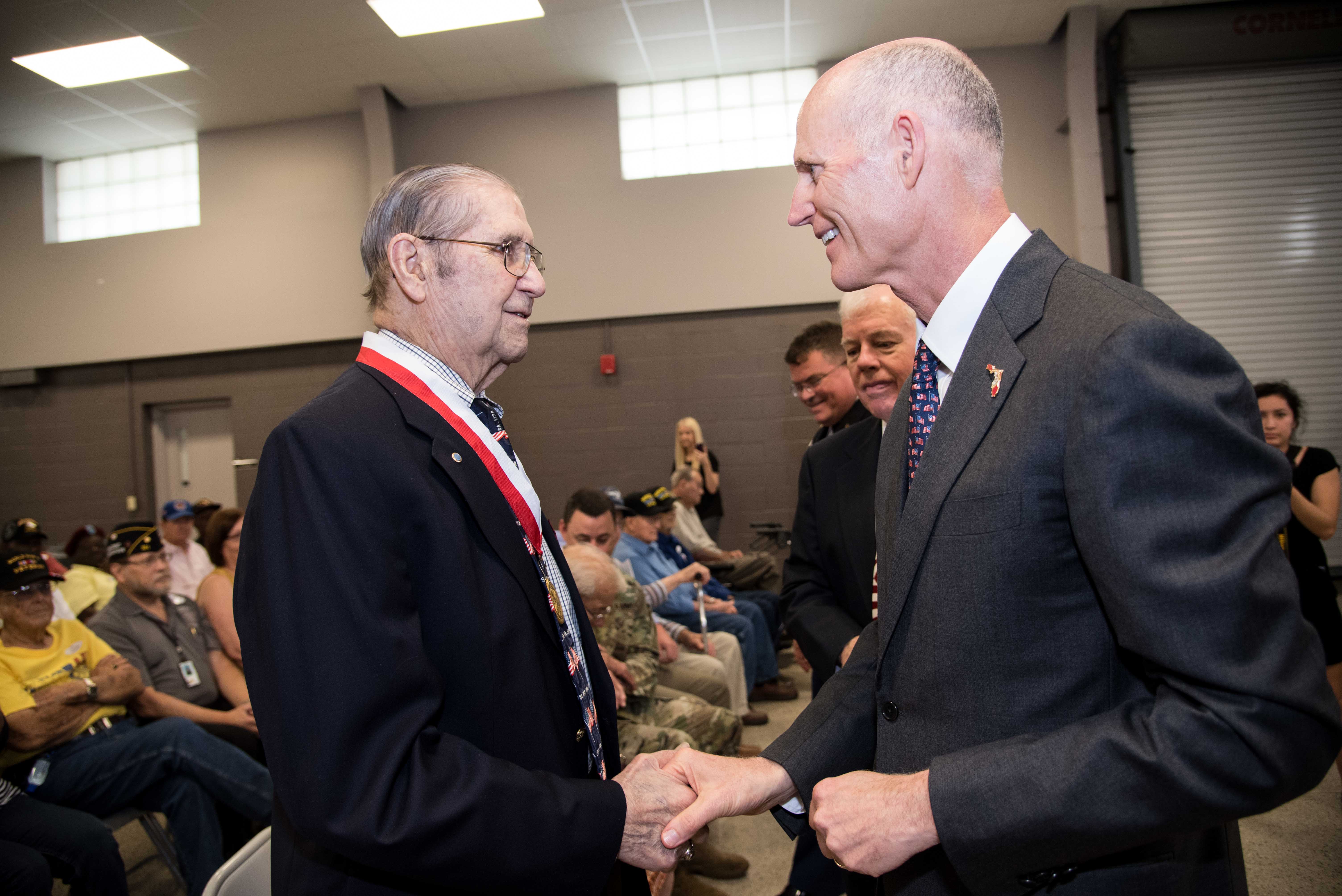 Scott honored Cpl. Robert Dutton, a World War II veteran, during the event. Dutton was drafted into the U.S. Army in in 1943 and assigned to the 141st Ordnance MM Co. of the 7th Army during World War II. In 1945, he and members of his unit were wounded after entering into a building rigged with bombs. He was honorably discharged later that year. Dutton has received the Purple Heart, two Battle Stars, the European-African-Middle Eastern Campaign Medal and the Good Conduct Medal for his service. He was also recognized with the Frances Knight of the Legion of Honor by the French government.
Scott also recognized Staff Sgt. John "Jack" Scott, who was drafted into the Army in 1942; Sgt. Rob Sweat who joined the U.S. Air Force Reserve in 1991; and Sgt. 1st Class Thomas Graff, who joined the U.S. Army in 2000.
—
When it comes to taxes, Floridians are getting a pretty good bang for their buck.
According to a new report from WalletHub, Florida ranks third in the nation when it comes to taxpayer return on investment. The number crunchers at the personal finance website used 23 metrics to compare the quality and efficiency of state-government services across five different categories — education, health, safety, economy, and infrastructure and pollution — taking into account the drastically different rates at which citizens are taxed in each state.
Florida ranked 3rd overall when it came to "taxpayer ROI" and "total taxes paid per capita."
The state, according to the report, ranked 34th in "overall government services;" and 4th when in the "best roads & bridges" category.
—
Call him a home-rule defender.
During a Facebook Live chat with Times-Union reporter Tia Mitchell this week, Sen. Jack Latvala defended local communities' right to home rule.
"There's this attitude from a lot of folks in the House that we ought to make all the laws for Florida right here in Tallahassee," said Latvala, a Clearwater Republican and the chairman of the Senate Appropriations Committee.
"That we ought to preempt and do away with the ability of local cities and counties to do local ordinances, to regulate things, businesses and people's lives. And I think that's the wrong approach."
Several measures have been proposed this legislative session that would limit local government's home-rule authority. Local government associations have lined up in opposition against these proposals.
"My experience is that people tend to trust the level of government closest to them," he continued. "So why we would preempt those people from being able to make their own decisions at the local level, and try to co-opt all that decision-making to Tallahassee, is just wrong. … I think they [the House] think they know better than the local elected officials."
—
Welcome back to the board, Joseph Brister and Robert Halman.
Gov. Scott has reappointed Brister and Halman to the Immokalee Water and Sewer District in Collier County.
Brister, a 51-year-old Immokalee resident, is the owner of Brister Funeral Home. He received his associate's degree from St. Petersburg Junior College.
Halman, a 64-year-old Immokalee resident, is a community service deputy for the Collier County Sheriff's Office. He received his bachelor's degree from the University of Georgia, and his master's degree from Clemson University.
Both men were reappointed to a term ending Oct. 1, 2020.
—
Do Florida students need a lesson in financial literacy? Maybe.
A recent report from WalletHub showed the Sunshine State was the 20th most financially literate state in the nation. The personal finance website looked used a data set of 15 metrics, including the results of the company's WalletLiteracy survey, to craft a report that looks at financial education programs and consumer habits in all 50 states and the District of Columbia.
According to the report, the Sunshine State ranked 49th in the percentage of adults who spend more than they earn. The state ranked 24th when when it looked at the percentage of adults who were only paying the minimum on their credit cards; and 35th when it came to the percentage of adults who borrow from non-bank lenders.
The state ranked 6th in when it came to high school financial literacy.
Sen. Dorothy Hukill has proposed legislation (SB 392) that would require high school students to take a half-credit of financial literacy to graduate from Florida's high schools. Hukill, a Port Orange Republican and chairwoman of the Senate Education Committee, has been pushing the legislation since 2014.
The proposal has cleared its first two committee hearings and could be heard in the Senate Appropriations Committee in the coming weeks.
—
Sen. Daphne Campbell wants Congress to celebrate the Caribbean.
The Miami Democrat has filed legislation (SM 572) that would urge Congress to enact legislation recognizing Jan. 1 as Haitian Independence Day and May 18 as Haitian Flag Day.
"America is a country composed of immigrants, bound by common values," wrote Campbell in her newsletter. "Haiti Independence Day is globally acknowledged as an affirmation of equality, freedom, and the abolition of slavery. The Haitian flag is a symbol of pride for the Caribbean nation. The blue represents the former African slaves brought to Haiti by colonial powers, and the red symbolizes a people of mixed ancestry."
The memorial also calls on Congress to enact legislation recognizing May as Haitian Heritage Month and June as Caribbean American Heritage Month.
The Senate memorial received unanimous support from the Senate Commerce and Tourism Committee.
—
Let the children play!
The House PreK-12 Innovation Subcommittee voted unanimously this week to approve a bill (HB 1131) that aims to provide children with access to playgrounds.
Currently, many of the state's playgrounds and athletic fields located at public schools are closed to the public, in part because of the lack of a shared use agreement between school districts and local government or non-governmental agencies.
The proposal, sponsored by Rep. Brad Drake, would require the Department of Education to provide technical assistance to school districts to promote community use of shared facilities.
"When we were kids, I lived maybe a mile-and-a-half from our local elementary school, and almost every day, definitely on weekends, we were there playing football, baseball, whatever, and having a great time. It was where we bonded as a community, at least the kids I ran with," said Rep. Ross Spano, a Dover Republican. "I know in many (places) around the state, the playgrounds you and I utilized … are now behind closed, locked fences. I hope, and anticipate, this will allow these to be open again for kids, like you and I, when we were young."
The bill also creates a Shared Use Task Force to identify barriers in creating shared use agreements and it make recommendations to facilitate the shared use of school facilities generally and in-high need communities.
"As a former fervent user of recess time as a kid, I have to support this," said Rep. Bill Hager, a Delray Beach Republican.
—
Floridians sure do like their specialty license plates.
That much was clear during a House Transportation & Tourism Subcommittee hearing on a bill (HB 1375) that would make it harder to authorize, and easier to scrap, license plates celebrating state universities, trees, sea turtles, Challenger, manatees, and more.
These tags are proliferating — the state offers 120 of them now — but sales don't always justify their continued existence, said Rep. James Grant, the bill's sponsor.
His bill's Section 7 drew special ire. It would shift to a new template bearing small logos, instead of the splashier designs that can cover an entire plate.
Randy Harris, whose Choose Life Inc. sponsors an anti-abortion tag, described letters from women who'd been on their way to the procedure and "saw a message, a billboard," on the back of a car that changed their minds.
Bump that message down to the size of a baseball card, he said, and, "at three or our car lengths in traffic, those women won't see that message anymore."
The existing designs are "sort of iconic Florida highway — they're part of the landscape," said Gary Appleson of the Sea Turtle Conservancy.
The committee approved the bill after Grant promised to fix that section.
"Based on the number of emails I got on Section 7, please change 7. Otherwise, I'm going to have to change my last name," said Republican Rep. Michael Grant.
—
Speaking of license plates: The House Transportation & Tourism Subcommittee shot down an amendment by Jacksonville Republican Jay Fant to block tags benefitting out-of-state universities, like Auburn.
Fant objected to Florida tag dollars supporting distant institutions.
Rep. Jamie Grant noted that UF tags sell in Georgia, Maryland, North Carolina, Tennessee, and Texas. And people can buy FSU tags in Alabama, Georgia, Maryland, North Carolina, South Carolina, Tennessee, Texas, and Virginia.
"If he would like to preclude the University of Florida or Florida State University from putting their license tags into play in six or seven other states, respectively, then we will have that conversation," said Grant, an Auburn graduate.
Fant case the lone vote against the specialty license plate bill.
—
The Senate Health and Human Services Appropriations Subcommittee delayed a confirmation hearing for Gov. Scott's picks to head the Agency for Health Care Administration and the Department of Health, a move that left some folks scratching their heads.
Is it déjà vu all over again? Nope, says Sen. Anitere Flores, the Miami Republican who heads the subcommittee. Flores said there was "no nefarious reason" for the delay, and that her committee simply "wanted to get through the budget first."
Scott picked Justin Senior to head the Agency for Health Care Administration last fall, and Celeste Philip to head DOH in the summer. Both need an affirmative vote from Flores' committee before they can be confirmed by the full senate.
Last year, Flores was key in blocking the confirmation of former DOH Secretary John Armstrong, who failed to make it out of the Senate Committee on Ethics and Elections.
Flores said that she thinks both Senior and Philip "are doing OK."
—
Anti-smoking group Tobacco Free Florida said the Sunshine State's smoking rate is at a historic low, but fewer people in Central Florida have kicked the habit than other areas of the state.
Just under 16 percent of Floridians are smokers, though Hardee County shares the title for highest smoking rate in the state with Madison, Union, Gadsden and Okeechobee counties at 21 percent.
Residents in Citrus, Hernando, Hillsborough Pasco, Pinellas and Polk counties are also a bit more inclined to tour Marlboro Country, though only Pasco's 19 percent rate comes in significantly above the state average.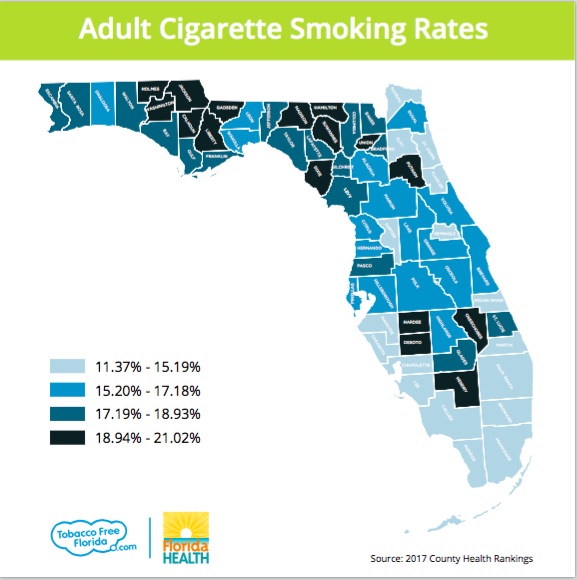 Tobacco Free Florida said their efforts to stamp out smoking are making "remarkable progress," though smoking remains the leading cause of preventable disease in the state.
—
Just call us speedy.
Gov. Scott announced this week that Florida had the fastest annual private-sector growth rate of the 10 largest states in the nation, adding 239,800 private-sector jobs last year, the second most in the nation.
"I am proud to announce that Florida is once again leading our competitor states in private-sector job growth and that multiple Florida industries, such as manufacturing, are leading the nation in job creation," said Scott. "Today's announcement shows that we are successfully diversifying our economy and we cannot stop now."
The state's private sector job growth rate of 3.3 percent outpaces the nation's rate of 1.8 percent. The Sunshine State has led the nation in over the year manufacturing job gains for the last eight months, according to the Governor's Office.
""Florida's strong, diverse job creation is catapulting our state to the top of the nation for economic growth," said Cissy Proctor, the executive director of the Department of Economic Development. "Our economic development and diversification programs are working as a result of our investment in critical programs like Enterprise Florida and VISIT FLORIDA."
—
Want to live as a write-in? Rep. Joseph Geller wants to make it a little bit easier.
The House Government Accountability Committee unanimously approved a bill (HB 6031) that would repeal a provision of state law requiring write-in candidates to reside within the district of the office sought at the time of qualification.
"In a representative democracy, it's vital that we have laws which encourage, not burden, citizens from seeking to represent their communities," said Geller, an Aventura Democrat, in a statement. "Due to the Supreme Court's decision, repealing this unconstitutional statute was the commonsense move to make. This bill is necessary and important to ensuring that this nation's great democratic principles are upheld."
The Supreme Court recently ruled the provision unconstitutional because it conflicts with the residency requirements spelled out in the state Constitution, which requires residency at the time of election or when the candidate assumes office.
Geller's bill now heads to the floor.
—
Is it odd for a political party attempting to rebuild from an historic drubbing to shoo away the three statehouse reporters who showed up for the chairman's speech to Leon County Democrats?
Because that's what happened when Steve Bittel came to Tallahassee.
James Call of the Tallahassee Democrat (the newspaper) seemed personally affronted at the senselessness when an aide tried to steer Bittel around the small gaggle that formed outside the meeting room following his speech.
She suggested arranging an interview or that the reporters send questions via email. Bittel ended up answering questions as he exited the City Hall venue.
Republicans are going to have their own challenges, he said.
"We want to have a positive message. When we sell hope and they sell fear, we think the people of Florida are going to buy hope every day of the week," said Bittel.
—
Rep. Danny Burgess is hoping the third time is the charm for direct primary care legislation.
The House OK'd a proposal (HB 161), sponsored by Burgess, that would allow patients to pay doctors between $25 and $100 per month for a menu of preventative, pediatric, urgent care, and more — none of it overseen by the Department of Insurance Regulation. It marked the third year the House has passed the measure.
"Hopefully, we can get this across the finish line. I know that it's doing all right in the Senate. We're hoping to see some good reform get to the governor's desk this year," said Burgess, the chairman of the House Insurance & Banking Subcommittee, following the vote. "The House has really believed in this free-market, innovative approach to health care. It's a process, and sometimes it takes some time to get through that process. But I believe firmly that this is the year."
The Senate version of the bill (SB 240), sponsored by Sen. Tom Lee, has cleared its first three committees of reference and is now waiting to be heard in the Senate Appropriations Committee.
Tardy to Sen. Bill Montford's committee? That will land you in Saturday morning detention.
Unless, of course, you're Sen. Latvala.
Latvala, the Senate Appropriations chairman, was late to the Senate Commerce and Tourism meeting this week, forcing the committee to take a brief recess before taking up the final bill (SB 554), on which Latvala had an amendment.
When Latvala arrived, Montford, a former principal, told the Clearwater Republican he would get a "Saturday morning detention for (his) tardiness."
"But, I know you're chairman of the appropriations committee, so we're going to suspend this detention," continued Montford.
Latvala quickly responded that he was "detained reading all three pages" of Montford's requests and that "held (him) up a little bit."
"And that was right after I read all three pages of Sen. (George) Gainer's requests," continued Latvala, to laughs from the committee.
"Oh, me," chuckled Montford.
Latvala went on to say he was held up presenting a bill in the Senate Criminal Justice Committee, and his sheriff was present and "he had a gun, so I couldn't leave."
"We understand there are two or three things you don't argue with: A man with a gun and a man that is the chair of appropriations," said Montford.
The Commerce and Tourism Committee voted 6-1 to approve the bill, which would allow a craft brewery with a retail vendor's license to sell, transport and deliver its owner beer from its brewer to other vendors. Latvala's amendment — which focused on brew pubs that are part of small restaurant groups — was adopted.
—
Here's legislation everyone can get behind: The House voted unanimously to approve a bill that aims to help children testifying in difficult court cases.
The proposal (HB 115) would allow children testifying in court in abuse, abandonment and neglect cases to use therapy animals. It's an expansion of current state law, which allows therapy animals for victims testifying in sexual offense cases.
"When we go home this summer, and we talk about what we have been able to do for the most vulnerable and those that are the least among us, I think it's important for us to look at this bill," said Rep. Jason Brodeur, the Sanford Republican who sponsored the proposal.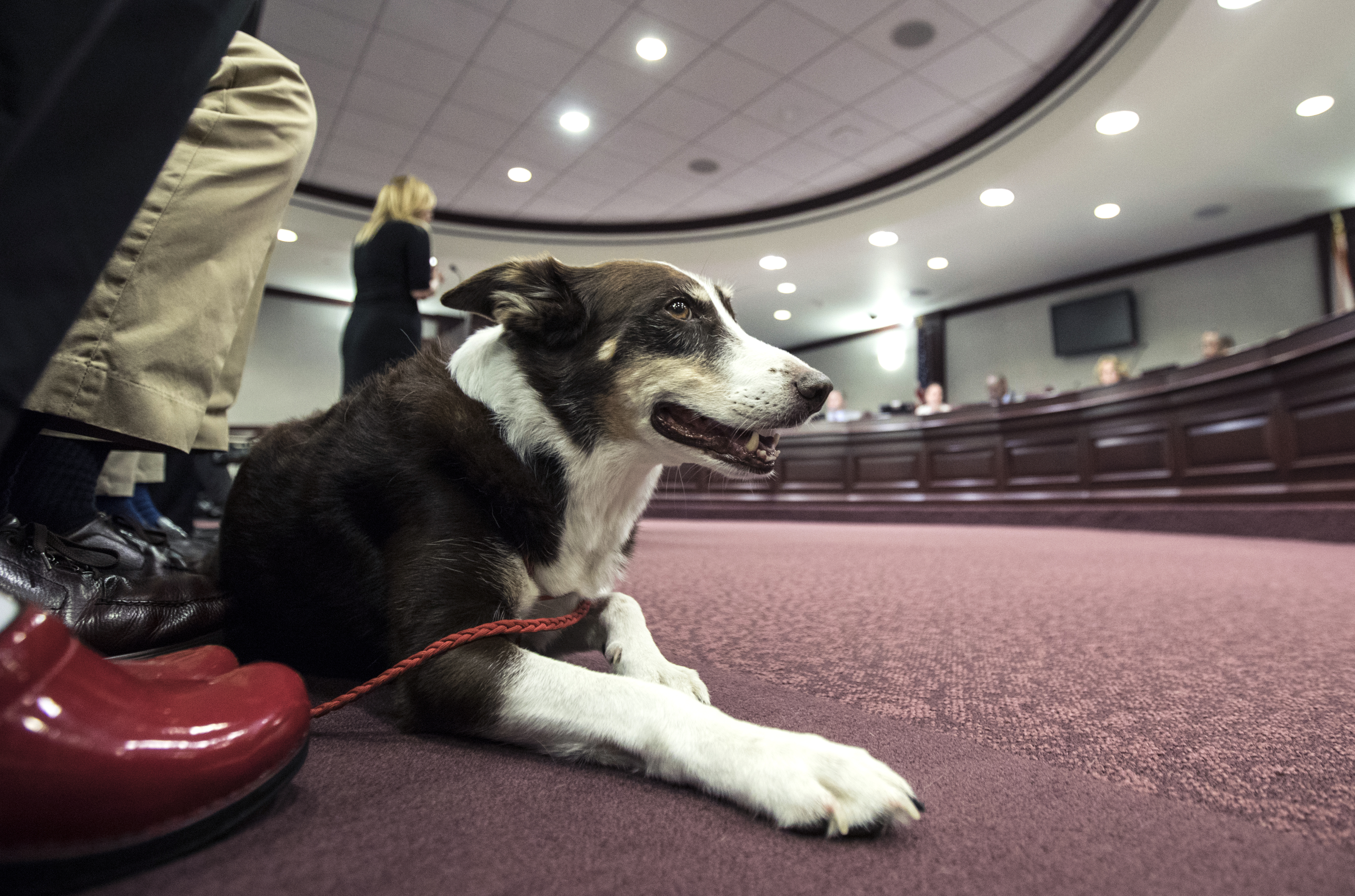 "Previously statute had said that only those who had suffered a sexual offense could use animals in court, but I think we can all agree when we included the abused, neglected, abandoned and those with limited mental faculties, that is really taking care of the least among us," he continued. "And certainly, at a time when somebody is the most vulnerable, this will help and maybe bring some of the most vile in our society to justice."
The bill received no "no" votes in any of its committee stops. Neither has its Senate companion (SB 416), sponsored by Sen. Montford. That bill is expected to be discussed on the Senate floor next week.
—
Go fish.
No, really. Take some time this weekend to head to your favorite freshwater watering hole to go fishing this weekend. Florida residents and visitors will be able to fish in state freshwater fisheries without having to purchase a license on Saturday and Sunday as part of the eight total license-free fishing days offered by the Florida Fish and Wildlife Conservation Commission each year.
"We encourage anglers of all skill levels to take advantage of license-free fishing this weekend," said Kellie Ralson, the Florida fishery policy director of the American Sportfishing Association. "Florida is known as the Fishing Capital of the World, and our beautiful rivers, lakes and ponds are the perfect backdrop for a fishing trip with family and friends."
—
Nothing says springtime like a parade.
The Springtime Tallahassee Parade kicks off at 10:30 a.m. Saturday and is expected to feature over 100 floats, marching bands and dance groups.
The annual parade starts just south of the intersection of Monroe and Brevard and travels on Monroe past the Florida Capitol, ending at Madison Street. Considered one of the largest parades and craft shows in the southeastern United States, Springtime Tallahassee attracts over 70,000 spectators.
FSU President (and former senator and former House Speaker) John Thrasher will serve as the parade's graand marshal.
—
Tip your hat to "Billy the Kid" this weekend.
The Florida Folklife Program and the city of Tarpon Springs will recognize 2017 Folk Heritage Award recipient William "Billy the Kid" Emerson during a ceremony at 3 p.m. Sunday at the Tarpon Springs Heritage Museum. The event is meant to honor Emerson's contributions as a songwriter and producer, and will include a video presentation.
Born in Tarpon Springs in 1925, Emerson learned to play the piano in church. He joined the Navy in 1943, and after the war returned to the Tampa region and resumed performing with Tampa acts including Ivory Mitchell, the Billy Battle Band, and Alfonso Brown Band. He got his nickname while playing with a band that dressed like cowboys.
Emerson attended Florida A&M, but left to serve in the Air Force during the Korean War. In 1954, he signed a contract with Sam Phillips and wrote and recorded hits for Sun Records including "When It Rains It Really Pours" (later recorded by Elvis Presley) and "Red Hot."
In 1978, he rededicated himself to his faith and became a pastor. He returned to Tarpon Springs, where he continues to serve his congregation and compose sacred music.
The event is open to the public.
—
Attention Tallahassee residents: Orchestra Sunday is this weekend.
Trinity United Methodist Church will host its annual "Orchestra Sunday" during its 11 a.m. worship service Sunday. The service will feature 25 to 30 minutes of music by a 28-piece professional orchestra.
The service is open to anyone interested. Trinity United Methodist is located at 120 West Park Avenue.
—
Here's this week's edition of Capitol Directions: