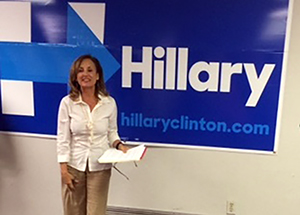 With Florida Republicans heading to their national convention in Cleveland next week and the Florida Democrats following to their convention the next week in Philadelphia, we caught up with Florida Democratic Party Chair Allison Tant.
She, along with Tallahassee Mayor Andrew Gillum, opened a field office for Hillary Clinton's campaign in downtown Tallahassee Thursday evening.
What do you think about Rick Scott, Pam Bondi and Tim Tebow on the RNC stage?
"It's the folks who are most like Donald Trump. He's going to have the people he thinks will parrot his views the best at his own convention. It doesn't really come as a surprise to me."
Recent polls show a very close race in Florida between Clinton and Trump, a concern?
"I think it's going to come and go. Florida is a purple state. We are a swing state … polls for that reason are very tight. I think they're going to narrow and enlarge and narrow and enlarge."
Comparing the upcoming RNC with the DNC:
"I don't think most Floridians are going to be happy with what they see (at the RNC) at least I don't think so. And then we're going to have the Democratic Convention, and we have worked very hard to make sure our Democratic Convention speaks to America and is reflective of the broad communities across America. I expect a bump after the convention. I think this last week was a difficult week, and I think it is going to get better."
Trump picking Indiana Gov. Mike Pence as his running mate:
"As a woman, I personally find him offensive on what he has done on women's rights in his state as governor. We have a clear track record we could look to, and I find him a curious choice. I'm actually surprised that he took it. But we are looking at what he stood for and what he has done, and we're going to be messaging quite a bit on that."
The Clinton campaign has spent more than $12 million on TV advertising Florida, while Trump has spent virtually nothing, but is very competitive:
"Trump is the master of reality TV. He doesn't have to do what we have to do to get the attention. He's also gotten some help on his side with all the national media in DC and everything. We're going to turn the page on all of that in the days ahead. We'll right the ship again."
Some have suggested Democrats are lagging in registration efforts this year:
"I don't agree with that because we're just getting started on all of that. We are just ramping up with our partners; we just brought on board 240, 250 staff people now to start working on all of that. We have an aggressive vote-by-mail effort going across the state of Florida right now, including Leon County … We are just gearing up. Our partners are just gearing up. I'm not concerned about all of that and also the NPAs (no party affiliations) tend to vote more Democratic.
Bill Clinton has already been a big presence in Florida, will Barack Obama play a similar role?
"I suspect so. I'm planning on it. I think that he will be here. I think that Florida is too important."
Who will be the Florida Democrats' version of Tim Tebow at the DNC?
"I don't want a Tim Tebow speaking for my side. We have some great speakers we are just lining up right now. We are finishing the lineup, including some strong Florida people that I am not at liberty to discuss … You're going to have some really great people from Florida on the national stage."
Worried about Patrick Murphy's series of missteps in his U.S. Senate campaign?
"Of course, I'm concerned. But I think that he can overcome it. He is going to come here (Tallahassee) next week. I think he is going to be putting his A game on … He's going to be stepping forward on the (water quality and algae issues in his district) … This is something he has gotten right since day one."